Here we are again at the end of another successful high school sports year in the Sauk Valley – and 2022-23 was a doozy.
This spring capped a school year that saw area individuals or teams advance to state in 17 of the 22 sports that Sauk Valley schools compete in. Two football teams also made two other Final Four appearances, and an Elite Eight and two Sweet 16 trips on other sports means area teams and athletes made deep runs in the state series in all but three of those 22 sports.
The numbers are even more impressive when adding up postseason titles. Just in team sports alone, area schools racked up 17 regional titles and three sectional titles throughout the year, and regional and sectional titles by individuals in golf, wrestling, track & field, cross country and bowling put that number at nearly three dozen.
The fall set the tone, with individuals or teams qualifying for the state finals in eight of the nine sports. Amboy-LaMoille football was the runner-up in eight-man football, and Newman volleyball finished fourth in Class 1A, while Sterling runner Dale Johnson was second at state in Class 2A cross country; Dixon golfer Katie Drew added a fifth-place finish at the 1A state meet. Polo and Forreston football both added Final Four appearances.
The winter also saw several fantastic finishes. Newman wrestler Carter Rude finished second to lead a contingent of five top-five finishers at the 1A state meet; Fulton's Zane Pannell took third, Polo's Wyatt Doty placed fourth, and Newman's Brady Grennan and Erie-Prophetstown's Jase Grunder both finished fifth. There were also a pair of E-P state qualifiers in girls wrestling, as well as two swimmers, two boys bowlers and two girls bowlers competing in the state finals.
Not to be outdone, the spring teams closed the school year with some fireworks.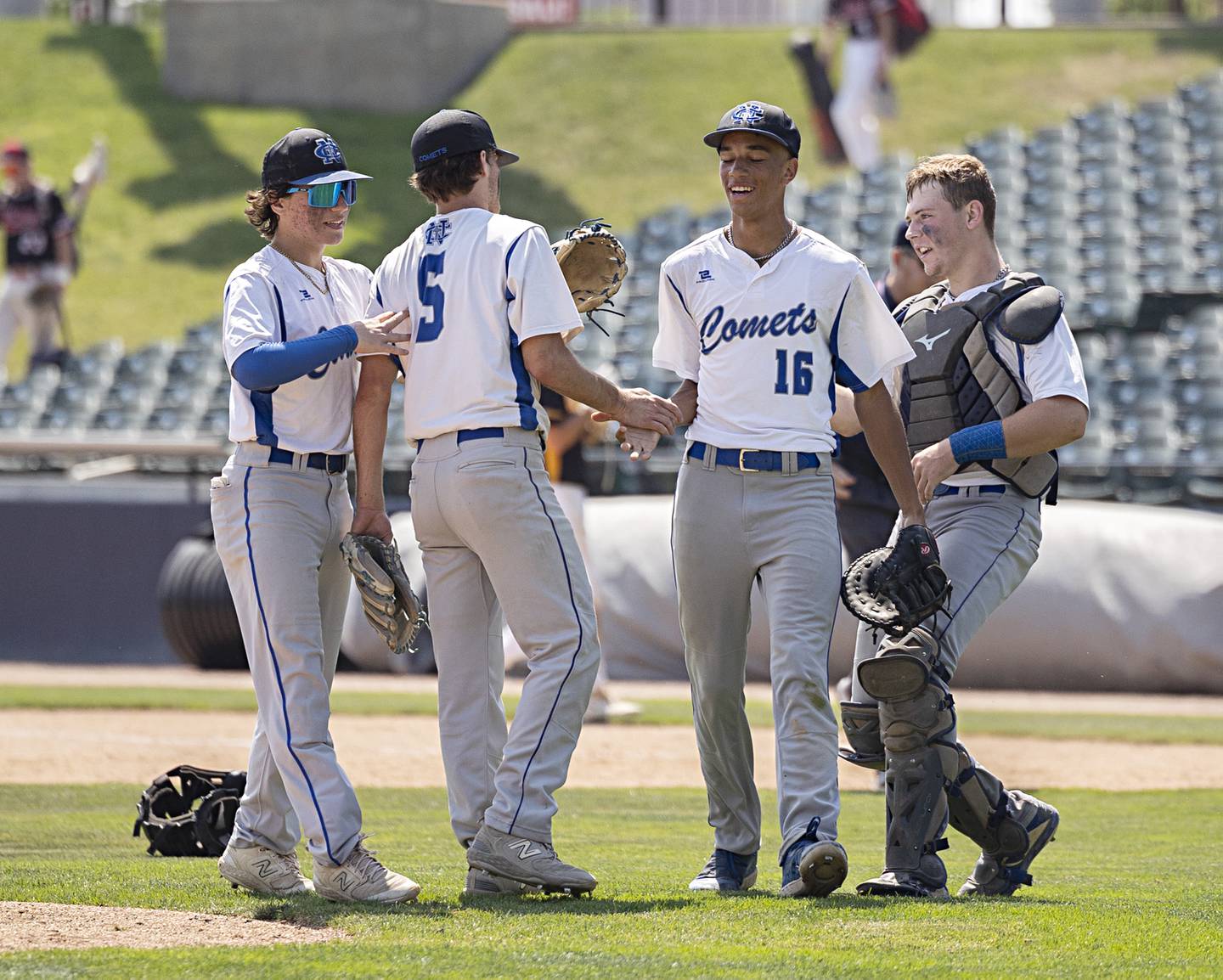 Forreston-Polo's 4x100 relay team of Delo Fernandez, McKeon Crase, Noah Dewey and Michael Taylor won a Class 1A state title, while Sterling's Johnson followed up his second-place cross country finish with a second in the 3,200 and a fourth in the 1,600 in Class 2A; the Golden Warriors won seven medals and finished fourth in the team standings.
The week before, Sterling senior Alice Sotelo added a silver medal in the 2A triple jump to last year's gold, and Dixon's Hannah Steinmeyer brought home a pair of medals as area athletes won nine state medals.
Two local tennis players, Sterling's Brecken Peterson and Newman's Logan Palmer, both qualified for the state tournament; Peterson advanced to Day 2, while Palmer can claim a pair of state tournament trips on the year, adding the tennis trip to a golf berth.
And the Twin Cities were well-represented in the Sweet 16 in baseball and softball, as Newman baseball took third in Class 1A, while Rock Falls softball won a sectional title for the first time since 2004, and Sterling softball played in the sectional title game for the third time in the last four seasons.
The list is long and impressive, but that's not the only way to measure the success of the past nine months.
What most of the athletes who participated and contributed to the overwhelming success will remember is the joy of that big win, the sense of accomplishment in reaching their goals, and the fun they had with their teammates along the way.
And it's not quite over yet. I'm excited to announce that on Thursday, we're bringing back the Sauk Valley Media All-Star Basketball Classic for the first time since 2019. The game will feature 36 seniors on the hardwood for the final time representing their high schools, with the girls game at 5 p.m. and the boys game starting around 7 p.m. at Sauk Valley Community College.
A special shout out to SVCC women's basketball coach Julie Schroeder and Dixon girls basketball coach Luke Ravlin for helping me organize the event and take care of several of the little details it requires to put on the game, and a heartfelt thanks to all the other people who are dedicating their time and energy to provide one final hurrah for these recent high school graduates who have provided us with so much entertainment over the last four years.
One final game of fun and friendly competition seems like the perfect way to cap a phenomenal school year of sports. We hope to see you there!