A pair of local boys bowlers advanced to state meet with strong showings at the Rockford Guilford Sectional on Saturday at Don Carter Lanes.
Oregon's Gavvin Surmo and Dixon's Clark Bonnewell both placed in the top 13 individually, and earned two of the seven individual advancing spots for next weekend's state tournament at St. Clair Bowl in O'Fallon.
Surmo bowled a six-game series of 1,300, rolling games of 184, 234 and 233 in the morning, then following that with games of 238, 224 and 187 in the afternoon. He placed 10th overall, and was the third individual state qualifier.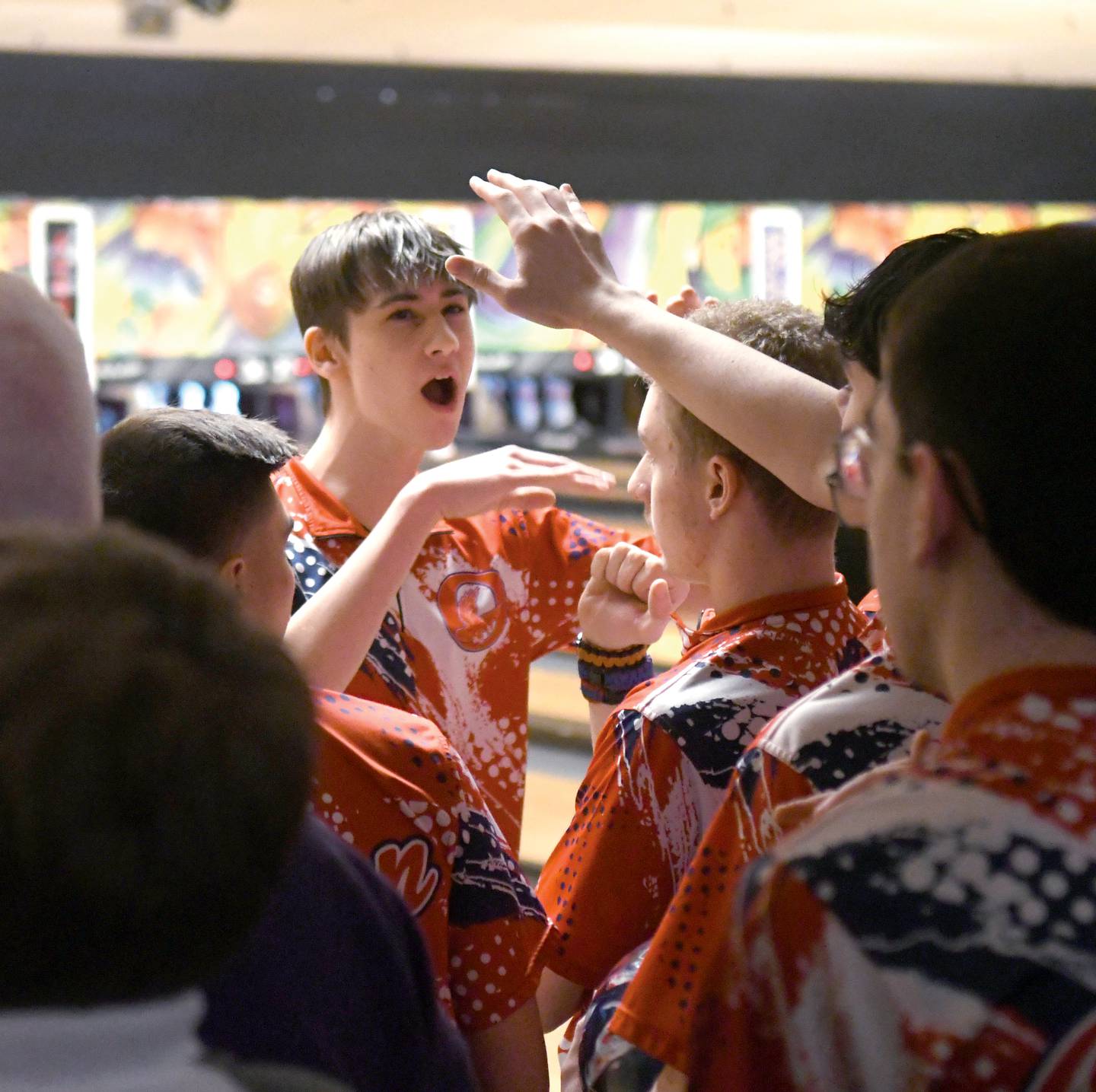 Bonnewell started strong in his 1,286 series, bowling games of 256, 261 and 181 in the morning, then games of 133, 207 and 248 in the afternoon. He was 13th overall, and earned the fifth individual qualifier spot.
Oregon and Sterling both competed as full teams in the 16-team field. Oregon took 13th with a 5,499, and Sterling was 16th with a 5,303. Hononegah won the team title with a 6,544, while Harlem (6,494), Belvidere North (6,022), Huntley (5,877), Mundelein (5,876) and Lake Zurich (5,867) also advanced to state.
Hononegah's Charlie Hunt was medalist with a 1,445, well ahead of runner-up TJ Czabaj of Lake Zurich (1,381). The other individual state qualifiers with Surmo and Bonnewell were Belvidere's Chad Morgan (1,324), Mendota's Landon Bauer (1,312), Vernon Hills' Zack Shoemaker (1,299), Sycamore's Evan Borowicz (1,266), and Stevenson's Jackson Sher (1,258).
Other Oregon bowlers rolling six games were Brandon Rowe with a 1,097 series and 235 high game, Stylar Long with a 1,089 series and 231 high game, and Roberto Hernandez with a 1,000 series and 204 high game. Matthew Stahl had a 520 in three games, including a 211 high game, and Bryan Immel added a 493 in three games for the Hawks.
Sterling got a 1,148 series and 234 high game from Mikah Hernandez, a 1,138 series and a pair of 224 games from Dylan Doss, a 1,052 series and 204 high game from Shea Hansen, and a 1,033 series and 213 high game from Tristan Oelrichs. Mason Near had a 611 in four games, while Gio Cantu (162) and Henry Oberg (159) both bowled one game for the Golden Warriors.
Dixon had two other individual competitors: David Laird had a 1,057 series and a 211 high game, and Cody Geil rolled a 956 series for the Dukes.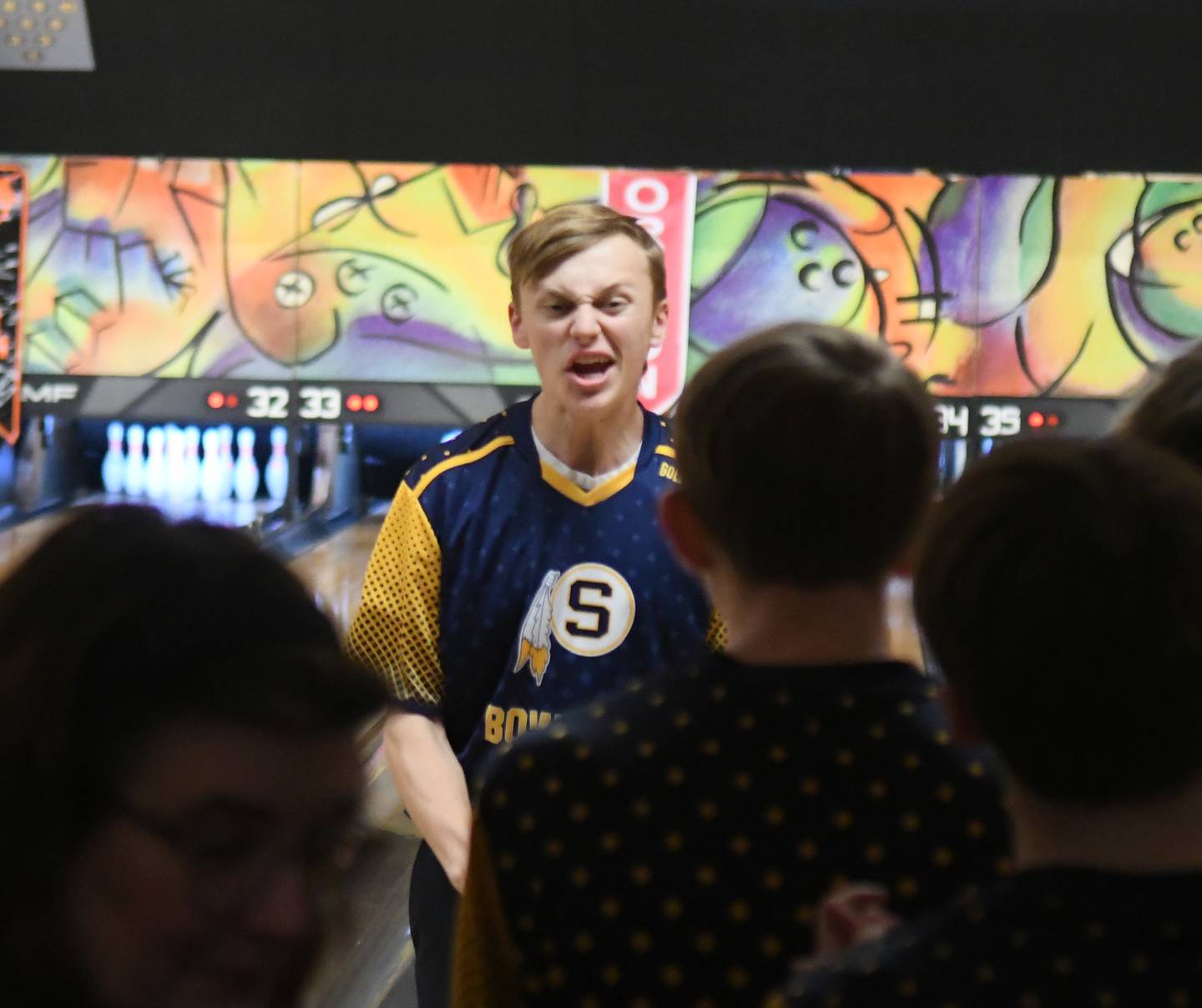 Boys basketball
Freeport 80, Rock Falls 39: The Rockets fell behind 25-9 in the first quarter and never recovered in a nonconference loss on the road.
Gavin Sands led Rock Falls (10-11) with 11 points, and Kuitim Heald added nine.
Dedric Macon paced the Pretzels with 22 points, and Elijah Richmond scored 17.
Morrison 67, Alleman 49: The Mustangs rolled past the Pioneers in the second half of a nonconference game at home, pulling away with an 18-13 scoring edge in the third quarter and a 21-10 surge in the fourth.
Brenden Martin poured in 29 points for Morrison, while Chase Newman scored 17 and Carson Strating added 12.
Ethan Georlett led Alleman with 13 points, and Lincoln Dorsey chipped in 10.
Forreston 48, Oregon 46: The Cardinals led 25-23 at halftime and 41-35 through three quarters, then held off a fourth-quarter surge from the Hawks in a nonconference game in Forreston.
Niko Valenzuela scored 22 points to pace Forreston, and Brock Smith added eight points and 10 rebounds.
Jordan Croegaert's 16 points paced Oregon, while Jameson Caposey scored 12 and Anthony Bell added seven.
Fulton 76, Riverdale 51: The Steamers avenged a loss from earlier in the season, notching their 11th straight victory with a win over the Rams at Stan Borgman Court.
Junior Baylen Damhoff hit four 3-pointers and poured in 39 points to lead Fulton (16-6), and went over 1,000 for his career. Senior Ethan Price added 13 points for the Steamers, who led 17-10 after one quarter and took control with a 26-15 second-quarter surge.
Ethan Kiddoo led Riverdale with 23 points, hitting five 3-pointers. Jake Willems made a pair of 3s and added 12 points.
River Ridge 47, AFC 45: The Raiders rallied from a 27-15 halftime deficit, but couldn't finish off the comeback in an NUIC crossover game in Ashton.
Carson Rueff hit a pair of 3-pointers and finished with 15 points for AFC, which got back in it with a 17-8 third-quarter run. Kaleb Goldman scored 11 points, and Lane Koning added 10 for the Raiders.
George Winter led River Ridge with 12 points, and Jack Ketelsen had nine.
Faith Christian splits in Rockford: The Falcons defeated Crossroads Christian 65-58, but fell to host Rockford Fire 66-64 in a pair of NICC games.
Faith trailed 31-26 at halftime against Crossroads, but rallied with a 20-14 surge in the third quarter and a 19-13 edge in the fourth. Levi Schuler had 24 points, 16 rebounds and two assists, while Isaiah Schuler finished with 16 points, six rebounds, five assists and two blocks. Tyler Kibble added 10 points, five rebounds, five assists and two steals, and Micah Wehler chipped in eight points, eight rebounds, six blocks, four assists and a steal.
The Falcons fell behind 36-30 by halftime against Rockford Fire, then came back to tie the score 46-46 going into the fourth before being outscored 20-18 in the final quarter. Levi Schuler had another double-double with 34 points and 13 rebounds while dishing six assists, and Isaiah Schuler added 15 points, four rebounds, two steals and a block. Wehler had six points, 10 rebounds, an assist and a block, and Kibble chipped in five points, four rebounds and two assists.
Manny's Shootout
Newman 76, Prince of Peace 46: The Comets outscored the team from Clinton, Iowa, 26-17 in the second quarter and 29-8 in the third to win in Mt. Carroll.
Lucas Simpson hit two 3-pointers and had 24 points, and Nolan Britt added 13 points for Newman (18-5). Gabe Padilla nailed three 3s for nine points, and Ayden Batten and Isaiah Williams each knocked down a pair of 3s for six points.
Jhikeith McGraw paced Prince of Peace with 15 points, and Hakeal Powell added eight.
Warren 62, Amboy 33: The Clippers trailed 13-3 after one quarter and 26-11 by halftime, then the Warriors pulled away with a 21-12 scoring edge in the third period in Mt. Carroll.
Eddie Jones hit three 3-pointers and finished with 15 points to lead Amboy, while Wes Wilson and Kabe Daniels both scored five. Troy Anderson added four points and six rebounds, and Garrett Pertell chipped in four points for the Clippers.
Reed McNutt scored 14 points for Warren, while Tyler VenHuizen and Landen Mahoney both had 12; Mahoney added eight rebounds. Brady Stietz and Treyton Pafford both had 11 points, with Stietz grabbing five rebounds. McNutt, VenHuizen and Pafford each finished with four boards.
Boys swimming
Byron 3rd, Sterling 4th in East Moline: The TigerSharks scored 169 points, and the Water Warriors were right behind with 142 to take third and fourth at the 10-team United Township Panther Invite.
Normal Community won the team title with 298 points, and Galesburg was second with 256.
Skylar Drolema was part of four top-five finishes for Sterling, taking second in the 50 freestyle (22.39 seconds), third in the 100 free (49.51), and teaming up with Peter Garland, Evan Scott and Conner Porter to take third in the 200 freestyle relay (1:36.28) and fifth in the 200 medley relay (1:48.17).
Garland added a fourth in the 200 freestyle (1:56.00), and Porter finished fifth in the 500 free (5:18.15) for the Warriors.
Tyson Politsch, Levi Schamper, and Gage Helfrich were all part of four top-five finishes for the Byron co-op. Politsch was second in the 100 butterfly (54.18 seconds) and third in the 100 breaststroke (1:04.25), Schamper was third in the 100 butterfly (54.56) and fourth in the 100 backstroke (56.54), and Helfrich was fifth in both the 200 freestyle (1:56.07) and 50 free (23.41).
Those three were joined by Nathan Bell to take second in both the 200 medley relay (1:42.67) and 400 freestyle relay (3:30.02). Bell also added a third-place finish in the 100 backstroke (56.34).
Wrestling
Bob Leuders Invite: Five local wrestlers earned runner-up finishes at the 21-team tournament in Clinton, Iowa.
Sterling was the top local team in 11th place with 75 points, while Newman was 12th with 64. Fulton took 13th (45), Erie-Prophetstown finished 14th (41), and West Carroll was 19th (9). Linn-Mar out of Marion, Iowa, won the team title with 212.5 points, while Cedar Rapids Prairie was second (173).
Sterling's Zyan Westbrook was second at 113 pounds, winning by pin and major decision before falling 10-4 in the finals. Newman's Carter Rude was runner-up at 138, winning two pins and a decision before losing by pin in the finals.
Erie-Prophetstown's Jase Grunder took second at 152 pounds, winning two pins and a major decision before an 11-3 loss in the finals. Fulton had a pair of runners-up in Ben Fosdick and Zane Pannell; Fosdick won two pins and a major decision before losing 6-2 in the 145-pound finals, while Pannell won two pins and a decision before a 3-1 overtime loss in the finals at 170.
Other Sterling wrestlers who finished in the top eight in their weight class were Tommy Tate (5th at 160), Karson Strohmayer (6th at 126), Landon Kenney (8th at 132), Tatum Allen (8th at 152), Gage Tate (8th at 170), and Javier Luna (8th at 285).
Newman also got top-eight finishes from Zhyler Hansen (3rd at 113), Briar Ivey (6th at 120), Daniel Kelly (8th at 145), and Jacob Newberry (8th at 195). Hansen won a wild third-place bout 16-15.
Wyatt Goossens took third at 120 for Erie-Prophetstown, winning his final bout with a pin. West Carroll's Connor Knop was the other local top-eight placer, taking fifth at 106.
Randy Bowman Invite: Oregon placed eighth at a 20-team tournament in LeRoy, with Grant Stender winning the 152-pound title for the Hawks.
Stender won his first three matches by pin, then notched an 11-2 major decision in the championship bout. Quentin Berry added a third-place finish at 195, winning his first two matches by pin before a loss in the semifinals; he came back to win 9-6 in the third-place match.
Ethan Mowry (132) and Landyn Windham (182) both finished fifth for Oregon, and Anthony Bauer (160) placed sixth.
Bob Mitton Invite: Led by 132-pound champion Wyatt Doty, the Polo Marcos placed eighth at the 21-team tournament in Orion.
Polo scored 115 points, while Amboy was 16th with 60.5. Riverdale won the team title with 255 points, well ahead of the host Chargers, who were second with 191.
Doty won a 13-5 major decision in the title bout at 132, while Josiah Perez lost a 2-0 decision in the championship match at 106 for the Marcos. Lucas Nelson (126) and Maddux Hayden (195) both finished fourth, and Wyatt Meiners (120) was fifth for Polo.
Amboy's top finisher was Landon Blanton, who took third at 113 pounds; he won by pin in 3:09 in the third-place bout. Josh McKendry (138) finished fifth, while Chase Montavon (120) and Levi Near (132) both took sixth for the Clippers.