DIXON – Harvest Day will be the first to tell you that she's as competitive as they come. So it was no surprise that the Dixon grad come out strong and set the tone Thursday at the Sauk Valley Media All-Star Basketball Classic.
She scored eight of the Telegraph Team's 10 first-quarter points, then had three baskets down the stretch in the fourth quarter to help seal the Telegraph's 46-38 victory at Sauk Valley Community College.
[ Photos from the 2023 Sauk Valley Media All-Star Basketball Classic ]
Day scored the Telegraph's first eight points as it took an 8-4 lead with 2:42 left in the first quarter. She then scored on a drive down the lane in the latter stages of the fourth quarter, and assisted on Dixon teammate Ella Govig's basket the next trip down the court to push the Telegraph's lead to six and then seven points to help seal the win.
"We just really wanted to win. We wanted to have fun, but we really wanted to win," Day said. "I think after halftime, we all kind of realized how each other plays, and we ended up working really well together. I think it was just the heart there for us."
After falling into the early 8-4 deficit, the Gazette Team rallied. Eastland's Paige Joiner scored a basket and assisted fellow Cougar Sarah Kempel on the next possession, then Rock Falls' Brooke Howard gave the Gazette a 12-10 lead with a pair of coast-to-coast layups off of steals in the first 2:32 of the second quarter.
"I think we just needed a minute to get to know each other and know who's best where," Howard said of the first-half surge. "After that, we played good defense, we passed the ball around great, and our rebounding was really good."
Kempel returned the assist to Joiner, then Joiner turned a pass from Morrison's Diana Robbins into a 3-pointer with 1:57 left in the first half for a 17-14 lead. Rock Falls' Emily Lego scored on a putback with 17 seconds left before the break to give the Gazette a 19-14 halftime lead.
"We were getting into it. We had good ball movement, and our help defense was pretty strong," Joiner said. "We were all feisty going after the ball."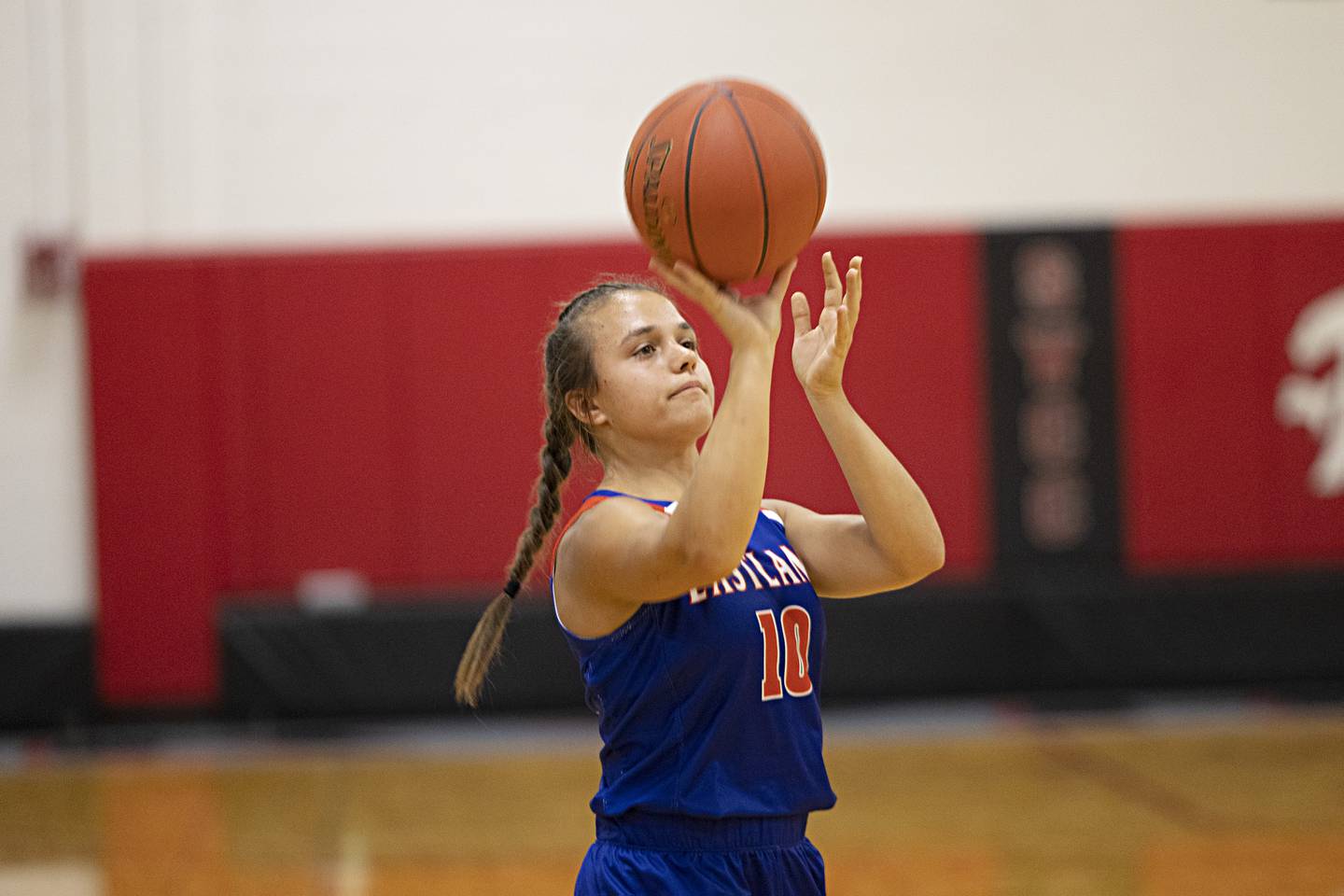 But the Telegraph had the answer to start the second half. Dixon's Hannah Steinmeyer scored a layup off a steal, then hit two free throws before Oregon's Hadley Lutz drove to the hoop for a basket to give the Telegraph the lead again at 20-19 less than two minutes after halftime.
Lutz then answered a basket by Eastland's Quinc Haverland with a 3 from the right wing for a 23-21 lead, and after a free throw by Sterling's Olivia Turner made it a one-point game, Lutz found Govig on a fast break off a long rebound for a three-point play and a 26-22 lead.
"We started putting our plays together and running them right, and they started working for us," Lutz said. "Our passing was good, and everything was coming together for us. It worked well."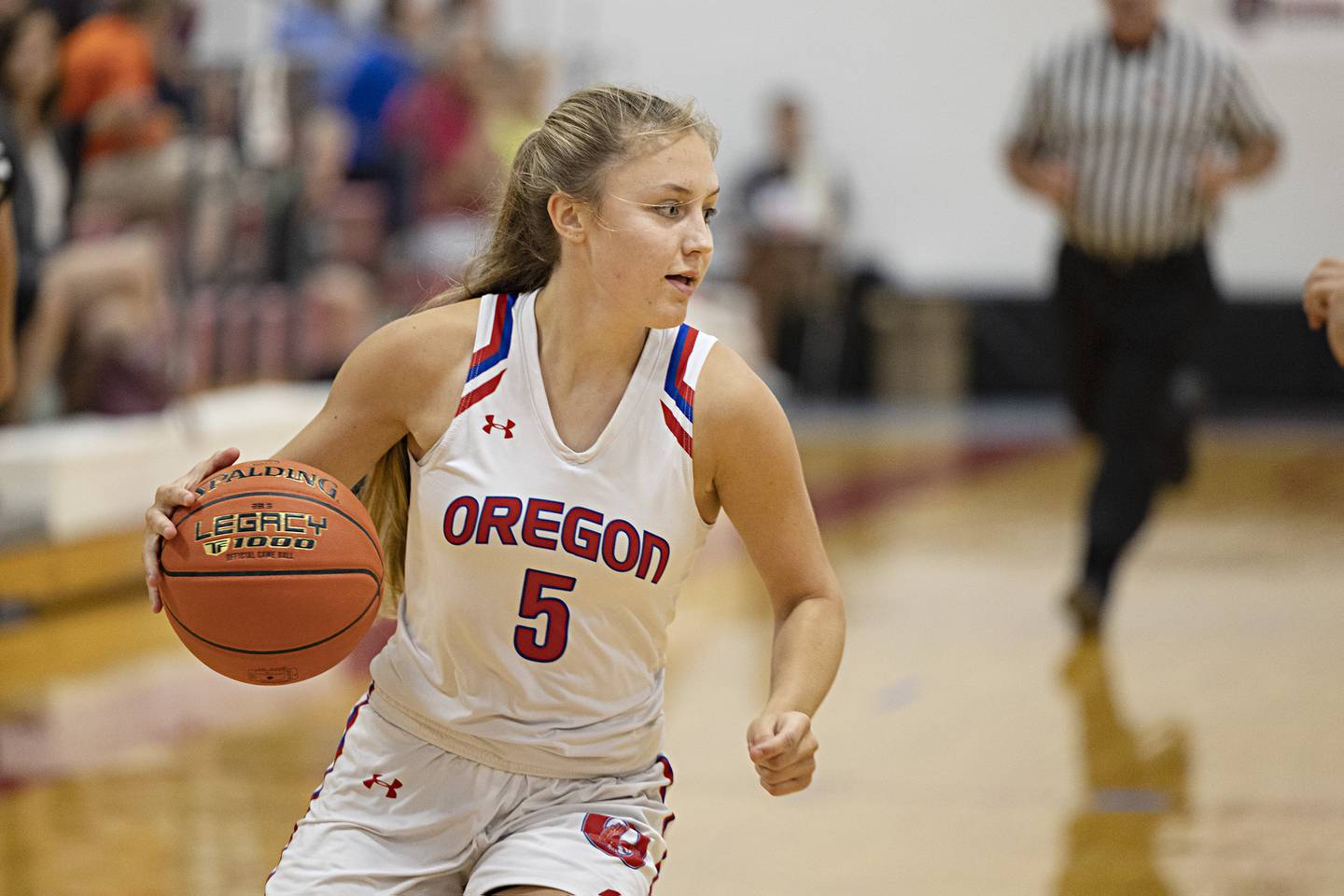 Turner answered with a basket, but Day drove the lane and converted a pretty scoop shot. Howard then drove to the hoop and converted a three-point play to get the Gazette back within 28-27 with 2:23 left in the third quarter.
But Polo's Lindee Poper, who made her presence felt on defense with five blocked shots, scored on a pair of putbacks to stretch the lead to 32-27.
"It was fun to get a few points, but also to get stops on the defensive end," Poper said. "It's actually really fun playing with all these great players. I was a little nervous at first, but it's super fun – and getting to play with [some of] them at Sauk this week as we started practice [as teammates for next season], it's been great.
"It was a little tiring tonight, but I had a lot of fun, and I think everyone else did too."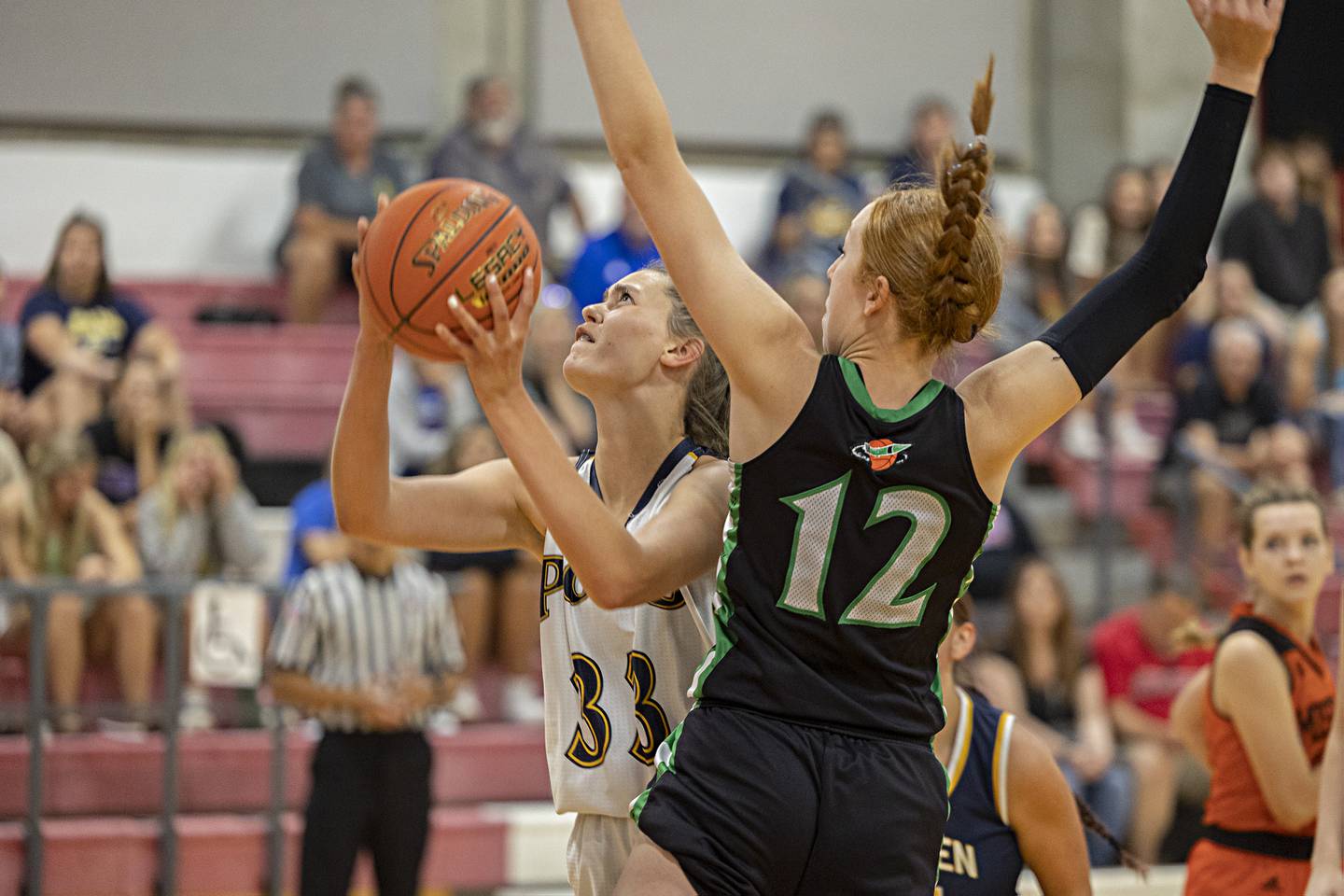 Leading 32-29 heading into the fourth, Lutz scored on a pass from Poper, then Day answered a Haverland basket with a steal in the backcourt for a layup and a 36-31 lead. Dixon's Abby Knipple scored on a putback with 5:31 to go to make it 38-31, then Day had the answer again after Joiner nailed a 3 for the Gazette, driving down the lane for another layup.
She then connected with Govig on a post-to-post pass – the last of many for the duo in Dixon uniforms – with 2:33 to play before Govig hit a pair of free throws 23 seconds later to push the lead to 44-35.
Day closed the game with a baseline drive where she kept her dribble alive and weaved through and around defenders to cap off her MVP performance.
"I think that's why we're all invited to the All-Star game. We all have that drive, we all have that little get-go. If someone's down, we all want to be the one to step up and say, 'OK, let's go!'" said Day, who also won the 3-point contest at halftime. "So I think it's really nice to see all of these all-stars playing well together, being team players but also knowing when they need to step up and really shine."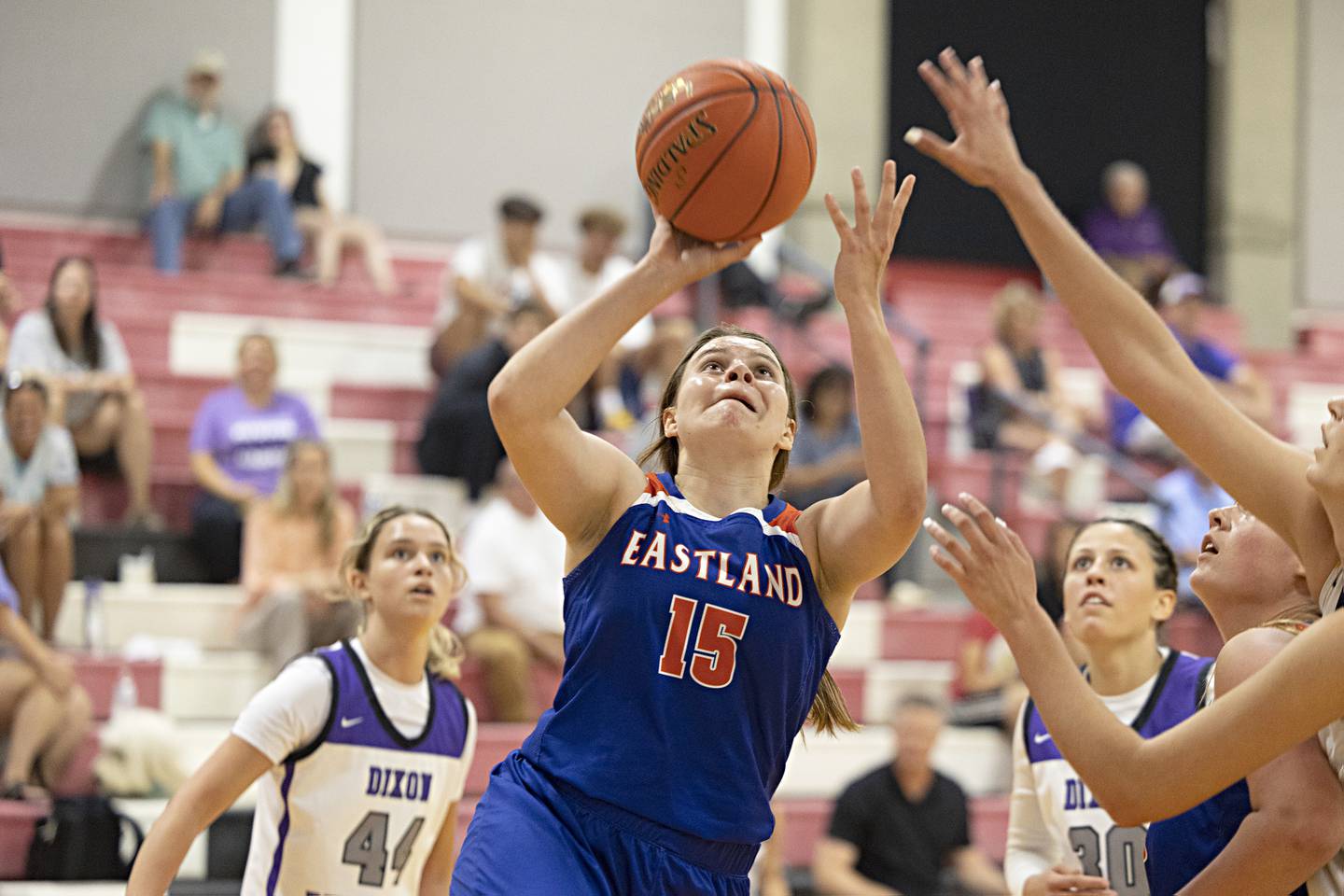 Day led all scorers with 16 points, and she also had five rebounds, two steals and an assist. Lutz had nine points, three rebounds, two assists, two steals and a block, and Govig also had nine points to go with two steals and two blocks. Poper finished with six points and seven rebounds to go with the five blocks for the Telegraph, and Steinmeyer added four points, seven rebounds and three steals.
"I think we all did great, and it just worked perfectly," Lutz said. "When we were tired, somebody would step up, then somebody else, and it was amazing."
Joiner led the Gazette with 11 points, and also grabbed three rebounds and three steals. Howard had seven points and two steals, Turner added six points and three boards, and Haverland had six points, five rebounds and a block. Kempel chipped in two points, six rebounds and four assists.
"We knew it was going to be tough to keep the lead. They're a good team, we're a good team, and it was really cool playing with the best in the area and playing against the best in the area. We just played hard until the end," Howard said. "It was great when I heard I had another opportunity to play, because I thought I was done months ago, but here I am. It was fun."
"I played a couple days ago in a different all-star game, but meshing with a new group of girls and getting a feel for the rim and everything, it was different – but we got there," Joiner said. "It was cool. I love my teammates, I love the game, so it was really fun to be back. I felt really blessed to be chosen to come out here and play. It was a lot of fun."
The Gazette lost the services of SVM Player of the Year Shelby Veltrop of Morrison midway through the first quarter when she landed on another player's foot coming down from a layup. She suffered a sprained ankle and was out the rest of the game.
In a special moment, the Telegraph finished the game with all four Dixon seniors playing together one final time.
"It was really nice. It brought up some emotions, because we had a bad ending [to the high school season], and we wanted to finish it off in a good way," Day said. "I think that's why we really wanted to win, because we wanted to end on a high note – and end it together. And it was really nice playing with Hadley, too, because we grew up with her and it was just a nice feeling."