STERLING – Early in its third-place match against Newman at the 12-team Sterling Invite at Challand Middle School on Saturday, Dixon found itself in a challenging position, without its top setter after losing the first set.
But after regrouping at the start of the second set, the Duchesses stormed back to win 18-25, 25-17, 15-8.
"Our main setter is Sydney Hargrave. We run a 6-2, we have two setters, but she kind of runs the show a little bit more; she doesn't come out. She really hurt her ankle or her toe," Dixon coach Bunyan Cocar said. "She was going to try to gut it out – she did the first set – and she just wasn't moving how she normally does.
"Hanna Lengquist is our second setter, and she does a fine job, too. So she ran a 5-1 that second set, and everybody just stepped up. I said, 'Hey. Do it for Sydney. She's a senior, she wanted to win this, but she just couldn't go.' So everybody else kind of pitched in, and we did well."
The Comets came out firing in the first set, led by a strong individual effort from junior Kennedy Rowzee, who hammered five kills.
Newman took a quick 6-3 lead, then stretched it to 14-6, capitalizing on several serve-receive and hitting errors. Dixon senior Joey Brumbly led a mid-set surge, spiking back-to-back kills to draw within 14-11, and a Newman hitting error cut the deficit to 14-12.
For the rest of the set, the Comets could hardly be slowed. Junior Jess Johns spiked a kill near the left pin to make it 22-18 Newman, then Addison Foster served an ace to reach game point, and Johns spiked another well-placed shot to the back-left corner, sealing the 25-18 win.
In the second set, the Duchesses came back reinvigorated. Back-to-back Morgan Hargave kills gave Dixon a 5-3 lead, and from that point on, it never trailed in the match again.
"I think after our [championship] semifinal match with Crossroads Christian, our heads weren't in the game. I think that match kind of took it out of us," Newman coach Debbi Kelly said. "It was a good, very hard-fought match with them, and they're a great team. I think we just kind of came into the Dixon game more focused on where they wanted to go afterwards than getting the job done."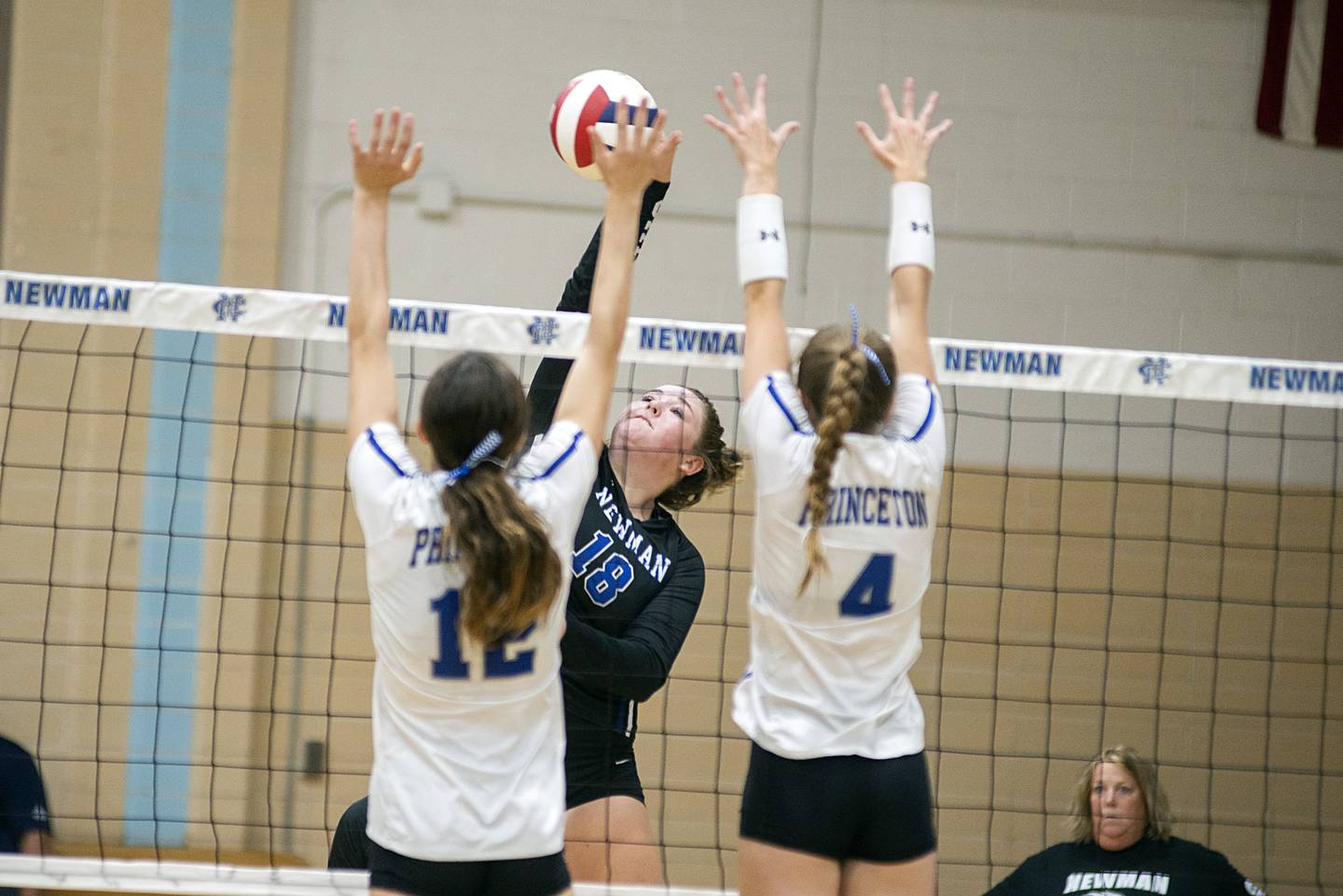 Newman mounted an impressive mid-set rally, pulling within 11-10 on a Rowzee kill, but Dixon found another wave of momentum, and surged to a 19-14 lead. Four Elexa Varden blocks fueled a 9-3 run, swinging the momentum further, and the Duchesses claimed Set 2, 25-17.
"We didn't miss serves, we kind of regrouped and everybody did their jobs. We didn't make mistakes, played clean, and I think because we lost the first set so badly, they thought it was gonna be easy and so maybe we took them by surprise a little bit," Cocar said. "Hanna did a great job, Ella [Govig], Elexa did a nice job in the middle on Rowzee. She got a bunch of kills on us, but we kind of touched a few in the second set."
With momentum suddenly on its side, Dixon controlled the third set the entire way. The Duchesses scored the first three points, capped by a Govig kill, then a service error and two consecutive hitting errors put Newman behind 6-1, prompting a Comets timeout. After the pause in action and moment to collect itself, Newman went on a run of its own, drawing within 11-8.
But again, Dixon had answers. With four straight points, including a Morgan Hargrave ace for No. 15, the Duchesses secured their three-set victory.
"The third set, we just kind of kept rolling. We knew what rotations worked for us," Cocar said. "When Rowzee was out, we kind of told our servers, 'Keep the ball in play. Let's try to score some points in those spots.' And we did."
Leaders for Dixon in the third-place match were Morgan Hargrave with seven kills and six digs, Brumbly with four kills and seven digs, Lengquist with 17 assists, five digs and three aces, and Natalie Davidson with 14 digs. Govig added three kills and a block for the Duchesses.
The Duchesses went 4-1 on the day, losing their semifinal match to eventual champion Rockford Lutheran 23-25, 19-25, and beating Sterling 25-20, 25-18, and Ashton-Franklin Center 25-11, 25-12. They also defeated Erie-Prophetstown in three sets. Overall leaders for Dixon on the day were Morgan Hargave with 23 kills and 34 digs, Sydney Hargrave with 49 assists, Brumbly with 27 kills and 34 digs, and Davidson with 65 digs.
"We did well [overall]. The Lutheran game got away from us, but the Erie game was really good. We stuck it out, they did really well against us the first set, and we made adjustments the second set," Cocar said. "And the Sterling match was good because it kind of woke us up. We knew we had to play tough all day, so E-P was good, Lutheran, and now this one for third place. We were really happy to pull out at least some sort of accolade."
Newman went 2-2-1 on the day, earning wins over Pecatonica (25-9, 25-14) and Sterling (25-7, 25-17), tying Erie-Prophetstown 25-12, 24-26, and losing to Crossroads Christian 21-25, 25-23, 15-17, as well as Dixon.
Leaders for Newman throughout the tournament were Rowzee with 41 kills, 13 blocks and seven digs; Johns with 45 digs, 34 kills, six blocks and three aces; Katie Grennan with 58 assists, 31 digs, 19 aces and 12 kills; Molly Olson with 31 assists, 28 digs and seven kills; and Foster with 62 digs, nine assists and five aces. Sam Ackman chipped in 38 digs and nine aces, while Sophia Ely added 16 kills and 12 digs for the Comets.
"Our game with Crossroads Christian in the semifinals I thought was one of our better games. We came back, they're a tough team, and I thought we responded well," Kelly said. "It was a faster-paced game that we needed to have. Pool play, I thought we did well. We kind of fell asleep against E-P and won, but it didn't really affect us too much, so overall, kind of a good tournament. We'll take some stuff that we need to work on and get better as the season ends."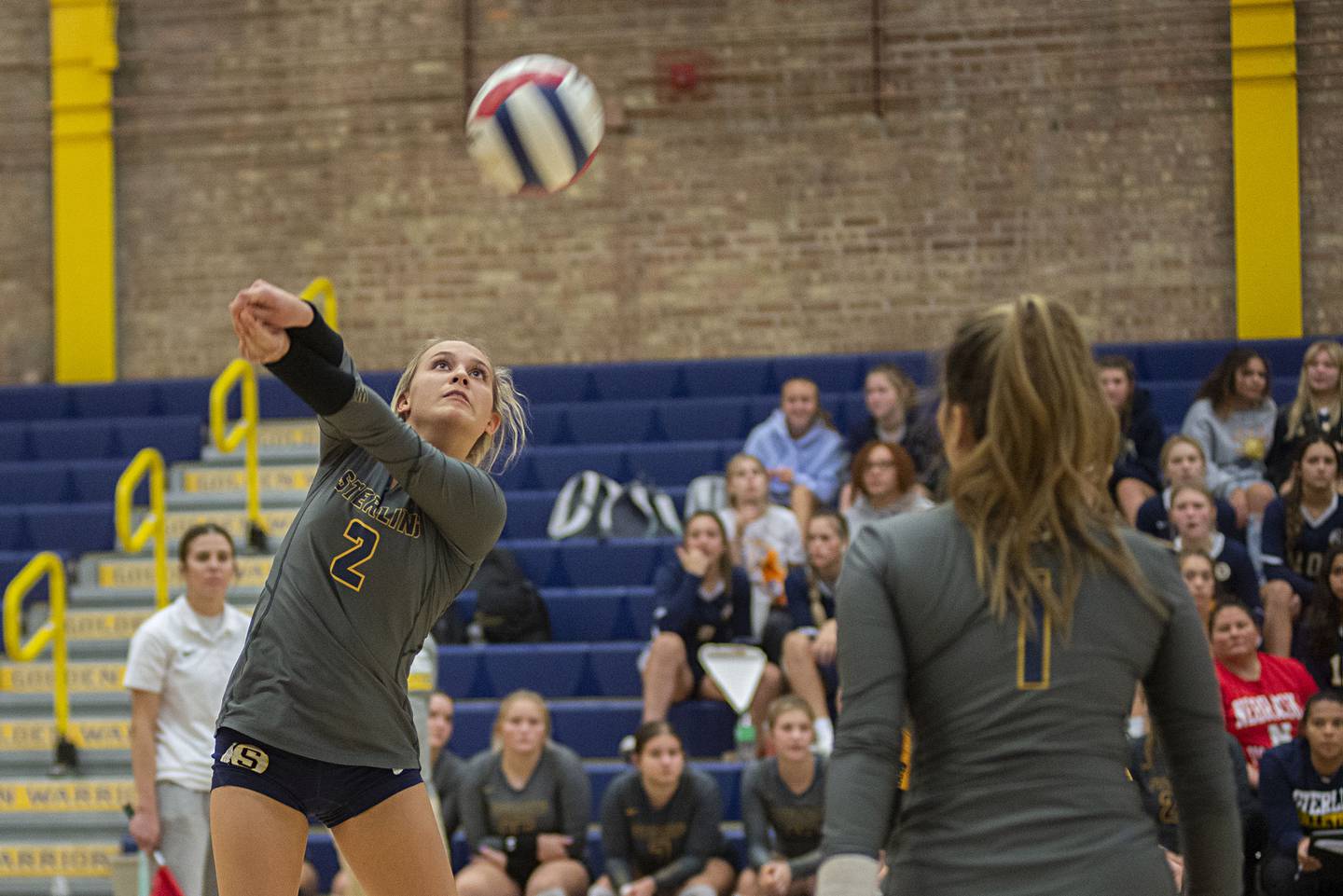 Sterling went 2-3 at its home tournament, placing sixth after a loss to Erie-Prophetstown in the consolation championship.
"I thought we played pretty well. Played some good teams – Newman and Dixon teams we already saw before – and had some good results," Sterling coach Dale Dykeman said. "We didn't get the win in either of those, but we liked the way we competed and the energy we played with in those matches. 2-3 on the day, took an injury to a middle, so we had to flip lineups mid-tournament, and that kind of threw us for a little bit, but the kids rolled with it and did pretty well. Sustaining an injury to an important piece, I think the kids handled that and did as well as they can. 2-3 on the day with the teams we played, we're getting better."
Fulton went 3-1-1 on the day, beating Ashton-Franklin Center 25-12, 25-9; Pecatonica 25-20, 25-21; and Bureau Valley 25-23, 25-21. The Steamers tied Rockford Lutheran 18-25, 25-23, and lost to Rochelle 20-25, 14-25.
Fulton was led by Annaka Hackett with 29 kills and 12 digs; Ava Bowen with 21 kills, 12 aces and 10 digs; Brooklyn Brennan with 21 kills, 51 assists, 35 digs and seven aces; and Miraya Pessman with 21 kills, 32 assists and 39 digs. Resse Germann added 47 digs and seven assists for the Steamers.
Erie-Prophetstown finished fifth with a 2-1-2 record, splitting pool play games against Pecatonica (17-25, 25-19) and Newman, then falling to Dixon 12-25, 25-16, 16-14. The Panthers then defeated Forreston 25-16, 28-26, and topped Sterling 25-16, 25-18.
Aylah Jones had 20 kills and 26 digs, Kennedy Buck finished with 76 assists, 32 digs and 16 blocks, and Jamie Neumiller led the team with 63 digs and seven aces. Lauren Abbott spiked 16 kills, Hailey Bush added 15 kills, Claire Reymer stuffed nine blocks, and Jenna Gibson served six aces.
Forreston fell to Rochelle 20-25, 25-27 to finish in eighth place.
Bureau Valley finished 1-4, falling to Forreston (25-16, 25-21), Rockford Christian (25-16, 25-13) and Fulton (25-23, 25-21) before defeating AFC 25-22, 25-23, then falling to Pecatonica in its finale 25-16, 25-17.
Kate Salisbury had 52 assists, 16 points, five aces, nine kills and seven digs for the Storm, while Keely Lawson finished with 16 kills, 16 digs, 20 points, eight aces and three blocks, and Ella Thacker added 23 kills, 22 digs and an ace. Emma Stabler had 11 kills, wight digs and three blocks, Alaina Wasilewski had four kills and six blocks, and Katelyn Stoller finished with 14 digs, 10 points and two aces. Callie Michlig (15 digs) and Nikki Kerber (11 digs) also contributed to the back-row defense.