CHARLESTON – For a handful of Sauk Valley area boys track & field athletes, the dream of winning a state title continued Thursday in the IHSA Class 1A state prelims at O'Brien Field.
Four individuals and two relay teams advanced to Saturday's finals.
Oregon's Daniel Dominguez will be among the state final competitors on Saturday after recording a discus throw of 44.69 meters, good for 10th in the field of 37. After an hour-and-a-half of weather delays, including a 30-minute lightning delay mid-discus, the Oregon thrower redeemed his earlier 23rd-place finish (13.40m) in shot put and punched his ticket to the state final in the last event of the day.
"Shot, it was kind of a bad day, but we got through it. Once we got to discus, it was over with, it's done, it's on to the next job," Dominguez said. "Today, I felt like I finally got into the groove that I usually am in at the end [of discus], on my last two throws.
Dominguez says he enjoyed competing against familiar faces in the state prelims.
"We all know each other. It's all fun," he said. "It's always fun going against people you've already met, especially going to indoor state for shot. It's basically the same people from the same flight. And the same here in discus, it's almost the same people. So we all know each other, we all joke around a little bit, we have our fun."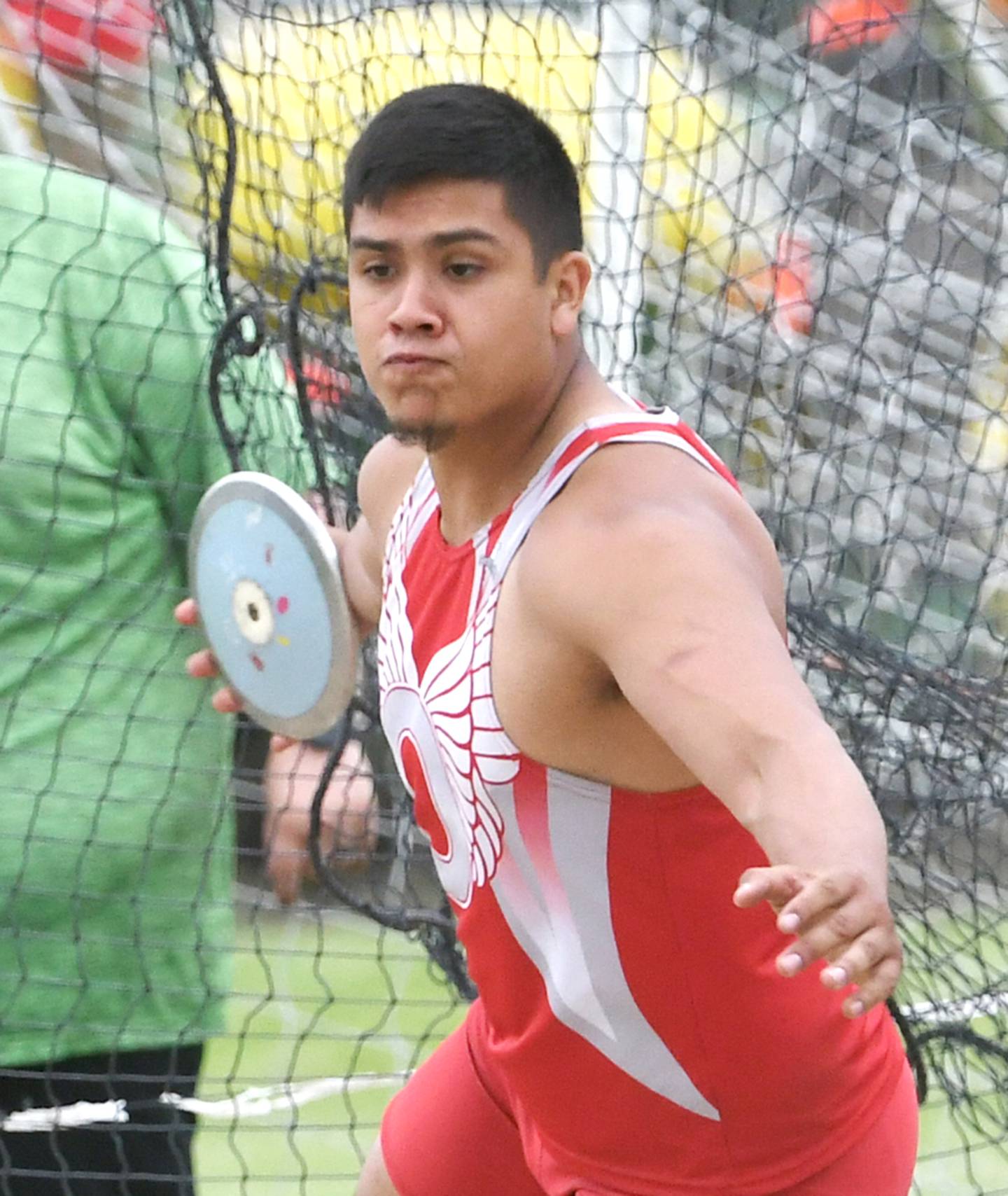 Erie-Prophetstown's Trevor Cobo advanced in the high jump as one of 14 athletes to clear 1.88 meters.
Cobo's Panther teammate, Braxton Froeliger, is also a state final qualifier, leaping 6.37 meters in the long jump to head into Saturday in ninth place.
Froeliger, Cobo, Ben Lantz and Michael Carlson missed the qualifying mark in the 4x200 by less than a second, clocking in at 1:32.80 for an 11th-place finish. The same Erie-Prophetstown relay team came in 24th in the 4x100, completing the run in 44.68.
"I felt really good about my jumps, my first two. And then I was barely over, by like less than two, so a little worried going into the third jump," Froeliger said. "But just went back a little bit and I knew my jumps were good enough to get, hopefully, to the finals here. In the 4x1, we ran against a pretty fast heat, but I think we did a good job this year."
Parker Holdorf was one of 13 vaulters to clear 3.9 meters on Thursday, joining E-P teammates Cobo and Froeliger in the state final. Lantz nabbed a 17th-place finish individually in the 300 hurdles, clocking a 43.34.
Morrison's Brady Wolf, Thomas Dauphin, Justice Brainerd and Alex Anderson missed the qualifying mark in the 4x100 by 0.1 seconds, clocking a 43.98, but qualified in the 4x400, running a 3:26.56 to earn the fifth seed going into finals.
In the 4x800, Newman's Jacob Donald, Wyatt Widolff, Thomas Powers and Lucas Simpson placed third in their respective heat and eighth overall, running an 8:19.15 to reach the state final.
Donald's fast start gave the Comets an early lead, and Powers, Widolff and Simpson ran strong legs of their own to produce the qualifying time.
Powers and Widolff had nothing but praise for their teammate after his effort in the leadoff leg.
"First of all, look, when you've got Jacob starting out getting us in first, I think all of us just don't want to disappoint that guy. He's been with us all year," Powers said. "At sectionals, he was sick, ran 2:04. When he does that, you can't do bad. We went out, and honestly, getting to finals was our goal. And I think with today's performance, we've got a heck of a lot of confidence going into Saturday. So it's going to be an awesome relay."
"I think it was a really good race. I was not expecting to be in the lead for so long, because, thank God for Donny, Jacob Donald," Widolff said. "He's very, very fast, and you can tell he gave it his all because he's throwing up right now. It was a tough race. I was really, really tired at the end because I gave it my all, and that Rockford Christian kid came out of nowhere and he got me, but I'm very proud and happy with getting third in this heat."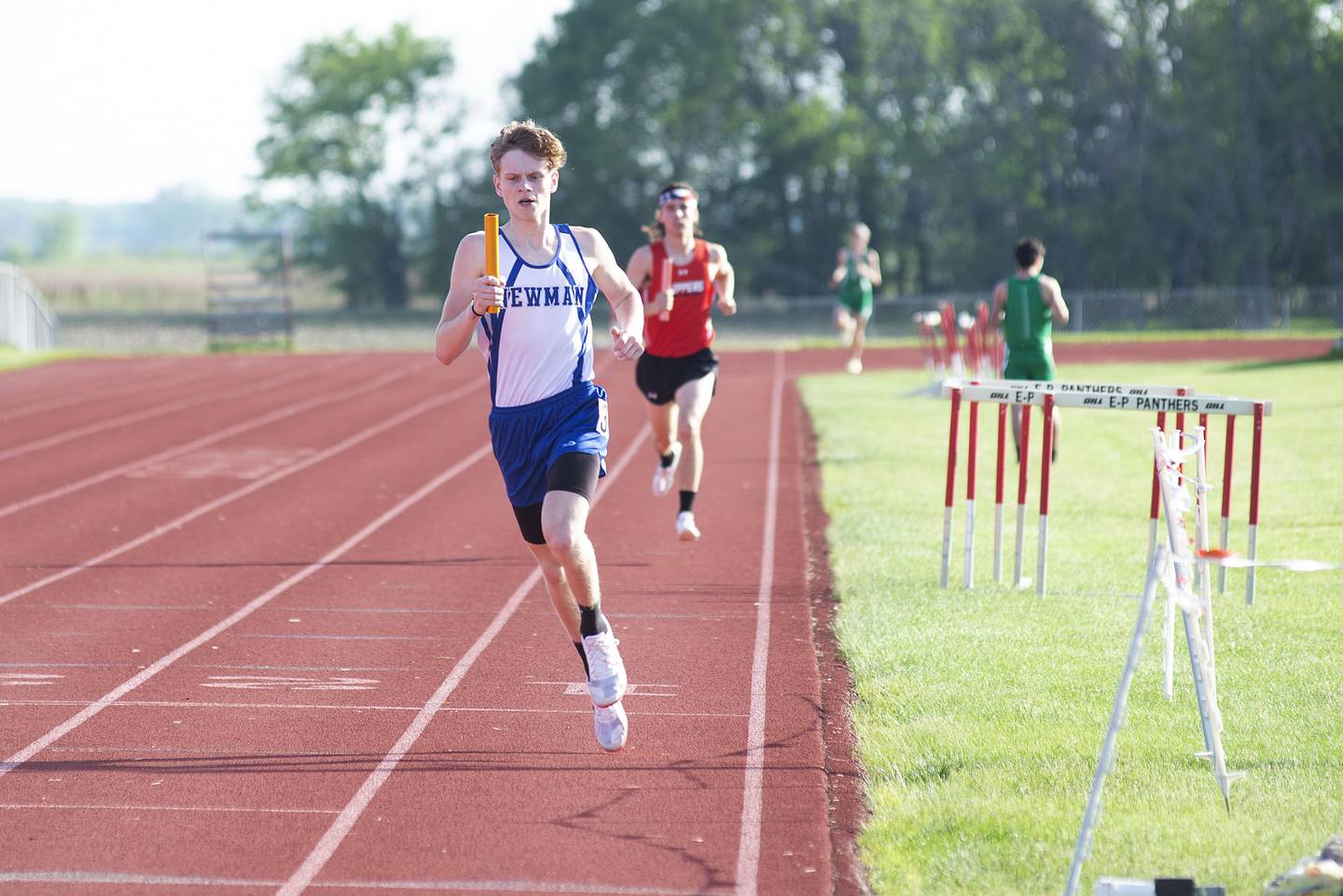 Donald and Simpson were also very pleased with the third-place finish in their heat.
"Coming in today, I was really tired, so I wasn't really sure I was going to run," Donald said. "But I think I ran like around two [minutes] flat tonight for my first leg, so I was really happy today. I PR'd, so I felt really good about it. I feel really good taking third. I really didn't know what to think coming into this race because I knew, obviously, there's a lot of good teams here. I honestly didn't really know what to expect, but taking third is definitely a win in my book."
"Today, I felt pretty good about my leg. I PR'd by almost 10 or 12 seconds," Simpson said. "We thought we were not even going to get third in our heat, so we're happy with third."
In the 4x400, Donald, Widolff, Simpson and Owen McBride's race was negated due to a false start.
In the 4x200, Newman's Marcus Williams, Ayden Batten, Owen McBride and Cody McBride took 31st, clocking a 1:36.83.
Forreston's Matthew Beltran narrowly missed the cut for the state final in the 110 hurdles as the third-place finisher in his heat, clocking a time of 15.94 seconds – just .03 seconds slower than the last qualifier in the event. Beltran also had a nine-way tie for 15th in the high jump, leaping 1.85 meters.
"I'm just feeling really blessed to be down here. Wouldn't be down here without my coaches and family support, friend support, teammate support," Beltran said. "Not the exact outcome I was hoping for in high jump ... I think it was just kind of an off day. Definitely not my best race [in the 110 hurdles], but I went out here, gave it 100%."
Milledgeville-Eastland's Kacen Johnson finished 23rd in the 110 hurdles, running a 16.73, while Oregon's Kenrick Oriyavong took 30th, running an 18.61. Oriyavong also placed 22nd in the 300 hurdles, posting a time of 44.20.
The Missiles' Kolton Wilk was 28th in the long jump with a leap of 5.30 meters.
Fulton's Daken Pessman tied for 22nd in the triple jump, leaping 12.18 meters, and teammate Braiden Damhoff landed in 22nd in the shot put, recording a throw of 13.42 meters.
Bureau Valley's Elijah House placed 16th in the 800, running a 2:01.07.