The Sterling girls tennis team took first at its eight-team home invite on Saturday, scoring 27 points, led by singles sweeps from Ellie Aitkin and Layla Tablante. Newman tied Kaneland for second place with 23 points, Rockford Lutheran totaled 19 and Princeton had 18. Rockford Harlem tallied 15, Rockford East recorded 12, and DeKalb finished with eight.
Aitkin, Sterling's No. 1 singles player, defeated Harlem's Maya Hargraves 6-1, 6-1; Rockford Lutheran's Melissa Hillman 6-0, 6-3; and Newman's Emma Oswalt 6-1, 6-4 for a first-place finish in her bracket.
Oswalt defeated Princeton's Kailee Winner 6-2, 4-6, 1-0 (8), and DeKalb's Amirah Shakir 6-4, 7-5.
Tablante, Sterling's No. 2 singles player, defeated Newman's Maria Ardis 6-0, 6-0; Harlem's Rita Zhu 6-0, 6-1; and Kaneland's Lexi Maberry 6-4, 6-3 for a first-place finish in her bracket.
Ardis defeated Rockford Lutheran's Violet Sjostrom 6-2, 6-7 (2), 1-0 (7).
At No. 1 doubles, Sterling's Emma Trader and Eva Dillon defeated Princeton's Nora Schneider and Sadie Thornton 6-2, 6-2; and lost to Rockford Lutheran's Katelyn de Guzman and Megan Hillman 6-3, 6-2; and Rockford East's Day Paw and Eh Htoo 6-1, 6-4. Trader and Dillon finished fourth in their bracket.
At No. 1 doubles, Newman's Emily Beattie and Julia Rhodes defeated Kaneland's Abby Shoaff and Anna Bischoff 6-4, 6-3; and Rockford East's Paw and Htoo 4-6, 6-3, 1-0 (8); and lost to Rockford Lutheran's de Guzman and Megan Hillman 8-4.
At No. 2 doubles, Sterling's Leticia Caudillo and Teagan Morris defeated Rockford East's Eh Toh and Hser Eh Paw 6-3, 7-6 (2); and Newman's Emmy Burger and Laurel Chavera 6-1, 6-1; and lost to Kaneland's Abby Grams and Lauren Andrews 6-1, 6-2. Caudillo and Morris finished third in their bracket.
Burger and Chavera defeated Harlem's Bre Sotelo-Cisneros and Cassie Chlaeyssen 6-1., 2-6, 1-0 (5); and Princeton's Kambri Fisher and Katie Kammerer 6-3, 1-6, 1-0 (9).
Boys golf
Wessels Invite: Dixon's Mason Weigle matched Byron's Charley Mershon's 79-stroke round at Sunset Golf Course in Mt. Morris for a runner-up finish in the field of 53. Dukes teammate Alex Harrison was the sixth-place finisher overall, shooting an 83.
Steven Kitzman took 11th for Dixon, carding a 90; John Godbold had a 96, Cade Hey fired a 97 and Jayce Kastner added a 104.
Oregon was led by Brogan Wilkinson's 96 and Noel Campos' 97. Dom Terlikowski shot a 99, Kylar Early carded a 101, Jackson Messenger fired a 102 and Brady Davis shot a 104.
Polo was led by Cody Buskohl's 106, while Caleb Sutton fired a 131 and Aiden Messer added a 136 for the Marcos.
Competing for Forreston were Kaden Brown (91), Kaden Ganz (100), Kendall Erdmann (100), Heath Schubert (111), Darin Greenfield (114) and Hayden Stralow (117).
Byron won the team title with a 327, while Dixon was second with a 348, and Yorkville took third with a 373. Oregon finished fifth (393), Forreston was sixth (402), and Polo took 10th (571).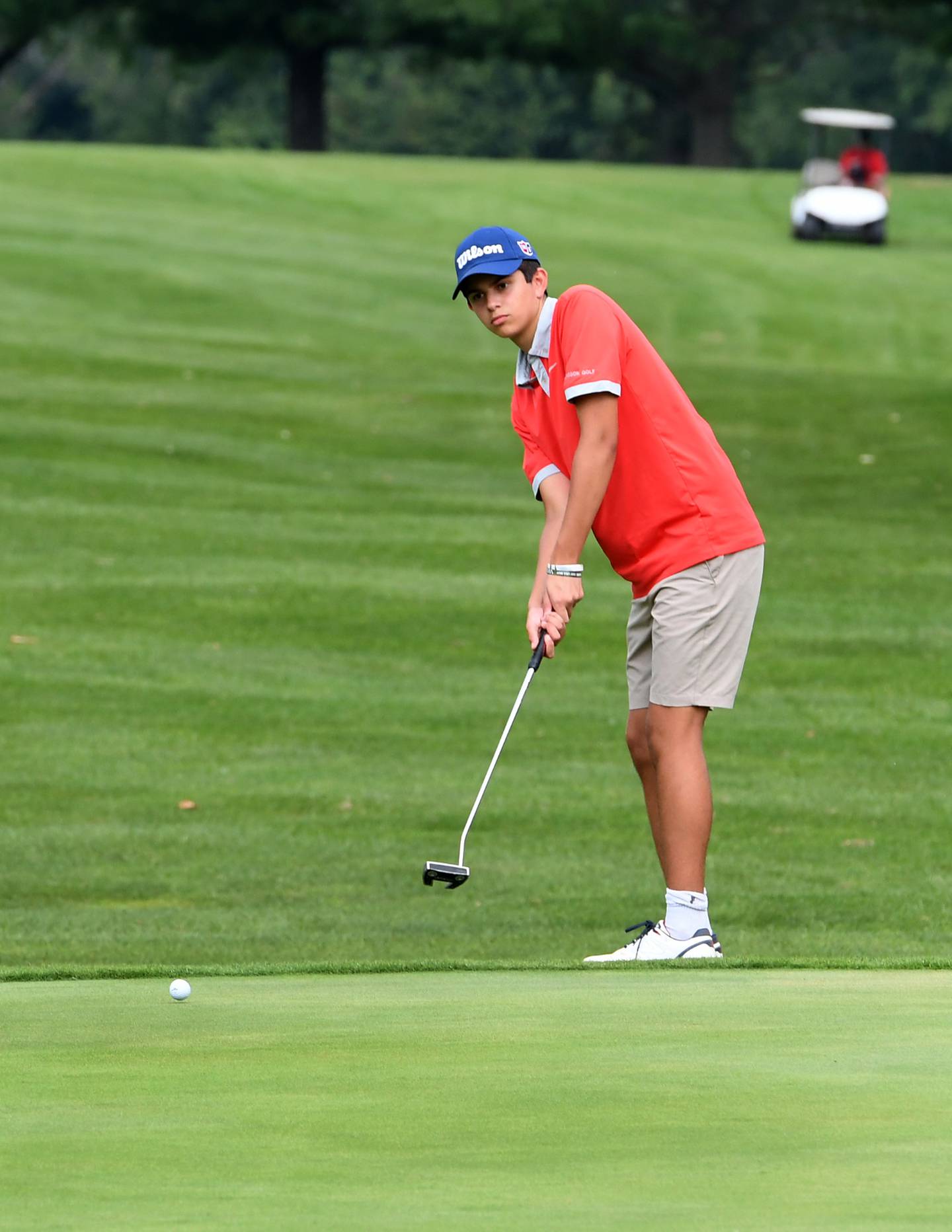 Pretzel Invite: Sterling's Cam O'Brien shot a 79 for a third-place overall finish at the 12-team invite at Park Hills.
As a team, the Golden Warriors placed sixth with a score of 354.
Mason Hubbard fired an 89, Bryce Hartman had a 91, and Carter Morris shot a 95; Trevor Dir chipped in a 97, while Braden Hartman carded a 98 for Sterling.
Boylan Catholic was the first-place finisher with 325, and host Freeport was the runner-up with 336.
Volleyball
Rock Falls rolls to title: The Rockets won four matches to take home the title at the Bradley-Bourbonnais tournament.
Rock Falls defeated Nazareth 25-17, 25-22, topped Herscher 25-11, 25-17, downed Bradley-Bourbonnais 25-23, 25-24, and topped Plainfield South 25-23, 25-19.
Denali Stonitsch had 64 assists, 18 digs and six aces for the Rockets, while Claire Bickett had 31 kills, 14 digs and three blocks, and Nicolette Udell added 22 kills, nine digs and five blocks. Emily Lego finished with 17 kills and eight blocks, Carli Kobbeman led the way with 39 digs, Zoe Henson added 33 digs, and Sophia Moeller chipped in 24 digs.
Cougars 1-3 down south: Eastland closed its trip to the Mt. Pulaski tournament with a win, defeating Riverton 25-21, 25-18 in its finale.
The Cougars earlier lost to Newark (28-26, 25-14), Williamsville (25-13, 25-21) and Hartsburg-Emden (25-21, 25-12).
Trixie Carroll spiked 58 kills, and Ella Gunderson stuffed 10 blocks for Eastland. Jenica Stoner dished 72 assists, Audrey Sundquist served six aces, and Jocelyn Green (60 digs) and Morgan McCullough (54 digs) led the back-row defense.
Boys soccer
Freeport 2, Sterling 1: The Golden Warriors lost a nonconference game on the road, as Daniel Bermudez scored Sterling's lone goal on a free kick.
Oregon 4, Indian Creek 1: A two-goal effort from Keaton Salisbury led the Hawks past the Timberwolves, and improved their season record to 9-4-2 overall.
Roberto Hernandez and Noah Near added one goal apiece for Oregon, while Jacob Uegliando chipped in two assists.
Gavin Morrow recorded four saves for the Hawks.
Girls swimming
Sterling takes fifth at PND Irish Relays: The Golden Warriors finished fifth at the seven-team swim meet at Central Park Pool in Peoria, tallying 228 points, as Plainfield took first with 466 and Richwoods was the runner-up with 284.
In the 300 medley relay, Sammie Knox, Payton Purdy and Madison Austin led the field with time of a 3:20.26. The same relay team took third in the 500 free relay, swimming a 5:04.34.
In the 200 medley relay, Knox, Purdy, Madison Austin and Hazel Pham took second, recording a time of 2:01.71.
In the 150 back relay, Purdy, Kate Austin and Madison Austin placed second, clocking a 1:28.11, while in the 150 breast relay, Emily Lofgren, Michelle Henderson-Bellows and Knox finished third, swimming a 1:57.10.
Cross country
Rock Falls girls, 2nd, boys 3rd in Walnut: The Rockets ran to a pair of top-three finishes at the Dale Donner Invite at Bureau Valley Middle School, while the Newman, Erie-Prophetstown and Amboy co-op boys teams finished sixth through eighth.
Rock Falls' Anthony Valdivia was the top local finish in either race, finished fifth in 16:57.3. Bureau Valley's Elijah House was sixth (17:05.5), Erie-Prophetstown's Charlie Link took 10th (17:16.7), and the Rockets' Jose Gomez placed 11th (17:22.5).
Kyler McNinch led Amboy-LaMoille-Ohio in 18th place (17:41.4), and Newman's Lucas Schaab was right behind in 19th (17:42.8). BV's Benjamin Roth was 24th (17:50.2), E-P's Lucas Dreisbach took 26th (17:59.4), and Newman's Ken Boesen placed 28th (18:07.1).
Polo's top finisher was Carson Jones in 34th (18:30.7), while West Carroll's Roscoe Davies was 40th (18:45.0). Morrison's Isaiah McDearmon placed 87th (20:26.3), and Oregon's Ryan Noisten was 91st (20:48.4).
Elmwood won the boys title with 70 points, followed by Sandwich (94) and Rock Falls (114). Newman was sixth (163), E-P took seventh (165), and Amboy placed eighth (202). Bureau Valley, Morrison, Oregon, Polo and West Carroll fielded only partial teams. Delavan's Sam Springer won the race in 16:26.3.
On the girls side, Elmwood also took the team title with 87 points, ahead of Rock Falls (98) and Seneca (115). Oregon was 11th (312), Erie-Prophetstown took 12th (314), and Newman finished 15th (344); Amboy, Morrison, Polo and West Carroll all fielded partial teams. Sandwich's Sundara Weber won the race in 19:00.8.
Rock Falls had three runners place in the top 12: Hana Ford was seventh (20:24.1), Ariel Hernandez placed ninth (20:41.1), and Kat Score took 12th (20:51.8).
Claire Crisham led Newman in 38th place (22:43.5), while E-P's Jillian Norman was 42nd (22:52.9), and Oregon's Ellen Hodson placed 49th (23:20.7). Emma Christin finished 55th (23:34.2) to lead Morrison, Anna Carlson was 74th (25:06.1) for the Amboy co-op, and Olivia Shelly placed 92nd (26:17.3) for West Carroll. Ramsie Grenoble was Polo's top finisher in 125th (28:21.1).
Friday's late result
Women's college tennis
McHenry 7, Sauk Valley 2: The Skyhawks lost four tiebreakers in a home loss to McHenry.
No. 3 singles player Kenzie Hubbard was the lone Sauk winner in her bracket, claiming a 6-2, 6-1 win over Alison Gearhardt. At No. 2 doubles, SVCC's Olivia Pitkin and Madison Hubbs defeated Gearhardt and Riley Wasilk 6-1, 6-2.
At No. 1 singles, Lani Cox downed Saryn Seeley 6-7 (1), 6-0, 12-10, while at No. 2 singles, Katrina Neufeld beat Chloe Coil 6-3, 7-6.
Elle Lagerstrom topped Pitkin in the No. 4 singles match, 6-4, 3-6, 10-7; Kaitlyn Mauck took down Hubbs in the No. 5 singles slot, 7-5, 6-4; and Hailey O'Brien topped Roquelle Penaflor 6-2, 6-0 at No. 6 singles.
Cox and Neufeld edged Seeley and Coil 6-4, 1-6, 10-8 in the No. 1 doubles match, and Mauck and O'Brien beat Kenzie Hubbard and Penaflor 7-6, 6-0 at No. 3 doubles.