The Sterling volleyball team picked up a 25-18, 25-16 win over Alleman on Tuesday to improve to 6-9 overall, 4-2 in the Western Big 6.
Grace Egan had 12 kills, six digs and four blocks for the Golden Warriors. Kathryn Rowzee had five kills, Karmen Wienrich had eight digs, Delali Amankwa had 19 assists and two aces, and Katie Dittmar stuffed a block.
Eastland def. Polo 25-17, 25-17: The Cougars pulled out a win in the NUIC.
The Cougars' Addie Burkholder had 13 kills, Chloe Sweitzer had 14 digs, and Jenica Stoner had 21 assists.
Nicole Boelens led Polo with nine kills and 12 digs, and Lindee Poper added three kills. Natalie Nelson had five assists, Teah Almasy dished three assists, and Kadence Sheaffer added three assists and six digs.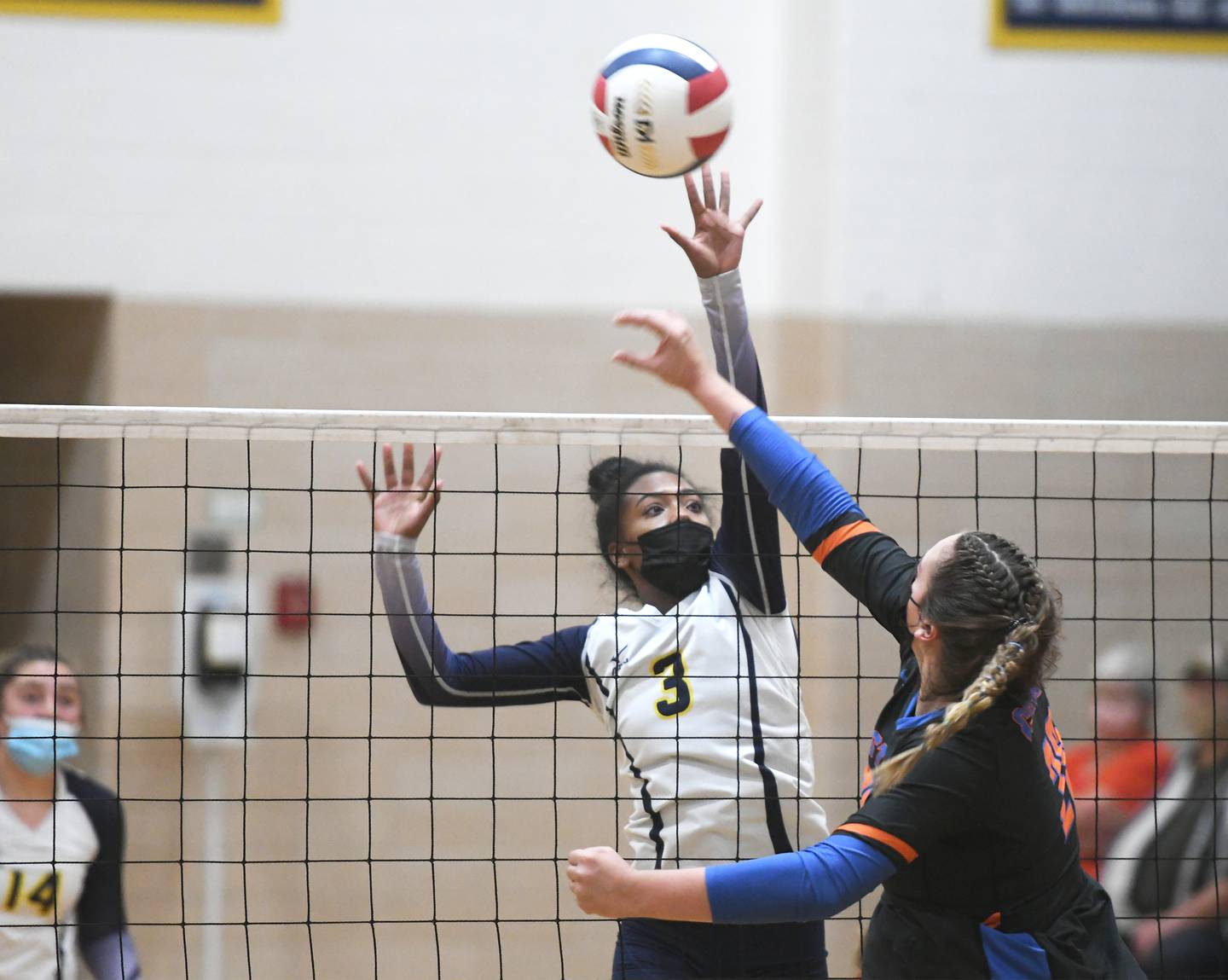 Milledgeville def. Amboy 25-17, 25-14: The Missiles beat the Clippers in two sets.
Milledgeville's Emma Foster had six kills, four assists and six digs. Alyssa Mertz had eight digs, five assists and five kills. Rylee Matthews had seven digs.
Elly Jones had two kills, 10 assists, six digs and three blocks for Amboy, while Chloe Heath added two kills, eight digs and three aces. Lexi Ketchum finished with three kills and three digs.
Fulton def. AFC 25-11, 25-21: The Steamers picked up the NUIC win by cruising in set one and holding on in set two.
Gracie Sanderson had five kills for Fulton. Brooklyn Brennan had 11 assists. Teegan Germann had nine digs.
The Raiders got three assists, six digs and an ace from Brianna Gonnerman, two kills from Ellah Dorn, and a kill and six digs from Taylor Jahn.
Princeton def. Bureau Valley 25-11, 25-8: The Storm fell to Princeton in Three Rivers play, with a 23-assist night from Katie Bates pacing the way for Princeton.
Winnebago def. Oregon 25-20, 23-25, 25-23: In three close sets, the Indians pulled out a win at the Blackhawk Center.
Sophie Stender led the Hawks with 25 digs. Ava Wight had 14 digs and 10 kills. Aubrey Point had 16 assists and 10 digs. Jenae Bothe had 10 kills and four blocks.
Scales Mound def. West Carroll 25-23, 25-23: The Thunder lost a hard-fought NUIC match in Savanna, just their second of the season after being quarantined.
Lacey Eissens spiked nine kills, and Kendal Asay had five kills, two blocks and two aces for West Carroll. Alee Schleuning also had five kills, while Lexi Law stuffed a pair of blocks. Aspen Eizenga and Haylee McGinnis each added five digs.
Girls golf
Drew ties for medalist honors at PrairieView: Dixon's Katie Drew shot a 38 at PrairieView to tie for medalist honors with Stillman Valley's Grace Haas.
Dixon did not field a full team, but did get a 57 from Shea Lahey and a 61 from Tya Collins.
Pink is medalist at Lake Carroll: Sterling's Maddie Pink shot a 39 to take medalist honors, as Sterling shot a 214 to defeat Rockford Lutheran (227) and Eastland, which did not field a full team.
West Carroll's Reiland takes medalist honors: Victoria Reiland shot a 47 for West Carroll at Sandburr Run, taking medalist honors.
Erie-Prophetstown's Malory Eggers was the runner-up, shooting a 52.
Boys golf
Newman 167, Riverdale 169, Rockridge 178: In a Three Rivers triangular at Emerald Hill, there were just nine strokes separating first from third, with the home Comets coming out on top.
Newman's Kyle Wolfe was the medalist with a 38, beating Rockridge's Drew Hall by one stroke. The Comets got a 40 from Logan Palmer, a 44 from Ty Brockman, and a 45 from Carson Palmer.
Sterling 173, Eastland 195: The Golden Warriors picked up a nonconference win at Lake Carroll.
Eastland's Andy Anderson and Sterling's Cam O'Brien each shot a 40 to share medalist honors.
Sterling got a 43 from Dale Guerrieri and a 44 from Carter Morris.
Stillman Valley 169, Dixon 173: The Dukes dropped a Big Northern dual at PrairieView, as Stillman's Griffin Smits was medalist with a 37.
Dixon got 42s from Mason Weigle and Alex Harrison, a 43 from Steven Kitzman, and a 45 from Grant Jacobs.
Amboy 179, Stockton 199, Forreston 218: The Clippers claimed another NUIC win, improving to 8-4 in conference play, half a game behind Stockton.
Wes Wilson was the medalist, shooting a 39. Hayden Wittenauer shot a 45, Jackson Rogers shot a 47, and Jordan Harris shot a 48.
Heath Schubert led Forreston with a 48.
Kaltenbrun shoots 45: Oregon's Isaac Kaltenbrun was the medalist at Silver Ridge, shooting a 45 for the Hawks against West Carroll.
Oregon shot a 203 as a team, with Brady Davis carding a 48.
West Carroll did not have a full team, getting a 69 from Erik Kice.
Sherrard 159, Princeton 166, Morrison 182: The Mustangs fell in a Three Rivers dual at Deer Valley, as Sherrard carded three scores in the 30s, led by medalist Blake Wynn's 38.
Isaac Melton shot a 42 and Chase Decker fired a 43 to lead Morrison, while David Stralow (48) and Dayton Young (49) rounded out the team score.
St Bede 176, Orion 189, Erie-Prophetstown 198: The Panthers dropped a triangular at Oakwood.
Ethan Palmer had the low score for EP, shooting a 46.
Boys cross country
BV wins at Walnut: Bureau Valley scored 34 points on its home course in Walnut to win a five-team event.
Bureau Valley's Elijah House won with a time of 17:37.
Hudson Groezinger had the top time for Eastland. He finished fourth in 18:41.
Girls cross country
Bureau Valley 26, Eastland 29: The Storm narrowly edged out the Cougars in Walnut. Amalie Graveragaard had the top time for Bureau Valley, taking fourth in 23:44.
Delaney Wilhelms was the top Eastland runner, taking fifth in 24:03.
Kewanee and Princeton did not have enough runners for a team score, but Kewanee did have the top individual, Natalee Martin, who had a time of 21:43.
Girls tennis
Newman 5, Kewanee 0: The Comets cruised to a win over the Boilermakers in Three Rivers play.
Sarah Tunink and Marisel Schalck won the singles matches by identical 6-1, 6-0 scores.
Lilliana Campbell and Julia Rhodes won 6-0, 6-0 in doubles play, as did Joy Zigler and Cecilia Sagel. Sarah Murray and Emma Oswalt won 6-1, 6-1.
Dixon 4, Mendota 1: The Duchesses won a nonconference dual on the road, sweeping the doubles matches.
Leah Kuehl and Grace Ferguson teamed up for a 6-2, 6-2 win at No. 1 doubles, Addison Arjes and Kyarra McGlown won 6-1, 7-6 (5) at No. 2, and Leah Stees and Siena Kemmeren notched a 6-1, 6-4 victory at No. 3 doubles.
Dixon (7-6) also got a 2-6, 4-2 (retired) win from Rylee Pfoutz at No. 2 singles.
Girls swimming
Peoria Notre Dame 102, Sterling 83: The Water Warriors lost a dual at the Duis Center, winning five individual events.
Paige Geil won the 200 freestyle (2:23.70) and 100 breaststroke (1:21.67), while Madison Austin won the 50 freestyle (25.72 seconds) and 100 free (56.53). Sammie Knox took first in the 100 butterfly (1:14.29).
Boys soccer
Sterling 5, Alleman 1: The Golden Warriors rolled to a Western Big 6 win at Roscoe Eades Stadium, with Daniel Bermudez scoring a pair of goals.
Luis Diaz added a goal and two assists, Angel Rosas and John Cid also scored goals, and Beckham Marquez dished an assist for Sterling (5-3-2, 2-1).
Genoa-Kingston 5, Dixon 0: The shorthanded Dukes battled, but fell in a Big Northern game at Sauk Valley C.C. Damien Beck and Zack Clevenger both played goalkeeper for the first time.