OREGON – The Oregon Hawks seized control of their Tuesday night Big Northern Conference match right away, led by a big first set from senior Liz Mois. When the Dixon Duchesses threatened to win the second set, it was junior Kenna Wubbena who sealed the deal, notching back-to-back kills to close out a 25-19, 26-24 victory at the Blackhawk Center.
Wubbena got the Hawks their first multiple-point lead in the first set at 8-5 with a kill and an ace back-to-back, then Mois had a mid-set kill and ace to make it 15-12. As the end of the set drew near, Oregon went on a 10-7 run to close out the 25-19 win; Mois spiked kills for the 23rd and 25th points. She had four kills and one ace in the first set.
"I thought we did a good job of keeping the pressure on, and one of our goals going into it was to not let the other team score more than two or three points in a row before we got the ball back," Oregon coach Farrell Cain said "And I thought we really stuck to that."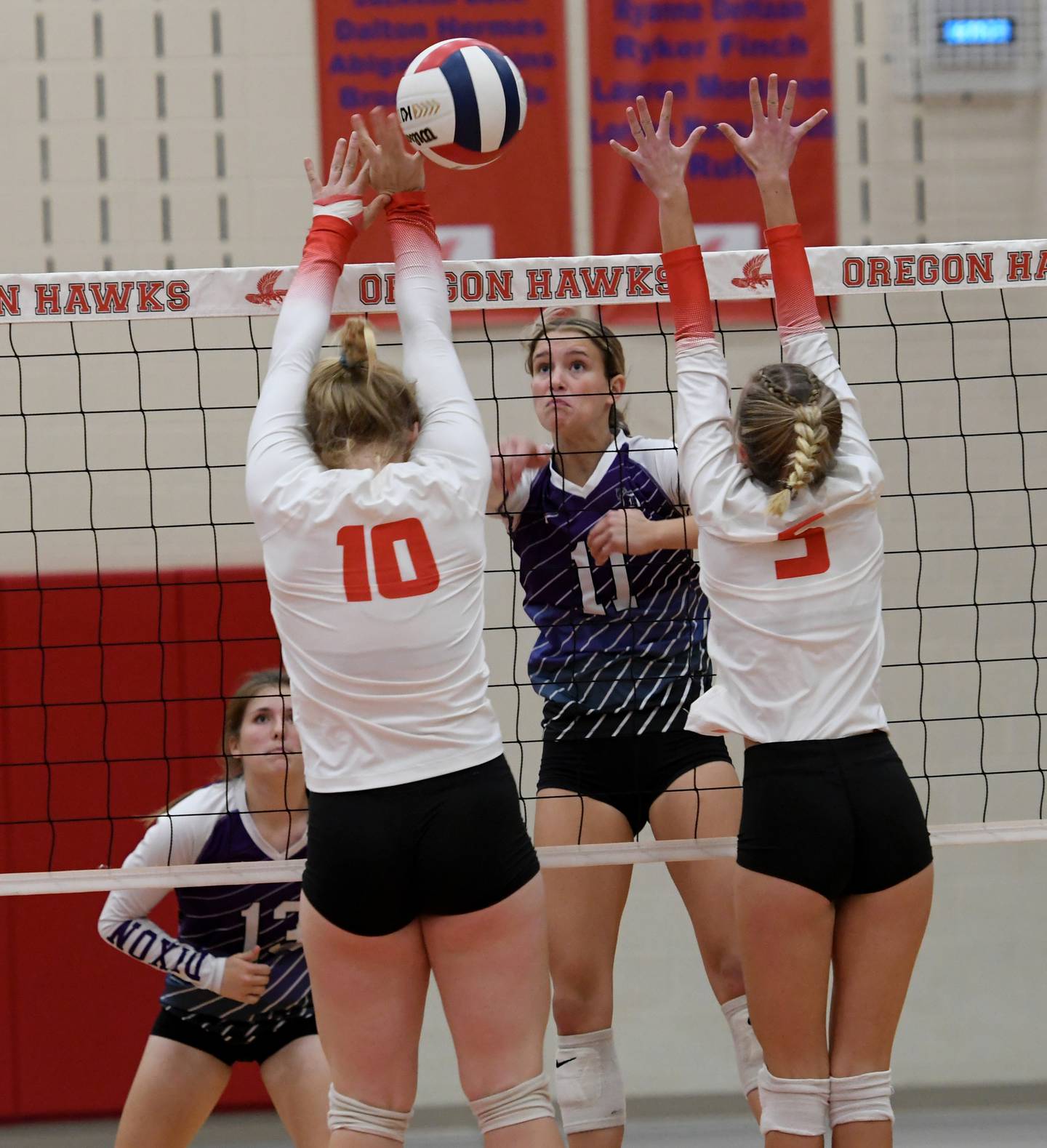 In the second set, Oregon got the upper hand early, scoring the first three points. The Duchesses battled within 12-10, bolstered by some strong front-row play from Joey Brumbly and Ella Govig, but the Hawks pulled away again, surging to a 19-14 lead.
The Duchesses seemed to regroup after the timeout, and gradually chipped away at the lead. A Sydney Hargrave stuff block cut the deficit to 19-16, then Brumbly spiked a kill to make it 20-18. A Duchesses' hitting error and Mois kill pushed the Hawks' lead to 22-18, but Dixon responded with a 6-1 run to take a 24-23 lead. Brumbly spiked kill for the 23rd point to tie the match, then an Oregon serve sailed out of bounds for the 24th Dixon point.
"I told our middles to make sure that they catch up to No. 10 [Liz Mois], and how fast Oregon likes to run the ball, and how fast they set," Dixon coach Bunyan Cocar said. "Oregon killed us with some roll shots and tips in key spots that we just didn't cover very well. We need to pick those up, we need to be aware of what is available. Our blockers took away some things, but then they left open some other holes that our defense should pick up."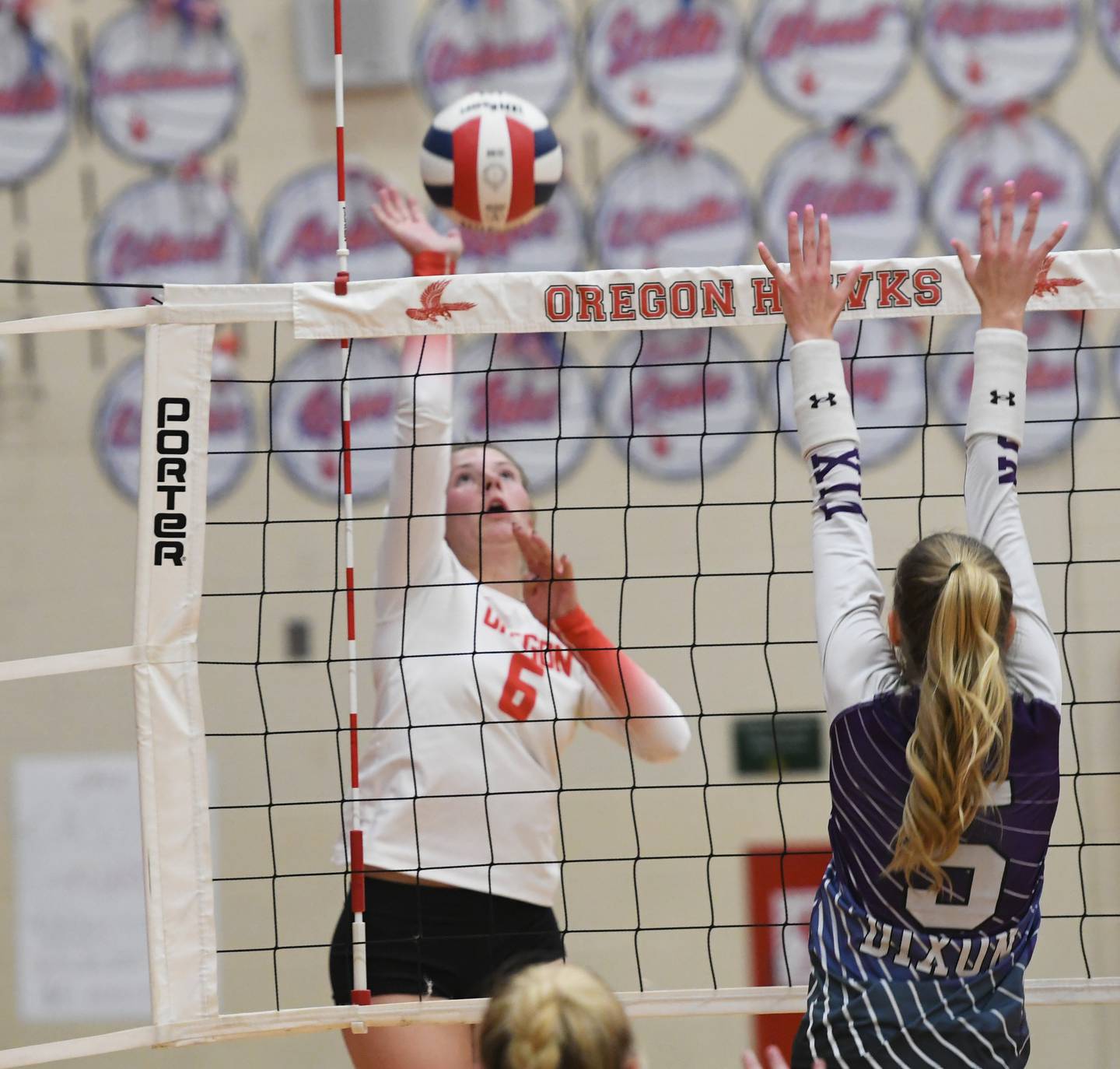 Wubbena spiked a kill to help the Hawks' retake the lead at 25-24, then spiked another one to close out the win.
"We just needed to keep the ball in play. We were making way too many errors on our side of the net," Cain said of Dixon's late second-set surge. "Our strategy was just kind of keep the ball in play, and then hold them on defense, and as long as we kept that lead and we're going point-for-point, then we were still in it."
Mois finished with eight kills, three digs and two aces, Wubbena had 11 digs and six kills, and Olivia Wynn added 11 assists and eight digs for Oregon.
Leading Dixon were Brumbly with nine kills and six digs, Sydney Hargrave with 13 assists and nine digs, Morgan Hargave with 13 digs, two aces and two kills, and Natalie Davidson with 14 digs. Ella Govig chipped in three kills and three blocks, while Maddie Tichler added four kills for the Duchesses.
"I thought Oregon did a really nice job of picking some shots and serve-receive. Our pass was OK, but we missed a couple, we got down a little bit and we got inside our heads, and we just didn't play very good defense tonight," Cocar said. "Their hitters are very good. No. 10 was excellent. At the end, we got her a little bit, but I felt we played a little bit lower than what we were expecting from ourselves. And we missed a few key serves at inopportune times.
"Hats off to Oregon, they did a nice job, they have a good team, but I just was a little disappointed in our lack of energy and awareness of what they're doing, and responding to it."