Nearly 40 area athletes qualified for the IHSA Class 1A Boys Track & Field State Meet in 17 out of the 18 events, but only a handful advanced to the finals out of Thursday's preliminaries in Charleston.
Out of the plethora of state qualifiers, just 17 will compete on Saturday, in 11 events.
Forreston-Polo had a trio of athletes qualify for the finals in three events each. Michael Taylor moved on in the high jump, and also teamed with De'Angelo Fernandez, McKeon Crase and Noah Dewey to qualify in the 4x100 and 4x200 relays.
Crase and Dewey also advanced in the 4x400 along with Brock Soltow and Micah Nelson.
"We all just pushed each other, really focused up. Our coaches really pushed us to lock in," Crase said. "A lot of people fumbled a little bit today and didn't do their best, and luckily we locked in a little bit harder and did what we had to do to advance.
"It was an awesome atmosphere. Looking up at the hundreds of people watching, hearing our names being cheered, it makes you run faster."
The 4x100 (43.31 seconds) ran the third-fastest times in prelims, and the 4x200 (1:30.51) and 4x400 (3:27.98) are both seeded fifth heading into the finals.
"Our handoffs were really good, and the adrenaline from the crowd really pushed us," Dewey said. "We just ran our race and hoped for the best, and all four of us were pretty quick in all three relays. We just have to try and push ourselves as much as we can on Saturday, overextend for our PRs since it's the last race of the year."
Taylor is one of 14 finalists in the high jump, as he cleared 1.85 meters (6 feet, 3/4 inches). Eight athletes cleared 1.88 meters (6-2), and Taylor and five others were right behind.
He'll be looking to improve on his PR of 6-3 in the finals, and believes that if he does so, he'll bring home a medal.
"It was all just the motivation from my coaches and teammates; they really helped me to put all my best our there," Taylor said. "I still want to PR at state, and I'm going to come out Saturday in the finals and give it all I got, since it will be my last time competing in high school."
His mindset, and that of his teammates, will be the same in the relays.
"Being the last time for some of us is definitely going to push us to our max, and there's nothing much else us seniors can do besides give it all we've got," Taylor said. "Honestly, I think just each of us focusing on what we have to do and accomplish and trusting each other is key. We have to lock in, make sure the handoffs go smooth, and just make sure to run a regular race like we know how, not overthink it too much."
The Newman 4x800 relay runners are looking at it the same way. The Comets started out a little slow in prelims, but kicked it in later in the race to advance to the finals in 8:21.97, the 11th-fastest time.
"I think the goal was just to not get the race caught in our heads, just run our own race. The first two legs ran slower than they would've liked, but the other legs caught up and helped us get to finals," junior Lucas Simpson said. "We wanted to go for a PR, but I don't think all of us were feeling the best today, so we're happy to get another chance in the finals."
Since the top nine teams medal, the Comets are looking to improve their lot on Saturday. They were two seconds behind the ninth-place team in prelims, and feel like they can cut that time down to take home some hardware.
"It was a bit of a rough start, but our goal was to make the finals, and we're happy we did that. Now we're hoping to improve on Saturday," junior Lucas Schaab said. "Two of us haven't been to state before, so maybe the nerves got to us a little bit. But it was really awesome to run on that nine-lane track, and since we made it to finals without running our best race, we have a lot of room to improve and should be sitting pretty good on Saturday."
Sophomore Wyatt Widolff and senior Kenny Boesen are the other two runners in the relay, and Simpson said the Comets want to make it a special race to send Boesen out with a bang.
"We're running for Kenny, we want to get him a state medal," Simpson said. "If we run our best, I definitely think we can do that."
Morrison freshman Brady Anderson clocked the fourth-fastest time in the 100-meter dash, finishing in 11.01 seconds to guarantee himself a medal on Saturday. Milledgeville-Eastland senior Kacen Johnson will also medal in the 110 hurdles, as he qualified for finals seeded eighth in 15.52 seconds.
Bureau Valley senior Elijah House is also seeded eighth in the 800 after clocking a 1:59.20 in prelims, while Fulton senior Braiden Damhoff needs to improve one spot to medal in the shot put, as he's seeded 10th after a prelim toss of 14.90 meters.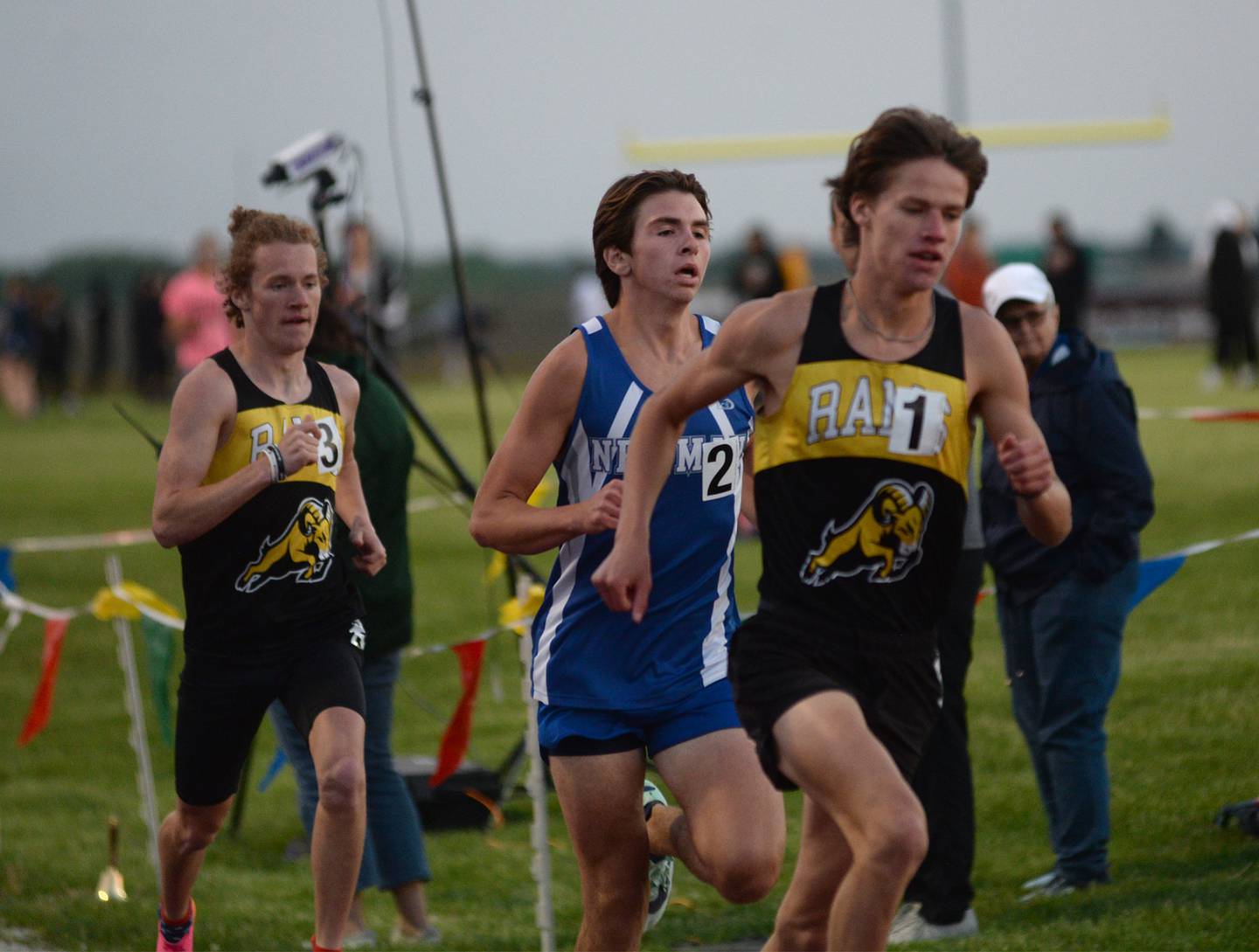 Riverdale's Tommy Murray is seeded first and teammate Landis Musser is third in the 1,600. Murray's time of 4:20.80 was .67 seconds faster than the next-best time, while Musser clocked a 4:25.68. Murray and the Rams' Peyton Sand will also run in the 3,200 on Saturday.
Newman's Schaab did not advance in the 1,600, finishing 21st in 4:34.10. The Comets also missed out on the finals in the 4x400, as the quartet of Boesen, Widolff, Simpson and Brady Williamson finished 27th in 3:36.61.
Morrison's Anderson also competed in three relay races, but the Mustangs missed the finals in all of them. They came closest in the 4x400, as Anderson joined Zach Milder, Logan Baker and Chase Newman to finish 13th in 3:31.80, less than two seconds behind the slowest finals qualifier. He also joined Levi Milder, Zach Milder and Newman to take 18th in the 4x100 (44.34 seconds), and teamed with the Milders and Baker to place 18th in the 4x200 (1:32.37).
Kacen Johnson missed out on the finals in three other events. He finished 26th in the 300 hurdles in 42.89 seconds, while Missiles teammate Parker Krogman took 24th in that race in 42.66. Milledgeville-Eastland also missed out on the finals in the 4x100 (31st, 45.06) and the 4x200 (15th, 1:31.96), as Johnson, Kolton Wilk, Draven Zier and Bryce Aude ran both of those relays. Wilk fouled in all three attempts in the long jump, and teamed with Krogman, Zier and Konner Johnson to take 29th in the 4x400 (3:37.87).
House also ran in the 400 for BV, finishing 31st in 53.75 seconds. Adrian Gallardo, Maddox Moore, Austin Hanabarger and Benjamin Roth ran to 26th in the 4x800 (8:52.51), while Gallardo, Roth, Justin Moon and Eli Attig were 30th in the 4x400 (3:83.33) for the Storm.
Forreston-Polo's Jace Engbert finished 23rd in the 110 hurdles (16.46 seconds), while Fulton's Daken Pessman was 16th in the triple jump (12.42 meters). Oregon's lone state qualifier, Aidan Guida, took 28th in the 200 (23.29 seconds), and the Amboy co-op's 4x400 relay team of Joel Billhorn, Zane Murphy, Caleb Yonos and Kyler McNinch took 25th in 3:35.47.
Erie-Prophetstown did not advance in any of its three events. The 4x800 relay team of Charlie Link, Lucas Dreisbach, Wyatt Beck and Gus Schultz placed 17th in 8:34.99, and Caleb Eads took 23rd in the triple jump (12.26 meters). Parker Holldorf, who came into the pole vault seeded fourth, missed all three attempts at his opening height of 3.80 meters.
Riverdale's William Leighty took 17th in the triple jump (12.34 meters) and 25th in the 110 hurdles (16.55 seconds), while the Rams' 4x400 relay of Musser, Sand, Murray and Brody Clark placed 28th (3:37.74).