STERLING – Another Rock River Run at Hoover Park, another strong showing for Sauk Valley area cross country teams.
With 20 boys' teams and 213 runners, and 17 girls' teams and 164 runners, the competition was as fierce as ever.
[ Photos: Rock River Run in Sterling ]
Sterling's Dale Johnson won the boys race with a time of 15:23.10, outpacing Sycamore's Naif Al Harby by 11.1 seconds. Although he won the race, Johnson saw room for improvement.
"I didn't run great, to be honest. I just wasn't feeling right in my head. Good race, though," Johnson said. "I didn't have a goal time coming in. Maybe I should've."
The third-place Golden Warrior boys (111) had four other runners finish in the top 50. Aalin Schmidt placed 17th in 16:43.60, Parker Janssen took 19th in 16:47.90, Jordan Britt nabbed 26th in 17:05.40 and Parker Blakeslee finished 50th in 17:37.90.
The fourth-place Golden Warrior girls (148) were led by Rhylee Wade (12th, 19:46.00), Delia Block (16th, 20:09.80), Jaz'Mya Castaneda (21st, 20:26.30) and Laney Zuithoff (49th, 21:55.50).
Dixon was the local headliner in the team standings. The Dukes (100) and Duchesses (70) both placed second in their respective fields. Hampshire (45) was the girls team champion and Kaneland (81) was the boys team champion.
The Duchesses, who placed all nine runners in the top 66 – with six in the top 24 – were led by ninth-place finisher Kate Boss (19:35.70).
"I felt pretty good, and I thought I placed well. I think we did good as a team, too, and I thought it was a good day," Boss said. "I'm trying to beat my PR of 18:55, I think. I was kind of close, but I didn't, but I think I raced my hardest."
Kamryn Rogers (14th, 20:05.80) and Emma Smith (15th, 20:07.60), and Teyla Wendt (18th, 20:17.60) and Olivia Arduini (19th, 20:19.10) also chipped in top-20 finishes for the Duchesses. Daniela Lovett took 24th in 20:32.40 and Emily Smith finished 30th in 20:50.30. Keeley Mick secured 38th in 21:28.30 and Ava Williams came in 66th in 22:37.30 to cap a terrific team effort.
The Dukes placed five runners in the top 50 overall, including two in the top 7. Dean Geiger (sixth, 16:06.10) and Aaron Conderman (seventh, 16:07.70) led the way.
"It definitely wasn't my best," Conderman said. "I kind of have a prolonged cold from last week, and it kind of affected me a little today. It made me a little tired, but I think I raced the first two [miles] pretty hard, though."
Averick Wiseman (15th, 16:39.60), Westin Conatser (31st, 17:16.10) and Keegan Shirley (41st, 17:27.00) also had strong outings for the Dixon boys.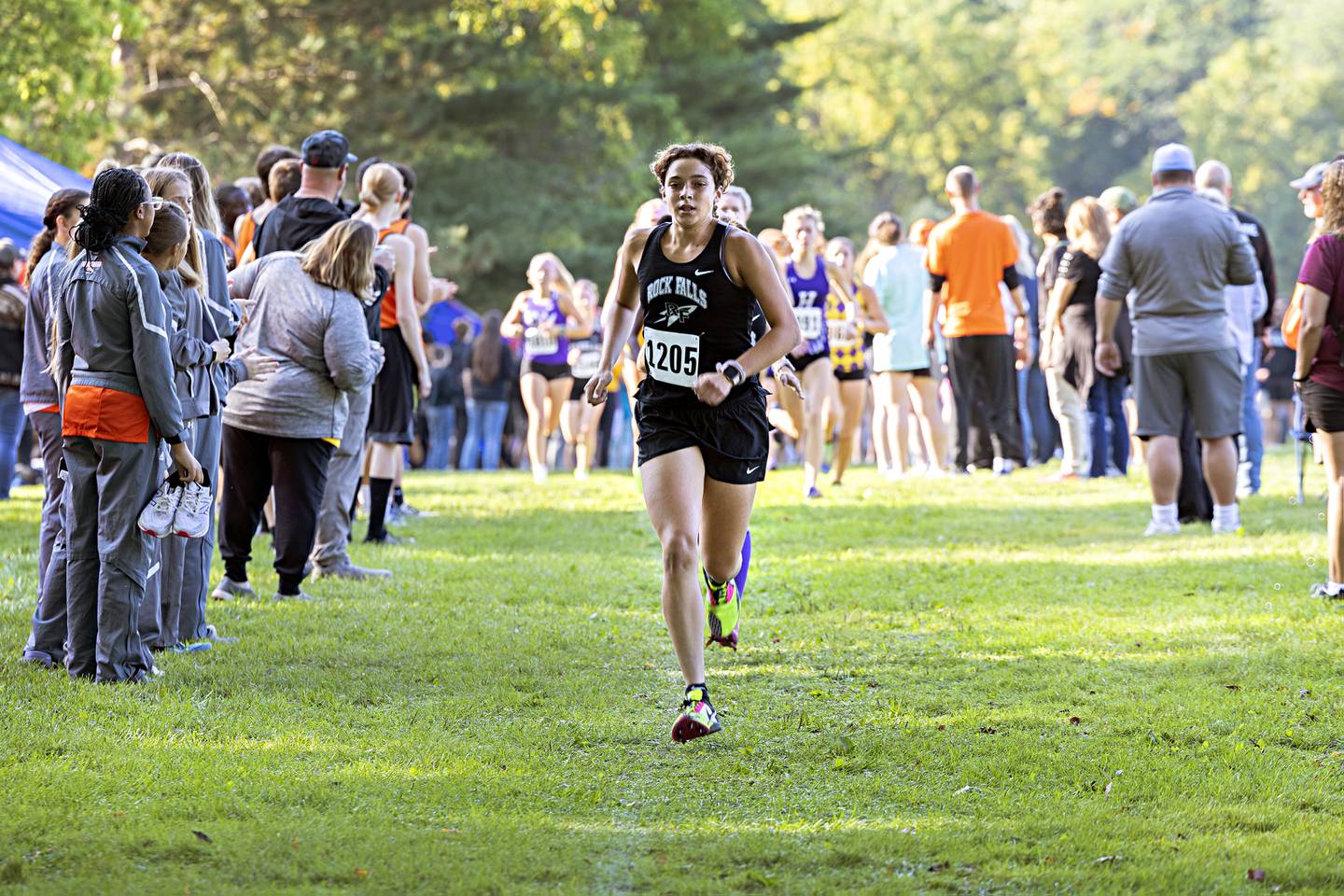 Rock Falls' Ariel Hernandez was the top local girl, placing fifth in 19:22.70. Hernandez won the girls race at the Twin Cities Meet at Centennial Park 11 days earlier.
"I feel like I ran really good. I kind of went out a little too hard because of the Sandwich girl (Sunny Weber) and all the people running 17s are like right there, but oh well," Hernandez said. "I feel like I ran good. Some girl almost got me at the end, but I didn't let her get me in the end, and that's all that matters.
"I was placed eighth in this race [going in], and I really wanted to get something better than eighth, which I did. I'm really happy about that."
The Rock Falls girls placed sixth with a 208. Kat Scott was the second Rocket to finish, clocking a 20:01.90 for 13th. Hana Ford was next, clocking a 20:16.80 for 17th.
The Rock Falls boys took 11th with a 278. Anthony Valdivia ran a 17:23.80 for 36th, Gabe Moyer clocked a 17:24.80 for 38th and Jeffrey Sommer recorded a 17:58.30 for 65th.
The Newman boys placed 12th with a 282. The Comets were led by 23rd-place finisher Lucas Simpson (16:55.20), 39th-place finisher Lucas Schaab (17:25.20) and 76th-place finisher Wyatt Widolff (18:19.10).
The Eastland girls nabbed 15th with a 331. Kennedy Burkholder was the top runner for the Cougars, clocking a 22:12.40 to finish 58th.
Courtney Grobe paced the 17th-place Forreston/Polo girls (503) with a 99th-place finish in 24:17.50. Kale Grobe paced the 19th-place F/P boys (558) with a 112th-place finish in 19:13.10.