The Dixon boys basketball team used a third-quarter surge to post a 60-56 win over Genoa-Kingston in a Big Northern Conference road game Friday night.
Trailing 27-25 at halftime, the Dukes (17-9, 4-2 BNC) outscored the Cogs 14-5 in the third quarter, then held on despite being outscored 24-21 in the fourth.
Darius Harrington scored 17 points, and was a perfect 7 for 7 from the free-throw line to lead Dixon. Austin Hicks had 15 points, shooting 10 for 12 from the foul line. Wyatt Wetzell (5 for 6 on free throws), Cullen Shaner and Bryce Feit added seven points apiece in a balanced effort by the Dukes. Jath St. Pier (4 points) and Grant Boss each added a 3-pointer.
Hayden Hodgson hit five 3-pointers and led G-K with 18 points, while Joshua Bunting scored 12, and Nathan Kleba added 10 points.
United Township 74, Sterling 63: The Golden Warriors led 39-33 at halftime in East Moline, but were outscored 15-10 in the third quarter and 26-14 in the fourth in a Western Big 6 at the Panther Den.
Andre Klaver poured in a game-high 26 points to pace Sterling (19-7, 6-5 WB6), hitting all seven of his free throws. JP Schilling hit three 3-pointers and scored 14 points, while Lucas Austin hit a pair of 3s and finished with nine points. Kael Ryan scored seven, Kaedon Phillips added five, and Carter Chance chipped in a 3-pointer for the Warriors.
DeVontay Wright hit four 3s and finished with 22 points for UT, with Bristol Lewis scoring 19 points (7 for 7 on free throws) and Omarion Roberts adding 18.
Stillman Valley 79, Oregon 68: The Cardinals took control with a 22-10 second-quarter run, then held off a Hawks rally for a Big Northern Conference win at the Blackhawk Center.
Leaders for Oregon were Noah Johnson with 18 points, Jacob Vegliando with 15 points, and Jordan Croegaert with 11 points. Anthony Bell added seven points.
Stillman Valley was led by Owen Dunseth with 24 points, Alex Rahn with 17 points, and Brett Pierce with 16 points.
Bureau Valley 54, Kewanee 52: Landon Hulsing's buzzer-beating layup lifted the Storm past the Boilermakers in a Three Rivers East road game.
Cooper Balensiefen paced Bureau Valley with 13 points, and also assisted on the game-winning basket. Hulsing, Elijah Endress and Corban Chhim added 11 points apiece for the Storm.
Blaise Lewis led Kewanee with 21 points, and Brady Clark scored 14.
Monmouth-Roseville 68, Morrison 56: The Titans built a 32-30 halftime lead, then outpaced the visiting Mustangs 36-26 in the second half to finish the Three Rivers West win.
Morrison was led by Chase Newman with 16 points, Brenden Martin with 13 points, DaeShaun McQueen with 10 points, and Carson Strating with eight points.
CJ Johnson scored 22 points, and Nick Lewis-Bresnahan scored 16 points to lead Monmouth-Roseville.
Sherrard 62, Erie-Prophetstown 59, 2OT: The Panthers battled for six periods in a Three Rivers West road game, but came up short in double overtime.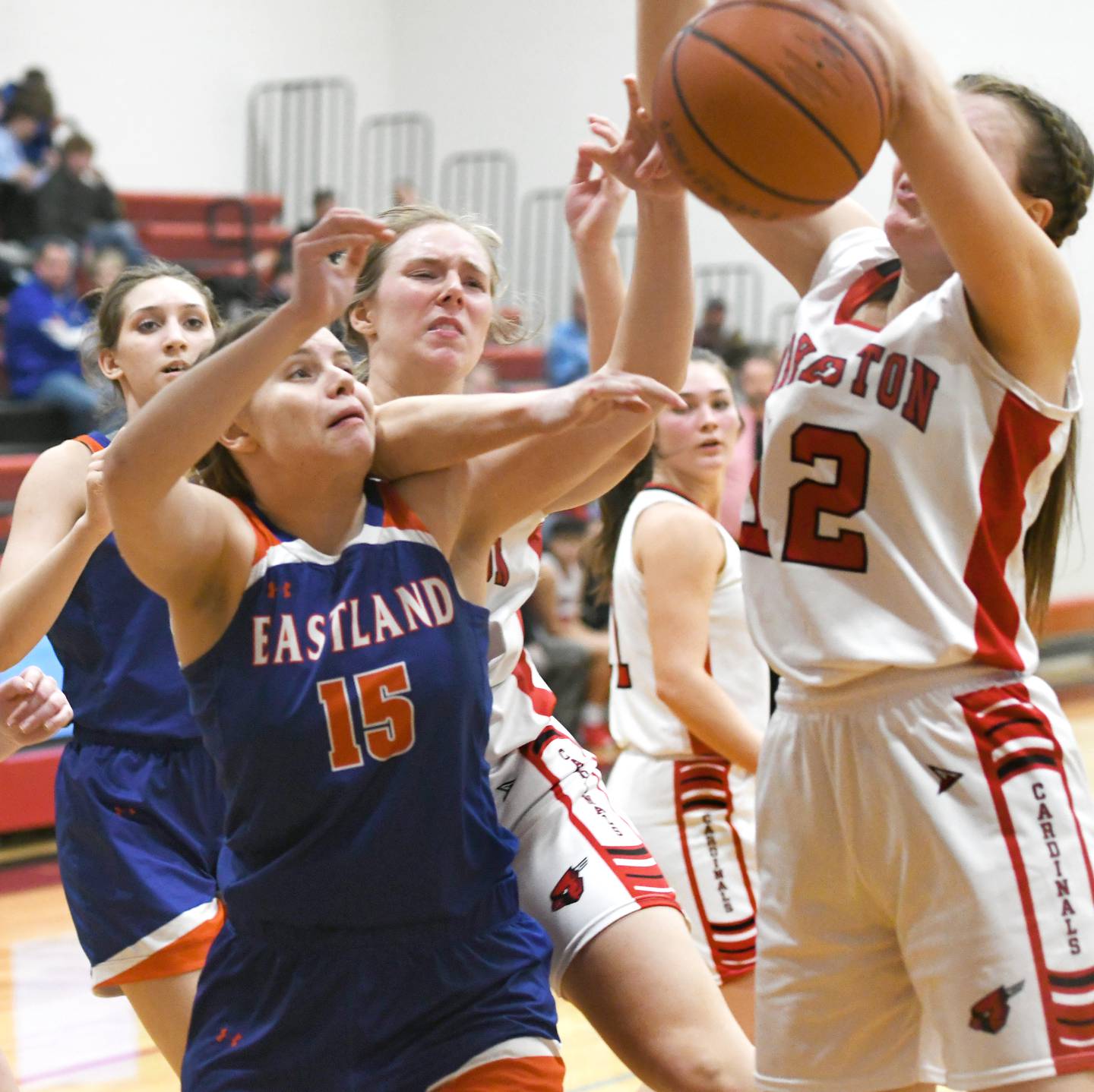 Girls basketball
Eastland 53, Forreston 31: The Cougars clinched the NUIC South title, pulling away with a 17-6 second-quarter run, then stretching the lead to 43-22 through three quarters in a road win over the Cardinals.
Trixie Carroll had 12 points, two rebounds and one steal to lead Eastland (20-8, 9-0 NUIC South), which now leads the conference race by 2.5 games with only one game remaining on its league schedule. Sarah Kempel chipped in 10 points, seven rebounds and four steals, Quinc Haverland totaled eight points, four rebounds and three assists, and Paige Joiner added seven points, five assists, three steals and two rebounds.
Forreston was led by Brooke Boettner with 11 points, Ericka Alexander with seven points, and Rylee Broshous five points.
Amboy 45, Milledgeville 9: The Clippers pitched a shutout in the first quarter, and led 15-0 after the opening period and 26-3 by halftime in an NUIC South win at home over the Missiles.
Maeve Larson had 11 points and five rebounds for Amboy (22-3, 6-2 NUIC South), which pushed the lead to 41-7 by the end of the third quarter. Tyrah Vaessen and Addison Pertell both scored 10 points; Vaessen added eight rebounds, six steals and four assists, and Pertell hit a pair of 3-pointers. Elly Jones also hit two 3s and finished with eight points and three steals, Kiera Karlson scored four points, Ellie McLaughlin added two points, and Courtney Ortgiesen chipped in 10 rebounds, five steals and four assists for the Clippers.
Olivia Schurman's five points paced Milledgeville, with Loren Meiners and Lily Smith both scoring two.