The Sterling wrestling team placed sixth at the eight-team Western Big 6 Conference Meet on Saturday in Quincy, claiming one individual title, two runner-up finishes, a third place and five fourths.
Dylan Ottens won the title at 138 pounds for the Golden Warriors, taking a 7-5 decision in the finals after recording a pin in the semifinals.
Zyan Westbrook lost the 113-pound title bout by pin after winning by pin in the quarterfinals and decision in the semifinals. Tommy Tate (160) took second at 160 pounds, losing by technical fall in the finals after winning by tech fall in the quarterfinals and decision in the semifinals.
Tatum Allen took third at 152, winning 4-3 in the third-place match. Cael Lyons (106), Austin Clemens (145), Gage Tate (170), Oswaldo Navarro (220) and Javier Luna (285) all finished fourth for Sterling.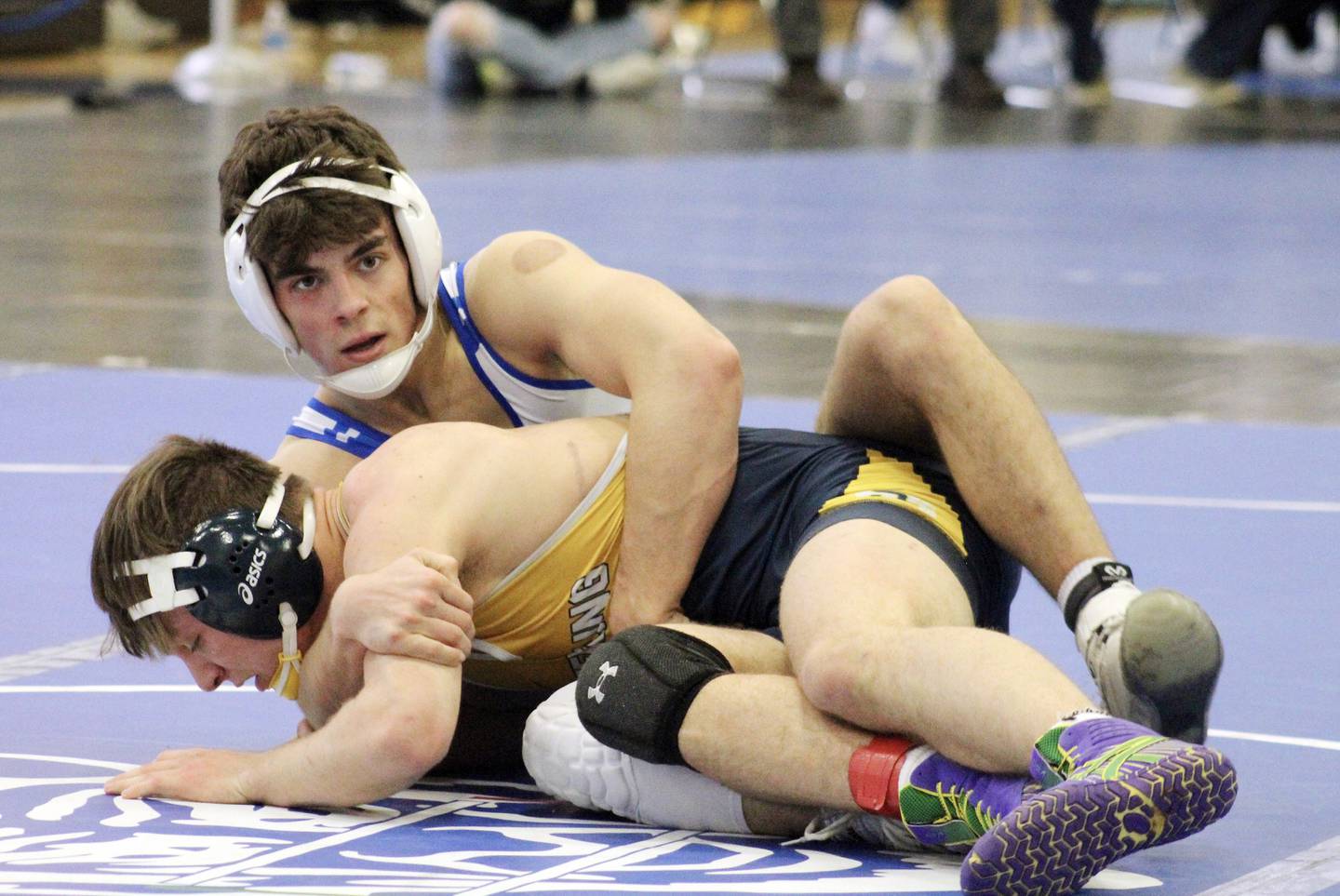 Boys swimming
Sterling Invite: The Water Warriors scored 352 points to finish second behind Lincoln-Way East (417) at their own five-team invite.
Sterling's Conner Porter was named the Most Outstanding Athlete of the meet after two individual wins and one relay win.
Porter won the 200 individual medley in 2:09.86 and the 500 freestyle in 5:11.79. He also won the 200 medley relay, joining teammates Skylar Drolema, Evan Scott and Peter Garland to swim a 1:45.88.
Garland took second in the 200 freestyle with a time of 2:00.07.
Drolema won the 100 freestyle in 51.06 seconds and nabbed third in a nine-swimmer 50 freestyle field with a 23.53.
Scott secured second in the 100 breaststroke with a 1:07.87.
Boys basketball
Fulton 51, Newman 46: The Steamers played the Comets to a 21-21 halftime tie, pulled ahead with a 16-10 third-quarter run, then hung on for a nonconference win at the Eric Ottens Shootout in Fulton.
Lucas Simpson scored all 10 of the Comets' third-quarter points and finished with 27 points to lead Newman. Nolan Britt added 14 points.
Baylen Damhoff scored 22 points to lead Fulton, while Ethan Price scored 17 points and Dom Kramer chipped in six points.
Eastland 63, Ashton-Franklin Center 54, OT: The Cougars trailed the Raiders 28-22 at halftime, took the lead with a 19-12 third-quarter surge, then used a 9-0 run in overtime after AFC forced the extra period to finish off the NUIC South win.
Eastland was led by Parker Krogman with 26 points, Peyton Spears with 13 points, and Trevor Janssen with 10 points.
Kaleb Goldman and Lane Koning scored 14 points apiece to lead AFC, while Carson Rueff scored 10 points and Jordan Harris added nine points.
Girls basketball
Hononegah 50, Dixon 32: The Duchesses fell behind 27-9 by halftime and couldn't catch up in a nonconference loss at Lancaster Gym.
Ella Govig scored 10 of her team-high 12 points after halftime, and Harvest Day scored all nine of her points after the break for Dixon (22-5).
Kamryn Abney hit three 3-pointers and finished with a game-high 15 points for Hononegah, while Dani Franz scored 11 points and Breacia Carter added nine.
Stillman Valley 58, Ashton-Franklin Center 37: The Cardinals built a 14-2 first-quarter lead, then widened the margin to 44-22 in the third quarter before finishing off a nonconference win against the Raiders.
AFC was led by Taylor Jahn with 17 points, Brianna Gonnerman with nine points and Reese Polk with six points.
Brooke Jordal led Stillman with 18 points, and Mya Janssen scored 17 points.
Aquin Shootout
Oregon 51, Dakota 27: The Hawks seized the lead with an 11-1 second-quarter run, widened it to 42-18 with a big third quarter and matched the Indians point for point in the fourth to win by 24.
Hadley Lutz scored nine points in the 18-point third quarter and finished with 15 to tie Dakota's Finley Banks for the game-high.
Ella Dannhorn scored 10 points, Teagan Champley scored seven points, and Mariah Drake added six points for Oregon.
Lena-Winslow 40, Eastland 36: The Cougars trailed the Panthers 17-10 in the first half of the Aquin Shootout game, and although they rallied with a 13-10 fourth-quarter run, they couldn't quite complete the comeback.
Sarah Kempel, Quinc Haverland and Lily Mullen scored nine points each to lead Eastland, Kempel snagged 11 rebounds, Mullen tallied three rebounds and four steals, and Haverland snagged six rebounds.
Lena-Winslow was led by Grace Groezinger with 15 points and Tianna Esser with 10 points.
Girls bowling
Dixon Invite: Oregon finished fifth with 5,084, Dixon took seventh with 4,711, Sterling nabbed ninth with 4,652, and Erie-Prophetstown came in 19th with 3,412 at the 20-team invite at Plum Hollow.
Lockport was the team champion with a 6,031, while Hononegah earned the runner-up finish with a 5,868.
Hononegah's Cassidy Davenport led the field with a 1,313 six-game series.
The Hawks were led by sixth-place finisher Ava Wight's 1,183 (225, 221 high games) and Kendra Ehrler's 1,123 (212 high game). Trinity Hultquist rolled a 993 (221 high game), McKenzie Alford bowled a 920, and Kylie Krug chipped in an 865.
The Duchesses were led by Autumn Swift's 1,008 six-game series (202 high game), followed by Leslie Pettorini's 993, Olivia Gingras' 933, Allison Coss' 845 (5 games), and Addison Cox's 789. Danica O'Rourke rolled a 145 game.
Leading the Golden Warriors in six-game series were Hannah Conderman with a 1,098 (two 212 games), Olivia Barton with a 950 and Katelynn Garcia-Redmond with an 886. Hailey Conderman recorded a 747, and Emily Doss tallied a 702 in five games each, while Shayla Kelly added a 269 in two games.
Lillian McWilliams rolled an 890 to pace the Panthers, Hannah Neumiller bowled an 825, Ysabell Hamm tallied 702, Jaelin Hawkins totaled 622, and Heaven Pinnick added a 373 three-game series.