Neither of the two locals who competed at the IHSA Boys Bowling State Meet on Friday advanced to Day 2 at St. Clair Bowl in O'Fallon.
Dixon sophomore Clark Bonnewell was 75th individually with a 1,185, and missed out on qualifying for the second day by 16 pins. Bonnewell rolled games of 183, 233 and 170 for a 586 series in the morning, then had games of 193, 223 and 183 for an afternoon series of 599.
Oregon sophomore Gavvin Surmo finished with a six-game series of 1,121, good for 101st place overall. He had games of 181, 203 and 192 in the morning for a 576, then bowled games of 201, 160 and 184 in the afternoon for a 545.
Glenbrook North's Nick Sachs rolled a six-game series of 1,201 as the last of the 30 individual advancers not on the top 12 teams.
O'Fallon leads the team standings after Day 1, rolling a 6,412 to take a seven-pin lead over Hononegah (6,405) into Saturday. Mascoutah (6,383) is 29 pins back, Lincoln-Way West (6,324) is 88 pins behind, and Salem (6,306) trails by 106 pins.
Harlem's Braden Schuld is the individual leader after the first six games, rolling a 1,431. Salem's Charlie Hunter (1,405) is 26 pins back, while Lincoln-Way West's Jacob Schram (1,391) trails by 40 pins, and O'Fallon's Jared Salzman (1,379) is 52 pins behind.
Boys basketball
Newman 55, Bureau Valley 35: The Comets rolled to a 38-10 halftime lead, as Ayden Batten scored all 15 of his points in the second quarter and Lucas Simpson scored 12 of his 16 points in the first half.
Sam Francque chipped in six points for Newman, and Nolan Britt and George Jungerman added five points apiece.
Brik Rediger paced Bureau Valley with nine points, while Landon Hulsing and Corban Chhim added six points each.
Morrison 71, Riverdale 50: After leading by three points at halftime, the Mustangs used a 28-15 third-quarter run to pull away from the Rams.
Brenden Martin scored 26 points, with 13 in the third quarter, to lead Morrison. Chase Newman scored 17 points, Carson Strating finished with 14, and Danny Mouw added 12.
Ethan Kiddoo scored 19 points, and Jake Willems had 14 for Riverdale.
Polo 49, AFC 43: The Marcos rallied from a 24-19 halftime deficit to take a 34-33 lead heading into the fourth quarter, then pulled away from the Raiders with a 15-10 surge over the final eight minutes in an NUIC South win at home.
Carson Jones hit three 3-pointers and led Polo with 13 points, while Ryelan Lindaas had 11 points and Brock Soltow scored 10. Carter Merdian added eight points for the Marcos.
Kaleb Goldman poured in 21 points for AFC. Nobody else scored more than five.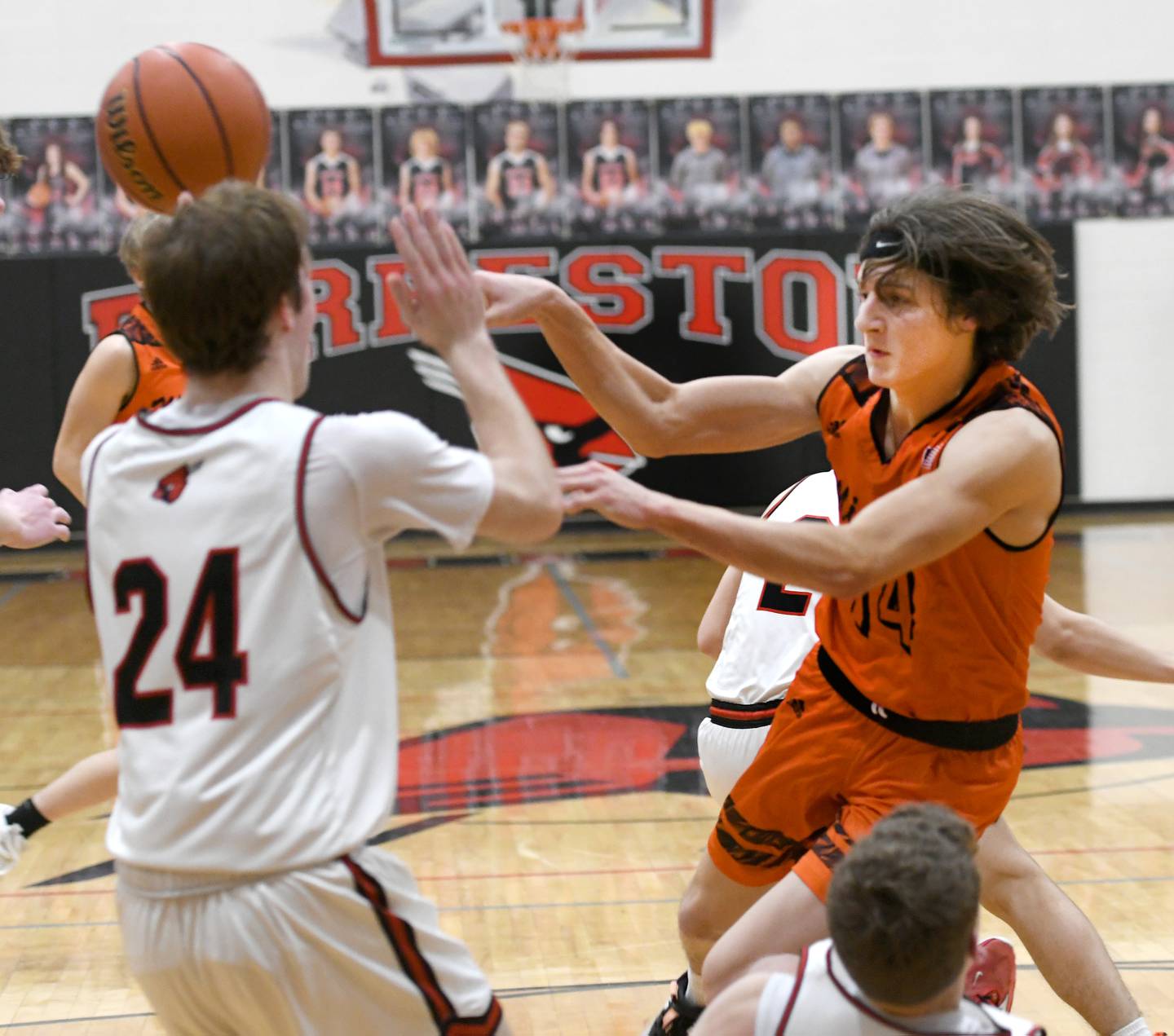 Forreston 55, Milledgeville 50: The Cardinals trailed the Missiles by three points at halftime, but tied it up in the third quarter and outscored them 15-10 in the fourth quarter to secure the NUIC win.
Leading Forreston were Owen Greenfield with 13 points, Brendan Greenfield with 12, Kendall Erdmann with 10, and Payton Encheff with seven.
Karter Livengood scored 13 points to lead Milledgeville, Connor Nye had 12, Zachary Pauley added nine, and Kacen Johnson chipped in seven.
Eastland 50, Amboy 40: The Cougars built a 27-17 halftime lead, then widened it to 15 points after the third quarter to down the Clippers in an NUIC South matchup.
Parker Krogman led Eastland with 19 points, while Peyton Spears and Trevor Janssen added 10 points each. Max McCullough chipped in six points.
Amboy was led by Eddie Jones with 16 points, Troy Anderson with 13, and Wes Wilson with seven.
Faith Christian 66, Morning Star 44: The Falcons led 22-11 after the opening quarter, then stretched the margin to 40-16 by halftime in an NICC win in Grand Detour.
Levi Schuler had 12 points, six rebounds and six steals for Faith, while Isaiah Schuler finished with 11 points and two assists, and Mason Fassler added nine points and three rebounds. Josiah Meeks and Levi Slagter both scored six points, with Meeks nabbing two steals. Micah Wehler finished with five points, 10 rebounds and two assists for the Falcons, and Kenan Callison and Caleb Rydzynski both had four points; Rydzynski chipped in three assists, two steals and two blocked shots.
Girls basketball
Dixon 46, Genoa-Kingston 11: The Duchesses rolled to a Big Northern win on the road, leading 20-4 after the first quarter and never looking back against the Cogs.
Ella Govig led Dixon (22-4, 6-1 BNC) with 13 points and six rebounds, Hannah Steinmeyer had nine points and five rebounds, and Harvest Day added seven points and five assists.
Bryce Boylen led G-K with five points.
Stillman Valley 75, Oregon 36: The Cardinals raced to a 25-8 first-quarter lead, then put the game out of reach with a 25-7 third-quarter run.
Hadley Lutz led Oregon with 15 points, while Katelyn Bowers added nine.
Madison McCammond led Stillman Valley with 15 points, and Mya Janssen scored 14.
Faith Christian 45, Morning Star 34: The Falcons picked up an NICC win in Grand Detour.
Gwen Hodson had a double-double with 28 points and 14 rebounds, and she also nabbed three steals for Faith. Katelyn Fassler finished with seven points, five rebounds, three steals and two assists; Nadine Rios added four points, five steals and two assists; and Chloe Mennen chipped in two points, eight rebounds and two assists for the Falcons.