The Newman girls basketball team picked up its second straight Three Rivers East win, defeating St. Bede 46-33 on Thursday night in Peru.
The Comets led 17-8 after one quarter and 24-17 by halftime, then stretched the margin to 37-24 through three periods.
Madison Duhon had 20 points, five rebounds, four assists and three steals, and Jess Johns finished with a double-double of 14 points and 17 rebounds to lead Newman (6-17, 3-5 TRAC East). Lucy Oetting added nine points, five steals, three rebounds and two assists, and Helen Papoccia chipped in three points and four boards for the Comets.
Ali Bosnich paced St. Bede with 16 points.
Morrison 71, Oregon 38: The Fillies built a 43-23 halftime lead, then put away the visiting Hawks with an 18-5 fourth-quarter scoring run.
Shelby Veltrop led Morrison with 29 points, Diana Robbins scored 16, Camryn Veltrop had 12 and Jordan Eads added eight.
Leaders for Oregon were Hadley Lutz with 23 points, Mariah Drake with seven points, and Mya Engelkes with four points.
Boys basketball
Eastland 57, Milledgeville 44: The Missiles trailed the Cougars 46-29 after three quarters, then came up short in their fourth-quarter comeback attempt in Lanark.
Peyton Spears hit five 3-pointers and paced Eastland with 21 points, while Parker Krogman added 17 points.
Connor Nye scored 16 points to lead Milledgeville, and Kacen Johnson had 10 points.
Polo 49, Forreston 47: The Marcos amassed a 25-15 halftime lead, then held off a furious Cardinals rally to win the NUIC South matchup at home.
Brock Soltow paced Polo with 18 points, while Carson Jones and Carter Merdian added nine points apiece.
Brendan Greenfield had a game-high 20 points for Forreston, and Brock Smith scored 11.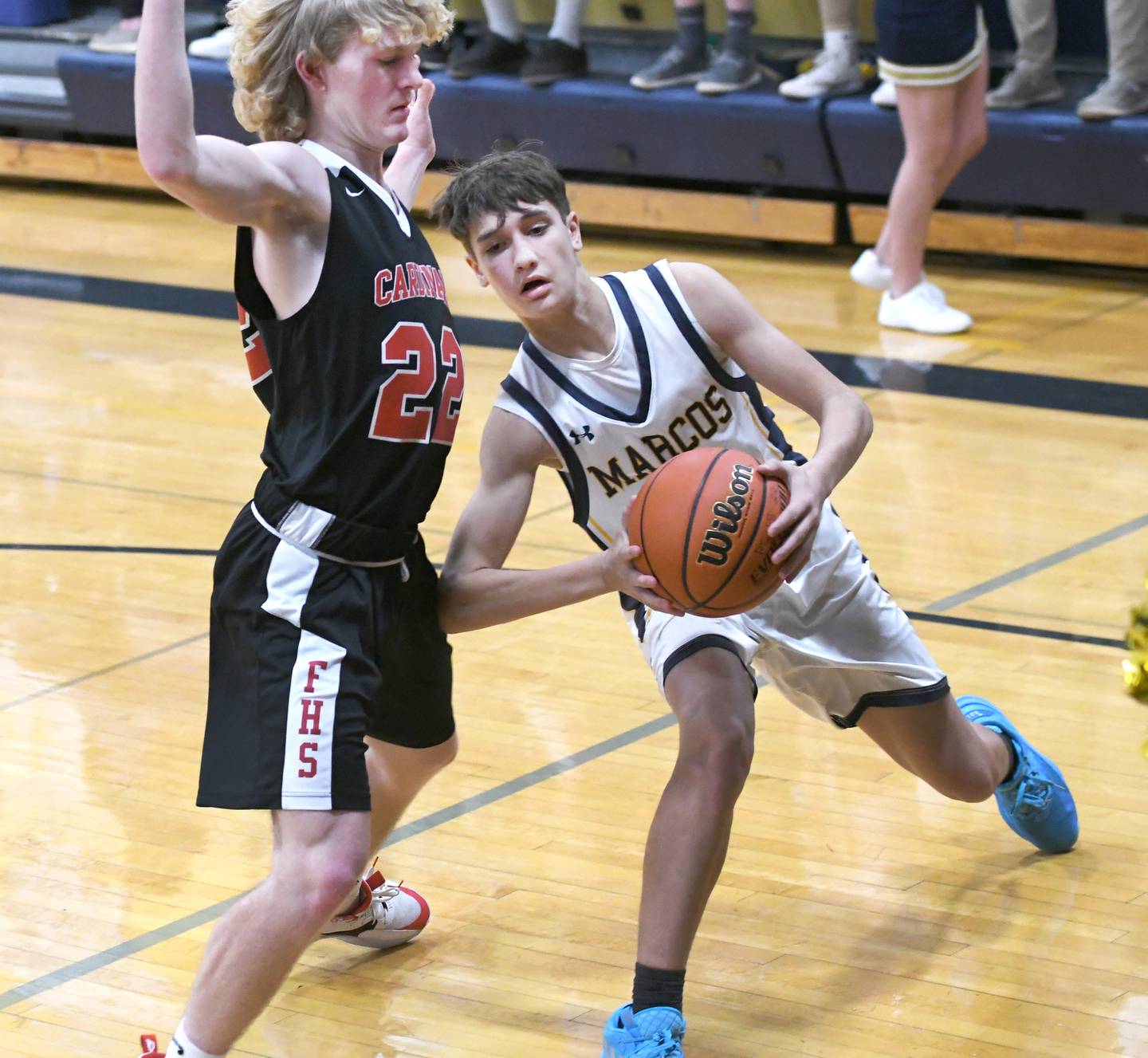 Fulton 64, Ashton-Franklin Center 32: The Raiders led 13-12 after the first quarter, but were outscored 52-19 over the remaining three to lose the NUIC South game in Ashton.
Baylen Damhoff led Fulton with 23 points, Dom Kramer scored 13 points, and Reed Owen added eight points.
AFC was led by Lane Koning's 13 points and Carson Rueff's nine points.
Girls bowling
Sterling 2,722, Moline 2,378: The Golden Warriors rolled past the Maroons at Blackhawk Lanes in Sterling, led by Hannah Conderman's 516 series.
Olivia Barton rolled a 486, Hailey Conderman bowled a 447, Loralei Michels tallied a 437, Emily Doss had a 436, and Katelynn Garcia-Redmond chipped in a 400 for Sterling.
Boys swimming
Sterling 93, Moline 89: The Golden Warriors won eight out of 12 events to edge the Maroons at Moline.
In the 200-yard medley relay, Sterling's Skylar Drolema, Evan Scott, Peter Garland and Conner Porter swam a 1:49.20 for first place. In the 200 freestyle relay, Garland, Porter, Drolema and Connor Pham topped the field with a 1:36.93.
Drolema finished first in the 50 freestyle (23.20 seconds) and the 100 butterfly (:56.89), and Porter won the 200 freestyle (1:56.72) and the 500 free (5:14.80). Garland took the 100 freestyle (54.18), and Patrick Riley won the the 100 backstroke (1:05.72).
Wrestling
Moline 37, Sterling 33: The Warriors fell to the Maroons in a Western Big 6 road dual.
Zyan Westbrook (113), Diego Leal (195) and Javier Luna (285) picked up wins by pin, while Karson Strohmeyer (126) and Dylan Ottens (138) won by decision, and Tatum Allen (152) won an overtime decision for Sterling.
Polo sweeps Amboy triangular: The Marcos downed Amboy 49-12 and Fulton 57-18.
Against the Clippers, Wyatt Meiners (120), Colton Saldecki (160) and Shawn Pattan (220) won by pin, Wyatt Doty (132) won by major decision, and Josiah Perez (113) won by decision. Saldecki and Pattan won in less than a minute, and Polo also took four forfeit wins.
Amboy's Josh McKendry (138) and Lucas Blanton (152) won by pin against the Marcos.
Against the Steamers, Perez (106), Meiners (120), Delo Fernandez (152) and Waylon Harris (170) won by pins. Pattan (220) added a win by decision for Polo, which received five forfeits from Fulton.
Zane Pannell (182) was the only contested winner for Fulton against Polo, securing his victory by pin.
The Clippers defeated the Steamers 39-24. Landon Blanton (113), Lucas Blanton (152) and Austin Heath (170) all won by pin, and Chase Montavon (120) added a 7-0 decision; Amboy also received three forfeits.
Daniel Holman had Fulton's lone contested victory against Amboy, winning by pin at 220 pounds. The Steamers also received three forfeits.