The Sterling girls swimming & diving team won a dual on the road Monday evening, sweeping the three relay races en route to a 94-86 victory over Freeport.
Madison Austin was part of four wins for the Water Warriors, taking the 50 freestyle (25.52 seconds) and 100 free (54.95), and also swimming legs on the victorious 200 medley (2:00.37) and 400 freestyle (3:55.14) relay teams.
Sammie Knox and Hazel Pham were on both of those relays, while Payton Purdy was on the 200 medley and Kate Austin swam in the 400 free. Purdy and Kate Austin teamed with Chloe Clark and Emily Lofgren to win the 200 free relay (1:57.00), and Kate Austin also won the 100 breaststroke (1:06.08). Sterling's other event winner was Presley Winters in 1-meter diving (158.85 points).
Macie Lofgren made it a 1-2 finish in the diving competition (134.60) for the Warriors, while Knox was runner-up in the 200 free (2:12.44) and 100 butterfly (1:05.93), and Pham took second in the 200 IM (2:32.07).
Volleyball
Fulton def. AFC 25-11, 25-7: The Steamers rolled to an NUIC win at home, topping the Raiders in straight sets.
Reese Dykstra led Fulton with nine aces and four kills, while Annaka Hackett, Ava Bowen and Miraya Pessman all had three kills each. Brooklyn Brennan added eight assists, four digs and two aces, Bowen chipped in three digs, and Resse Germann led the way with four digs.
Forreston def. Amboy 25-22, 25-20: The Clippers dropped an NUIC road match to the Cardinals.
Elly Jones had three kills and 11 digs, Courtney Ortgiesen added three kills and two blocks, and Kiera Karlson finished with three kills and two aces for Amboy. Tyrah Vaessen added 13 assists and two blocks.
Rylee Broshous led Forreston (11-5, 5-0 NUIC) with eight kills and seven digs to go with two aces, Jaiden Schneiderman finished with eight aces and six kills, and Brooke Boettner added nine assists and four aces.
Girls golf
Sterling 7th at WB6 meet: The Golden Warriors shot a 529 to place seventh at the Western Big 6 Conference Meet in Geneseo.
Brinley Francis led the way in 32nd place with a 124, and Carmen Camacho took 33rd with a 130. Deyanie Alfaro was finished 35th (136) and Emily Schwingle was 36th (139) to round out the team score. Rileigh Wren and Makayla Wolfe tied for 37th with 142s.
Quincy's Saya Geisendorfer was medalist with a 73, five shots better than her teammate Sophia Gold in second place. Maddie O'Brien took third (88) as the Blue Devils grabbed the top three individual spots on their way to the team title, topping runner-up Geneseo 328-373.
Orion 210, St. Bede 230, Erie-Prophetstown 248: The Panthers lost a Three Rivers triangular at Oakwood Country Club in Coal Valley, a makeup match from Sept. 7.
McKenzie Winckler and Taylor Wilson both shot 60s for Erie-Prophetstown, while Isabella Johnston fired a 61, Hannah Huisman had a 67, and Michelle Naftzger added a 72.
Orion's Sofia Hernandez was medalist with a 44.
Boys golf
Fulton 171, Durand-Pectonica 191, West Carroll 229: The Steamers swept an NUIC triangular at home, led by medalist Zach Winkel and runner-up Landon Meyers.
Winkel fired a 41, and Meyers had a 42 for Fulton. Jacob Voss shot a 43, Reed Owen fired a 45, Dawson Price had a 47, and Brady Read added a 52.
Dillon Hill led West Carroll with a 48, and Thomas Krontz fired a 53. Alex Hardin shot a 63, Erik Kice had a 65, and Noah Johnson chipped in a 69.
Stockton 180, Amboy 195, Warren 238: The Clippers split an NUIC triangular in Stockton, falling to the Blackhawks but topping the Warriors.
Hayden Wittenauer led Amboy with a 38, and Wes Wilson fired a 42. Carson Barlow had a 57, Bryson Full added a 58, and Logan O'Brien shot a 65 for the Clippers.
Stockton's Jared Dvorak was medalist with a 35.
River Ridge 173, Forreston 211: The Cardinals lost an NUIC dual at Eagle Ridge in Galena.
Kendall Erdmann led Forreston with a 44, and Heath Schubert fired 49. Darin Greenfield had a 57, and Hayden Stralow and Hannah Harvey both added 61s. Kaden Ganz finished with a 75.
River Ridge's Thomas Hereau was medalist with a 41.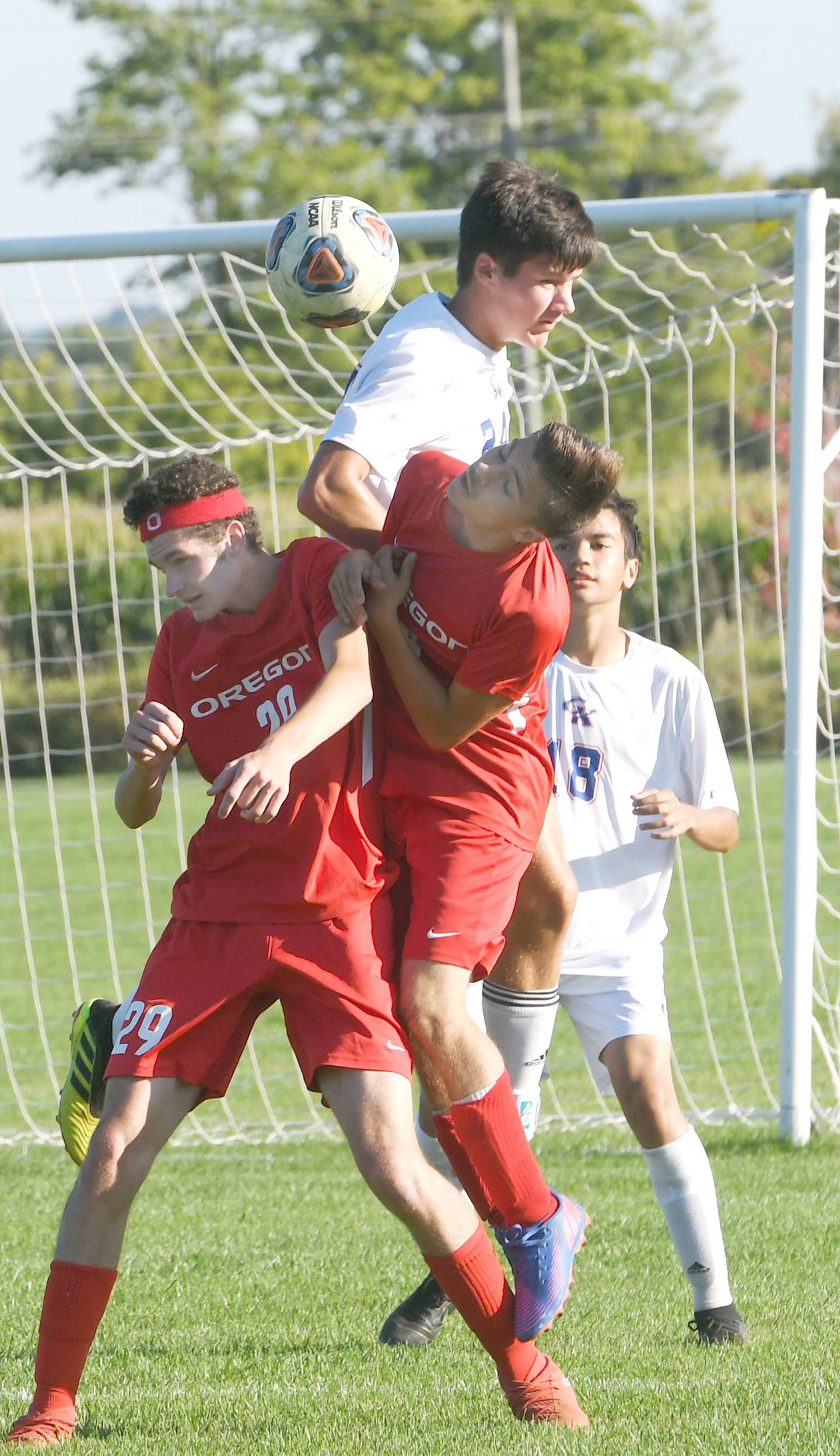 Boys soccer
Genoa-Kingston 5, Oregon 1: The Hawks lost in a match at Oregon Park West pitting the two remaining undefeated teams in the Big Northern Conference.
Gavin Morrow made 19 saves in goal, and Ethan Schafer scored the only goal for Oregon (9-5-2, 4-1 BNC), which trailed just 2-1 with four minutes to go before a late G-K flurry of goals.
Girls tennis
Sterling 4, Princeton 1: The Golden Warriors cruised to a nonconference dual victory at home over the Tigers.
Ellie Aitken won 6-0, 6-0 at No. 1 singles, and Layla Tablante won 6-1, 6-2 at No. 2 singles. Riley Dunn and Emma Trader teamed up for a 6-3, 6-4 win at No. 1 doubles, and Eva Dillon and Teagan Morris won 7-6 (78), 6-2 at No. 2 doubles for Sterling.
Galesburg 6, Newman 3: The Comets dropped a nonconference dual on the road, winning two singles matches and a doubles match.
Joy Zigler was a 6-2, 6-3 winner at No. 5 singles, and Laurel Chavera won 6-7 (4), 6-2, 10-5 at No. 6 singles for Newman. Emmy Burger and Sarah Murray won 6-2, 4-6, 10-7 at No. 3 doubles.
Julia Rhodes lost in a third-set tiebreaker at No. 3 singles, falling 5-7, 6-1, 10-6.
Local golf
Ladies league holds season finale: The Emerald Hill Ladies Golf Association teed it up for the final time in 2022 last Tuesday, finishing with a "Round-Up Scramble" as the play of the day.
The scramble winners were Connie Wolber, Janet Freil and Jackie Foster, while the scramble losers were Jean Hermes, Julie Pratt and Linda Giesen.
Wolber had the longest drive among 75-&-older players on the fifth hole, while Vicki Carlson was closest to the pin in the seventh hole, Freil made the longest putt on the 10th hole, and Sandi Ivey had the longest drive for those 75-&-younger on the 13th hole.
For the season, the most improved scores belonged to Barb Harney (18 holes), and Becky Dieterle and Meta Rastede (9 holes). Mimi Boysen had the overall low putts over 18 holes, and Ruth Heflebower had the low putts over nine holes. Carlson claimed the most chip-ins, and Rastede, Boysen and Ivey tied for most birdies.