The Sterling boys golf team defeated Rock Falls 157-175 in a Rock River rivalry dual at Rock River Golf & Pool on Wednesday afternoon.
Cam O'Brien and Mason Hubbard tied for medalist with 37s to lead Sterling, while Trevor Dir fired a 41 and Carter Morris shot a 42. Bryce Hartman added a 47, and Braden Hartman had a 50.
[ Photos from Sterling vs. Rock Falls boys golf ]
Carter Dillon and Conner Porter led Rock Falls with matching 41s, while Brody VanWeelden shot a 46 and Nick Vickers fired a 47. Cheyenne Hansen had a 53, and Caden Hartman chipped in a 68.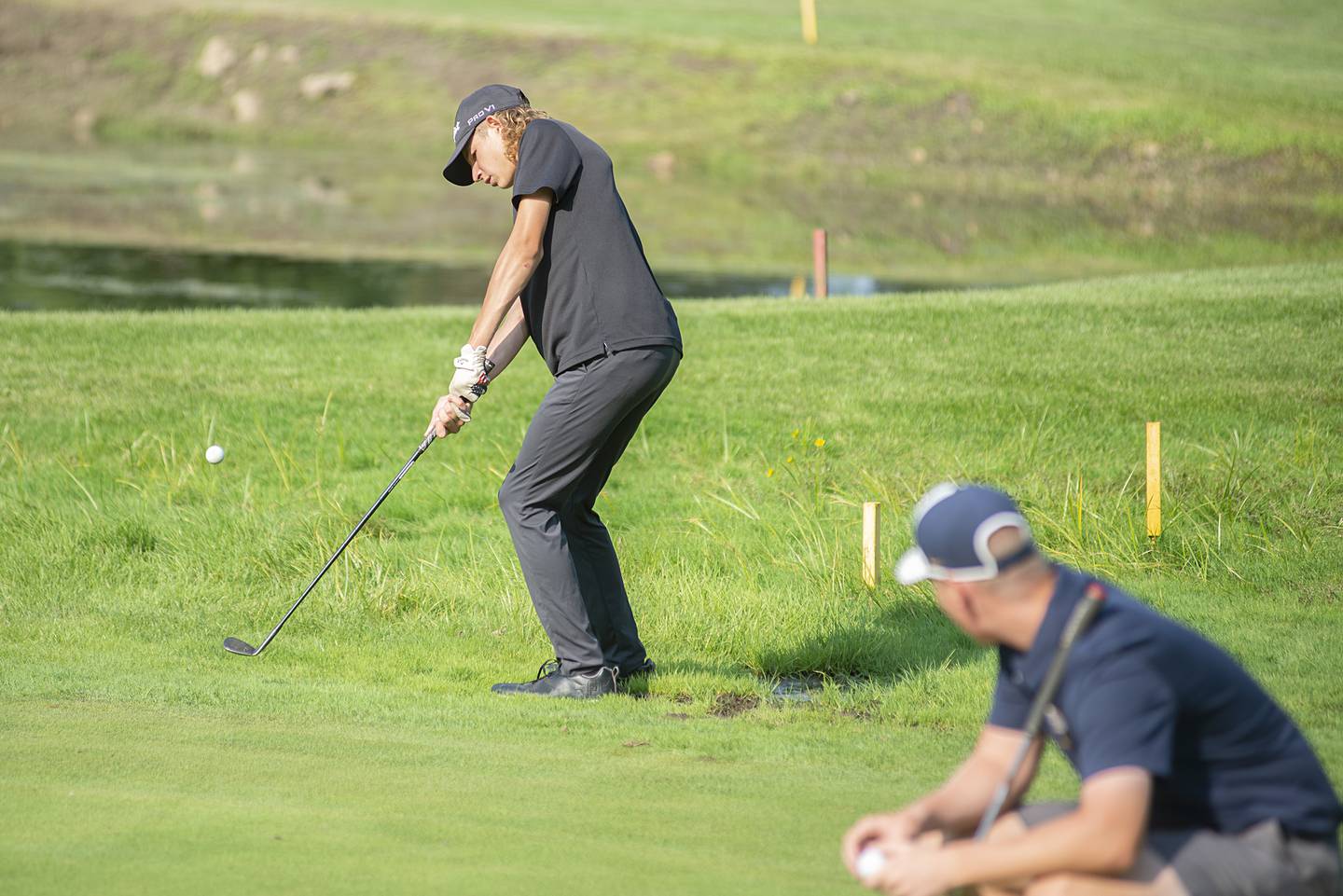 Dixon 176, Genoa-Kingston 206: Alex Harrison and Steven Kitzman tied for medalist to lead the Dukes to a Big Northern Conference win at Timber Creek.
Harrison and Kitzman shot 40s, as did Genoa-Kingston's Landen Ritchie. Also for Dixon, Mason Weigle fired a 43, Cade Hey and Jayce Kastner both shot 53s, and John Godbold added a 59.
Oregon 190, Warren 214, Polo 251: The Hawks swept a nonconference triangular at Silver Ridge, led by runner-up Kylar Early's 46.
Dom Terlikowski fired a 47, Jackson Messenger had a 48, and Noel Campos shot a 49 for Oregon. Brogan Wilkinson added a 50, and Brady Davis chipped in a 52.
Polo got a 55 from Cody Buskohl, a 60 from Caleb Sutton, a 64 from Aiden Messer, and a 72 from Wyatt Brooks.
Warren's Teagen Sabinson was medalist with a 45.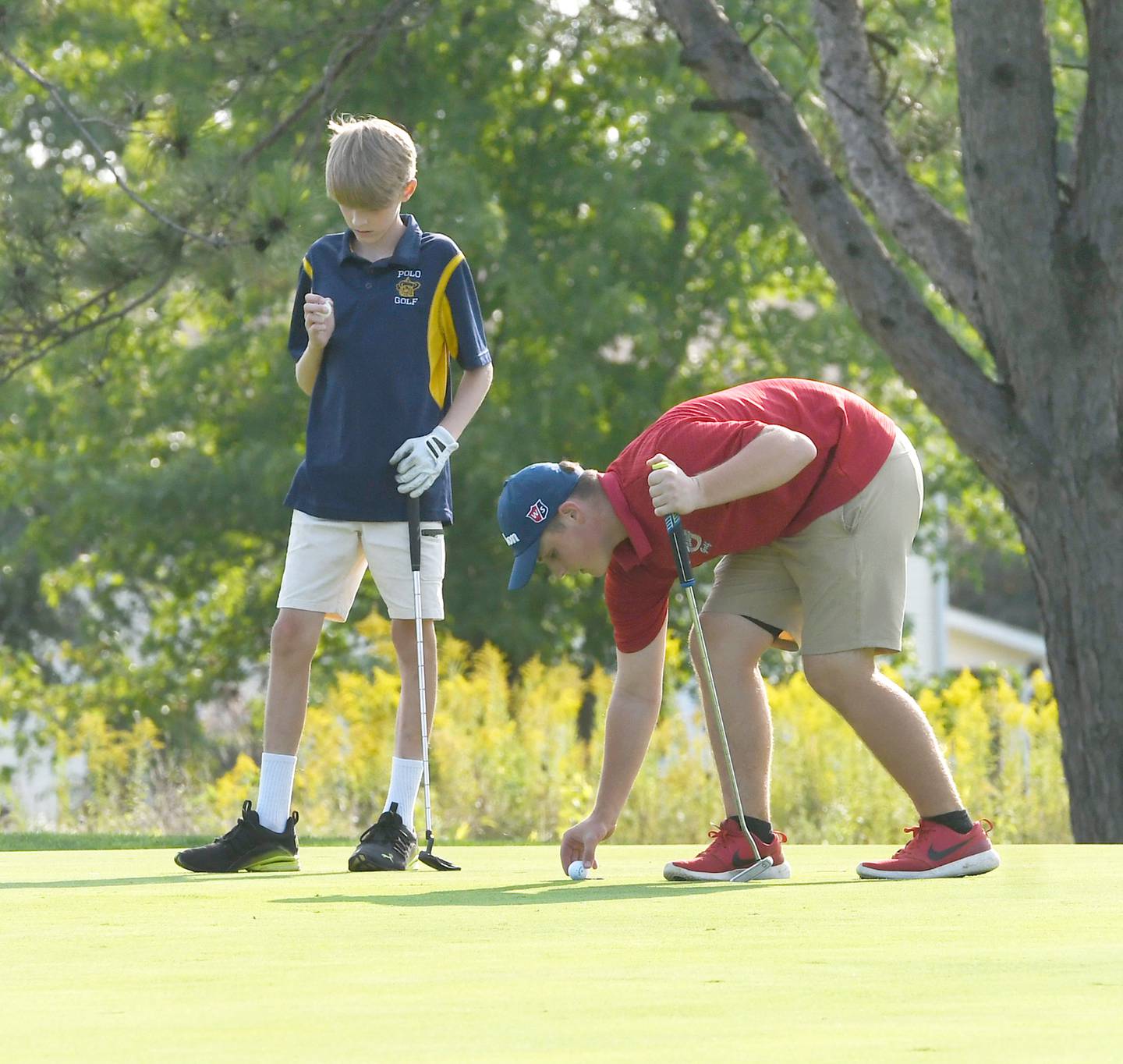 Amboy 201, Eastland 211: The Clippers beat the Cougars in an NUIC dual at Shady Oaks.
Wes Wilson was medalist with a 37 for Amboy, while Hayden Wittenauer fired a 41, Bryson Full shot a 61, and Carson Barlow added a 62.
Parker Krogman led Eastland with a 46, Keegan Strauch shot a 52, Brady Anderson fired a 54, and Colton Hendricks had a 59. Camron Huber and Perry Stoner both added 60s.
Forreston 197, Aquin 253: The Cardinals cruised past the Bulldogs in an NUIC dual at Park Hills in Freeport.
Kaden Brown was medalist with a 42 for Forreston. Kaden Ganz fired a 51, and Kendall Erdmann and Hayden Stralow shot matching 52s. Darin Greenfield had a 53, and Heath Schubert added a 54.
Girls golf
Genoa-Kingston 218, Dixon 219: The Duchesses dropped a Big Northern dual by a stroke at Timber Creek. despite yet another medalist round by Katie Drew.
Drew shot a 39 to win the meet by 12 strokes. Reese Dambman fired a 51 for Dixon, Kiana Olalde had a 61, Tya Collins shot a 68, Zoey Williams had a 69, and Saida Bajrami added a 73.
Eastland 237, Amboy 243: The Cougars topped the Clippers in an NUIC dual at Shady Oaks.
Belle Lego was medalist with a 47 for Eastland, which also got a 59 from Allison Weese, a 65 from Jaden Brower, and a 66 from Kaya VanMatre.
Emma Dinges fired a 55 and Andrea Buhrow had a 56 for Amboy, while Greta Horner shot a 63 and Gracie Holmgren added a 69.
Storm 5th, Panthers 7th at TRAC Meet: Bureau Valley shot a 474 to finish fifth, and Erie-Prophetstown had a 482 to take seventh in the Three Rivers Conference Meet at Baker Park in Kewanee.
Rockridge won the team title with a 384, and Kewanee was second with a 401. The Boilermakers' Mya Mirocha was medalist with an 80, three strokes better than runner-up Hannah Graves of Rockridge.
Callie Schoff led BV in a tie for 10th with a 104, while Morrison's Jordan Luhrsen tied for 15th with a 111. E-P's Isabella Johnston was 20th with a 115; all three of those golfers were second-team all-conference.
Also for the Storm, Cassidy Peterson shot a 122, Layne Sproston and Mattie Michlig both had 124s, Taylor Tedesco added a 125, and Lynzie Cady fired a 130.
Jaelin Hawkins shot a 119 for the Panthers, Taylor Wilson and Lillian McWilliams fired 124s, McKenzie Winckler had a 128, and Hannah Huisman added a 140.
Morrison's Sarah Wetzell tied for 21st with a 116.
Girls tennis
Sterling 3, Rochelle 2: The Golden Warriors swept the singles matches en route to a nonconference win on the road.
Ellie Aitken won 4-6, 6-4, 10-6 at No. 1 singles, and Layla Tablante won 6-3, 6-4 at No. 2 singles.
Sterling's other win came at No. 1 doubles, where Riley Dunn and Emma Trader won 6-4, 6-4.
Volleyball
Eastland def. Milledgeville 25-17, 25-8: The Cougars rolled to an NUIC win on the road, led by Trixie Carroll's 12 kills.
Carroll also had two aces, as did Quinc Haverland. Jenica Stoner dished 19 assists, Jocelyn Green had seven digs, and Audrey Sundquist stuffed three blocks for Eastland.
Emma Foster led Milledgeville with three kills, two assists, two aces and a dig, while Lydia Faulkner finished with two kills, a block and a dig. Maliah Grenoble had two assists and a dig, and Lily Smith added one kill and one block.
Forreston def. AFC 25-10, 25-9: The Cardinals cruised past the Raiders fo an NUIC win in Ashton.
Taylor Jahn had two kills, two points and an ace, and Brianna Gonnerman added three aces and two assists for AFC. Lillian Searing also spiked a kill, and Reilly Schafer and Elena Refatllari each added a dig.
College volleyball
Illinois Central def. Sauk Valley 3-2: The Skyhawks lost a tough five-set match to No. 19 Illinois Central at home, as ICC won 25-19, 22-25, 25-13, 19-25, 15-13.
Nicole Boelens had 17 kills, 20 digs and six aces, Tiana Tichler finished with 14 kills and four blocks, and Mckenzie Hecht had 10 kills and 11 digs for Sauk (7-9). Kierra Collins and Jaelyn Fitzgerald each stuffed three blocks, Reagan Oster led the way with 31 digs, Gabby Jones had 22 assists and eight digs, and Cadence Stonitsch added 18 assists and nine digs.
The Skyhawks are back in action on Tuesday against Carl Sandburg in Galesburg.
Local golf
McCracken fires another ace: For the second time in two weeks, Amboy's Mike McCracken has fired a hole-in-one at Shady Oaks Country Club.
After acing the par-3 sixth hole on Aug. 30, McCracken used an 8-iron to hole his tee shot on the 130-yard par-3 15th hole on Tuesday. It was McCracken's second ace on No. 15 at Shady Oaks, and his fourth career hole-in-one. The shot was witnessed by Joe Jahn.
MLB
Junis suffers loss at home: Rock Falls native Jakob Junis fell to 4-6 on the season after the San Francisco Giants' 5-1 loss to the Atlanta Braves on Tuesday night at Oracle Park.
Junis allowed four earned runs and seven hits in five innings, with five strikeouts and one walk. He threw 60 of his 92 pitches for strikes, but the big blow was a two-run homer by Dansby Swanson in the top of the third.
On the season, Junis is still on pace to set career bests. He has a 4.15 ERA in 97 2/3 innings, having allowed 46 runs (45 earned) and 96 hits, with 85 strikeouts, 21 walks and three hit batsmen. Opposing batters are hitting .252 against him, and he is allowing 1.20 walks and hits per inning.