The Sauk Valley Community College volleyball team notched its 30th win of the season with a 25-17, 25-15, 25-19 win over Waubonsee on Thursday night in Dixon.
Michal Willman had 18 kills and 15 digs, and Kiley Sanders had 12 kills and 16 digs for the Skyhakws (30-1), who are ranked fourth in the latest NJCAA Division II poll.
Juliana Rotella had seven kills, Tiana Tichler added five kills and three blocks, and Jaelyn Fitzgerald chipped in three kills and two blocks.
Maddie Sands led the back-row defense with 24 digs, Gabby Jones had 24 assists and six digs, and Audra Goff added 18 assists and six digs.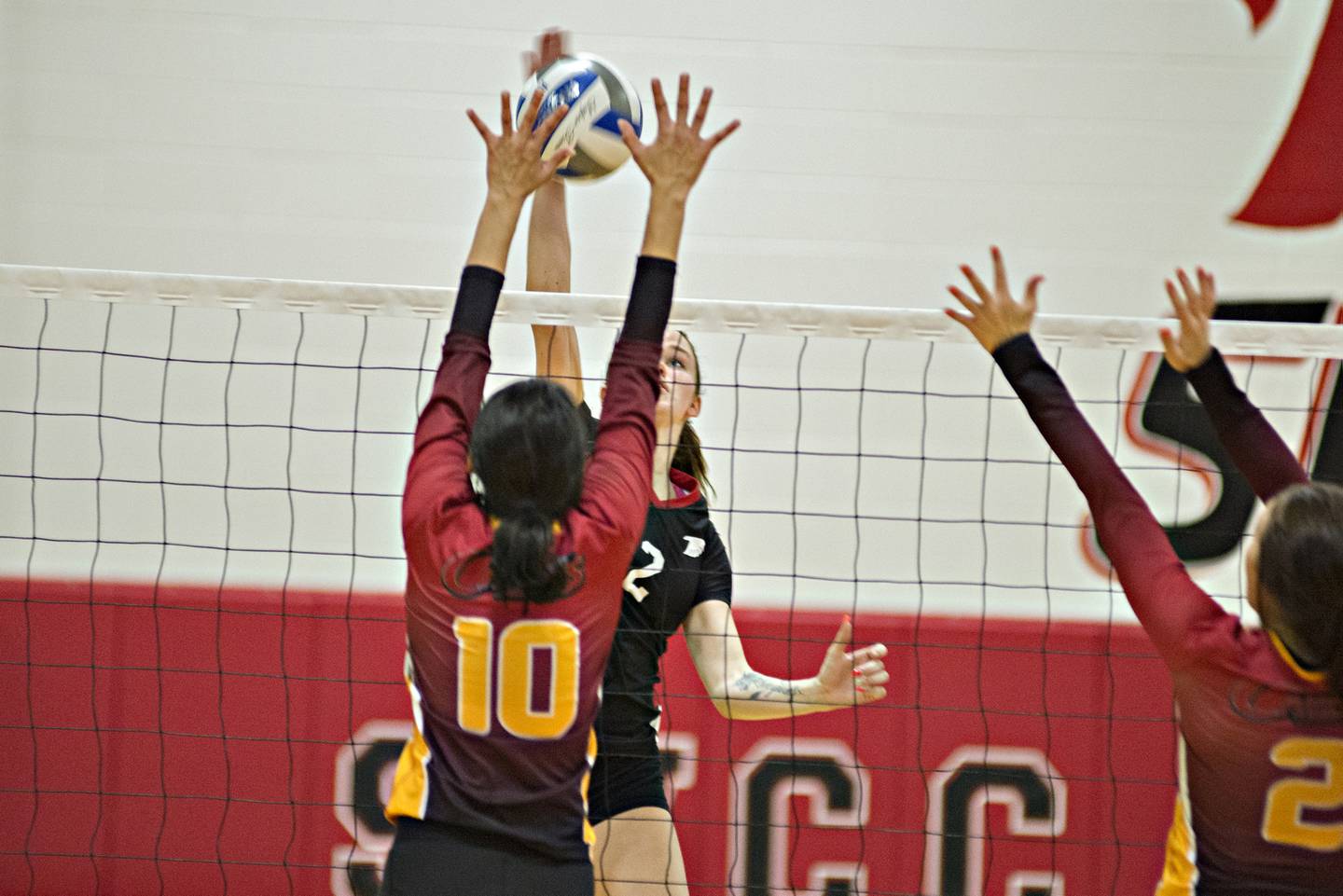 "I think we are starting to really gel as a team," Sauk coach Jay Howell said. "I thought tonight our blocking set things up for us; we got our hands on a lot of their hits, and that allowed the back row to dig them. Maddie Sands had a fantastic night, and I think that frustrated their hitters. Our setters did a great job moving the ball around, and we had good balance tonight."
Waubonsee, who is in the same region as the Skyhawks, was unbeaten coming into the match. The win gives Sauk the head-to-head advantage for seeding purposes.
"It's a really good win, and it puts us in the driver's seat in the region," Howell said.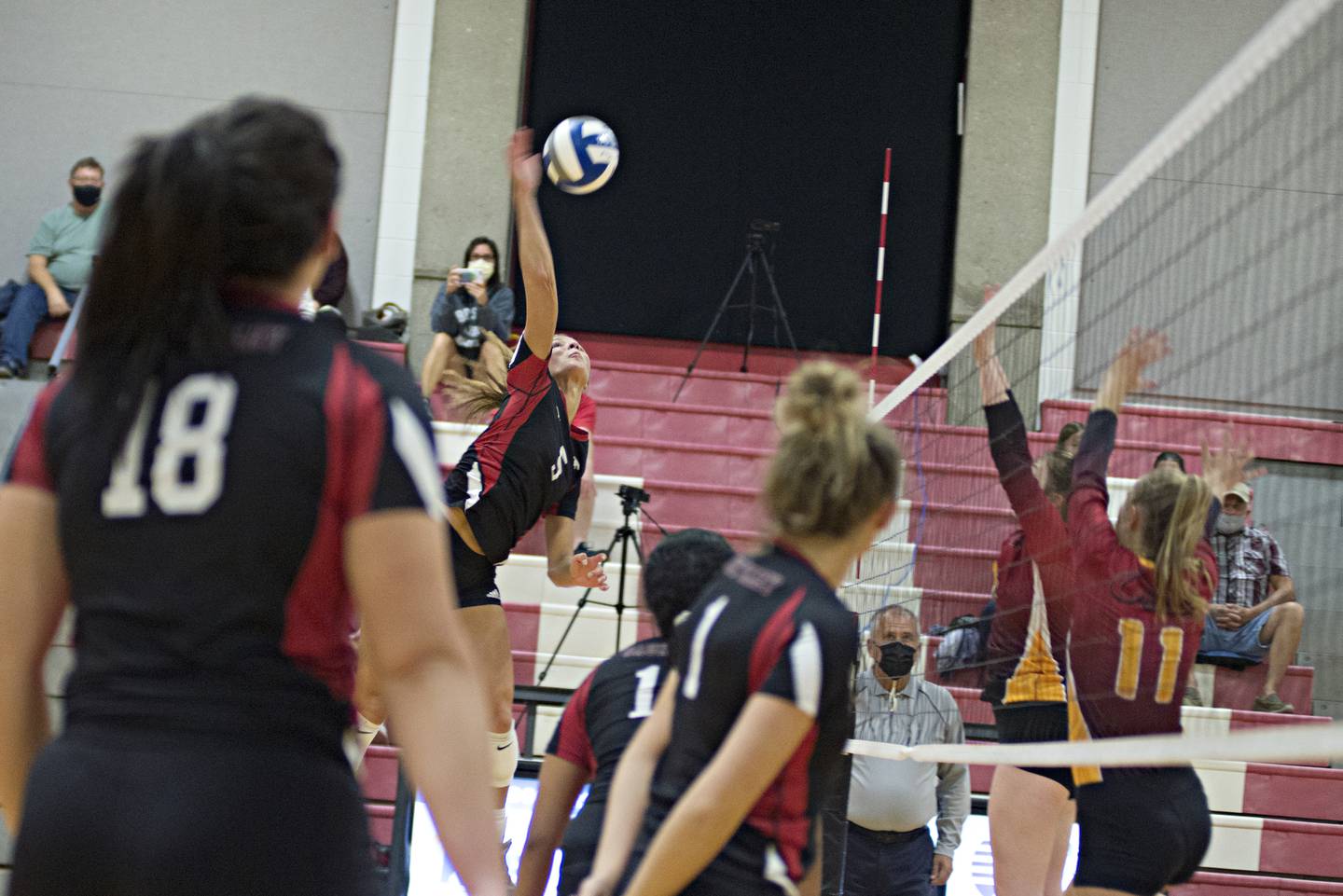 Cross country
Sterling runs at Western Big 6 Meet: Dale Johnson was runner-up in the boys race at the Western Big 6 Conference Meet on Thursday at Hoover Park, as the Golden Warriors finished fourth as a team with 84 points.
Johnson clocked a 15:21.1, behind only Fiker Rosen from Quincy (15:18.0). The Blue Devils also won the team title with 43 points, ahead of Geneseo (49) and United Township (81).
Thomas Holcomb finished 15th (17:06.1) for Sterling, and Cameron Taylor placed 18th (17:20.5). Jordan Britt took 23rd (17:41.0), Owen Anderson was 26th (17:45.2), and Isaac Halverson (17:49.9) and Conner Pham (17:50.0) finished 28th and 29th.
Led by winner Anna Schuering (18:42.1), Quincy also won the girls race with 28 points, well ahead of runner-up Geneseo (77). Sterling finished fifth (118).
Kylie Nicklaus placed 17th in 20:50.2, while Rhylee Wade took 21st (21:09.4). Megan Gingrich finished 26th (21:40.7), and Emma Anderson (21:58.7) and Sarah Navarro (22:05.0) took 29th and 30th.
Prep volleyball
Rock Falls def. Winnebago 25-17, 25-15: The Rockets went on the road and picked up a Big Northern Conference win in straight sets.
Maya Sands had 10 kills and eight digs, Mallory Pinske added seven kills and three blocks, and Claire Bickett spiked six kills for Rock Falls (27-1, 6-1 BNC). Nicolette Udell finished with three kills and two blocks, Cara Goff had 12 digs, Denali Stonitsch dished 10 assists, and Cadence Stonitsch chipped in 13 assists and nine digs.
Rockford Lutheran def. Dixon 25-22, 25-22: The Duchesses battled against one of the top teams in the Big Northern, but came up short at Lancaster Gym.
Mallory Coley had six kills, 12 digs, a block and an ace, and Ella Govig added two kills and six blocks for Dixon (14-13-1, 1-6 BNC). Ainsley Govig stuffed three blocks, Sam Tourtillott spiked three kills, and Elena Castillo-Wetzell finished with 15 digs. Sydney Hargrave had eight assists, three digs and an ace, Holli Miller added five assists and an ace, and Hanna Lengquist chipped in 10 digs.
Oregon def. North Boone 25-11, 25-14: The Hawks cruised to a Big Northern win on the road.
Jenae Bothe led the way with four kills and two blocks, while Aubrey Point finished with four assists, four digs and three aces. Cass Aylward added seven digs for Oregon.
Milledgeville def. Amboy 25-16, 25-23: The Missiles sunk the Clippers in an NUIC match in Amboy.
Liliana Smith and Adriana Miller each spiked six kills for Milledgeville, with Miller adding eight digs and three aces, and Smith chipping in a block and five digs. Lydia Faulkner and Emma Foster each had four kills; Foster also had 10 assists and six digs, and Faulkner had six digs. Alyssa Mertz added nine assists, four digs and an ace, and Rylee Matthews also chipped in six digs.
Elly Jones, Courtney Ortgiesen, Lexi Ketchum and Tyrah Vaessen each had two kills for Amboy, with Vaessen adding eight assists and two aces, Jones chipping in 10 digs, and Madison O'Malley serving five aces.
Eastland def. Polo 25-21, 25-14: The Cougars topped the Marcos in an NUIC match in Lanark.
Addie Burkholder spiked 12 kills, and Chloe Sweitzer finished with 27 digs for Eastland. Jenica Stoner dished 18 assists, Annika Myre served four aces, and Quinc Haverland (3 blocks) and Katlyn Spong (2 blocks) led the defense at the net.
Emileigh Williams led Polo with five kills, and she also had four digs. Nicole Boelens had three kills and 10 digs, Teah Almasy added two kills, two blocks, nine digs and eight assists, and Lindee Poper finished with eight digs, two blocks and a kill. Bekah Zeigler chipped in eight digs, a kill and an ace.
Fulton def. AFC 25-13, 25-18: The Steamers won an NUIC match at home in straight sets, led by six kills apiece from Kara Stoecker and Reese Dykstra.
Stoecker also stuffed two blocks, while Kamryn Sikkema added four kills and Ava Bowen spiked three kills for Fulton. Jersey Boysen finished with 17 assists and five aces.
Erie-Prophetstown def. Riverdale 25-23, 25-22: The Panthers edged past the Rams in a close Three Rivers West battle in Port Byron.
Kennedy Buck spiked 10 kills, and Aylah Jones added eight kills, seven digs, a block and an ace for Erie-Prophetstown. Jaiden Oleson dished 19 assists, stuffed a block and served an ace, and Emma Davis chipped in 12 digs and an ace.
Bureau Valley def. St. Bede 25-19, 25-22: Not only did the Storm pick up a Three Rivers East win at the Storm Cellar, they also got senior Kyra Stoller back, as she hit the court for the first time in her return from a leg injury.
Stoller had eight digs and three points. Ashley Nordstrom spiked a team-high 11 kills to go with nine digs, Tyra Sayler led the way with 13 digs, and Lexie Marquez served a team-best 14 points and two aces to go with seven digs. Emma Stabler hed five kills and two digs, Kate Salisbury finished with 16 assists and seven digs, and Annabelle Myong served five points and three aces.
Wednesday's results
Prep volleyball
Forreston def. Milledgeville 25-23, 25-23: The Missiles fell to the visiting Cardinals in an NUIC match Wednesday night.
Alyssa Mertz had nine kills and five assists, and Emma Foster finished with 11 assists and six kills for Milledgeville. Lydia Faulkner had four kills and three blocks, and Lilianna Smith added four kills and a block.
Newark def. Amboy 25-11, 25-11: The Clippers struggled to get their offense going in a nonconference loss on the road.
Elly Jones had four digs, and Courtney Ortgiesen and Emersyn Noble each added three digs for Amboy.