The Amboy-LaMoille boys cross country team took home the trophy at its own Columbus Day Invite on a rainy Monday morning at Shady Oaks Country Club, claiming three of the top 10 spots to take the title.
The Clippers scored 93 points to defeat runner-up Monticello by eight. Rock Falls was sixth (188), Newman took seventh (212), Polo placed 18th (45), and Eastland finished 20th (538) in the field that included 166 runners from 36 teams. Erie-Prophetstown, Bureau Valley, Morrison and Oregon did not field full teams.
Fieldcrest's Mason Stoeger won the race in 15:21.2.
Amboy-LaMoille's Brock Loftus finished fourth in 15:58.6, while Ian Eller placed eighth (16:44.3) and Kyler McNinch took 10th (16:51.8). Charlie Dickinson (47th, 17:55.2) and Wyatt Lundquist (50th, 17:59.7) rounded out the Clippers' team score. Andruw Jones (62nd, 18:20.9) and Atticus Horner (91st, 19:08.0) also ran the race.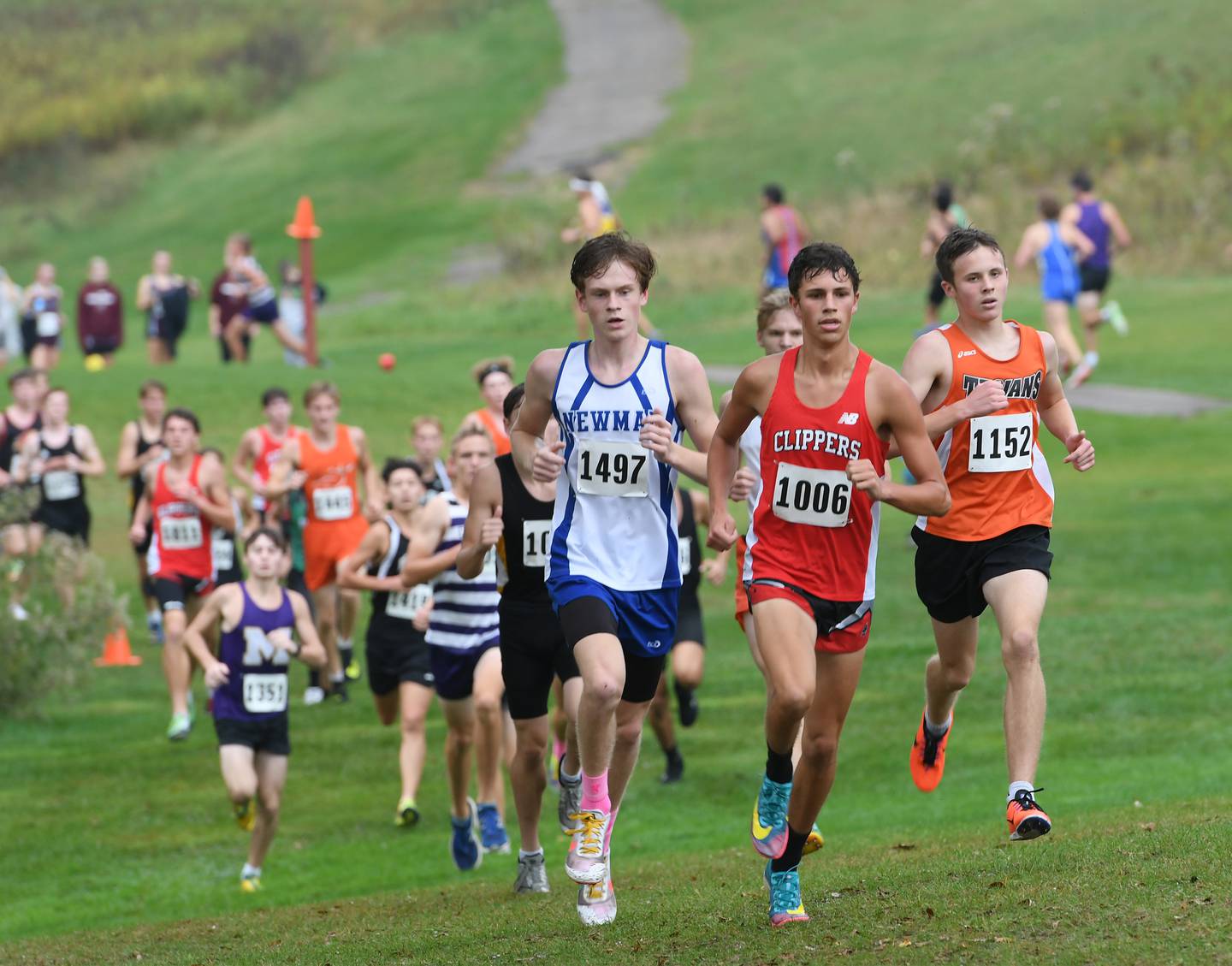 "It was an amazing team effort. We ran as a team and achieved one of the goals we had at the start of the season," Amboy coach Michael Robinson said. "It was close, but in the end, we pulled it out. We ran great races in bad weather and showed what we could do. It was good to have everyone give all they had."
Rock Falls was led by a 13th-place finish from Jose Gomez in 16:56.1. Matthew Marcum took 27th in 17:17.5, while Anthony Valdivia (45th, 17:47.6), Christian Cid (71st, 18:32.9) and Brady Root (72nd, 18:34.3) also scored for the Rockets. Juan Hernandez (100th, 9:37.3) and Victor Rivera (120th, 20:49.7) also competed.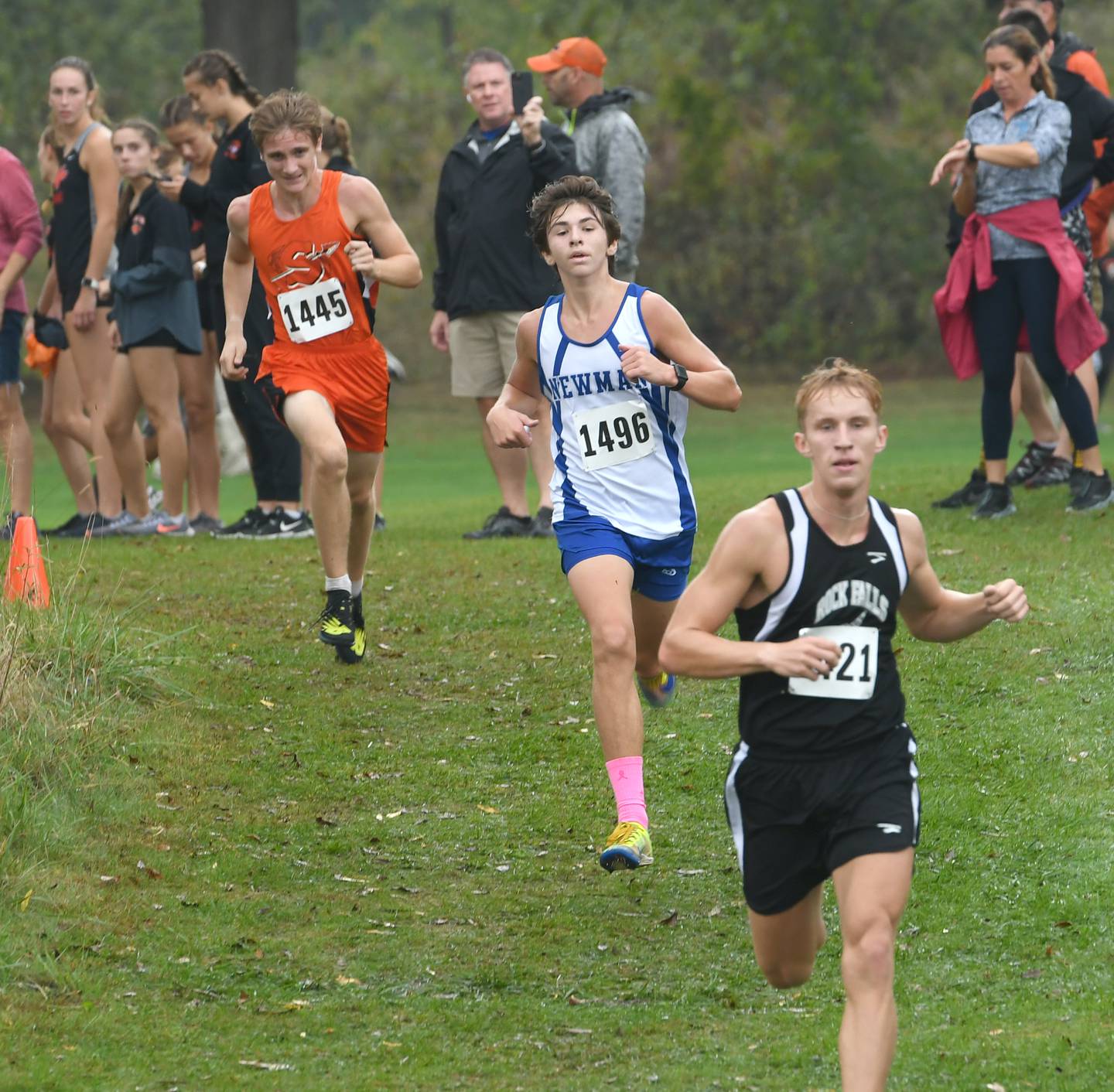 Bureau Valley's Elijah House was the only other local runner in the top 20, as he took 20th in 17:07.3. Polo's Carson Jones was 25th in 17:12.8.
Newman was led by Lucas Schaab in 29th (17:19.0) and Lucas Simpson in 33rd (17:36.4). Tom Powers (56th, 18:11.7), Kaden Welty (65th, 18:27.2) and Carver Grummert (74th, 18:36.5) also counted toward the Comets' score, and Ken Boesen (83rd, 18:49.8) and Espen Hammes (96th, 19:20.8) also ran.
In addition to Jones' finish, the Marcos also got an 88th from Ben Plachno (19:00.6), a 141st from Kale Grobe (22:23.1), a 145th from Kameron Grobe (22:39.2), and a 158th from Micah Sankey (24:39.2).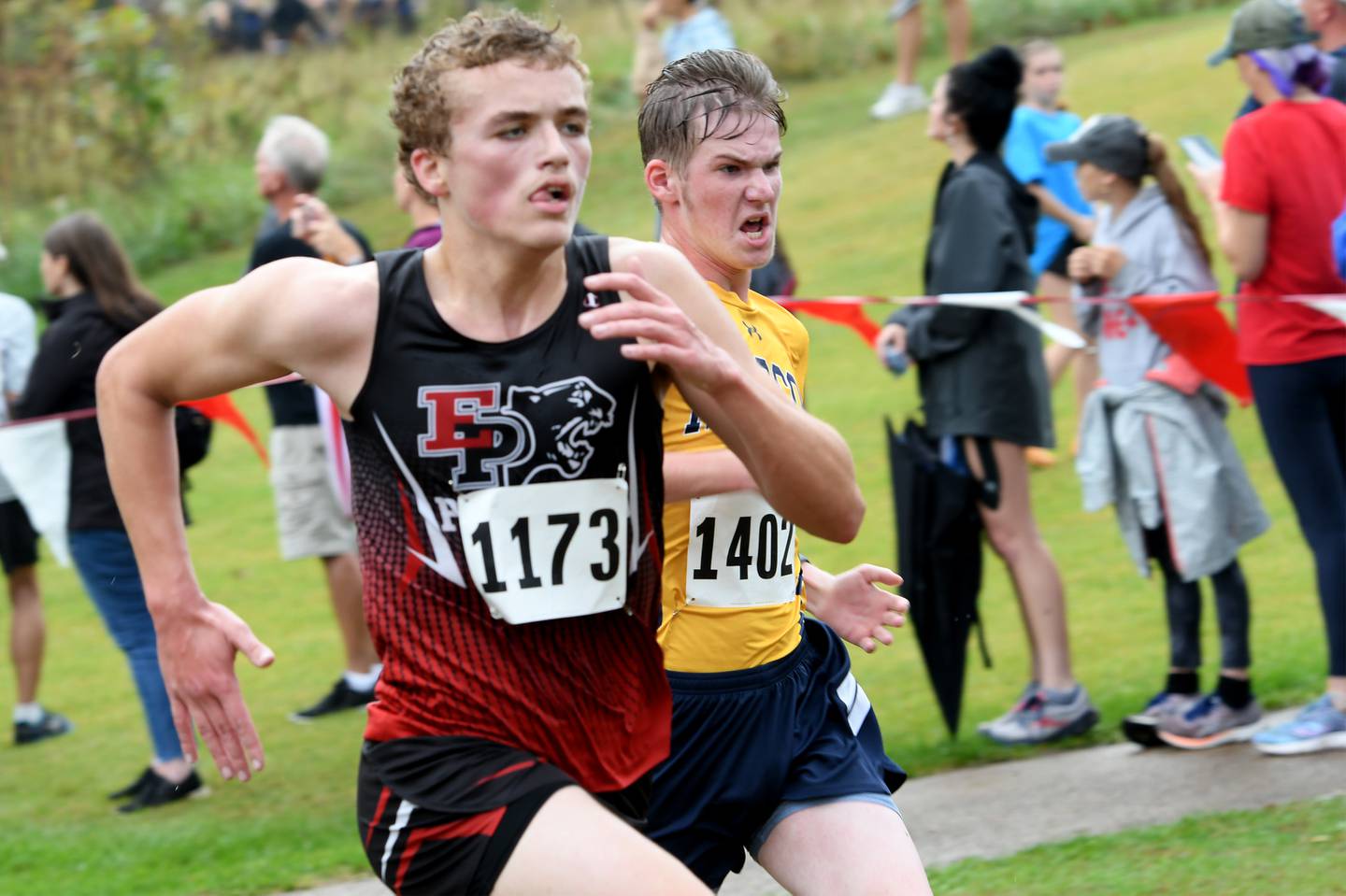 Eastland was led by Hudson Groezinger in 76th (18:37.5). Other Cougars competing were Ethan Dertz (131st, 21:26.7), Adrian Martz (146th, 22:40.1), Reid Witt (148th, 22:49.7), JJ Prowant (154th, 24:21.9), Trevor Janssen (155th, 24:25.8), and Jameson Pannkuk (156th, 24:35.7).
In addition to House, Bureau Valley also got a 115th from Evan Entas (20:29.9), a 1343rd from Rhiley Pinter (22:35.2), and a 150th from Landon Hulsing (23:47.8).
Andrew Bomleny led Erie-Prophetstown in 89th (19:01.1), while Reese Voeltz was 164th (28:00.7).
Running for Morrison were Brady Wolf (48th, 17:55.5), Aiden Dolieslager (136th, 21:46.5), and Mark Cyphers (144th, 22:35.9).
Oregon runners were Christopher Smith (124th, 20:59.4), Aidan Guida (135th, 21:44.6), Nicholas Meives-Wylie (159th, 25:30.6), and Bryan Immel (163rd, 27:59.2).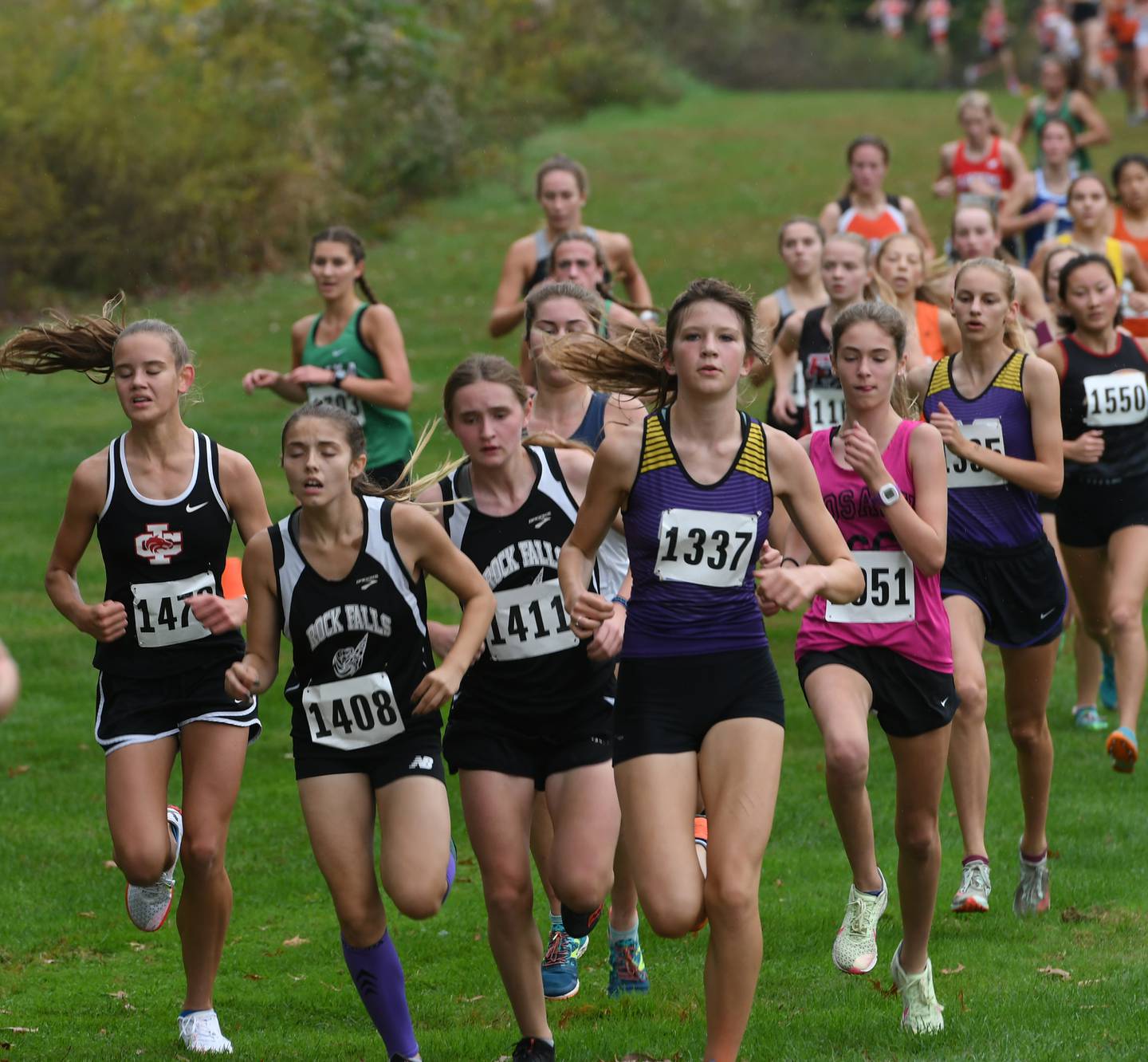 Girls race
Rock Falls was the top team in sixth place (196 points), led by top local finishers Tayli Hultin in 15th (19:35.2) and Hana Ford in 24th (20:06.4).
Aurora Rosary's Lianna Surtz won the race in 17:30.7, while Winnebago took the team title with 50 points.
Other local teams were Erie-Prophetstown in 15th (395), Amboy-LaMoille in 16th (400), Oregon in 19th (516), Polo in 20th (530), and Newman in 21st (540). Eastland, Bureau Valley and Morrison did not field full teams in the 35-team, 181-runner event.
Calin Gaulrapp (55th, 21:34.6), Gracie Rippy (59th, 21:44.0) and Emily Spooner (72nd, 22:14.8) also counted toward Rock Falls' team score, and Brooke Howard (74th, 22:16.8) and Makenna Arickx (153rd, 26:28.5) also competed.
Erie-Prophetstown's top finisher was Dylan Chandler in 45th (21:00.4), while Jillian Norman (78th, 22:34.2), Jade Nickerson (95th, 23:15.3), Chloe Slock (117th, 24:21.6), Brooke Lalley (135th, 25:10.4), Shea Winters (140th, 25:36.5), and Alexis Anderson (147th, 26:00.8) also ran.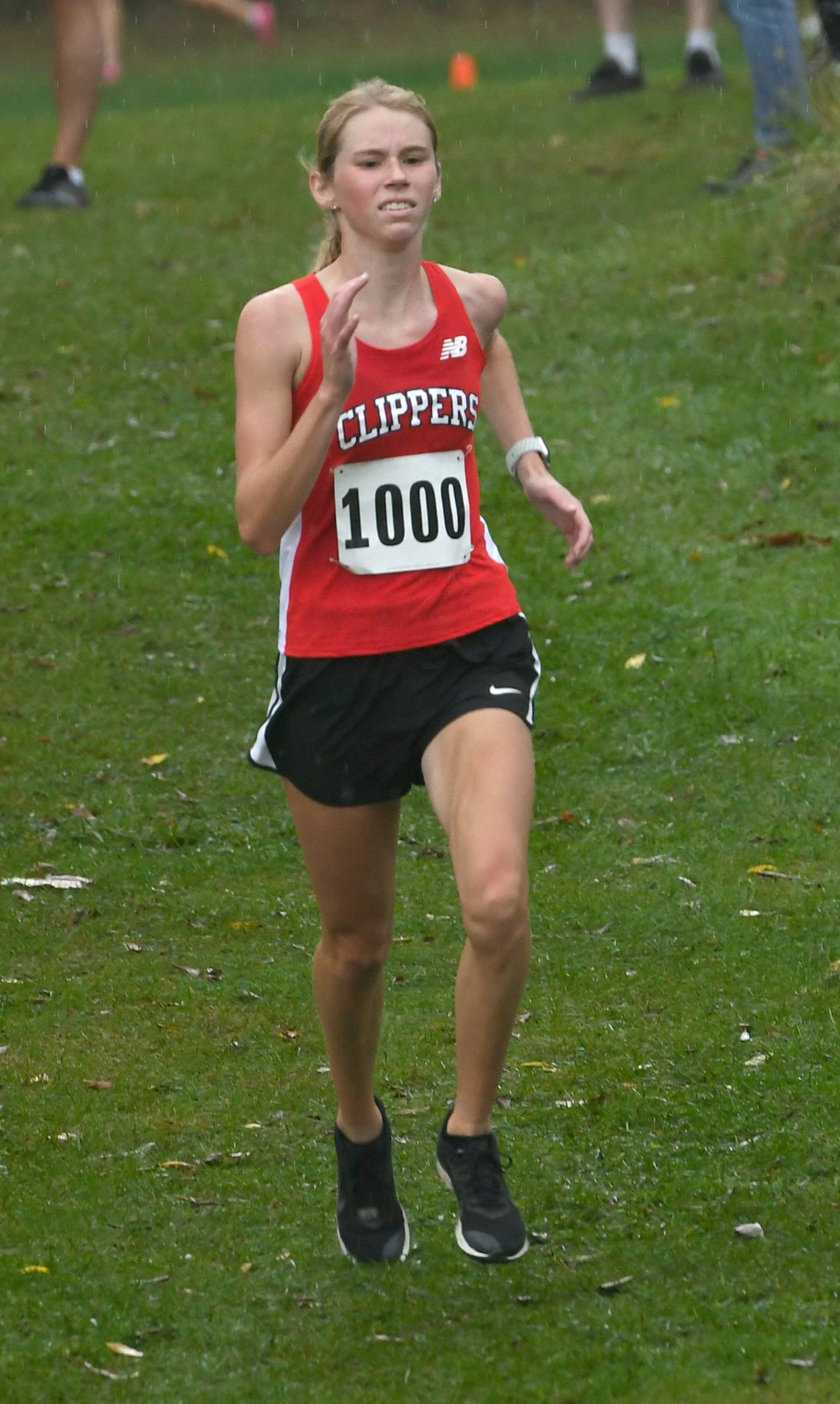 Lauren Althaus led Amboy-LaMoille in 42nd (20:57.3), with Elly Jones taking 71st (22:14.4). Bailey Ellis placing 111th (23:57.2), Natalie Pratt taking 126th (24:56.3), and Addison Pertell finishing 134th (25:09.3).
Oregon's Ella Dannhorn finished 40th in 20:42.8. The Hawks' other runners were Ellen Hodson (125th, 24:50.1), Katelyn Bowers (151st, 26:22.5), Valerie Nyderek (154th, 26:47.9), Taylar Rufer (175th, 30:48.5), Valeria Davis (177th, 21:39.9). and Simona Carriero (179th, 32:22.8).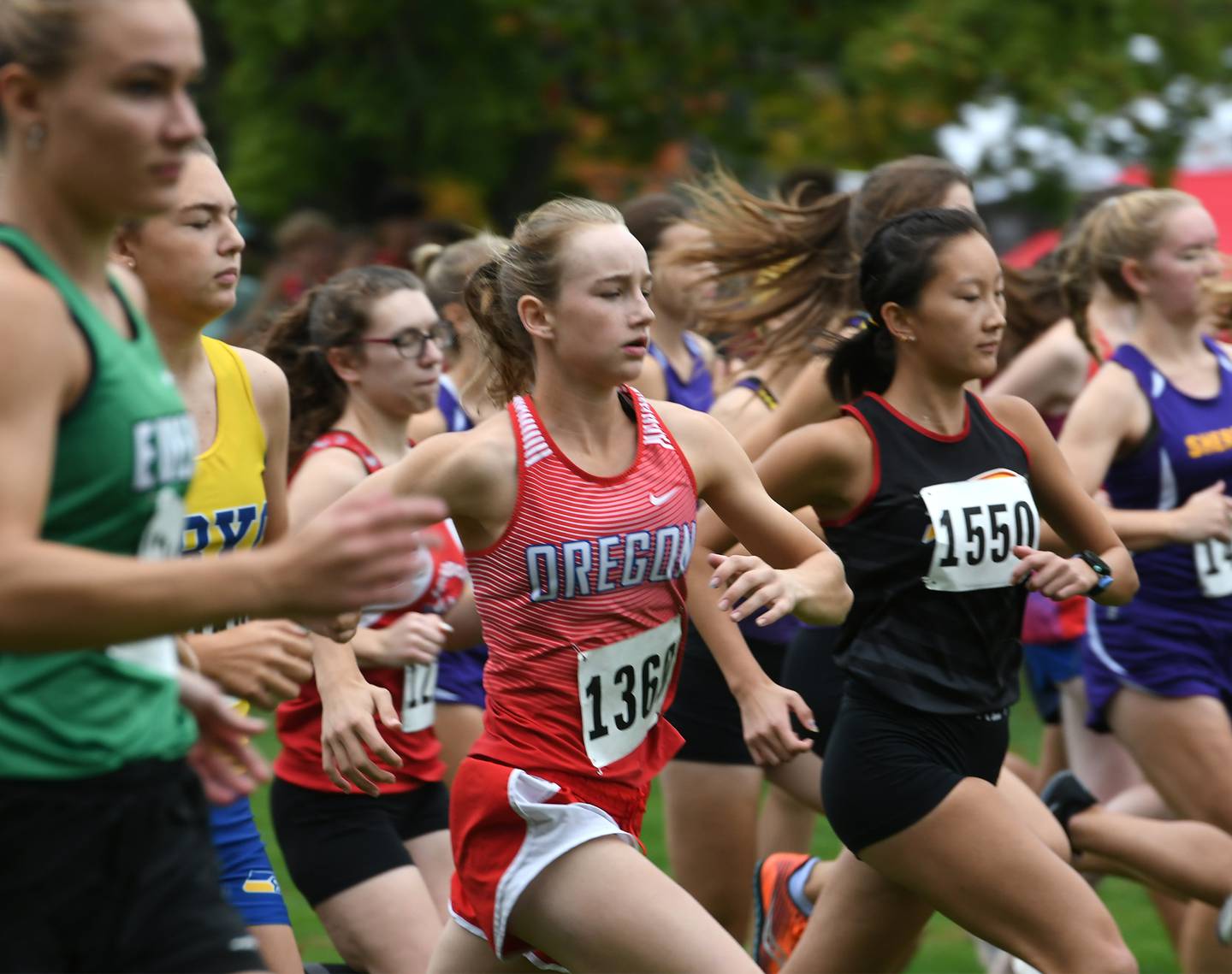 Polo got an 88th from Bekah Zeigler (22:50.3), a 127th from Courtney Grobe (25:00.3), and a 129th from Kamryn Stockton (25:00.7). Ramsie Grenoble (149th, 26:06.8) and Ellia Escobar (163rd, 27:46.7) also ran for the Marcos.
Newman's top finishers were Claire Crisham in 79th (22:34.9) and Gianna Widolff in 98th (23:18.6). Other Comet runners were Annie Rude (152nd, 26:25.9), Monica Healy (164th, 28:04.6), and Gianna Sagel (172nd, 30:11.8).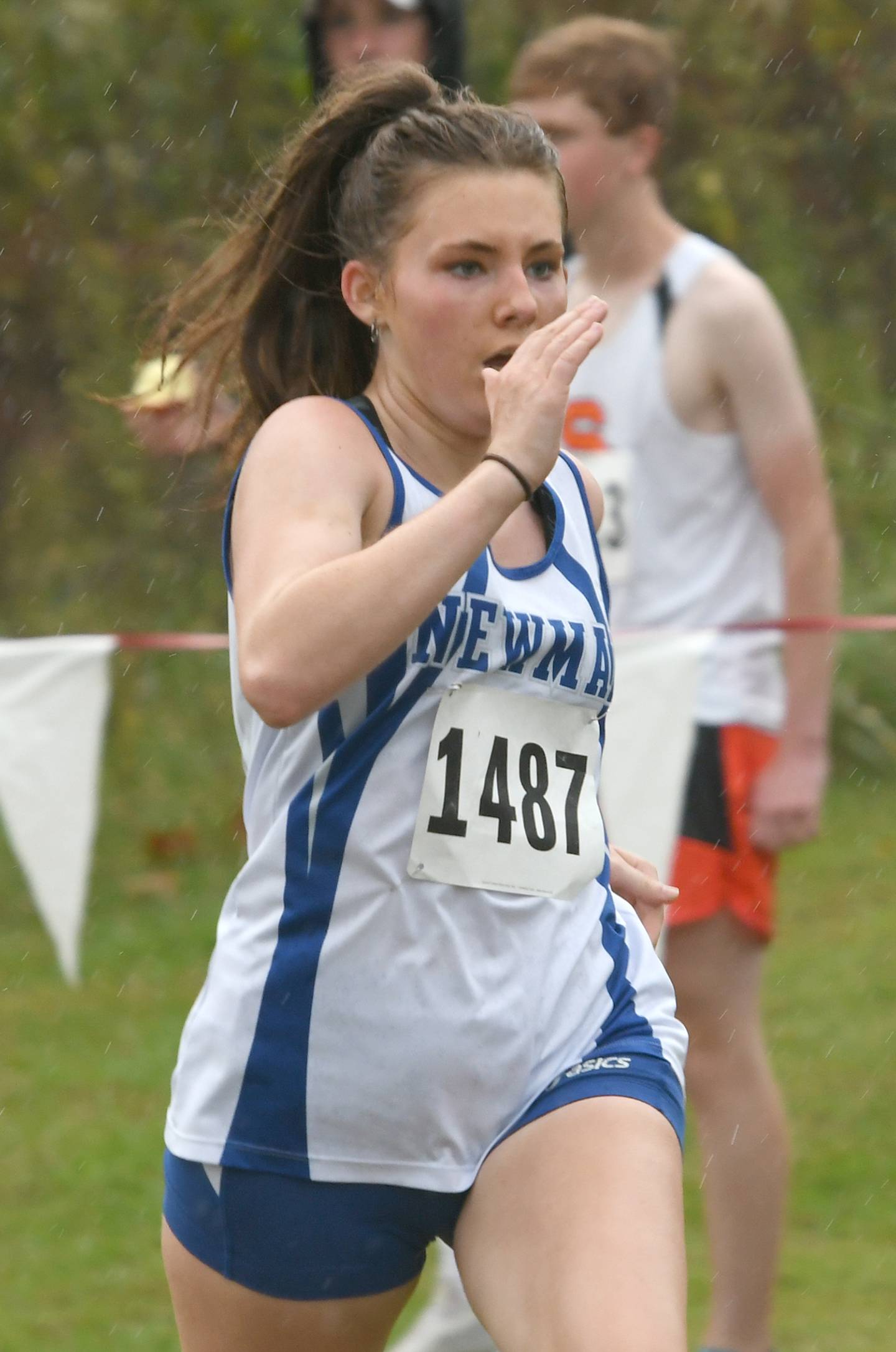 Morrison had three runners: Erika King (99th, 23:23.8), Marissa Folkers (121st, 24:33.0), and Gracelyn Streets-Wood (159th, 27:18.4).
Eastland's quartet of runners was Delaney Wilhelms (91st, 23:02.2), Emma Dampman (113th, 24:02.9), Ella Burkholder (158th, 27:17.3), and Mallory Misiewicz (176th, 31:01.5).
Bureau Valley's trio of runners was Amalie Graversgaard (90th, 22:53.4), Jillian Hulsing (132nd, 25:06.5), and Darla Kepner (142nd, 25:41.6).