West Suburban Silver
When: 1:30 p.m. Saturday
Last matchup: Glenbard West 28, Downers Grove North 21 (2022)
About the Trojans: Downers Grove North through two weeks has looked the part of a team poised to compete with the top dogs in the West Suburban Silver. Noah Battle ran for 131 yards and scored a career-high four touchdowns, three in the second half, last week as the Trojans pulled away to beat Downers Grove South 35-13. Battle caught one TD pass from sophomore QB Owen Lansu. Downers Grove North has not beaten Glenbard West since 2006, the Hilltoppers winning the last 16 meetings. But the Trojans have closed the gap to one-score losses the last two years.
About the Hilltoppers: Glenbard West is coming off a 10-0 loss to Missouri power De Smet Jesuit last Saturday at East St. Louis. It's hard to argue with the Hilltoppers' track record to figure things out, but their offensive issues speak for themselves. Glenbard West's offense has been shut out in its first two games, the lone score a 94-yard Mason Ellens kickoff return in Week 1 that was enough to beat Marist. Glenbard West does have the defense that would appear to give it a chance to win every week, with a total of 16 points allowed the first two games. This matchup seems like a bellwether game as to who might compete with York for Silver supremacy.
FND Pick: Downers Grove North
When: 7 p.m. Friday
Last matchup: Lyons 10, Hinsdale Central 7 (2022)
About the Red Devils: Hinsdale Central gave Bolingbrook all it could handle last week before ultimately losing 39-31. The Red Devils' early schedule has been unforgiving, nonconference games with Naperville Central and Bolingbrook, and it doesn't get any easier this week in the Silver opener. Carter Contreras had six catches for 101 yards in the loss to Bolingbrook.
About the Lions: Lyons evened up its record heading into Silver play with a 13-0 win over Wheaton Warrenville South last Friday. Jack McQueeney rushed for 99 yards on 13 carries and a TD in the second half, caught a 24-yard TD pass from Ryan Jackson, and aided the Lyons' stout defensive effort. Illinois recruit Eddie Tuerk, Colgate recruit Noah Pfafflin, Kellen Knop, Roman Sosnovyy and Ian Gamino combined for five sacks and Jackson threw for 155 yards. Lyons beat Hinsdale Central 10-7 last season – the Lions' first win in the series since 2013.
FND Pick: Lyons
West Suburban Gold
Willowbrook (1-1, 0-0) at Addison Trail (2-0, 0-0)
When: 6 p.m. Friday
Last matchup: Willowbrook 42, Addison Trail 6 (2022)
About the Warriors: Willowbrook came on strong last week against Glenbard North, rallying from two TDs down to beat the Panthers 27-14. Senior QB Arthur Palicki threw TD passes to Kenneth Rhodes, Jesus Gomez and Carter Ferguson and ran for Willowbrook's fourth score. Willowbrook has won the last seven meetings with its district rival, most of them by one-sided margins.
About the Blazers: The last decade of football has been a struggle for the Addison Trail program – just one winning season since 2011 – but early returns this fall have provided a glimmer of daylight. Addison Trail beat North Chicago 21-7 last week, its second win matching the program's entire win total from 2022. A Gold Division opener against Willowbrook, which has owned the division for most of the last half-decade, figures to provide a better barometer on just how much progress the Blazers have made.
FND Pick: Willowbrook
Morton (0-2, 0-0) at Proviso East (1-1, 0-0)
When: 7:30 p.m. Friday
Last matchup: Morton 42, Proviso East 12 (2022)
About the Mustangs: Morton is coming off a 41-0 loss to Niles West. It's been a rough go of it for the Mustangs' defense in the early going, with 83 points allowed over two games. Niles West ran for over 200 yards in the game while Morton's shutout loss included an interception and a blocked punt. A visit to Proviso East could provide welcome relief. Morton has won the last three meetings with the Pirates with blowout wins the last two years.
About the Pirates: Proviso East comes in off a 19-8 win over district rival Proviso West, snapping a 15-game Pirates' losing streak dating back to the 2021 season.
FND Pick: Morton
Hinsdale South (0-2, 0-0) at Leyden (0-2, 0-0)
When: 6 p.m. Thursday
Last matchup: Hinsdale South 42, Leyden 14 (2022)
About the Hornets: Hinsdale South is coming off a 35-27 loss to Riverside-Brookfield. The Hornets did amass 544 yards of offense in the loss, but could not quite come back from a three-touchdown deficit in the second half. Langston Love threw a 16-yard TD pass to Ayden Farrare in the loss. Hinsdale South has won the last two meetings with Leyden, both relatively one-sided outcomes.
About the Eagles: Leyden is coming off a 20-6 loss to Niles North. The Eagles have struggled to put points on the board with a combined six points in losses to Highland Park and Niles North. Anthony Falco threw a 5-yard TD pass to Brian Gonzalez for Leyden's only score.
FND Pick: Hinsdale South
DuKane Conference
St. Charles North (2-0, 0-0) at Wheaton North (1-1, 0-0)
When: 7 p.m. Friday
Last matchup: St. Charles North 22, Wheaton North 21 (2022)
About the North Stars: St. Charles North challenged itself with a rather ambitious nonconference schedule – and passed with flying colors. The North Stars followed up their notable Week 1 win over Palatine with a 30-14 win at Crete-Monee. Junior QB Ethan Plumb threw TD passes to Jake Mettetal and Jake Furtney, and ran for a score, and Joell Holloman also had a rushing TD. Plumb shared the varsity quarterback job over his first two years of high school, but appears to have come into his own by the looks of the first two games. He has plenty of playmakers including Mettetal, who had 12 catches for 177 yards and a 47-yard TD in the Week 1 game. The North Stars could see how they stack up in the DuKane quite soon, matchups with Wheaton North and Batavia the next two weeks.
About the Falcons: Wheaton North has been a rather sound, at times dominating defensive team in recent seasons, which made a 37-22 loss to Lockport last week a little jarring. Max Howser threw two TD passes to Matt Kuczaj and one to Rich Schilling in the loss. Aside from Wheaton North's 35-3 win over St. Charles North in 2021, the three other DuKane matchups between these two have been down to the wire close ones, including last season. This one seems to have the makings to follow that pattern.
FND Pick: St. Charles North
When: 7 p.m. Friday
Last matchup: Geneva 35, Wheaton Warrenville South 11 (2022)
About the Tigers: WW South, which didn't exactly light up the scoreboard in its Week 1 win over Simeon, was shut out 13-0 at Lyons last week. The Tigers managed just 65 yards of offense in the first half and missed a 29-yard field goal in the second. Junior QB Luca Carbonaro passed for 154 yards, 114 in the second half. WW South sophomore Owen Yorke rushed for 70 yards starting in place of both injured Matt Crider and Max Schlegal. The Tigers' defense has been a sound constant through two games. It should get tested against a Geneva team with high-level playmakers.
About the Vikings: Geneva's revitalized program is off to a 2-0 start for the third consecutive season, picking up a quality 21-10 win at Lemont last Friday. Junior running back Michael Rumoro, who had a splashy 125-yard, three-TD varsity debut in Week 1, followed it up with two TDs at Lemont. Junior receiver Talyn Taylor also had a TD run. Taylor, the No. 3-ranked junior in Illinois, holds 21 offers including Alabama, Georgia, Michigan and Notre Dame. Senior QB Nate Stempowski is a second-year starter.
FND Pick: Geneva
South Suburban Blue Conference
T.F. South (0-2) at Lemont (0-2)
When: 7 p.m. Friday
Last matchup: Lemont 49, T.F. South 6 (2022)
About the Red Wolves: T.F. South believed heading into the season that they'd be able to reverse last year's 3-6 campaign with a fairly experienced group and the return of playmaker Christian Streeter after missing last season with an injury. But very little has worked offensively for the Red Wolves thus far as they have posted just nine points in back-to-back losses to Hammond Central (Ind.) and Lane.
About the Lemont: Lemont hasn't been 0-2 since 2018 which was also the last year that Lemont didn't ultimately end up winning the South Suburban Blue Conference. It's a league they've dominated pretty much every other year though and now that Lemont is back in conference play the hope is that it will be able to get back on track after nonconference losses to Libertyville and Geneva. Lemont's offense has scuffled early this season but they got a spark from reserve quarterback Chris Montell in the second half.
FND pick: Lemont
-- Steve Soucie
Southland Conference
When: 7 p.m. Friday
About the Blazing Trojans: Bloom won big in Week 1 over Chicago Noble/UIC, but followed that up with a 23-14 loss to Argo last week. The Blazing Trojans have finished 3-6 in four of the last five seasons, the program's last playoff appearance in 2017. Head coach Tony Palombi is in his 19th season. Senior QB Terrion White has thrown for 403 yards with seven TDs and two interceptions. His top target is senior Katrell Henry, who has nine catches for 192 yards and two TDs.
About the Bulldogs: The Bulldogs put up big numbers, 83 points total, the first two weeks against two West Suburban Gold teams with a 35-27 win over Hinsdale South last week. Senior QB Diego Gutierrez completed 20 of his 27 passes and threw for 335 yards and four TDs, both career bests, in the win over Hinsdale and has thrown seven TDs over two games. Luke Kumskis, Anthony Petrucci and James Espin all had TDs in the game. This weeks marks the Southland Conference debut for Riverside-Brookfield, which joined the league for one season before heading to the Upstate Eight Conference in 2024.
FND Pick: Riverside-Brookfield
Upstate Eight Conference
Glenbard South (2-0, 2-0) at Larkin (1-1, 1-1)
When: 7 p.m. Friday
Last matchup: Glenbard South 56, Larkin 21 (2022)
About the Raiders: Glenbard South can light up the scoreboard, evidenced by its back-to-back, 56-point outbursts in wins over East Aurora and Fenton. Senior quarterback Michael Champagne has completed 15 of 23 passes for 267 yards with 7 TDs and 0 interceptions, while Notre Dame-bound receiver/return man Cam Williams has accounted for 485 all-purpose yards and four TDs in two weeks. Defensively, the Raiders are led by Vontae Clark (3 sacks) and Tommy Burke (10 tackles).
About the Royals: Larkin coach Vincent Ray recorded his first varsity football coaching triumph during last weekend's 35-14 win over Streamwood. The Royals forced four turnovers in that game, including an interception from senior cornerback Damani Cannon. Erick Myrick caught a pair of TD passes from quarterback Tizairian Johnson-Williams, while running back Jalen Miller added a pair of TDs, as the Royals shook off their Week 1 loss to Glenbard East.
FND Pick: Glenbard South
-- Craig Brueske, Daily Herald Media Group
When: 7 p.m. Friday.
Last matchup: Glenbard East 42, West Chicago 6 (2022)
About the Rams: Glenbard East gave four-time defending conference champion South Elgin a scare last weekend before losing a 17-14 decision, as the Storm scored the game-winning touchdown in the final seconds. A blocked field goal hurt the Rams, who received a pair of rushing touchdowns from Matthew Larson and an interception from Quami Stanton.
About the Wildcats: West Chicago enters the game with plenty of momentum following last week's first-ever victory over Bartlett (21-14 in overtime). Senior two-way standout Vincent Muci anchors the Wildcats' lineup. Diego Contreras recorded a team-high 13 tackles last week.
FND Pick: Glenbard East
-- Craig Brueske, Daily Herald Media Group
Chicagoland Christian Conference
Wheaton Academy (2-0) at Chicago Christian (2-0)
When: 7:15 p.m. Friday
Last matchup: Wheaton Academy 47, Chicago Christian 7 (2017)
About the Warriors: First – Austin, Texas. Last week – St. Charles. Next stop – Palos Heights. Wheaton Academy prepares for its third straight road game, fresh off an impressive 41-23 nonconference triumph over Class 8A foe St. Charles East. Senior Brett Kasper completed 9 of 17 passes for 162 yards and a pair of touchdowns, while also making two interceptions at defensive back. Giovanni Spinelli is another of many Wheaton Academy two-way standouts. "Despite some early mistakes, our coaches liked what we saw on tape against St. Charles East," said Warriors coach Jim Johanik. "Both our defensive ends (Ethan Brunner and Jeremy Johanik) had great games against Saints' 4-star lineman Bodey McCaslin (Iowa-bound), combining for 21 tackles, 5 for losses, 2 sacks, a forced fumble, and a recovery. We're looking for those two to anchor the defense this year." The Warriors also possess a special teams weapon in kicker/punter Ethan Head.
About the Knights: Led by junior quarterback Christian Flutman and the Goble brothers – senior tailback Zeke and sophomore tailback Obadiah, the Knights have outscored their first two opponents by a staggering 87-6 margin. "We haven't played Chicago Christian since 2017," said Johanik. "A lot has changed in our programs since then, so we can't really rely on past experiences to guide us. Like our first two opponents who we had never faced, we're heading into this week with wide eyes, preparing for anything against a 2-0 team."
FND Pick: Wheaton Academy
-- Craig Brueske, Daily Herald Media Group
Chicagoland Prairie Conference
Seneca (2-0) at Westmont (1-1)
When: 7 p.m. Friday
Last matchup: First meeting.
About the Fighting Irish: Fourth-year quarterback/defensive back Nathan Grant directs Seneca's power-T offense that can put plenty of points on the scoreboard, evidenced by last weekend's 40-7 victory over Lisle. Grant rushed for 12 touchdowns and passed for 8 TDs as a junior last season. The Fighting Irish also feature all-state OL/DL Chris Peura and tailback Asher Hamby (11 TDs a year ago).
About the Sentinels: Showing their grit, the Sentinels bounced back from a 47-6 opening game loss to Crane with a 27-21 nonconference triumph over Prosser last weekend – providing first-year head football coach Lee Maciejewski his first victory. Seniors Lucas Hicks and Lucas Fears both enjoyed solid offensive performances against Prosser, while Jacob Sleeper recorded a sack. Westmont's offensive line allowed just 1 sack last week but steps up in class against a big, physical Seneca squad. This is the Chicagoland Prairie Conference debut for both teams.
FND Pick: Seneca
-- Craig Brueske, Daily Herald Media Group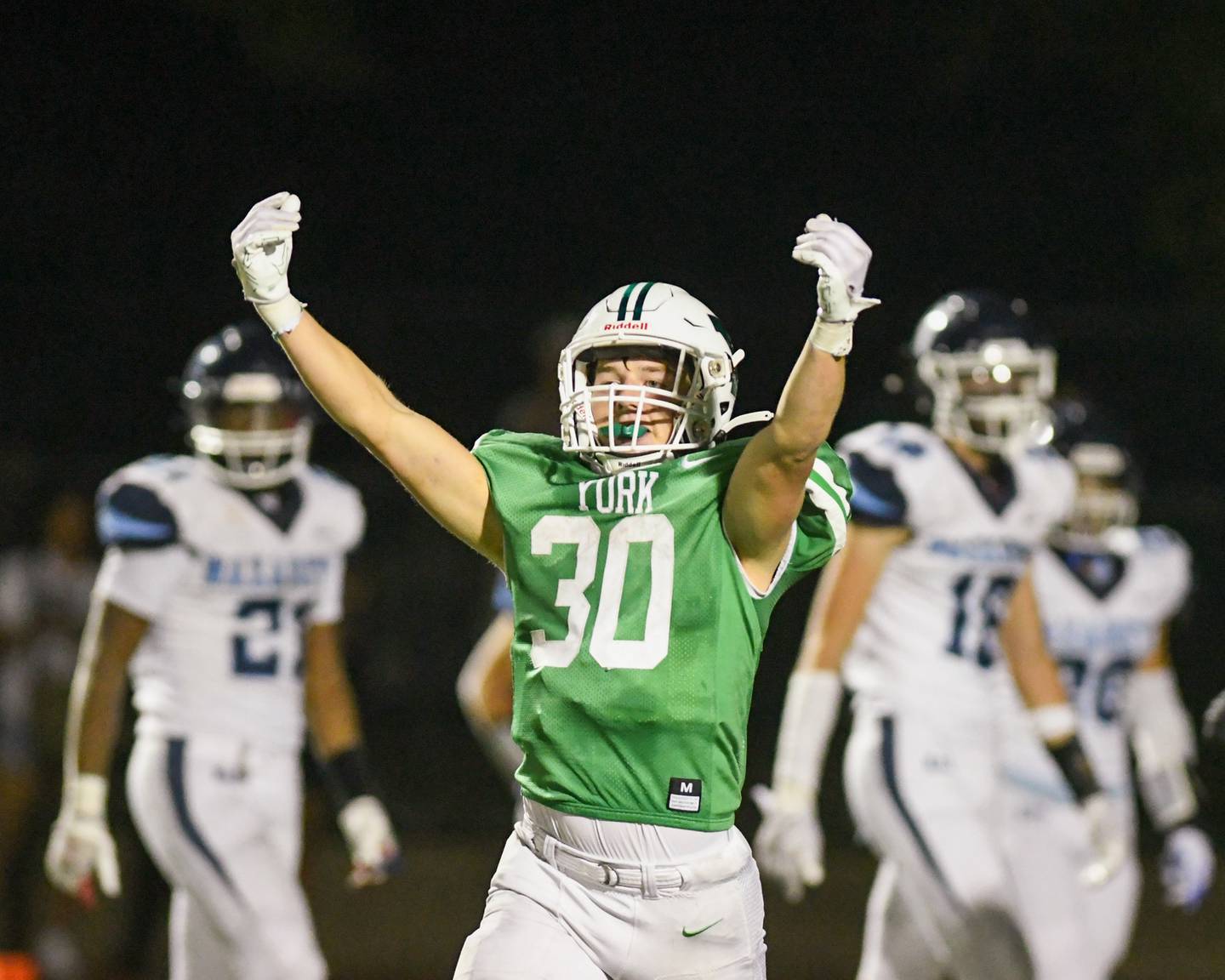 Nonconference
When: 7:30 p.m. Friday
Last matchup: Downers Grove South 20, York 14 (2019)
About the Dukes: York, ranked No. 3 in the latest Class 8A statewide rankings, made quite a statement with last Friday's 42-13 win over defending Class 5A state champion Nazareth. Senior QB Sean Winton, who has impressed in his first two varsity starts, threw for four TDs – two each to Luke Mailander and Chris Danko. Jake Melion ran for 166 yards and two TDs on 29 carries. Cole Ostendorf led a York defense that held Nazareth to 15 rushing yards with seven tackles, 1.5 sacks and 1.5 tackles for loss. Evan Gaughn had six tackles. The Dukes have clearly established themselves as one of the state's top teams with resounding wins over quality nonconference opponents Glenbrook South and Nazareth.
About the Mustangs: Downers Grove South's defense is doing a decent job, but its offensive struggles continued in a 35-13 loss to Downers Grove North, a game that was blown open in the second half. The Mustangs had to punt seven times and were held to 73 passing yards. Deon Davis ran for 86 yards and both of Downers Grove South's TDs and Dylan Spencer and Jack Schoenike both had interceptions. The Mustangs are halfway through a ringer of a first four games, with the West Suburban Gold opener next week against Willowbrook.
FND Pick: York
When: 7:30 p.m. Friday
Last matchup: Nazareth 42, Montini 7 (2022)
About the Roadrunners: Nazareth, similar to last season when it started 2-4, has an uphill climb to return to the playoffs. That start, and a daunting CCL/ESCC schedule, will make it a herculean task to match last year's run. Nazareth junior quarterback Logan Malachuk was 13-for-21 passing for 229 yards against York with two TDs to James Penley, who caught seven passes for 169 yards. But the Roadrunners, who managed just 15 rushing yards against York, need to establish a much more balanced attack, and clean up the penalties that cost them a handful of big plays. And they need to avoid the slow starts that caught up to them in losses to Kankakee and York the season's first two weeks. This will be the third of four straight Nazareth road games to start the season – the Roadrunners open CCL/ESCC Orange Division play next Friday at IC Catholic Prep.
About the Broncos: Montini, looking to reestablish its pedigree this fall, has done a good job of taking care of business so far. The Broncos are coming off a 44-24 win at Hillcrest last week, it second straight one-sided win. But the schedule stiffens from here, starting with a wounded Nazareth group. Alex Marre ran for 161 yards and two TDs, and caught a TD, against Hillcrest. Defensively Nicky Castaldo had eight tackles, two for loss and Sam Hemmersmeier had 10 tackles, two for a loss, with an interception. The Broncos will look to reverse their double-digit losses to Nazareth the last two seasons.
FND Pick: Nazareth
When: 7 p.m. Friday
About the Knights: The grind of the CCL/ESCC is still in front of them, but the Knights have done what they needed to do so far, nonconference wins over Indiana's Bowman Academy and Orr by a combined 81-0 margin. ICCP has plenty of firepower offensively with Dennis Mandala throwing to Iowa recruit KJ Parker and Texas A&M commit Eric Karner, and Joey Gliatta running out of the backfield. Junior Dominic Hulak, who has offers from Notre Dame, Illinois and Wisconsin, and JP Schmidt are among the names to watch for the Knights' defensively. This game marks the Knights' first game in the CCL/ESCC, albeit a crossover.
About the Redwings: Benet, coming off back-to-back 4-5 seasons, looks well on its way to a return to the playoffs after two dominant nonconference wins to start the season with a 78-13 differential. A 38-7 Week 2 win over West Suburban 6 power Moline was eye-opening. Ryan Kubacki threw four TD passes, two each to Pat Pitello and Rocky Rosanova, and ran for a fifth score. The Redwings get another opportunity here to serve notice in the CCL/ESCC against the defending Class 3A state champions.
FND Pick: IC Catholic Prep
Fenwick (2-0) at Providence (1-1)
When: 7:30 p.m. Friday
Last matchup: Providence 25, Fenwick 22 (2022)
About the Friars: Fenwick has a lot of returning experience, and so far it appears to be paying off. The Friars opened the season with a win over Oak Park-River Forest and followed that up with a win over St. Ignatius in a surprise to some. Fenwick has some top-shelf talent, particularly in defensive end Nathaniel Marshall. Considering how much difficulty Providence had slowing down Joliet Catholic's defensive linemen Dillan Johnson and Mitchell Ragusa, the Celtics will probably have their hands full in trying to keep Fenwick's front line from causing problems too.
About the Celtics: Providence hit a brick wall in its rivalry match with Joliet Catholic in Week 2 as the Celtics barely amassed 100 yards of total offense and very infrequently had any sort of threat to dent the scoreboard. The defense didn't play particularly poorly especially when you consider turnovers often left Joliet Catholic with a short field and Providence was able to hold multiple drives to field goals rather than touchdowns as the Hilltoppers kicked four of them on the night. Most of the problems for Providence were self-inflicted wounds and the Celtics also had some mishaps in a narrow win over Lake Central (Ind.) in Week 1. The Celtics won't have the luxury of continuing to make this many mistakes moving forward through a brutal second half schedule.
FND Pick: Fenwick
-- Steve Soucie
St. Francis (1-1) at St. Laurence (2-0)
When: 7:30 p.m. Friday
Last matchup: First meeting
About the Spartans: The Spartans' offense runs through veteran senior quarterback Alessio Milivojevic, who completed 16 of 19 passes for 266 yards and four touchdowns while also rushing for a TD in last week's 42-28 victory over Sterling. "It's huge having a guy like Alessio back there running the show," said Spartans coach Bob McMillen. "He's a 3-year starter, and in my eyes, the best quarterback in the state. It also helps to have a solid receiving corps around him. Ian (Willis), DeShaun (Williams), Zach (Washington) and Dario (Milivojevic) have all been around Alessio since youth ball, so they have that chemistry." The emergence of RB TyVonn Ransom also boosts the offense. Defensively, the Spartans must continue to improve. "There's only one key really, it's to play football and don't be robots," said the coach. "I believe the kids are so worried about making mistakes that it's slowing them down. We tell our players that if you're going to make a mistake, do it at 100 miles per hour." Dom Beres and Corin Greenwell anchor the defensive unit.
About the Vikings: After a 3-6 finish last year, St. Laurence is off to a 2-0 start. The Vikings walloped Von Steuben, 77-0, in their opener before winning by forfeit over Noble/Academy last week. Senior QB Evan Les directs the offense. "St. Laurence is a well-coached football team with some very good players," said McMillen. "The tough part is we don't have much tape on them. After what they did in Week 1 and having a forfeit in Week 2, it's hard to really break down what they can do. It's almost like going into a Week 1 game not really knowing your opponent, so we have to prepare for everything and anything."
FND Pick: St. Francis
-- Craig Brueske, Daily Herald Media Group