GLEN ELLYN – Mason Ellens' trust in his teammates helped him make a game-changing play for Glenbard West when it mattered the most Aug. 26.
With his team trailing midway though the fourth quarter, Ellens returned a kickoff and trusted his teammates to make the blocks he needed. Ellens' trust resulted in a touchdown that helped the Hitters beat Marist 7-6.
"Being able to come out here, knowing that I'm the reason we won, it's just a big deal to me," Ellens said.
[ Photos: Glenbard West vs. Marist ]
Neither Glenbard West (1-0) nor Marist (0-1) could score in the first three quarters. The Hitters were missing four-year starting running back Julius Ellens, who left the game in the second quarter with a lower body injury and did not return.
Both teams found ways to score on consecutive plays in the fourth quarter.
The RedHawks took a 6-0 lead when quarterback Owen Winters kept the ball and rushed for 62 yards for a touchdown with 7:36 left in the game. Marist missed the extra-point attempt.
TOUCHDOWN: Marist quarterback Owen Winters takes it 64 yards to give the RedHawks a 6-0 lead with 7:36 left in the game. Extra point no good. pic.twitter.com/cTWazJmgmz

— Michal Dwojak (@mdwojak94) August 26, 2023
Mason Ellens and the Hitters stayed focused, knowing they could make one play to win the game. The ball dropped in front of Ellens for a couple of seconds before he picked it up. His patience allowed his blockers to get in the right position and he returned the kickoff 94 yards to give his team a 7-6 lead with 7:25 left in the game.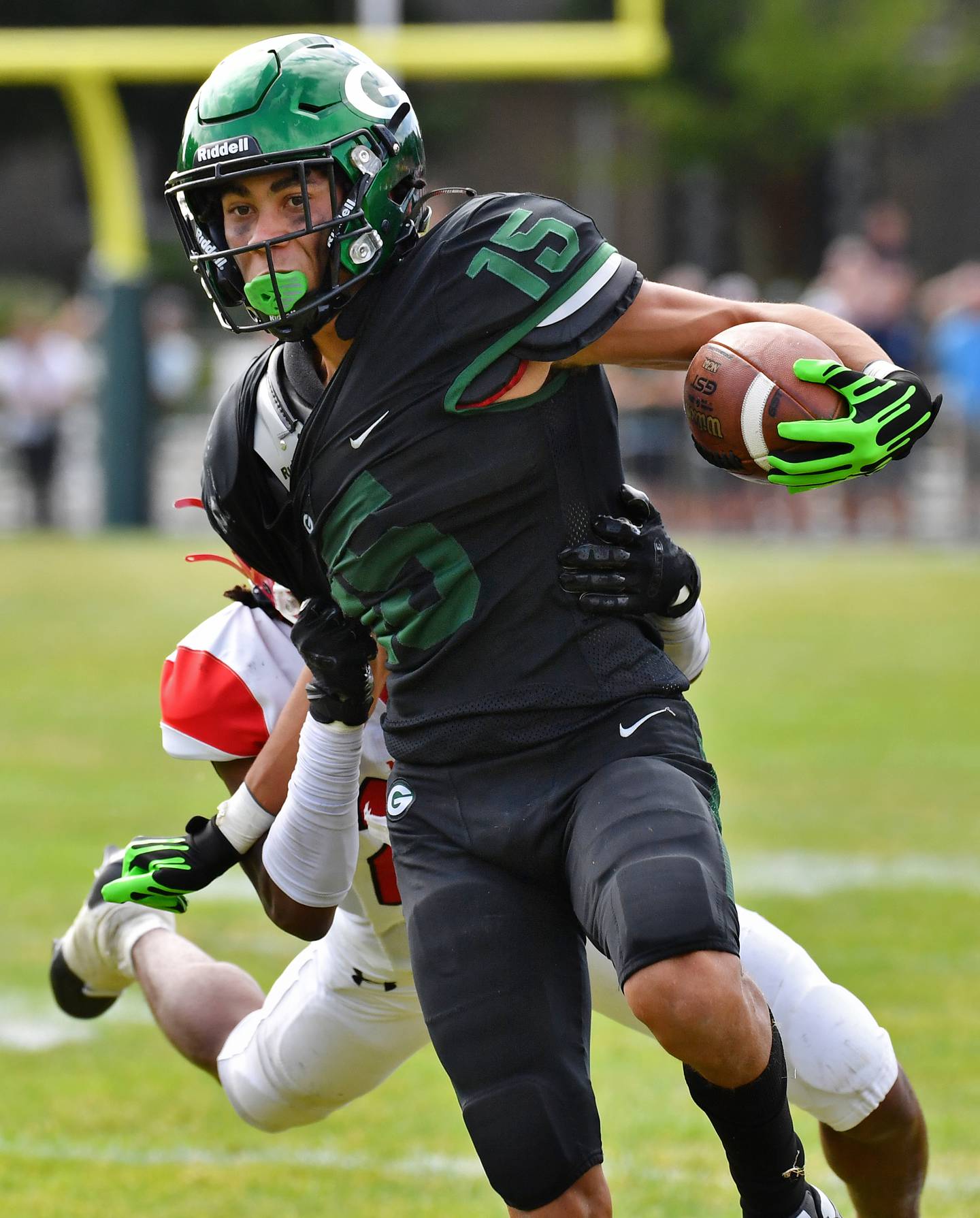 "Those guys just stayed in the fight," Glenbard West coach Chad Hetlet said. "Mason made a play."
The Hitters needed more stops to hold off the RedHawks. Marist drove to the Glenbard West 26 but couldn't pick up a first down. The RedHawks recovered a fumble on the Glenbard West 41 with 1:19 left, but missed a 33-yard field-goal attempt that would have won the game.
"I'm really proud of the way our defense stepped up," Hetlet said. "Our offense is going to be fine. It's just they ran into a hard defense to start the year off."
Charlie Cline started at quarterback for Glenbard West and completed six of 13 attempts for 50 yards. He rushed for 16 yards. Teyoin Oriental came into the game for the injured Julius Ellens and rushed for 167 yards on 16 carries.
"Being able to come out here, knowing that I'm the reason we won. It's just a big deal to me."

—  Mason Ellens, Glenbard West junior
Although the Hilltoppers failed to score on deep drives and turned the ball over a couple of times, Hetlet was proud of how hard they fought a tough Marist team for a second straight season.
"Nobody thinks we're any good this year," Hetlet said. "Hopefully people start respecting our senior class a little bit more."
Winters completed seven of his 21 attempts for 58 yards and rushed for 134 yards for Marist. Running back Marc Coy finished with 62 yards on 20 carries. Henry Sikorski had an interception for the RedHawks in the third quarter.
Marist coach Ron Dawczak didn't regret his decision to go for the field-goal attempt on fourth down with one yard to go on the Glenbard West 16. He thought it was a good lesson that every play matters in all three phases of the game.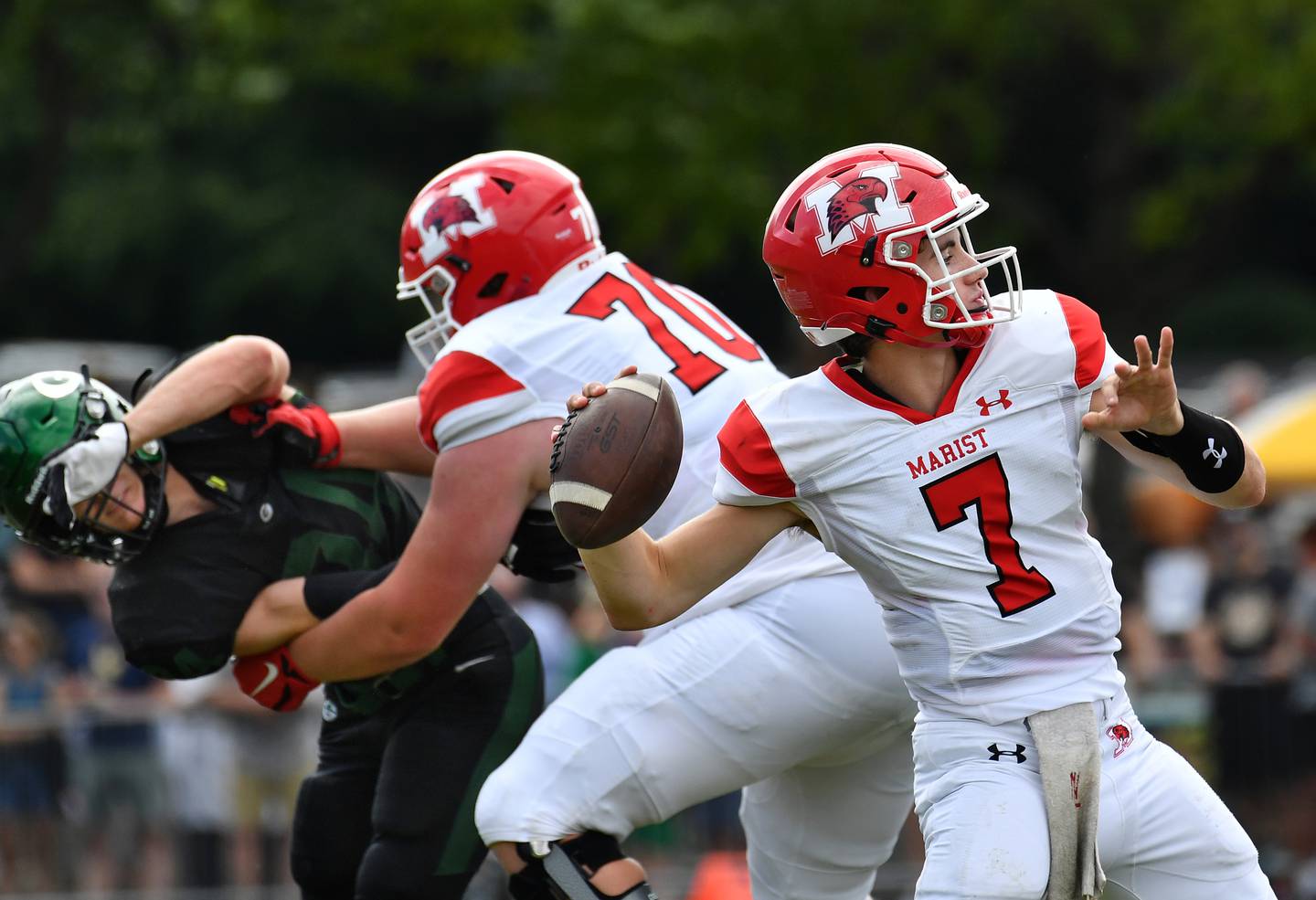 "The guys didn't put their heads down," Dawczak said. "They continued to fight, forced a turnover at the end that gave us a chance to win. I'm proud of the way the guys continued to fight until the very end."
Marist will host Brother Rice on Friday. Glenbard West will travel to East St. Louis to play St. Louis' DeSmet Jesuit.
Hetlet wasn't sure of the severity of Julius Ellens' injury.
The Hitters have a motto of "something to prove" this season. So what did Mason Ellens and Glenbard West prove against Marist?
"I believe that we proved that we belong in this conference," Ellens said.