The cast and creative staff for Elgin Theatre Company's "It's a Wonderful Life: A Live Radio Play" have clearly poured their hearts and souls into this production, enriched by the adaptation by Joe Landry. From the stadium seating at Elgin Art Showcase, audience members can see the pride and delight on each performer's face as they deliver a 90-minute piece of touching holiday entertainment.
Skillfully directed by Regina Belt-Daniels, "It's a Wonderful Life: A Live Radio Play" stays true to the storyline of the famous film, while adding an array of new treats – such as a live foley artist creating radio sound effects on stage while the story is being told. There also are some very witty and sometimes very silly songs and commercial interludes added.
"It's a Wonderful Life" premiered as a Frank Capra film in 1946, starring Jimmy Stewart. It initially bombed at the box office, but, in 1974, the movie became available in the public domain after the studio failed to properly extend its copyright, allowing any station anywhere to air the film without having to pay licensing and royalty fees. When a lot of television stations did just that, a cherished classic was born.
When audience members walk into the performance space in Elgin for ETC's exuberant production, their appetite for excellence surely is whetted by the incredible art deco set design by Barry Norton. Norton's stunning set instantly transports the evening to WBFR radio in Manhattan on Christmas Eve circa the 1940s. It is the perfect invitation to a night of seasonal fun with a few heartstring moments tossed in.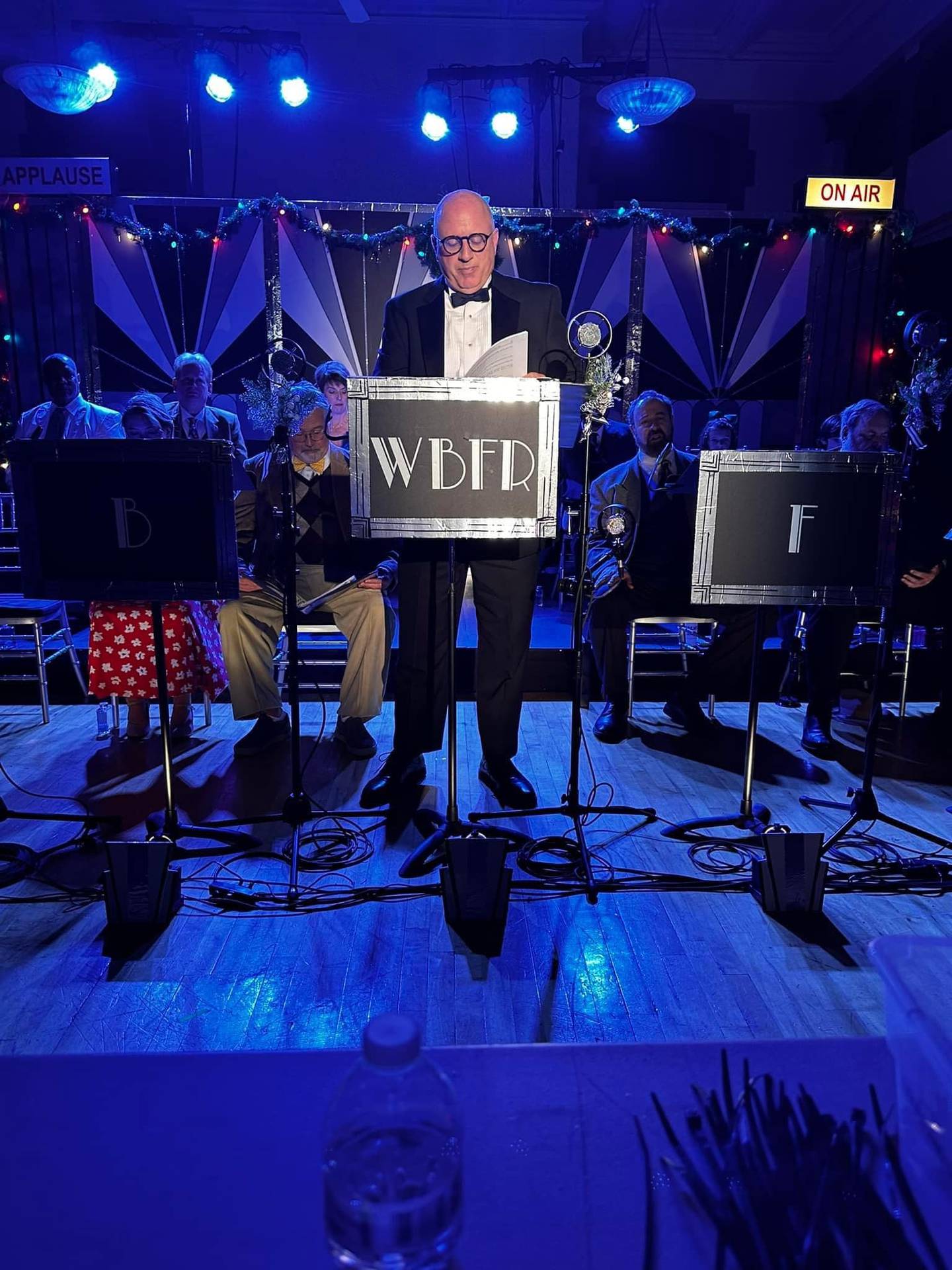 Community theater can be a particularly moving form of entertainment. While some of the talent you see on community theater stages is of a level you'd find in the most competitive professional programs, there are also those who simply love performing, as well as those who might not have much experience. But the magic comes from all these people of diverse skill levels working together as a family of sorts – something everyone can applaud and enjoy.
In this production, George Bailey is played by Gordy Whiting. The key to George Bailey is making him a wholeheartedly likable fellow. Whiting has that humble, everyman quality and soft-spoken lilt the role requires. He is likable, and so is his George.
Audrey Gniech does a phenomenal job as George's wife, Mary. She expertly captures the innocence of youth during Mary's younger years, and the maturity and wisdom of her later experiences as wife and mother.
The evening's festivities are narrated by radio host Freddie Filmore, played by William Athow, a dependable performer who shines whenever he takes center stage.
In order to capture the redemption of spirit so pertinent to this story, the show requires just the right heavenly intervention. This comes in the form of guardian angel second class Clarence – played endearingly by Paul Lockwood. It is his job to show George what he has to be appreciative of. If Clarence does his job correctly, perhaps he finally will get a promotion and earn his angel wings.
Dwight Brown looks sharp in a stunning white suit as Clarence's heavenly supervisor. Like Lockwood, he is an excellent actor who delivers just the right touch of otherworldliness to the story.
Also a standout in the supporting cast is Jami Johnson, who plays multiple roles, but really shines as the girl battling Mary for George's affection. Devon Ortiz, Shirley May Byrnes and Rhys Read perform multiple roles and instill in each of them their own unique character qualities. They all shine as they connect to the enthusiastic audience.
No production of "It's a Wonderful Life" would be complete without its villain. Brian Rabinowitz is spot-on perfect in his delivery of the words of the heartless Mr. Potter, who wants to bankrupt George and his family's business, and earn unbridled power over the townsfolk in the process. Rabinowitz will make you want to boo his nasty character – the sign of a great actor.
As the foley artist creating the sounds of doors slamming, glass breaking and feet walking, Jim Pierce is wonderful. His choice of sound-making devices and the sheer enjoyment visible on his face as he uses them to spark imaginations is inspiring.
Not to be outdone by their adult counterparts, Teagan Nauman and Sebastian Rus are absolutely adorable playing all the child roles. Both Rus and Nauman have bright futures in theater ahead of them.
Rounding out the cast are John Mayhall as the recorded voice of the stage manager, and sign actor Andrew Ross, who performs with the cast during Sunday matinees.
Elgin Art Showcase is an attractive performance space in the heart of downtown Elgin. It is, however, not your typical theater. As such, lights can sometimes be an issue. Pat Henderson has done a bang-up job lighting the show and creating the moments of artistic ambiance that can make a production magnificent.
Sound design by David L. Snyder and costumes by Dee Korby and Joanna Wester add to the overall entertainment experience. Facebook and media manager Madeline Franklin, producer Richard Grieger, and jack-of-all-trades Jon Kramp also make their mark.
Savor an enjoyable jump-start on your holiday festivities by catching a performance of this heartwarming charmer.
• Rikki Lee Travolta has headlined theatrical productions across the country. He continues to make appearances in film and television projects – having just won the Best Actor trophy in the Best of the Midwest film awards by the Midwest Film Festival. He hosts the entertainment news program "It's Showtime with Rikki Lee," carried on all major podcast apps, and produces television for PBS. Visit www.RikkiLeeTravolta.com and www.LifeandTimes.biz.
IF YOU GO
WHAT: "It's a Wonderful Life: A Live Radio Play" by Elgin Theatre Company
WHERE: Elgin Art Showcase, 164 Division St., eighth floor, Elgin
WHEN: 7:30 p.m. Friday and Saturday, 2 p.m. Sunday, through Nov. 19
INFORMATION: www.Elgin-Theatre.org, tickets@inil.com, 847-741-0532