NORMAL – In the final match of what has been a magical season for the Newman volleyball team, the Comets began with a magical start, taking four of the opening five rallies of the IHSA Class 1A third-place match from downstate Norris City-Omaha-Enfield.
That magic – and that lead – would not hold up, however. The NCOE Fighting Cardinals' diverse, explosive net attack wore down both the Comets and their advantage, ultimately resulting in a 25-17, 25-18 loss at the former Redbird Arena (now CEFCU Arena), leaving Newman with 1A's fourth-place trophy.
[ Photos from Newman vs. Norris City-Omaha-Enfield in Class 1A third-place match ]
"It was our first trip to state, so very proud of the girls for that accomplishment," Comets coach Debbi Kelly said. "Coming from the northern side of Illinois, we feel very proud that we were able to get down here, it's always tough to make your way down here.
"So I really stressed to the girls what a great accomplishment they had done by getting down here. I know they all wanted a better finish, but they got some experience, and I felt in this [match] we fought a lot harder than what we did yesterday [in a two-set semifinal loss to Freeport Aquin]."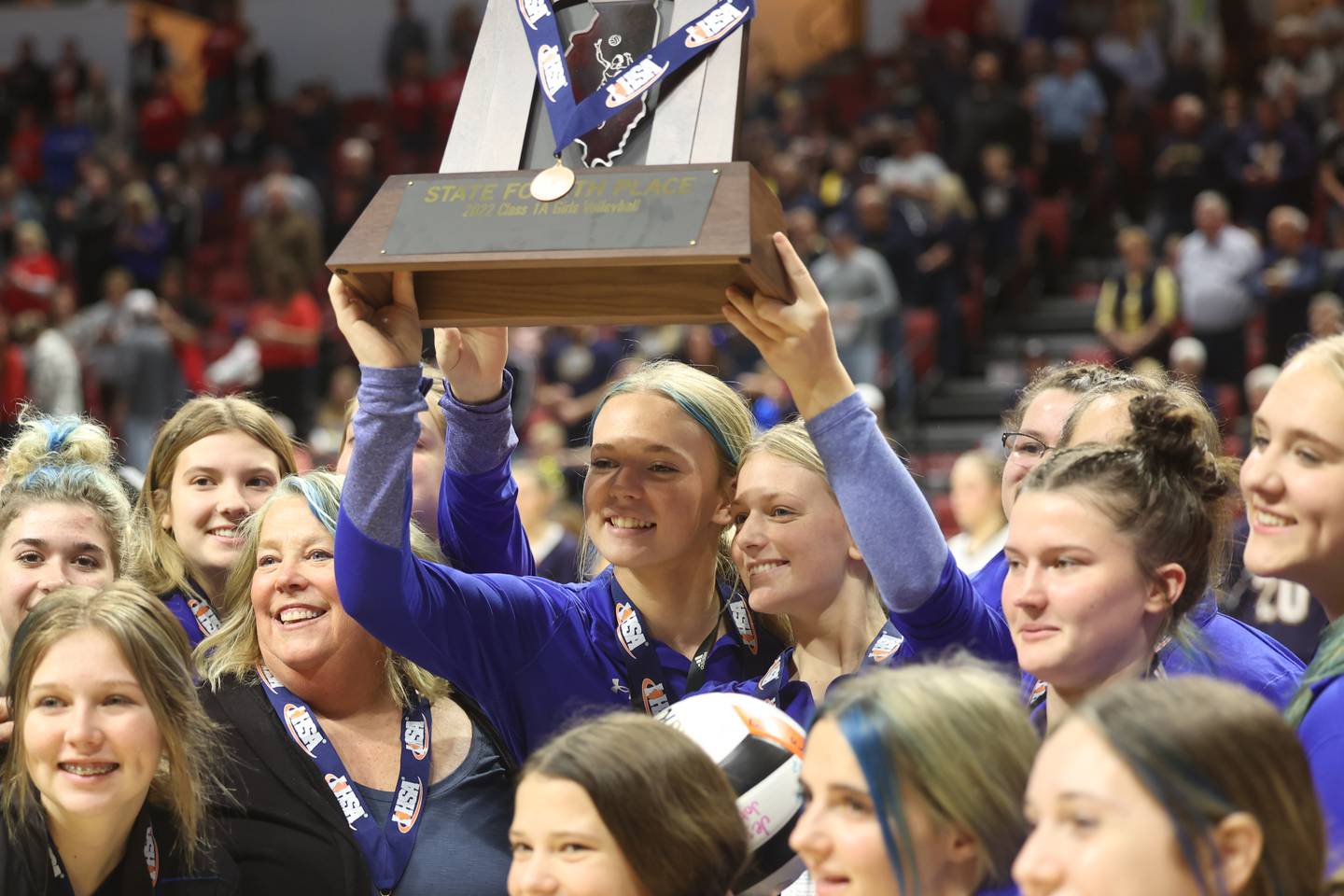 Katie Grennan and Sam Ackman delivered early Newman service points during the strong start, backed by a pair of Kennedy Rowzee kills from the middle.
A reversed point on a late call from a sideline judge, a kill courtesy of 6-foot-3 all-stater Hollan Everett, and a Hayden Knight stuff block drew NCOE even. Though the Comets briefly retook the advantage, the front-row attack of the taller Fighting Cardinals – namely Hollan Everett (10 kills, 2 blocks), sister Hinsley Everett (4 kills) and Miah Scroggins (4 kills, 1 block) – slowly but surely started to assume control.
"We gave [NCOE] a lot of opportunities," Kelly said. "We put the ball over, but maybe just not as aggressively. Part of that was due to their hands, too. We wanted to expose some of their spots down the line, make them move in that back row, but they were getting touches with our smaller girls up front, and we weren't always able to push through those hands. ...
"We just had too many mistakes during that run, and they capitalized more than we did."
Newman last led 10-9 in the opening set. Hollan Everett's stuff on set point ended it.
The second set, too, saw Newman race off to a quick start. Katie Grennan served up the initial three points for a 3-0 Comets lead, that run including a NCOE hitting error, a Rowzee kill and a Grennan service ace. A Newman hitting error for sideout started another match-defining Fighting Cardinals run, however, one which included two runs of five consecutive points and another four-point spurt.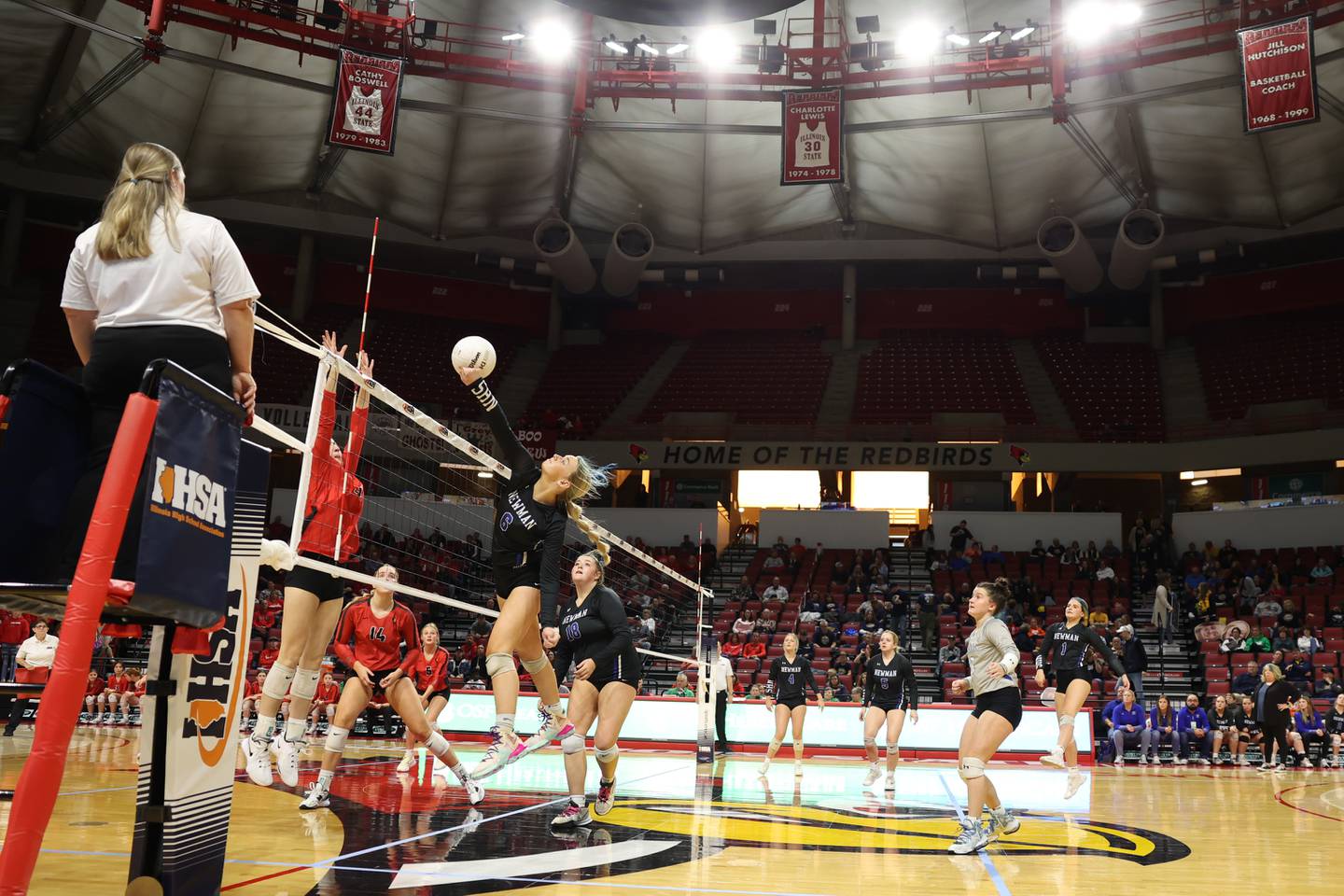 The Comets – namely Sophia Ely – kindled a late spark and drew her team to within one point when Ely stepped to the line and delivered a five-point service run to get her teams as close as 17-16. Four of those five points, including each of the first three, came on aces.
"A lot of the push with my aces was adrenaline and wanting to get back in the game and win," said Ely, one of 10 juniors on a Newman roster that will only lose one senior – Grennan – to graduation before next season. "My team's energy brought up the power in my serve too, because I just wanted to bring everyone up, because everyone looked upset."
A service error eventually ended Ely's run and was immediately followed by a momentum-reclaiming Scroggins block.
"That moment just does a lot," Scroggins said. "Whenever you get a big block or an ace or a kill, it shifts the game."
Hollan Everett added one final kill and and one last block in her high school career, and despite a late Molly Olson kill, the Fighting Cardinals (39-3) secured match point and the third-place trophy.
"I told them in that timeout I had to take early, I said, 'We're just flat.' And we were," NCOE coach Jaclyn Melton said. "But we settled in, we got warmed up, and we can attack you from many angles. Obviously Hollan is our big hitter, but we can have anybody up here at any time that'll give us a kill.
"We try to run quick, our passing picked up, and when that got better, our offense got better."
Rowzee finished with six kills, Jess Johns had five, and Grennan added three for Newman off 11 Grennan assists and five courtesy of Olson. Johns had a team-best eight digs, with Olson and Sam Ackman each adding six.
Newman finishes the season with a 29-9-1 record and the program's first sectional title and IHSA state appearance.
"I'm just very proud of what they've done," Kelly said. "They've really made everyone back in the Newman community very, very proud."