NORMAL – Through most of the postseason, the Newman Comets have bolted out to fast starts and carried that momentum through to two-set victories.
But Friday morning's Class 1A state semifinal against Freeport Aquin did not follow that same script.
The Comets looked nervous and tentative on the big stage, and never led in either set in a 25-13, 25-16 loss to the Bulldogs.
[ Photos from Class 1A state volleyball semifinal between Newman and Aquin ]
"In our postseason, we've been starting off each game pretty fast with high energy," senior setter Katie Grennan said. "But I think just being here in this big gym created some hesitance with our play and our energy, and I think that really played a huge role in how we started out, and just all the eyes on us and how much pressure we put on ourselves during that game. I think that's why we started off a little bit slow."
Errors also hurt Newman (29-8-1), as it finished the match with 19 hitting errors and four service miscues; Aquin (40-1) had only two services errors and did not hit a spike into the net or out of bounds.
"With a team like Freeport Aquin, we can't make mistakes. We gave them a lot of opportunities where they could just come at us," Newman coach Debbi Kelly said. "We didn't play as aggressively as we have been. I think the times that we did swing aggressively, we did get them out of system.
"It was just getting some nerves out. They came at us, and we just made too many mistakes."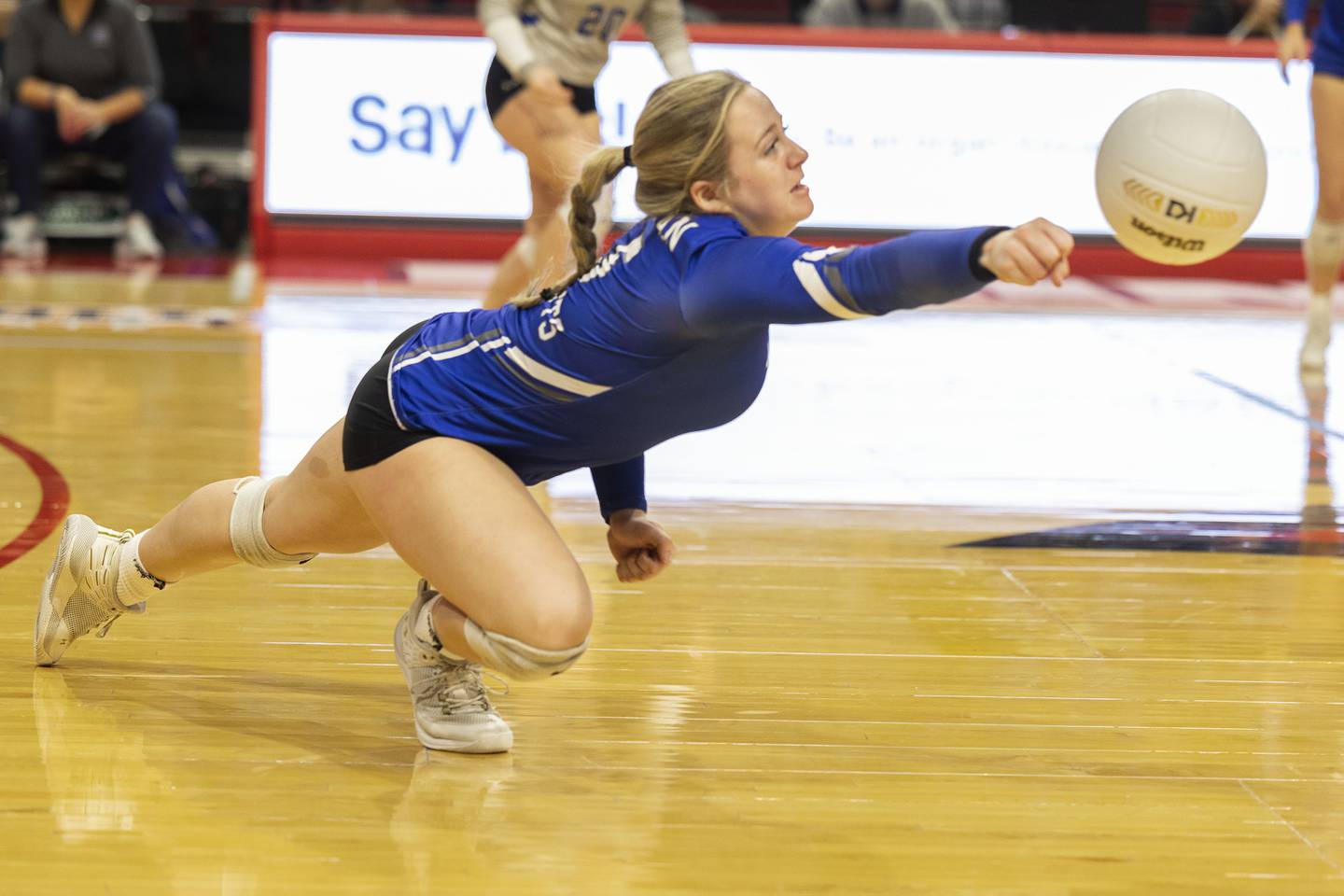 A Sophia Ely kill on an overpass and back-to-back Jess Johns kills tied the first set at 6-6, but that was the only tie of the match. Aquin scored the next six points, with two kills by Ainsley Stovall and a Lucy Arndt roll shot from the back row in that surge.
Johns and Grennan had kills around an Ainsley Stovall spike to make it 13-8, but two kills by Bentleah Stovall around an Ainsley Stovall block stretched the Aquin lead to 17-8. Grennan, Kennedy Rowzee and Johns had kills in the next five points, then another Johns spike cut the Comets' deficit to 20-12.
But a kill and an ace by Arndt and two Newman hitting errors made it 24-12, and a final hitting error after a Johns kill ended the first set.
"The second we stepped foot on the court, we were confident and we knew exactly what we needed to do," Ainsley Stovall said.
Aquin opened the second set with kills by Hanna Broge and Bentleah Stovall, then after Newman scored on a Makenzie Duhon kill, the Comets committed three straight errors to give the Bulldogs a 5-1 margin. Johns had two kills in the next three points, then added another to cut the deficit to 8-5, and a Grennan spike made it 8-6.
Duhon spiked another kill to make it 10-7, then Rowzee ripped a kill and Grennan served an ace to get the Comets within 12-9.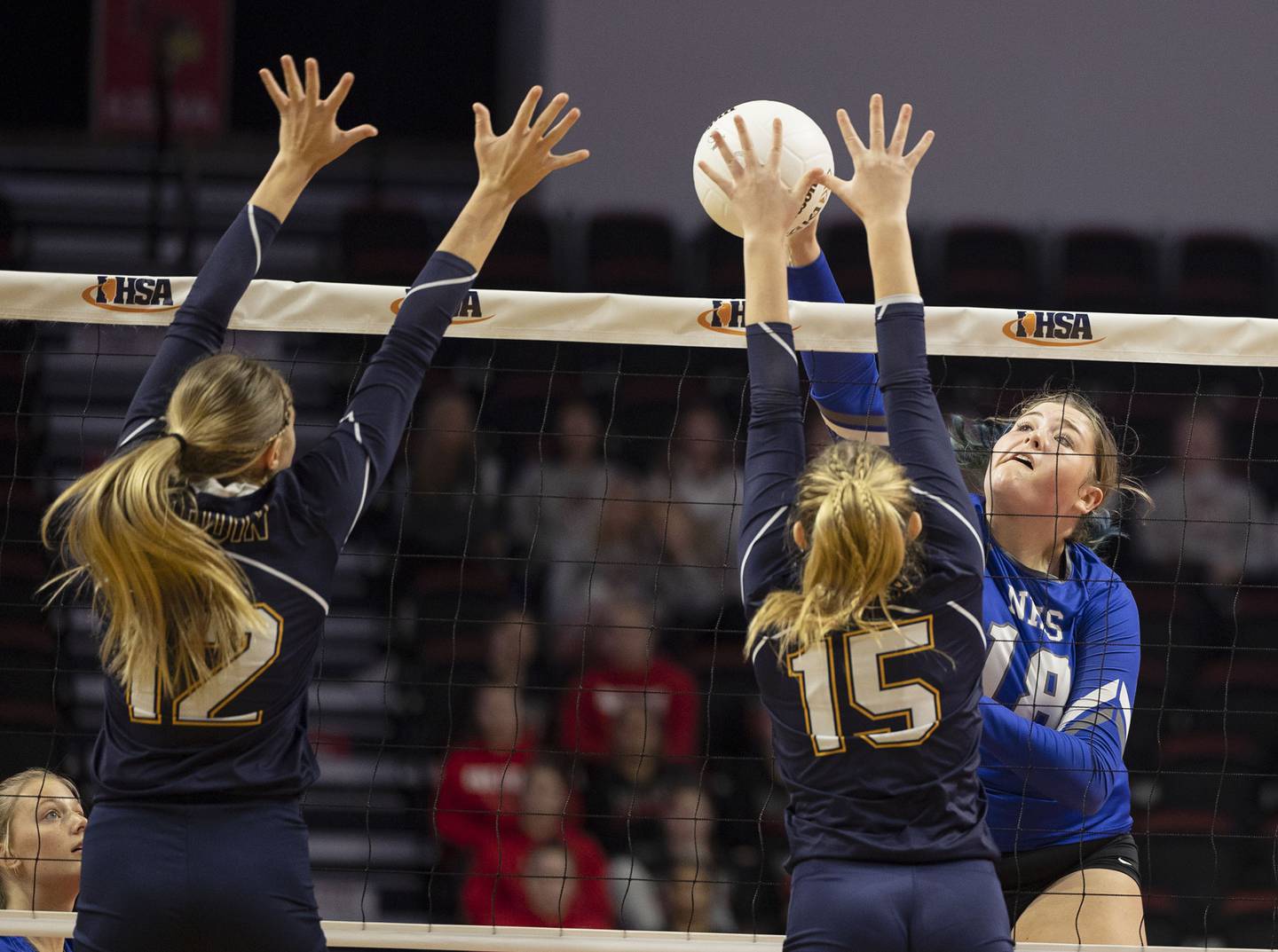 But a kill by Bentleah Stovall and an ace by Broge followed by a pair of Newman errors gave Aquin a 16-9 lead. Molly Olson and Johns had kills around an Ainsley Stovall, but Bentleah Stovall spiked a kill and served an ace around a Meghan Carlisle block, then Arndt put down an overpass for a 21-11 Aquin lead.
"We really wanted to spread our offense out and make those blockers move," junior setter Megan Holder said. "It was really great that our passes were up; I could run anything I wanted. We went quick and fast; that's what we really wanted was those fast attacks. The passing was really good today."
Grennan dumped a second-touch kill to stop that run, then Arndt spiked a kill before the teams traded errors. Ely spiked a kill from the middle, then Rowzee slammed back-to-back spikes – the second on an overpass – to get the Comets within 23-16.
But a cross-court kill by Ainsley Stovall and an ace by Hanna Pizzolato closed out the match.
Arndt finished with seven kills, three digs and an ace, Ainsley Stovall had six kills, and Bentleah Stovall added five kills and an ace for Aquin. Holder dished seven assists and led the way with nine digs, and Broge and Pizzolato both had five digs and an ace.
Blocking was a problem for Newman, as the Comets struggled to get a hand up in front of the Bulldog hitters, which led to lots of open looks for spikes.
"We worked a lot on closing the block in practice, because that's been an issue we've had all season long," Johns said. "We knew coming into this game that they were going to hit a lot of quicker balls instead of high balls, so you've got to hustle to get there. I think that was one of our major downfalls this match."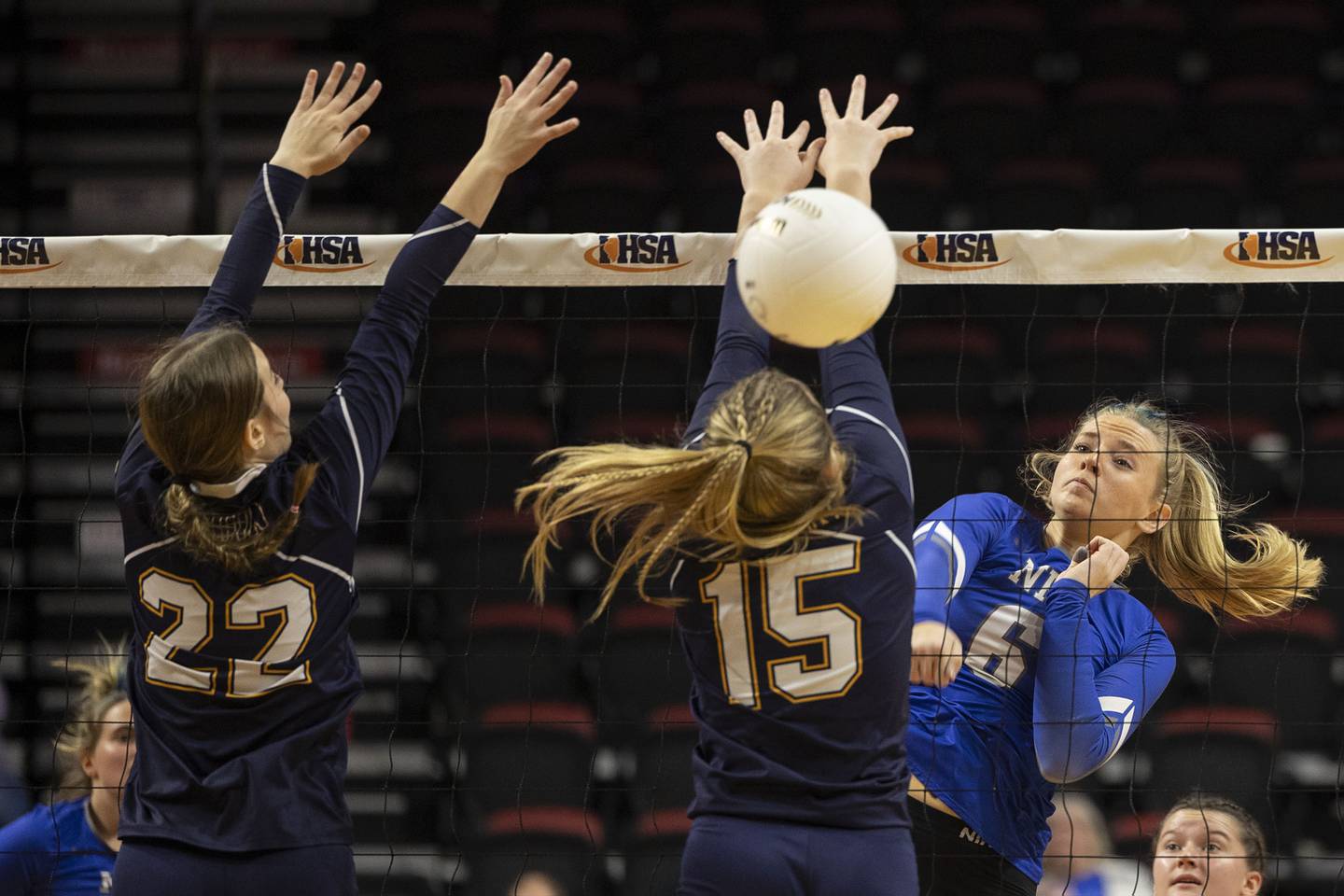 Johns had 10 kills and six digs, Grennan finished with nine assists, six kills and three digs, and Rowzee spiked four kills for Newman. Olson dished nine assists to go with two kills and two digs, Ely also had two kills and two digs, and Addison Foster led the way with seven digs.
The Comets will play Norris City-Omaha-Enfield in the Class 1A third-place match at 9 a.m. Saturday. NCOE fell 28-26, 25-16 to Springfield Lutheran in Friday's other semifinal.
"We'll take a look at what they're running and what we could expose," Kelly said about the third-place opponent. "But we have always said throughout our whole season that we've got to take care of our team first, and if we're playing our type of ball, we should be able to come away with a win."