DIXON – Dozens of community members on Tuesday celebrated the actions of retired school resource officer Mark Dallas who averted tragedy at Dixon High School five years ago.
A portion of Lincoln Statue Drive was dedicated "Mark Dallas Way" after local and state leaders praised his selfless response on May 16, 2018, when then-19-year-old student Matthew A. Milby Jr. opened fire inside the school at teacher Andrew McKay with a 9 mm semi-automatic rifle as he was heading toward the gym, which was filled with about 182 seniors rehearsing for graduation.
Dallas pursued Milby outside of the school, was shot at and returned fire, striking Milby twice.
In April, former school board member and retired Dixon police Deputy Chief Brad Sibley requested that the board designate part of the street as "Mark Dallas Way."
The Dixon City Council a couple weeks ago approved the honorary title from Peoria Avenue to Chuck Vale Drive. The road will remain Lincoln Statue Drive, and the high school will keep its address.
Dallas doesn't like being pegged the town hero – he often has said he was just doing his job – but his response that day was nothing short of courageous, running after the shooter in plain clothes with no bulletproof vest, Sibley said.
"Mark deserves all the credit he received," he said.
It wasn't just that Dallas' son, Joshua, was among the graduating seniors that day or that his daughter, Lauren, was nearby in class. They were all his kids, all students with whom he had built relationships during his four years as school resource officer.
"Mark treated all the kids as his own," Sibley said.
[ Dixon High resource officer, son speak about shooting ]
When asked what he was most proud of during his time at the high school, Dallas was quick to answer.
"It's definitely the relationship I have with the kids; they're like my own kids," Dallas said.
Dallas emphasized the importance of training for such events, and he's an advocate for having school resource officers to keep students safe.
The honorary street name "provides a long-lasting reminder of a tragedy averted," Mayor Glen Hughes said.
Dallas didn't see the position as a job; he saw it as a calling, retired DHS Principal Mike Grady said, adding that he coached football and was involved with homecoming.
"He became part of the fabric of Dixon High School," Grady said.
A white road sign sits on top of the corner of Peoria Avenue and Lincoln Statue Drive as "Mark Dallas Way," and he was given a replica sign to keep.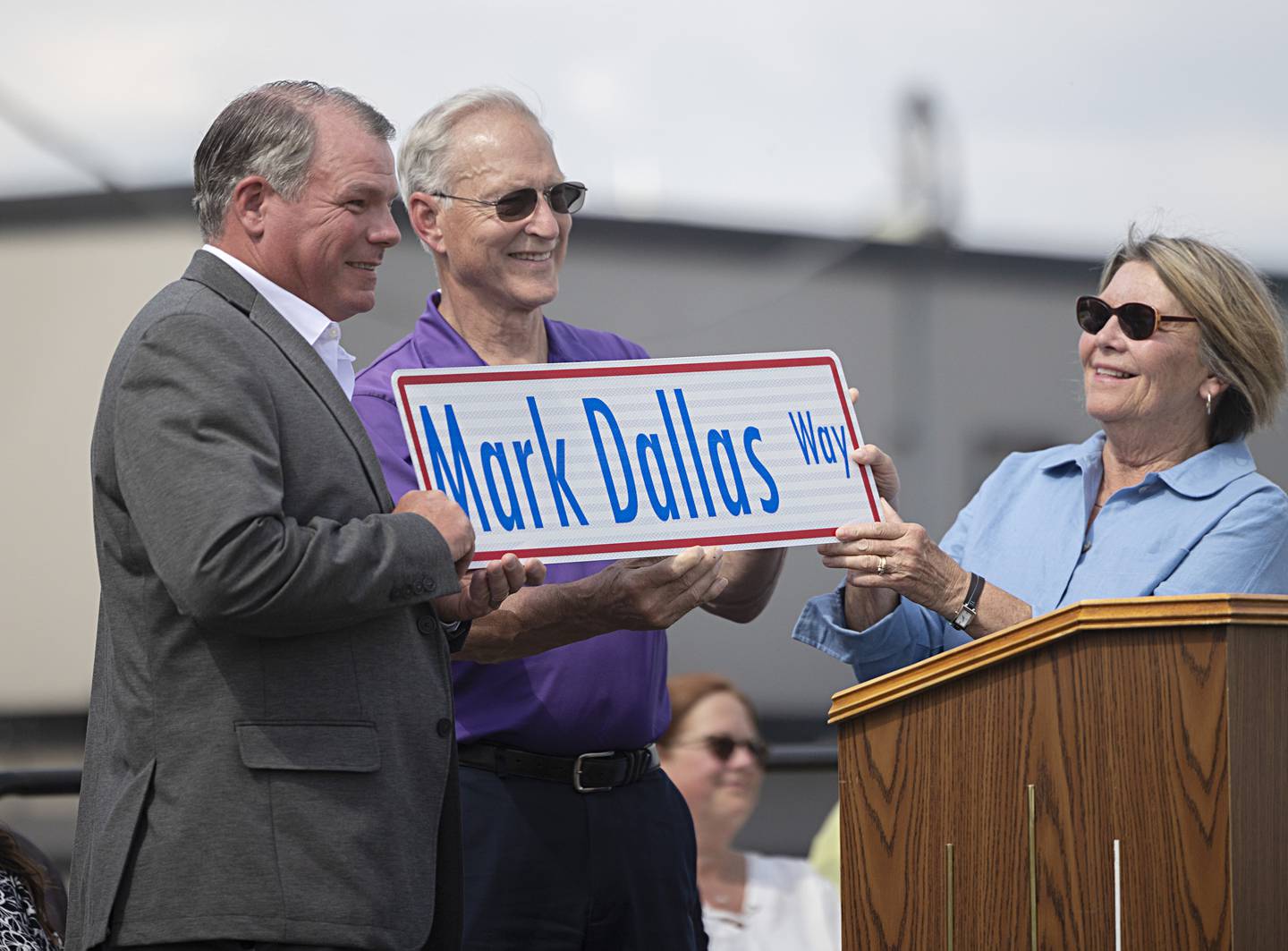 "The Dixon community has been extremely supportive to me and my family," Dallas said. "It's great to be part of the history of Dixon."
Dallas' list of local, state and national awards includes being named the 2018 Officer of the Year by the International Association of Chiefs of Police and National Officer of the Year by the American Police Hall of Fame & Museum. Former Gov. Bruce Rauner proclaimed May 30, 2018, as Officer Mark Dallas Day.
Dallas was given the Medal of Valor by the Illinois Sheriffs' Association, was named Dixon's 2018 Citizen of the Year and was recognized by the Illinois Association of Chiefs of Police with the James J. Wade Most Outstanding Law Enforcement Officer of the Year Award.
Milby pleaded guilty in July to two counts of aggravated discharge of a firearm and in October was sentenced to 30 years in prison.