Katie Thatcher couldn't wait for the 2023 softball season to get here.
Finally feeling 100% healthy after two knee surgeries her sophomore season, the Rock Falls senior was chomping at the bit to get back on the diamond. She and the Rockets had some unfinished business to attend to.
With a core group of classmates who had played together since Little League, Rock Falls was determined to win that elusive regional title that had been the goal for the last two years.
Thatcher and her teammates achieved their goal and more this spring. The Louisville recruit anchored a potent lineup and dominated in the circle to lead the Rockets to the Elite Eight in Class 2A.
The 2023 Sauk Valley Media Player of the Year, Thatcher ranked in the top four in the area in nine offensive categories and was in the top three in five pitching categories in a season to remember in Rock Falls.
•••
In her first season back from surgery on her right knee, Thatcher had a strong junior campaign in 2022 that saw her hit .412 with 39 runs, 31 RBIs and nine home runs, as well as win 11 games with a 2.46 ERA and 175 strikeouts – all did it all with a brace on her leg.
And as happy as she was to be back on the field, she still didn't completely feel like herself.
But that changed about a month after the high school season ended. Going into a travel-ball tournament in Colorado the first week in July last summer, Thatcher told her mom, Rock Falls assistant Deena Simester, that she finally felt like she was fully recovered and ready to roll.
She knew that her senior season at Rock Falls could be something special for a group of friends looking for one final hurrah before heading their separate ways.
"Finally being back 100% for a season was definitely something that I was looking forward to. And also going out there with the 'play for the girl right next to you' mentality," Thatcher said. "So it was not only just playing for myself, but also the six other seniors, and then the underclassmen to show them what a true leader was and going out there and finishing the season strong."
After signing with Louisville in November, Thatcher knew she would have a target on her back in the circle and at the plate. But that never worried her, because she knew that if teams focused solely on her, there were plenty of other Rockets who could do some damage.
"I think that was some of the teams' mistakes, that they would say, 'Oh my gosh, she's committed to Louisville' – but I'm not the team. It's all of us together out there against the other team. It's the nine out there, not just the one," Thatcher said. "We all complemented each other. If one person couldn't do it, the next girl would pick her up and say, 'Hey, I got you.' In the lineup, if one person strikes out, the next one goes up there and does something productive to pick up their teammate."
While Thatcher's .553 batting average, .625 on-base percentage, 1.000 slugging percentage, 51 runs, 42 RBIs, 13 doubles and nine home runs led the Rock Falls offense – she also was second on the team with 57 hits and third with three triples – her fellow Rockets were also up to the task at the plate.
Nine of her teammates hit .325 of better, and six of them hit .400 or better. As a team, the Rockets had a .421 batting average, a .475 on-base percentage and a .646 slugging percentage, while amassing 292 RBIs and scoring 325 runs, with 67 doubles, 21 triples and 39 home runs.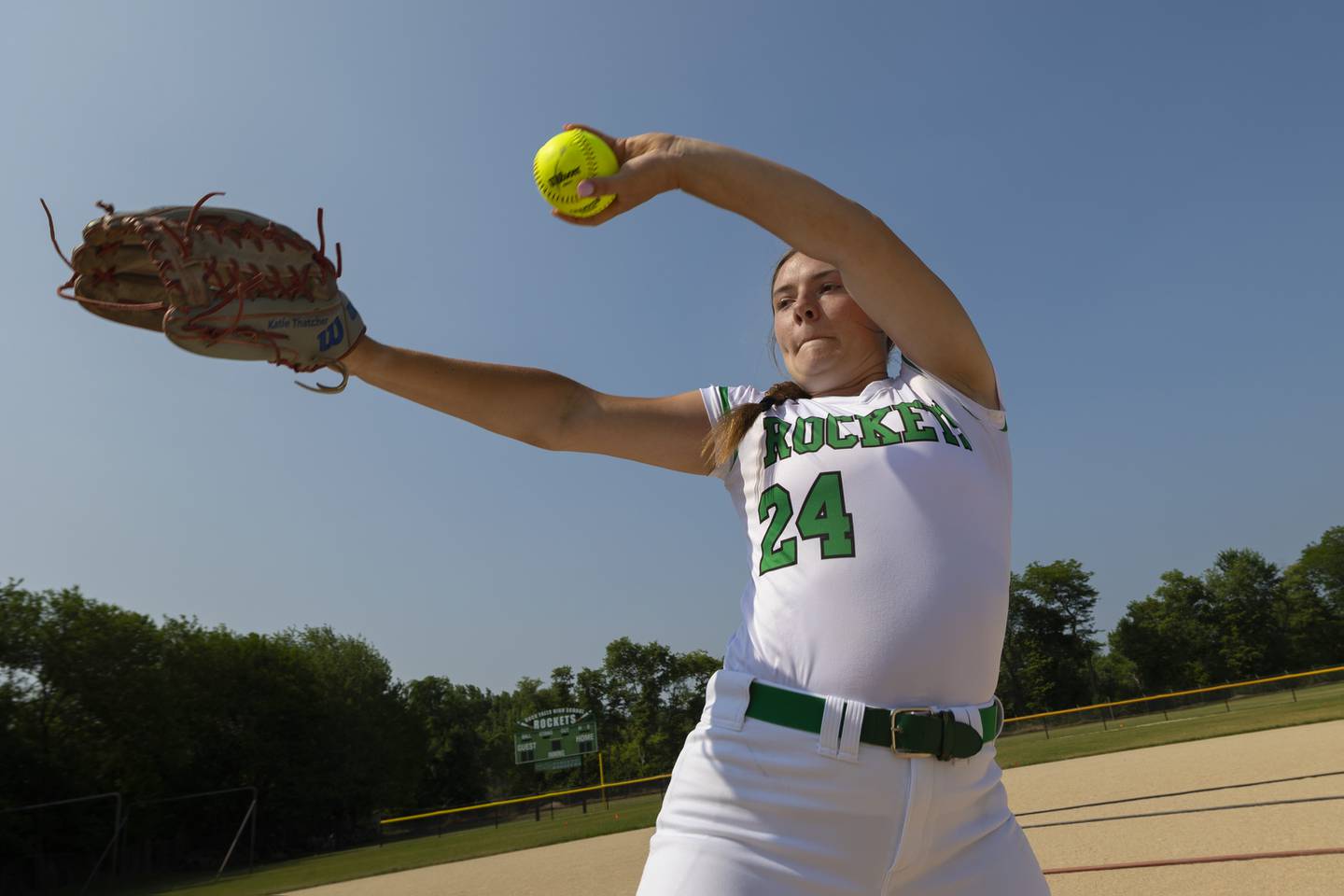 That provided plenty of firepower to back up Thatcher in the circle, as she went 19-3 with a 1.81 ERA in 147 innings, striking out 214 and walking just 47 in 147 innings.
"Katie's pitching was fundamental to all of our wins; she did phenomenal all season," senior center fielder Brooke Howard said. "But our team this year, we just played great together. I think it's all the experience we had from years past, and this year I think we wanted it the most."
•••
Looking beyond the stats, this Rock Falls team was as closely connected as any in a program and high school with a rich tradition of close-knit and talented teams.
With seven seniors – Thatcher, Howard, Savanna Fritz, Rylee Johnson, Zoe Morgan, Patty Teague and Abby Whiles – and a second-year varsity starter at catcher in junior Olivia Osborne, the core of last year's team was back almost completely intact.
The friendships and familiarity formed a family atmosphere, and it provided the foundation for success on the field.
"We got along so much better than we did the year before; there was way less drama. We took a focus on team bonding, so that helped make our play on the field a lot better," Johnson said. "It obviously led us to a regional and sectional championship, so it just worked well."
"They were like sisters, the seniors and Olivia; they did everything together," Rock Falls coach Steve Giddings said. "They laughed together and cried together, they made me laugh along with them. It's the best group of girls that anybody could want, and I loved them like daughters."
The seniors had experienced success as a team before. Six of them played together on a state championship Little League team in the 12-and-under age group, and that helped forge the bonds that were evident all season long.
As serious as they were about wins and playing hard, the Rockets had an equal amount of fun doing it. There were constant chants and chatter from the dugout, laugh-filled huddles between innings and after games, and even impromptu dances and celebrations after big moments in the regular season and postseason.
"I think the seven seniors played together since Little League, except for Zoe, maybe. We were all on the same travel team, we all went and won the Little League state tournament in 12U; that was the same exact team minus one, I think," Thatcher said. "So being together all those years and the dynamic we built, something just clicked throughout those years being comfortable with each other. Knowing that they've seen me fail before is a big part of it, so if I go out there and fail again, I know they'll pick me up and have my back."
•••
There wasn't a lot of failing for the Rockets in 2023. They won the Big Northern Conference championship with a 15-1 record, and finished the season 29-6. That included the first regional title since 2018, and the first sectional crown since Rock Falls finished fourth at state in 2004.
After suffering the lone BNC loss to Stillman Valley on April 26, Rock Falls went 13-2 the rest of the way, with the only losses to rival Sterling – a 3A school – and Rockridge in the 2A supersectional; that program is 103-1 in the last three seasons.
As disappointed as the Rockets were with the loss to Stillman, it was actually a 10-8 road win over North Boone two days earlier that seemed to light the fire for Rock Falls down the stretch.
"I think we all finally realized that this is the end, we're not going to be playing in our Rock Falls jerseys anymore after the season. It kind of was adrenaline, too; as soon as we got a couple of big wins in the conference, we wanted to keep it going," Johnson said. "I think the North Boone game at their field was a big page-turner; we realized what we could do and it just drove us from there."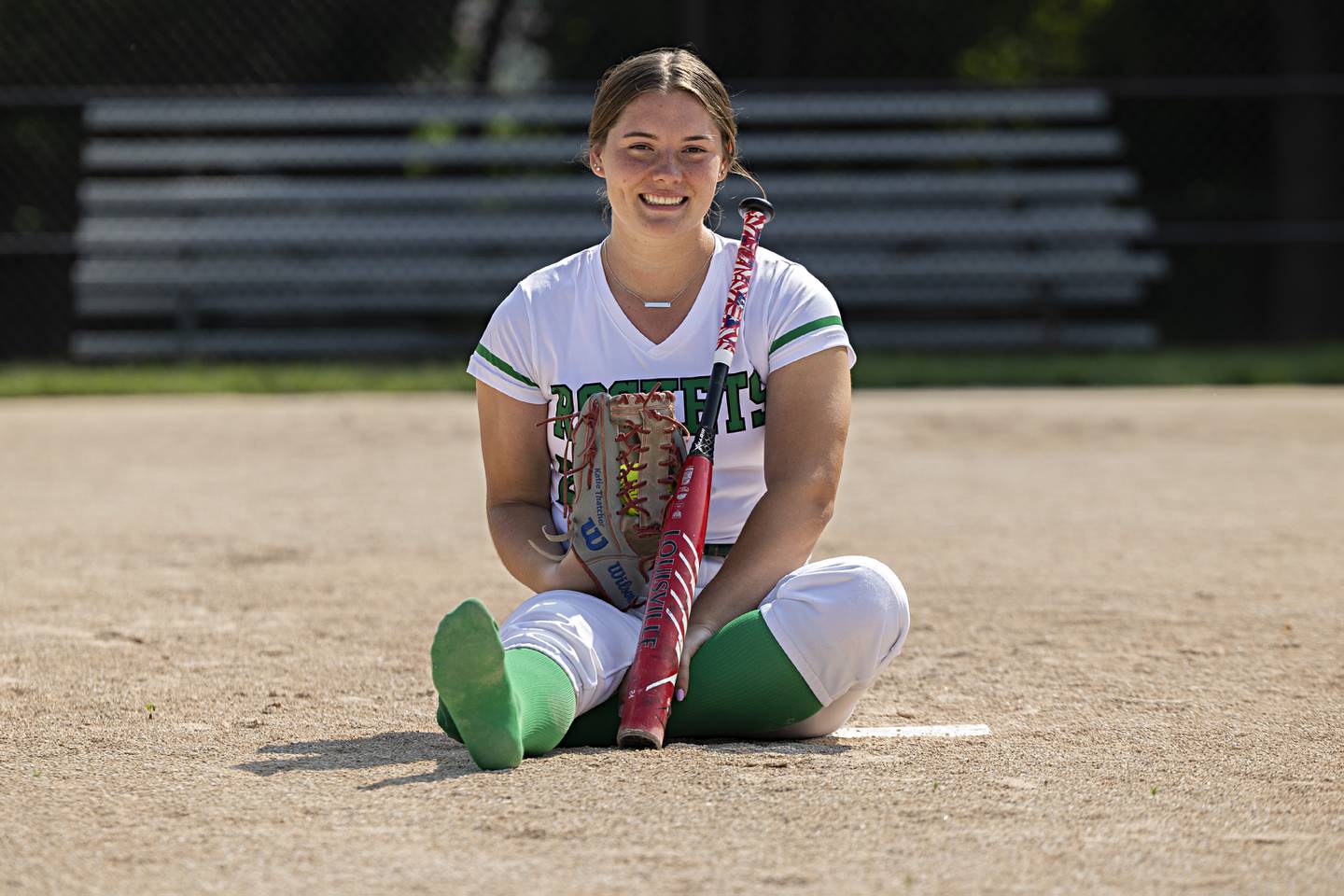 It was evident from the dugout that the Rockets were bringing their 'A' game for the final month, as it seemed like Thatcher was throwing harder and the hitters were being more aggressive at the plate and on the basepaths.
"The North Boone game at their place was when I told Deena that Katie was really bringing it – and she didn't stop bringing it until the end," Giddings said. "I think the girls felt more comfortable and relaxed hitting-wise, and everybody started hitting the ball 1 through 9. We made some comebacks, and never gave up in any game all season."
Thatcher said the way the Rockets won the second of her three duels during the season with North Boone standout pitcher Cami Carter was the turning point for both her in the circle and the Rock Falls offense.
"That was a very interesting game, to say the least. Being able to hit a phenomenal pitcher like Cami and win 10-8, I think we realized that we were able to put up runs against good pitchers, and it really gave us a boost of making us believe that we can do this up and down the lineup, no matter who it is for us, even off the bench," Thatcher said. "I think we were getting comfortable being the team that we were. The team was meshing more, we had a lot more team bonding stuff, so we were really becoming more of a family instead of just a team. I think that really helped us in the dynamic on the field, being able to work together.
"Also, the seven seniors out there realizing, 'Oh crap, we've got a month left to kick it into gear and finish it out strong,' which we did."
Giddings also saw that urgency on the part of the seven seniors to make their mark and leave a lasting legacy – and he wasn't the least bit surprised when they surpassed their preseason goals.
"I think the seniors knew this was their last go at it, and they wanted to go out big. Their goal was a regional, and as soon as we won that game, I told them, 'We can go further, maybe all the way to state if you keep doing what you're doing,'" Giddings said. "It was all about them being one, being a happy family, having fun and playing the way they knew how.
"After the regional, I told my wife Karen that I wanted to win just one more, to see these girls one more time, and I kept saying that through the sectional, 'We can do it, just one more.' It was just bonus time for us to be together as a team."
•••
The Rockets started regionals with a 17-2 win over Byron, then Fritz's two-run single sent them to their third win of the season over North Boone in the regional title game. The celebration on their home diamond after receiving the regional plaque was what they had been waiting for since the start of 2022.
But playing with house money, as Johnson's dad put it after one of the postseason wins, Rock Falls just kept going. A 10-0 win over Richmond-Burton in the sectional semifinal led to an 8-2 win over Marengo in the sectional final, and the Rockets had a second postseason plaque to add to the trophy case … eventually.
"I took both the regional and sectional plaques home and slept with them that night," Thatcher said. "Of course it was [a bonus] to win the sectional, but we were also thinking that we really wanted to win those games. Knowing that we made it farther than last year, we did what we wanted to do, we just felt like, 'Hey, we got this!'
"At the beginning of the season we wrote down our goals, and our goal was to win regionals, so we did that. We weren't expecting to win sectionals and go to supersectionals, and looking back, it's all I could've ever asked for."
The supersectional at EastSide Centre didn't turn out like Rock Falls wanted, as Rockridge proved to be too much on its way to a third straight 2A state title, ending the Rockets' stellar season and closing the chapter for a bulk of the starting lineup.
"It hurt me, that last game. It was definitely a teary moment," Giddings said. "But it was such a special season. Out of the whole group of girls, I think only Brooke in cross country and Rylee in volleyball had ever won a regional title. I wanted them to do it for that reason too. The Elite Eight is a great accomplishment and a great way for that group to end their careers."
It's been a balancing act for Thatcher with her emotions since the season finale. While she's eagerly anticipating the start of her college career, she's also spent some time mourning the end of her softball career with her friends.
She recently had a third surgery on her right knee to clean up the joint, and has had quite a bit of downtime the past couple of weeks to both reflect and look ahead as she heals and waits to get back out on the travel-ball circuit before heading to Louisville.
"I think the hardest thing about losing [in the supersectional] wasn't 'Oh, my senior year is over,' it was more of 'I'm never going to play with these girls again.' That's the one thing I said to Brooke, that's the first thing I thought of, 'I'm never going to play with Brooke Howard again,' which really dug deep and hit hard. It's sad knowing that I'm never going to play with them again," Thatcher said.
"But at a tournament in Kansas City last week, I went to watch my travel team, and the Louisville assistant coach was there, and she is beyond excited to get us freshmen on campus to start practice, and just getting us to meet the rest of the team. I'm beyond excited to meet the rest of the team, too, knowing that they're such a selfless group of girls, knowing that they're all there for the same reason and that we can go out there and do what we want to do."