DAVIS JUNCTION – The Rock Falls Rockets and Marengo Indians promised a pitchers' duel early in the Class 2A Stillman Valley Sectional championship in Davis Junction on Friday afternoon.
But the Rockets tossed that script aside in the middle innings, pulling away for an 8-2 win and their first sectional title since 2004.
"We've been wanting this since the first day we all started playing," Rock Falls senior shortstop Rylee Johnson said. "We've mostly all been on varsity since our first years, and we've just wanted it. It's an amazing feeling."
"Our goal from Day 1 is to go as far as we can, and with this much experience, this is what we wanted to do," Rock Falls senior center fielder Brooke Howard said.
Rock Falls took the lead in the bottom of the third inning, scoring three runs on four hits.
After one-out singles from Johnson, junior Olivia Osborne and Howard loaded the bases, the Rockets quickly scored. Senior Savanna Fritz bunted a single to bring in Johnson for the first run, then senior Katie Thatcher hammered a two-run double to right field, plating Howard and Osborne for a 3-0 lead.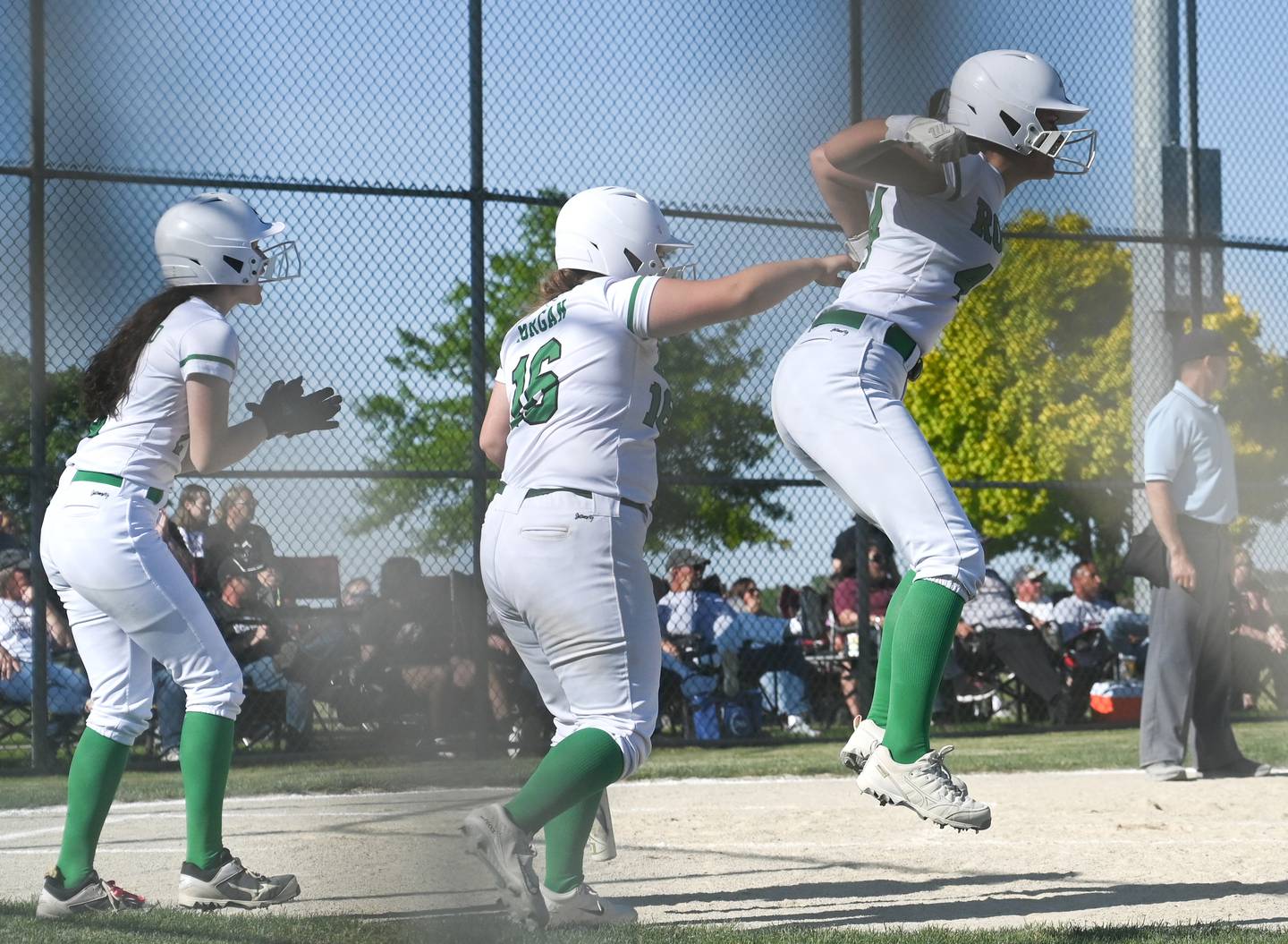 "I think after seeing the pitcher one time through the lineup, and sharing information within the team, we adjusted to what we needed to see at the plate," Thatcher said. "And we did that very well and we got the hits that we needed."
"Those runs made us a lot more relaxed. We fell in the flow of the game, we relied on our defense to do what it could do, and we just kept scoring after that," Johnson said. "We need to hit to be able to play the way we want to play, so it was great to have those cushion runs."
In the bottom of the fourth, the Rockets loaded the bases again, as senior Abby Whiles, sophomore Maddie Morgan and Johnson hit consecutive one-out singles. After a flyout, Howard crushed a two-out, two-run double to center field, scoring Emma Skinner – pinch-running for Whiles – and Morgan as Rock Falls went up 5-0.
"As soon as one person hits, we all start going and it really fires the team up," Howard said. "Once we had that energy, we all just hit after that."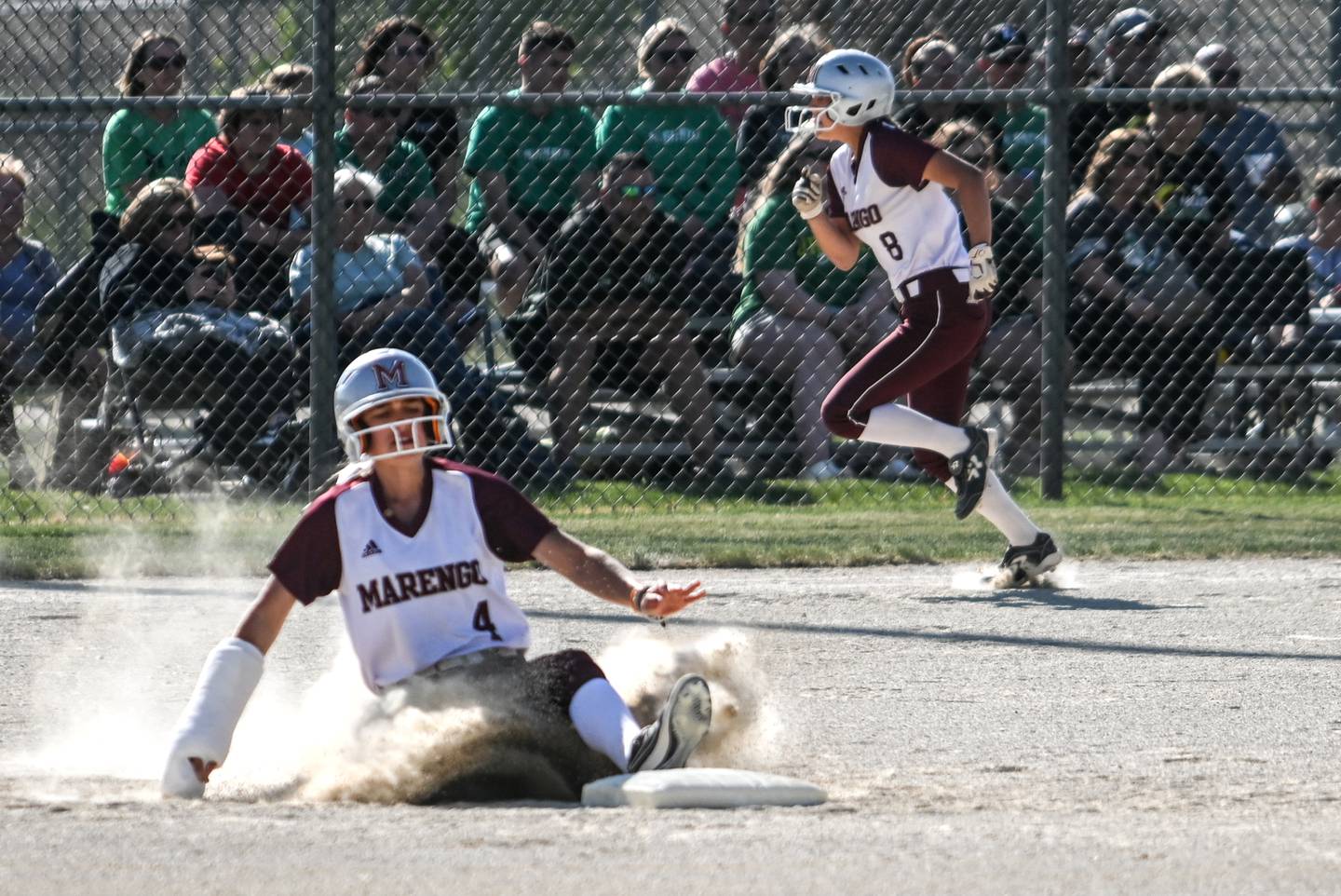 Marengo answered with two runs in the top of the fifth. Sophomore Kylee Jensen led off with a bloop single to left field, then junior Lilly Kunzer ripped a single down the left-field line. Sophomore Gabby Gieske skipped a high-hop single over Thatcher in the infield, and Jensen scored the Indians' first run on a delayed steal.
Up next, senior Mia Lulinski grounded a ball to short to score Kunzer as Johnson lasered a throw to first for the second out. Marengo drew within 5-2, but couldn't score again.
"This team is a really, really tough team. They're really, really good. They've got a tough pitcher," Kunzer said. "I thought we came out with a lot of energy. We came out with everything we had. We gave every inning everything we had, and I thought we never gave up through the whole game."
Thatcher worked a 1-2-3 inning in the top of the sixth, then the Rockets scored three more runs in the bottom of the inning to put the game away.
After back-to-back singles from Whiles and Maddie Morgan, Johnson crushed a two-run triple to center field. An Osborne sacrifice fly plated Johnson as the Rockets took an 8-2 lead.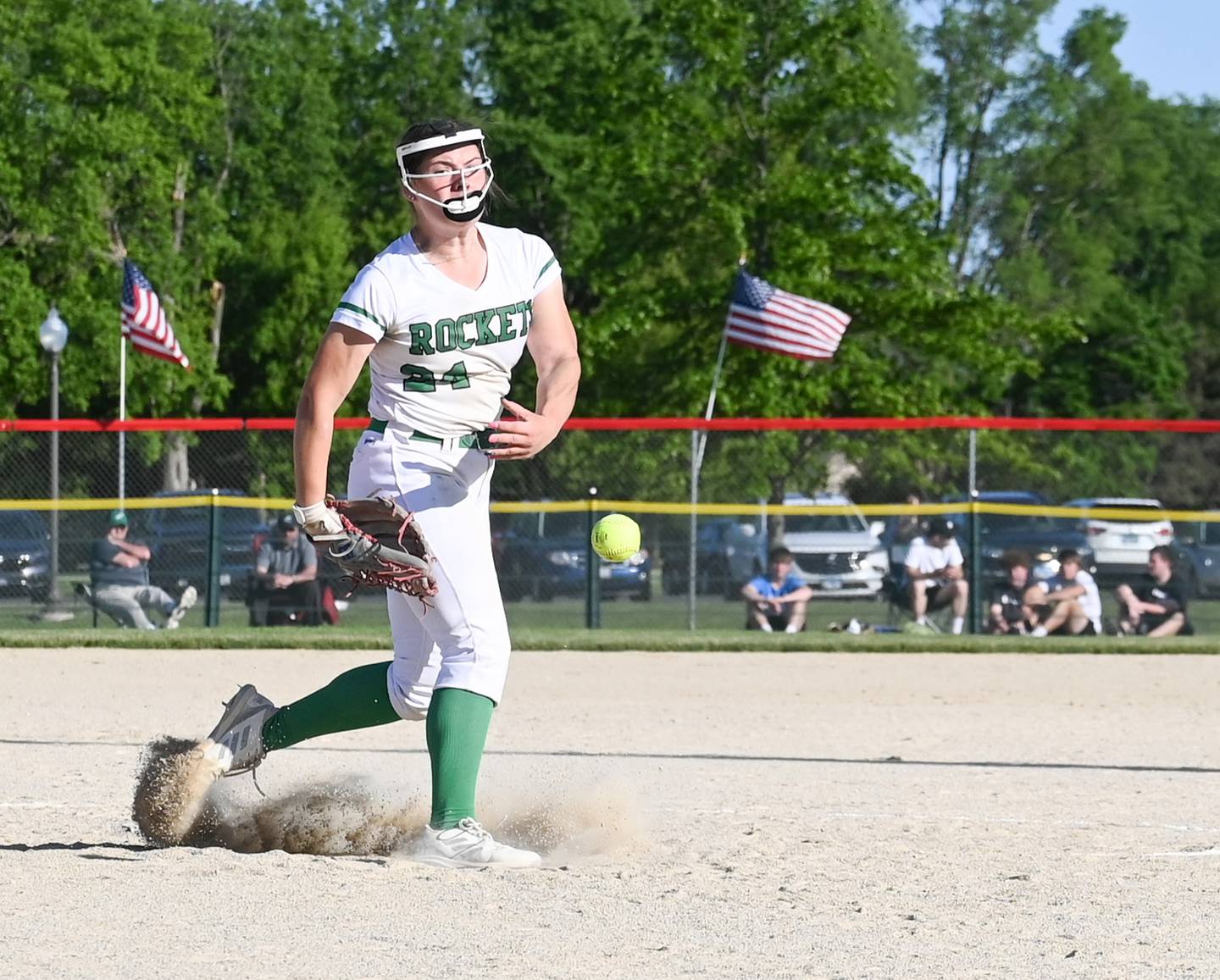 Thatcher struck out the first batter in the top of the seventh, then induced two flyouts to right field to end the game.
Thatcher notched the complete-game win, allowing two runs on eight hits, striking out 10 with one walk.
"Katie's pitching was phenomenal," Howard said. "We've had to rely on her a lot this season, and she always comes out and does her best. When teams can't hit off her that well, that's huge for us."
Johnson went 3 for 3 with two RBIs, and Howard and Thatcher each went 2 for 4 with two RBIs; Thatcher doubled on both hits, and Whiles and Maddie Morgan chipped in two hits apiece.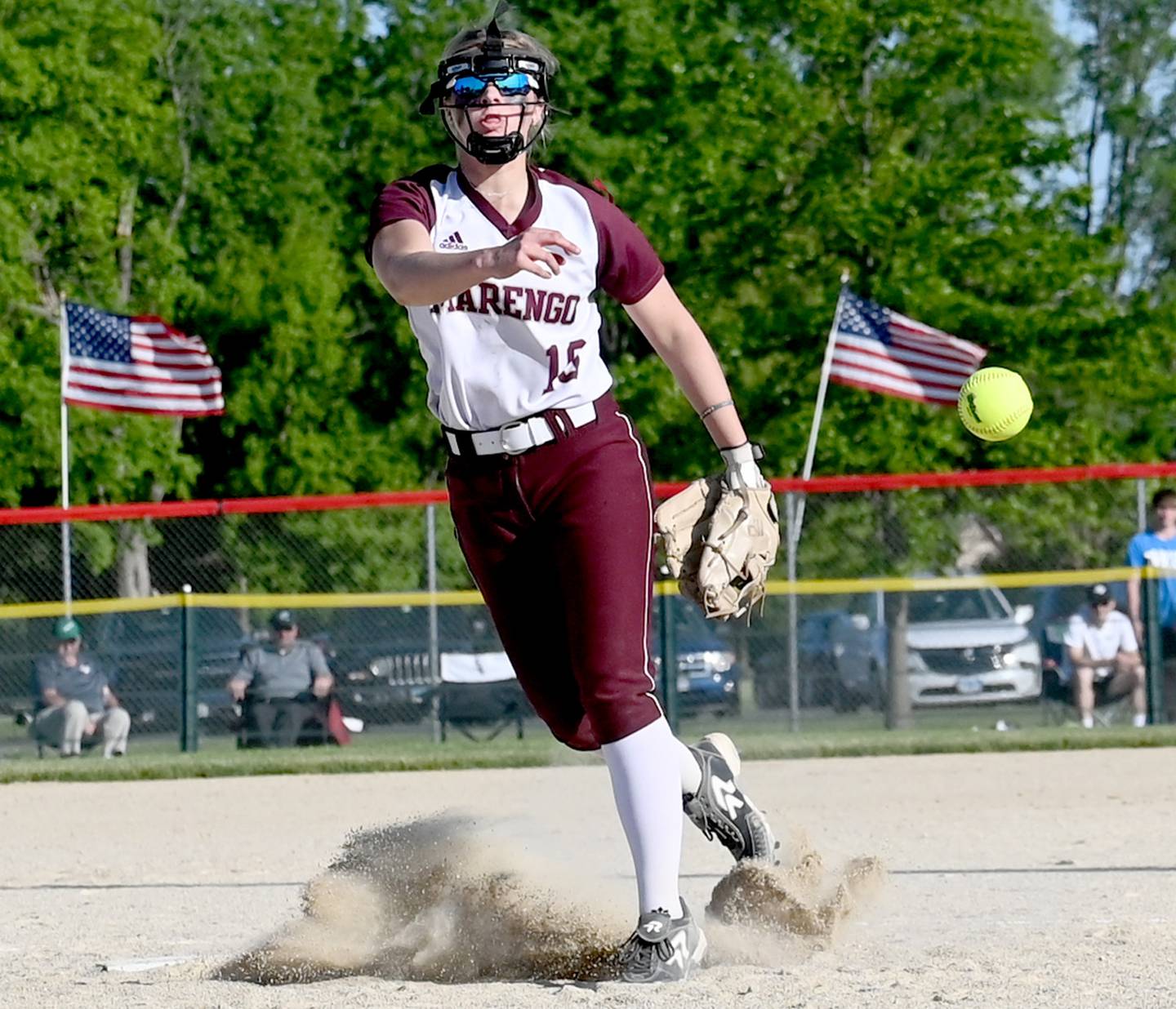 Kunzer went 3 for 4 and went the distance in the circle for Marengo, allowing 13 hits and eight runs, striking out two with no walks. Gieseke went 2 for 4 for the Indians.
"I'm super proud of these girls. We went through a ton of stuff [this season], a lot of injuries, including the head coach being out," Kunzer said. "I thought we fought through it all, fought through all the adversity, and I thought we came out and we did awesome."
"Both teams are really high-quality teams, two teams that should be in the sectional finals," Marengo coach Dwain Nance said. "I thought that our kids were pretty resilient, played hard throughout the seven innings. I just thought a couple of their hits fell in when they needed to fall in. I thought that was kind of the difference. I don't know what the hits were. I know that we probably had seven or eight hits, and they probably had nine or 10 hits, but their hits kind of fell in in the right opportunities. Their pitcher's really tough, she's on fire right now, and I wish them the best of luck in the next round. Now I'm kind of rooting for Rock Falls to go all the way; it makes us look good. But I'm proud of our kids. I'm proud of how we played all the way through the game. I thought Lilly threw a good game, I thought she hit the ball pretty well, and we battled against a really good team."