ROCK FALLS – The Rock Falls Rockets got the bats going immediately Tuesday afternoon against the Byron Tigers in their Class 2A Rock Falls Regional semifinal, scoring five runs in a six-hit first inning.
With good pitching and solid defense throughout, and a near-constant barrage of hits, they rolled to a 17-2 win in four innings, advancing to meet the winner of Wednesday's semifinal between Stillman Valley and North Boone on their home diamond in Friday's regional championship.
[ Photos from Rock Falls vs. Byron 2A regional softball ]
Byron capitalized on two Rock Falls errors for a 1-0 lead in the top of the first inning. Senior Maia Carlson reached on an error on a dropped pop fly to right field with one out, then moved to second on senior Prezley Eisele's sacrifice bunt; she scored on sophomore Miami Poulsen's fly ball to shallow center field, as three Rockets converged on it but none got a glove under it.
But Rock Falls quickly shook off the mistakes, as senior pitcher Katie Thatcher struck out junior Hailey Scheck for the third out.
The momentum shifted in the bottom of the inning. Rockets senior Brooke Howard got things moving with a leadoff single to right field, just out of the reach of the diving second baseman. Howard stole second while senior Savanna Fritz was up to bat, then scored the first run on Fritz's low line-drive single to shallow center-field.
"It got us up, we were very excited to start the game off, get some good hits in," Fritz said. "I think after that first run, we were ready to take on the rest of the game."
Thatcher crushed an RBI double deep into left field, then came home on sophomore Jeslyn Krueger's two-out single to third base. Sophomore Maddie Morgan and senior Rylee Johnson followed with back-to-back RBI triples – both into deep right field – and the Rockets took a 5-1 lead out of the first inning.
"It got us pretty hyped at the start," Krueger said about the five-run first inning. "It kept us going."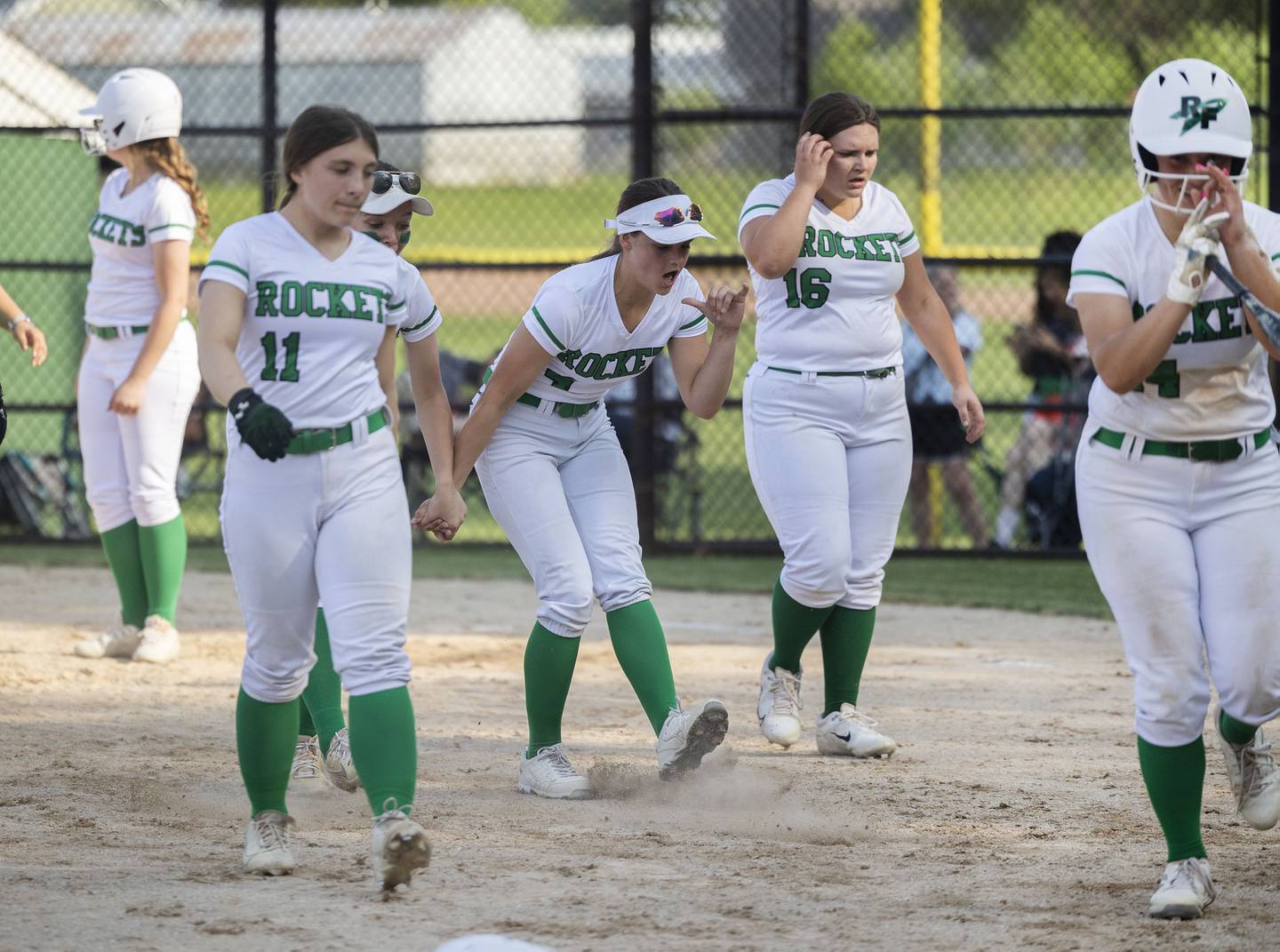 In the top of the second, Thatcher struck out the side; in the bottom of the inning, the Rockets piled on eight more runs.
Fritz ignited the rally with a one-out single to left field. Thatcher then doubled deep to right field to plate Fritz, and senior Zoe Morgan singled to center field, scoring Thatcher for a 7-1 lead. Senior Patty Teague hit a two-run homer to left, then Krueger singled to short, Maddie Morgan was hit by a pitch, and Johnson reached on a fielder's choice as third baseman Dakota Degand made a nice diving stop and tagged out Krueger on the way to third.
But the Rockets weren't done. Junior Olivia Osborne grounded an RBI double, then Howard smacked a two-run double, both to left field. Fritz doubled to left field on the next at-bat, and Howard scored on a delayed steal as the second baseman dropped the ball on a tag attempt at second, capping the eight-run outburst. The Rockets led 13-1 after two innings.
In the top of the third, the Tigers scored once more, using another Rock Falls error to set up the rally. Sophomore Alyssa Bauer reached on an errant throw from third base to first with one out, then scored as Carlson floated a double just over the reach of the leaping shortstop into center field.
But Thatcher and the Rock Falls defense didn't flinch. Thatcher struck out Eisele next, then after loading the bases with a walk and a hit batter, she struck out Gina Baker for the third out, keeping the margin at 13-2.
"I think Katie did very well pitching, she got a lot of outs for us," Teague said. "And then our outfield did pretty good and our infield stayed solid."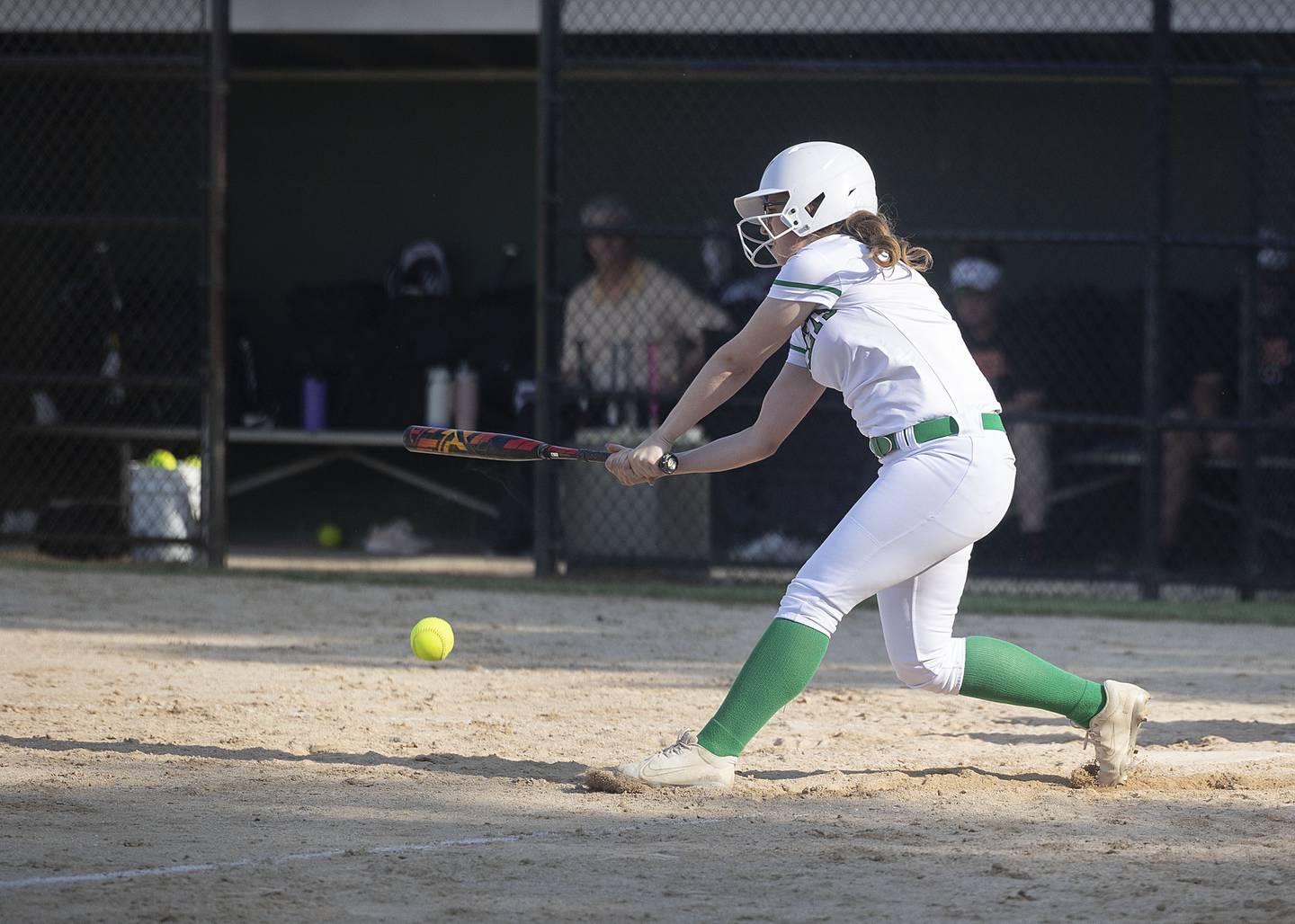 In the bottom of the third, Krueger smoked a two-run home run to right-center with one out for a 15-2 lead.
Freshman Ari Reyna came on for Thatcher in the top of the fourth. After hitting the leadoff hitter with a pitch, she struck out three batters in a row.
In the bottom of the fourth, Zoe Morgan hit an RBI single, then Teague hit a fielder's choice to third as Morgan came home after an errant throw to first, walking it off via the 15-run rule.
Krueger finished 3 for 3 with three RBIs, Howard and Fritz each went 3 for 4, and Teague and Zoe Morgan each went 2 for 4; Howard, Teague and Zoe Morgan had two RBIs apiece, and Johnson and Thatcher added two hits each. Johnson and Maddie Morgan both hit a triple, and Thatcher doubled on both hits. Every Rock Falls batter recorded a hit and scored at least one run.
Thatcher pitched three innings for the win, allowing two runs (one earned) and one hit, striking out seven with one walk. Reyna threw one inning of scoreless, hitless relief, striking out three with no walks and one hit batter.
"[Katie and Ari] do really good at keeping us going," Fritz said. "If we get some hits, the defense is always out there to help them and back them up."
To beat Stillman Valley or North Boone on Friday, the Rockets know they'll need to keep executing at a high level.
"We still have to keep hitting the ball and play solid defense, and our pitchers have to be on their A games," Teague said. "Everyone just has to be on their A game."
"Definitely staying hyped like we did today is key," Krueger added. "Not getting down on anything after an error or mistake or a strikeout or something."