STERLING – The 2022 Newman volleyball season is one 24th-year head coach Debbi Kelly will likely never forget.
After concluding the 2021 season in a 26-24, 25-23 loss to Eastland in the IHSA Class 1A Regional final – an upset, as Newman was the No. 1 seed – the Comets were determined to be better the following year.
With a 29-9-1 season record and fourth-place finish at the IHSA Class 1A State Girls Volleyball Tournament, they made good on their preseason expectations – and even exceeded them – and put together the best season in program history.
For leading the Comets on a historic run this year, Kelly has been named the 2022 SVM Girls Volleyball Coach of the Year.
For the longtime Newman coach, who's accumulated a 441-285-16 career record in two stints leading the Comets, there was an overwhelming sense of relief that accompanied reaching the state tournament.
"It's kind of a relief since I've been at it for so long, it's a big relief being in there, but it's an extra special thing," Kelly said. "We really emphasized with the girls as we got to state, it's not just about us here. It's a big family, Newman community event. And we had a lot of support from past players that did a lot of behind-the-scenes things to help us get ready, or just wishing us good luck. It's just bigger than what we are right here in this physical building. There's just so much more to it.
"And it was really great to be a part of something like that that we got to be the main focus of."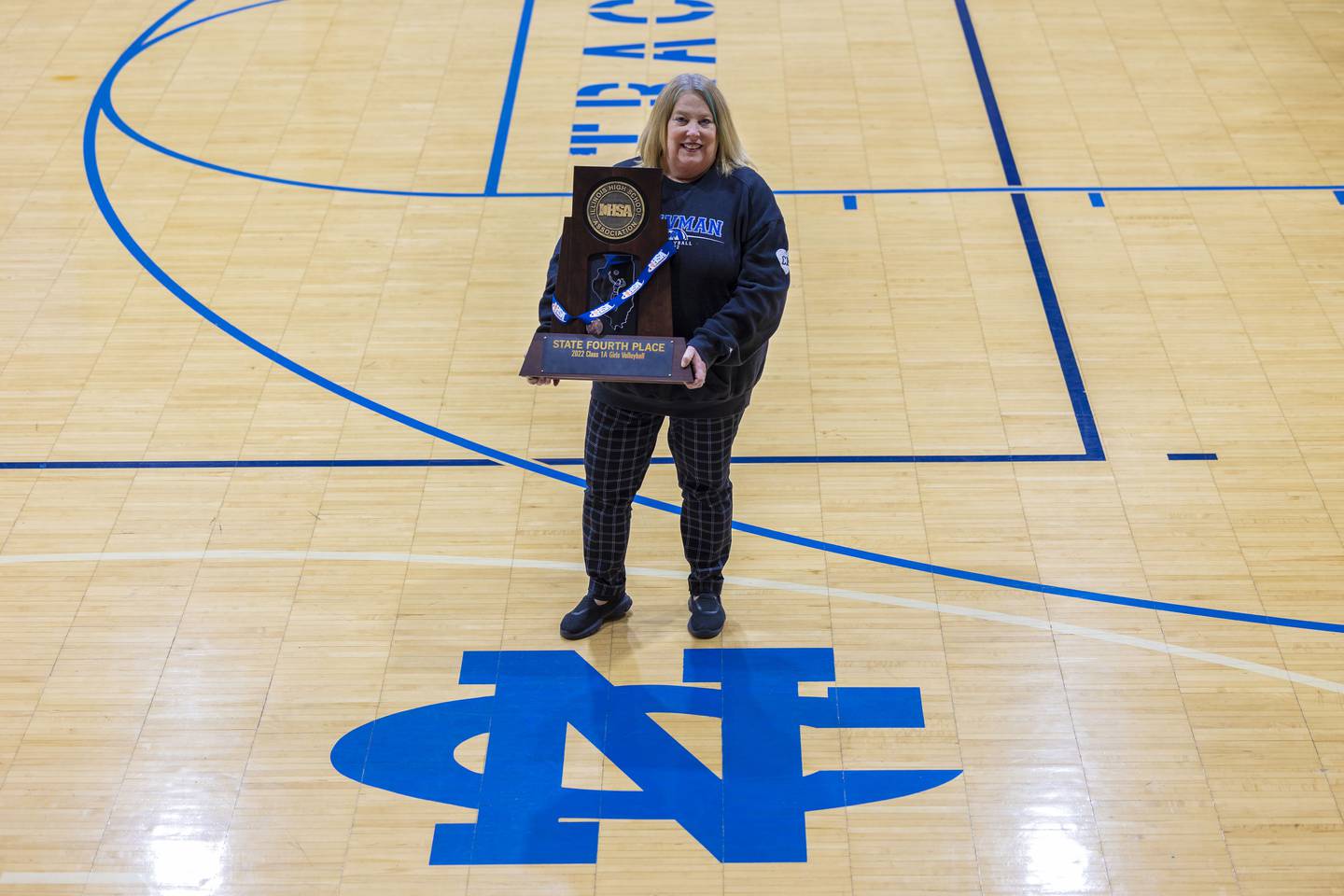 From the moment the team reunited during the offseason, expectations and motivation were sky-high.
The early postseason loss to the Cougars left a bad taste in returning players' mouths, and that bad taste lent fuel to the fire this year.
"Obviously, we were not happy with how that ended last year. And I think Katie [Grennan] and Jess [Johns] and Kennedy [Rowzee] were a big part of that team, along with a lot of the now-juniors that were in on that regional team," Kelly said. "They knew how that felt and how disappointing it was not to get as far as we thought we should've, so I think they had that in their mind as they came in. They just had to stay focused to achieve what they wanted."
Before the season began, Newman believed it had state-tournament potential. As the 2022 schedule neared its end, that belief proved prophetic.
"We knew it with them coming in this year that we had all the right pieces. We had some great back-row play, we had the setting, and we had our hitters up there," Kelly said. "We knew we'd be undersized for most of the time, but we knew the girls were smart volleyball players. And if they could adapt and just put everything together and keep working together, we did know – the coaches and I – that this could be done. And the girls believed it, too.
"But I think as the season progressed and they went through games, we had some hard losses in there, but they were losses we needed to keep improving. And I think that's something they knew could improve from what they did. They were never satisfied."
The Comets went 12-0 in conference play for the second straight season to claim their seventh consecutive Three Rivers East championship, and never lost more than two matches in a row across 39 contests – and only went to three sets five times all season, including a dramatic come-from-behind win over Fulton in the 1A Polo Regional championship match that really kick-started their postseason run.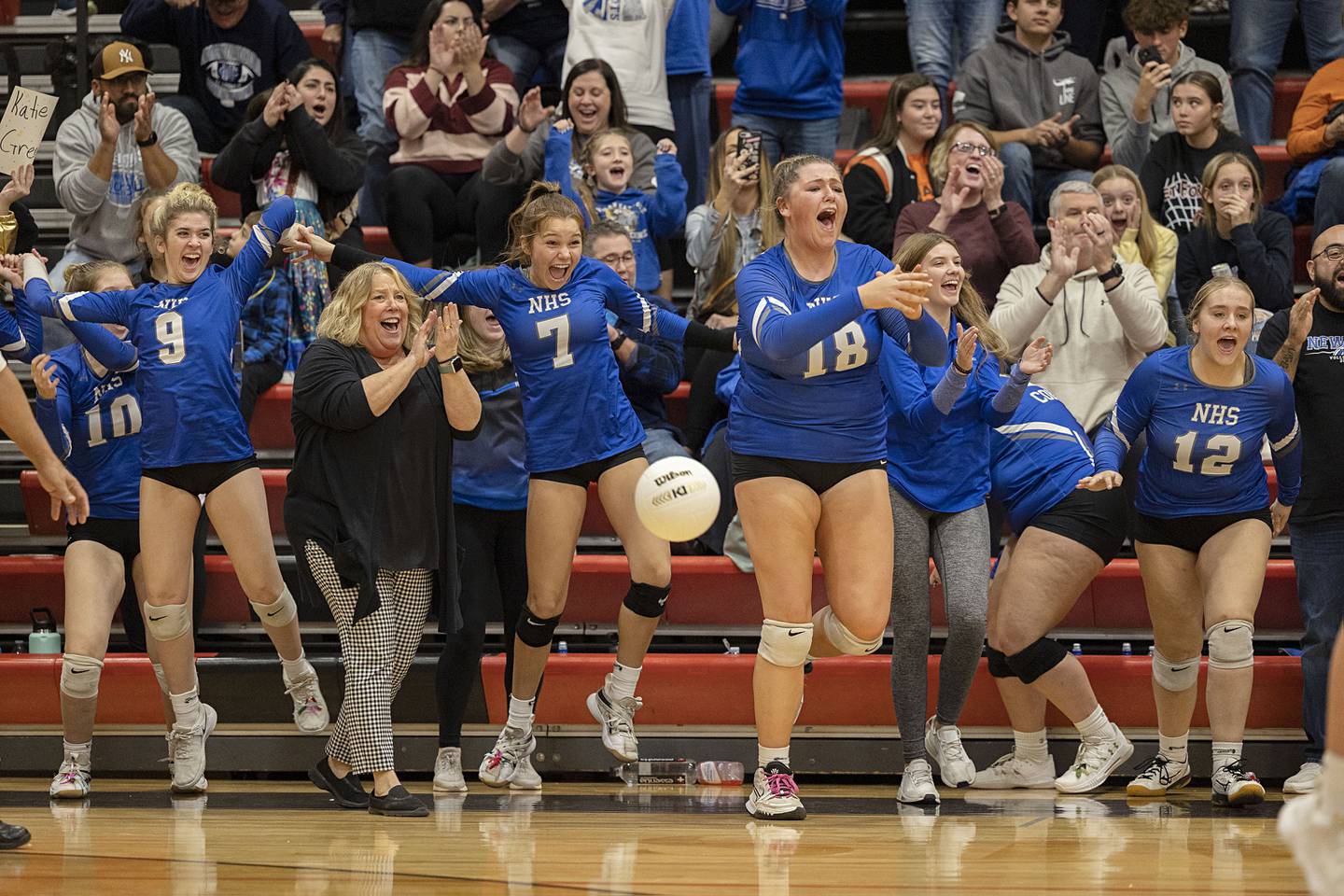 While season-long consistency was important, peaking at the right time was even more crucial to Newman's historic run.
"What I really enjoy is seeing them play their best ball during those sectionals and super-sectionals, and them really rising to that occasion and really playing their best right at the end there," Kelly said. "They know that they can do that, and it just kind of sets that expectation a little bit higher looking ahead as well."
The Comets avenged their 2021 season-ending loss with a 25-19, 27-25 win over Eastland in the regional semifinal this year, then defeated Fulton, Newark and River Ridge on their way to the super-sectional. A 25-19, 27-25 win over Augusta Southeastern secured their first trip to state.
For Kelly, the super-sectional match was the perfect encapsulation of 2022 Newman girls volleyball. The Comets led 11-1 in the first set before holding off a late Southeastern rally, then came back from a 20-11 deficit in the second set to punch their ticket to the state finals.
"The super-sectional win, that comeback win in that second game, I think that's gonna hold a real special place," she said. "It really defines these girls not giving up and playing till the end."
After falling 25-13, 25-16 to Aquin Catholic in the state semifinals, and 25-17, 25-18 to Norris City-Omaha-Enfield in the third-place match, Newman will again have its eyes trained on the state finals – and a potential title – in 2023.
Aiding next season's championship quest is the return of 10 of 11 varsity players from this year's state tournament run.
While the loss of senior setter Katie Grennan will undoubtedly be felt, the immediate future still looks bright for the Comets.
"It's hard not to be excited [about next year]. Katie played a very significant role for us. She was a setter, she really worked with our other setter, Molly [Olson], and helped her along," Kelly said. "She's been with Jess and Kennedy all three years on varsity, so they've kind of come up with each other, and they really knew each other. Katie did a nice job knowing how to set them.
"It's going to be a big adjustment not having Katie there, but it's also very exciting knowing that we have the whole group that was at state coming back, and hopefully them wanting a little bit more and to make our way back there."