DIXON – Trailing by seven points with a little more than a minute to play against the No. 6 team in Class 2A, things looked bleak for the Dixon Duchesses on Tuesday night.
But the last stretch was the epitome of the Duchesses' team this season, and a missed free throw was the only thing that kept the game from going into overtime.
Byron led by as many as eight early in the fourth quarter, but Dixon battled back before coming up just short in a 35-34 loss at Lancaster Gym. It was an instant classic between two undefeated Big Northern Conference rivals.
[ Photos from Dixon vs. Byron girls basketball ]
"From a spectator's perspective, it probably looked like we were done. But as a team, we just look at each other and say, 'We're never done,'" senior forward Harvest Day said of the late surge. "We always want to keep fighting, because we all have that drive and that passion in us. That's what makes us so good. We all just get in the huddle and tell each other, 'Never stop, always keep grinding.'"
Day started the comeback for the Duchesses (21-4, 5-1 BNC), banking in a 3-pointer from the left wing off a feed from Abby Knipple with 1:02 remaining to make it a 35-31 game. The teams traded turnovers, then Day caught an errant pass for another Byron turnover and passed the ball ahead to Katie Drew – who drove into the lane and hit a leaner from about 5 feet to make it a 35-33 game with 27 seconds to play.
After a Dixon timeout, Byron (23-2, 7-0 BNC) missed the front end of two one-and-one opportunities; the Duchesses got the rebound on both. They failed to convert on the first one, but after the second miss, Dixon moved the ball up the court and coach Luke Ravlin called timeout with 3.3 seconds left to draw up one final play.
It turned out to be a lob to senior forward Ella Govig on the inbounds pass. She was fouled going up for a layup, which hit the rim and bounced off. Govig stepped to the line and made the first free throw; the second rattled out, but Byron knocked the rebound out of bounds, giving Dixon one final chance with 1.0 second left.
This time, Day caught the inbounds pass on the left wing and fired up a contested 3; it came up short, and Byron walked off the court with a win.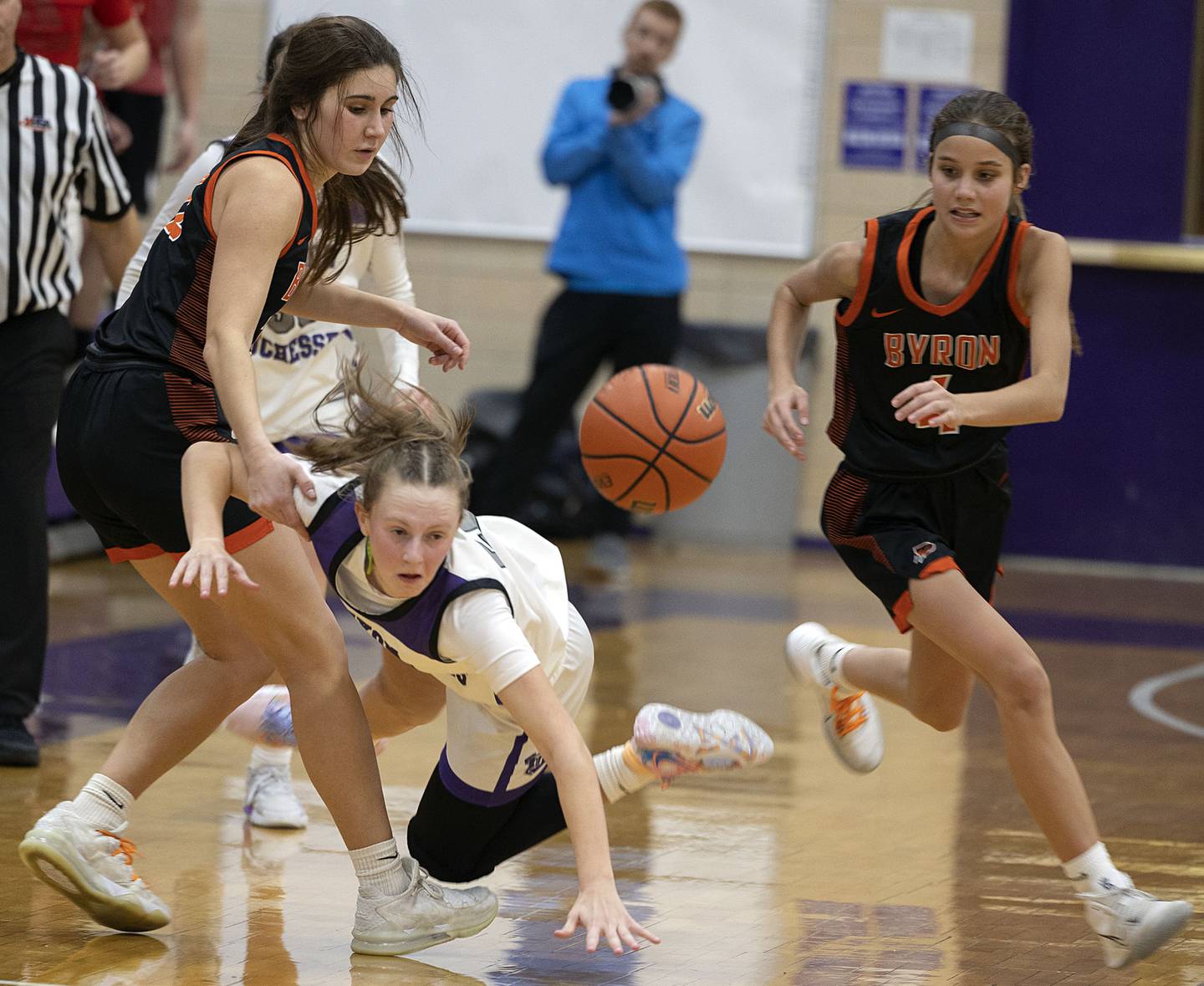 "We just always kick it in and never give in. Rav always says, 'Keep on swinging,' so we always just try to play for the moment, don't look at the clock, we've just got to push," senior guard Hannah Steinmeyer said. "They're a good team, and I don't think this loss defines us at all. We're an amazing team, and sometimes you just have an off night."
That's an apt description, as the Duchesses shot just 2 for 15 from 3-point range – with at least four of those misses looking like makes until they rattled around the cylinder and out. They also had a few closer-in shots meet the same fate.
Nobody was more crushed than Govig, but even before they went into the locker room for the postgame meeting, her teammates were right there offering hugs and words of encouragement for the senior leader who never fails to do the same for a teammate when they need it.
"Sometimes, they just don't fall. It sucks, but it's just a learning experience," Day said. "… We know that we have it in us to make those shots, make those plays. Some days, it just doesn't fall your way. It's not our fault; we knew that we did everything we could, and that's all we can ask for."
Byron, which led 17-16 at halftime after a back-and-forth first half, built what turned out to be the winning margin in the final minute and a half of the third quarter.
Dixon opened the third quarter on a 6-2 run to take a 22-20 on Day's basket off a Steinmeyer feed with 5:32 left in the period, then after a basket by freshman Macy Groharing and a free throw from senior Ava Kultgen gave Byron a 23-22 lead, Hallie Williamson knocked down a 12-foot jumper off a feed from Day to put Dixon back in front 24-23 with 3:20 left in the quarter.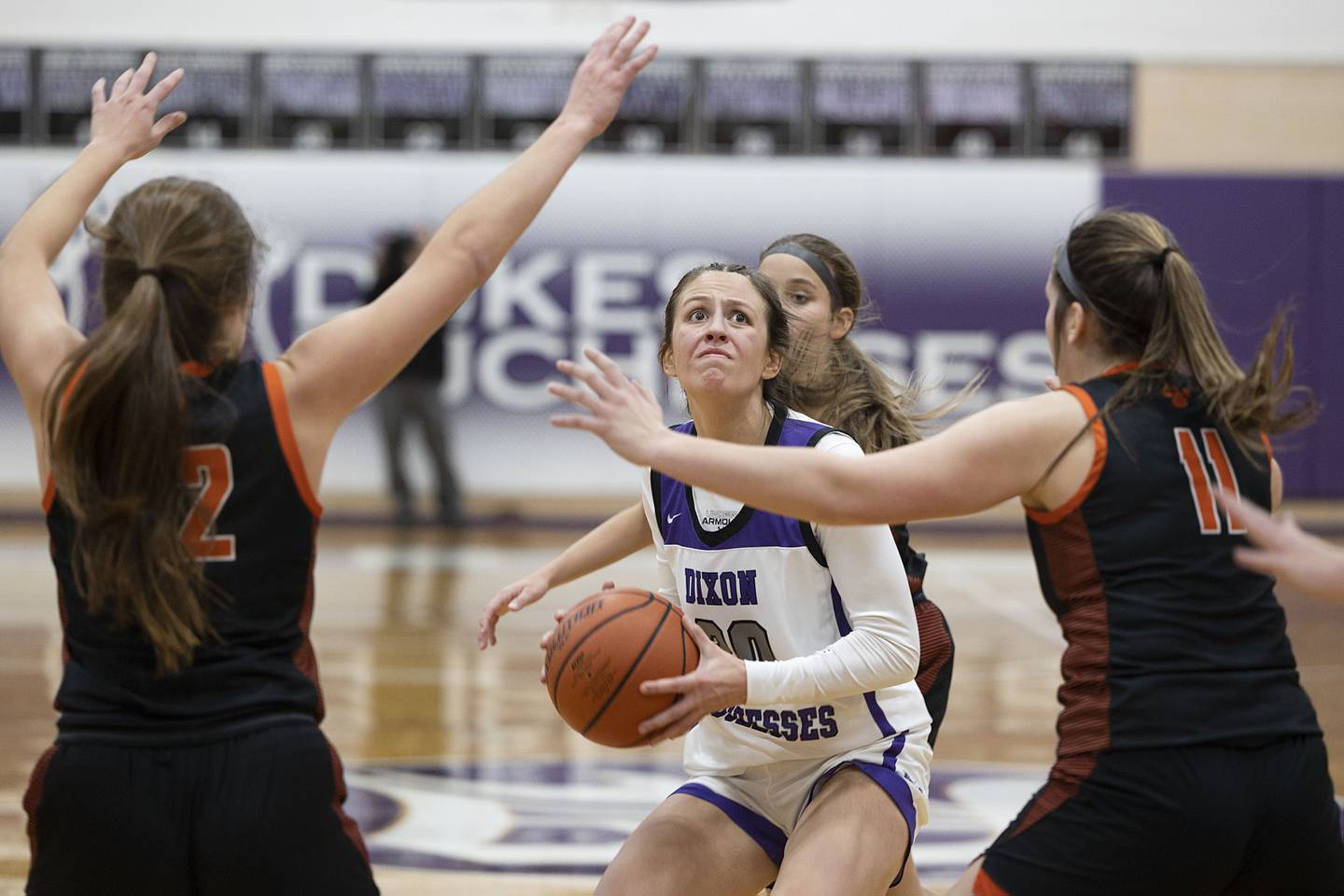 Ella Grundstrom buried a 3 for Byron, but Day answered with a layup off a baseline drive to tie the game 26-26 with 1:42 left in the period.
Point guard Karsyn Bielskis went coast-to-coast after taking the inbounds pass and hit a layup 11 seconds later, then Kultgen scored inside off a feed from Grundstrom with 1:01 left. The Tigers then ran the final 30 seconds off the third-quarter clock before Malia Morton found Kultgen inside for a layup with 2.2 seconds left and a 32-26 lead.
"We knew it was going to be a tight, close game, so every single basket was going to matter because it was going to be a low-scoring game," Kultgen said. "We just saw places where we could attack them. They had some people in foul trouble, so we took their weaknesses and tried to turn them into something that helped us."
Neither team scored in the first half of the fourth quarter, then Groharing hit two free throws with 4:01 to play for a 34-26 Byron lead. After Day found an open Drew for a jumper, Groharing made another free throw to make it a 35-28 game with 3:24 remaining, setting up the wild finish.
"Coach [Eric Yerly] really just coaches us up not just playing, but also the mental part of the game, he's really big on that," Kultgen said. "We feel like we're prepared for those tight games and those tight moments, to keep thinking and not letting it get to our head, and keep playing our game. That's really what makes a difference at the end and helps us win the game when we're struggling."
Groharing's three free throws were the only points the Tigers scored in the final eight minutes; they were 0 for 3 from the field with six turnovers, three of those coming in the final hectic half-minute.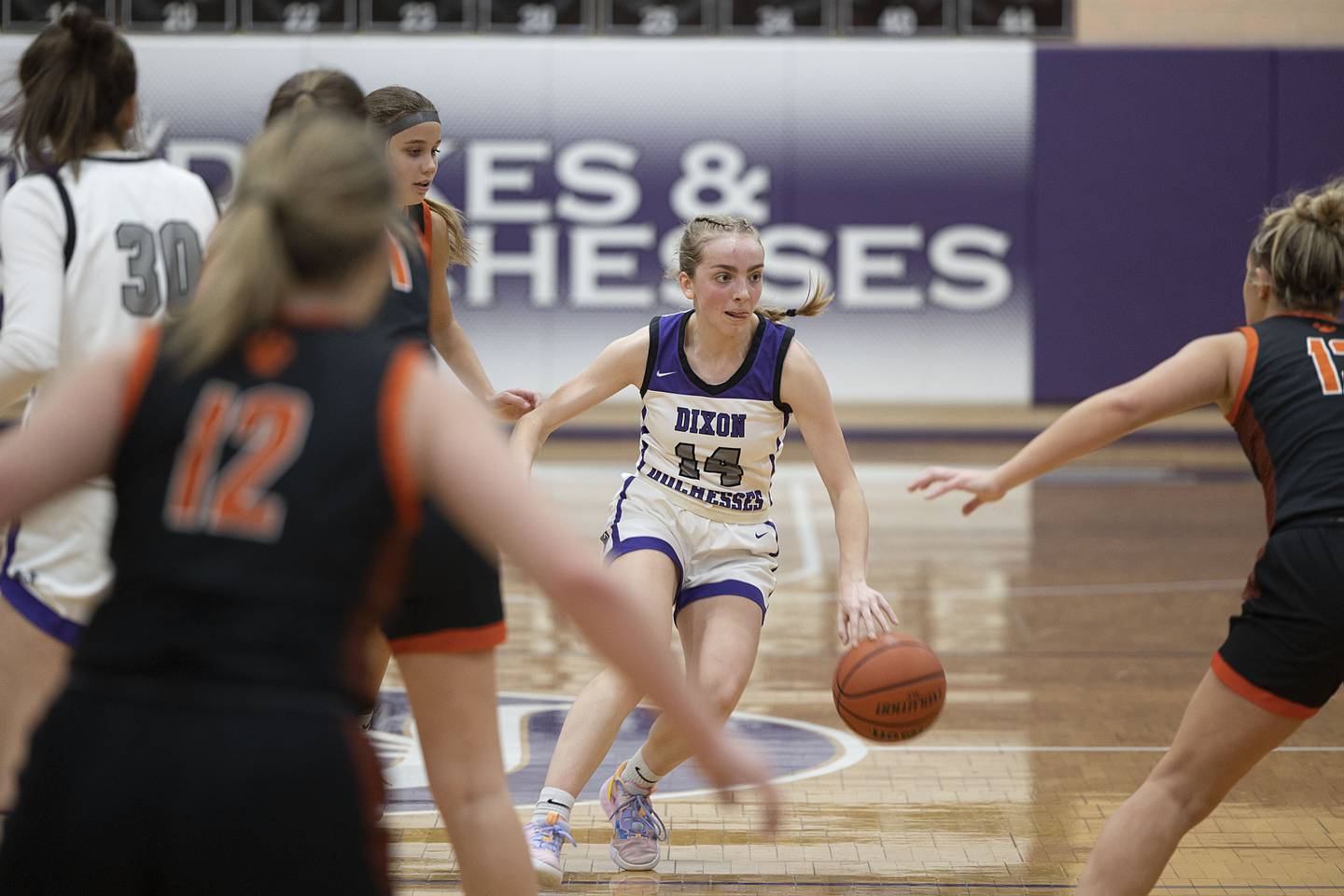 "… Our defense really turned into offense in the third," Groharing said. "The whole fourth quarter, we felt like we were in control – until that last couple of seconds. But as long as we stayed calm, we still had it in the bag.
"We just stayed calm by talking to each other. The communication's the best part of this basketball team, and it came through for us on the court."
Groharing led Byron with 10 points, seven rebounds and two steals, and Kultgen finished with nine points and two steals. Grundstrom had six points, four assists and two steals, and Brittyn Bielskis and Karsyn Bielskis both had four points and two assists; Karsyn added five rebounds.
Day had a double-double for Dixon, finishing with 13 points, 12 rebounds, three assists and two steals. Steinmeyer and Drew both scored seven points, with Steinmeyer dishing two assists. Govig had three points, three rebounds and a block, and Kait Knipple and Williamson both scored two points; Knipple chipped in three rebounds and a block. Abby Knipple dished three assists, nabbed two steals and blocked a shot for the Duchesses.
Despite the loss, Dixon was proud of the effort and the way they played on both ends of the court.
"I think we always play well together. We had good shots – every shot was one we wanted – they just weren't going in," Steinmeyer said. "We just tell ourselves and tell each other to move on to the next one. We can't really afford to keep dwelling on it. We just think of our teammates and move on for them, at least."
"I thought we executed the game plan perfectly. Some nights, things just don't go your way," Ravlin added. "Byron is a good team, and this team fought and played their butts off tonight. It's something we'll learn from and get better because of it."