ROCK FALLS – With both teams struggling to hit shots and playing at a little faster pace than they wanted Friday night, it was Rock Falls that settled down in the second half and found a way to score.
The Rockets opened the second half with a 12-0 run to take the lead, then answered a Winnebago run with some free throws down the stretch for a 56-38 win in their Big Northern Conference game at Tabor Gym.
[ Photos from Rock Falls vs. Winnebago girls basketball ]
"We got a break [at halftime], and I think we just came out with a lot of energy in the third quarter," Rock Falls junior forward Claire Bickett said. "We all really wanted this big win; they've got us a few times the last couple of years, and had some good teams, so we just really wanted to beat 'Bago. So I think with that energy, we came out ready to go."
Bickett helped spark the surge to start the second half. With Rock Falls (13-11, 3-2 BNC) leading 26-21, Bickett drove down the lane for a layup on the Rockets' first possession of the second half, then kicked out a pass to Rylee Johnson 55 seconds later for a 3-pointer and a 31-21 lead.
Kacie Witherow then found Katie Thatcher for a basket, and Brooke Howard scored on a runout for a 35-21 lead. Johnson then passed inbounds to Witherow for a 3-pointer with 3:31 left in the third to cap the Rockets' 12-0 run.
"Really, when we went on that run, getting the energy out there was a big part of keeping it going," Thatcher said. "Some of the shots, we had the opportunities and didn't take them. But I think as soon as we started taking those opportunities, we got that big lead."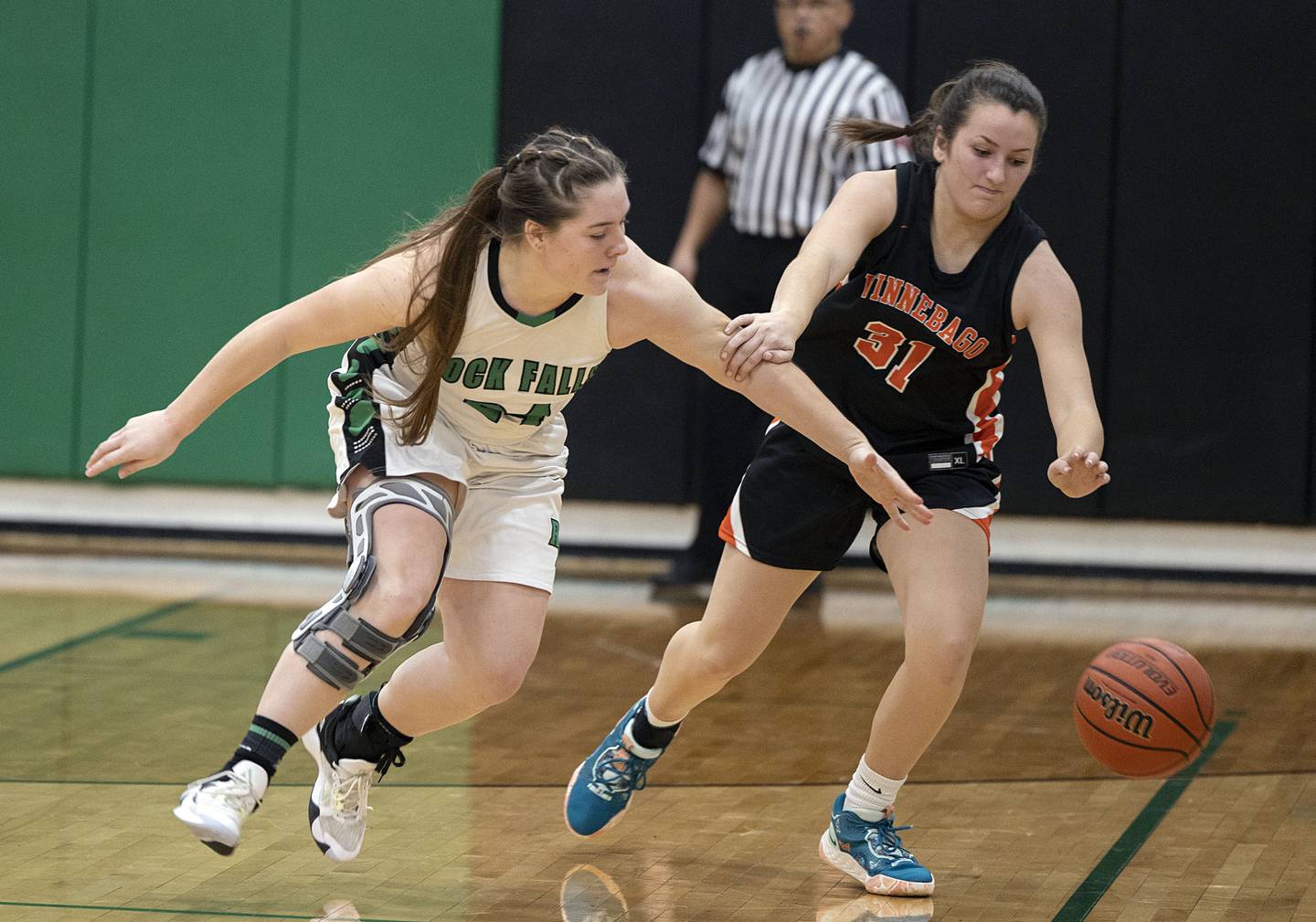 After Jocelyn Harms converted a three-point play for Winnebago (14-10, 2-3), Bickett scored inside on an inbounds play to give Rock Falls a 40-24 lead with 2:07 left in the third.
But Ella Provi nailed a 3-pointer, then hit two free throws before Laney Intravaia drove to the basket for a layup to get the Indians back within 40-31 going into the fourth.
But even as Winnebago turned up the defensive pressure, the Rockets were able to maintain their lead.
"We finally settled down when we got that lead," Thatcher said. "I think we started the game off really good with energy and pace, but as the game got going, we started to slow down a little bit. But right after the half, we picked up the energy and knew what we had to do to take them out of their game and pull away."
Bickett got a pair of hockey assists in back-to-back baskets, as Jacee Sigel scored off a Taylor Reyna kick-out pass from the post, then Sigel assisted Reyna for a bucket down low after taking a pass from Bickett to make it 44-33 with 4:06 to play.
"We always want to get it inside, because then it makes it easier on our shooters going inside-out," Bickett said. "I think we did a good job; they switched to zone a few times, and we still did a great job with our offense."
After Intravaia hit a pull-up jumper with 3:58 to get Winnebago back within nine, Johnson hit a free throw, Reyna scored on a putback, then Johnson hit another free throw before Thatcher sank two free throws for a 50-35 lead with 1:35 to play.
Intravaia found a wide-open Grace Erb for a 3-pointer to make it a 12-point deficit, but Howard, Witherow, Thatcher and Johnson all hit from the free-throw line in the final 1:09 to seal the win.
"We got in too big of a hole, and that's kind of our m.o. right now," Winnebago coach T.J. Zambrovitz said. "We don't start strong and finish strong, and they took full advantage of it. Their defense was tough on us, and we just couldn't force enough turnovers to get our defense to offense.
"It's just finishing sometimes, too. We struggled to do that tonight. It's stuff we work on, and sometimes you get 'em and sometimes you don't. That's just the nature of the beast."
Thatcher had 12 points, five rebounds, three steals and two assists for Rock Falls, while Bickett added 11 points and six rebounds, and Johnson finished with 10 points, eight rebounds and three steals. Sigel scored seven points, Howard had five points, seven rebounds and four steals, and Witherow provided some strong minutes off the bench and finished with five points and two assists for the Rockets. Reyna had four points, three rebounds and two steals, and Emily Lego chipped in two points, six rebounds and two assists after leaving early in the second half with an apparent illness.
Intravaia led Winnebago with 11 points, four steals, two assists and two blocks, and she also grabbed three rebounds. Provi added eight points and four rebounds, Harms finished with seven points, five rebounds and two steals, and Madilyn DiPiazza had four points and three rebounds. Erb had three points, three rebounds and five steals for the Indians, and Marissa Roggensack chipped in three points and four rebounds.