ROCK FALLS – The Rock Falls Rockets attacked passing lanes early and often in their Big Northern Conference opener Friday night against the Oregon Hawks at Tabor Gym.
The result was 13 first-half steals, frequent fast breaks, and a 33-point halftime lead. With a strong second-half defensive effort, the Rockets went on to win 54-17.
Rock Falls (6-3, 1-0 BNC) seized a 15-5 lead in the first four minutes, and remained in control for the duration of the game.
Brooke Howard hit two free throws at the six-minute mark, then stole the in-bounds pass and laid it in for an 8-2 lead. A Howard 3 and fast-break layup pushed the margin to 15-5 less than two minutes later.
"We just had a big crowd, and I think we came out with a lot of intensity," Rock Falls' Claire Bickett said. "We were on the road our first two games this week, so it was really nice to be home on a Friday night. Those are the games you really want to come out and put on a show."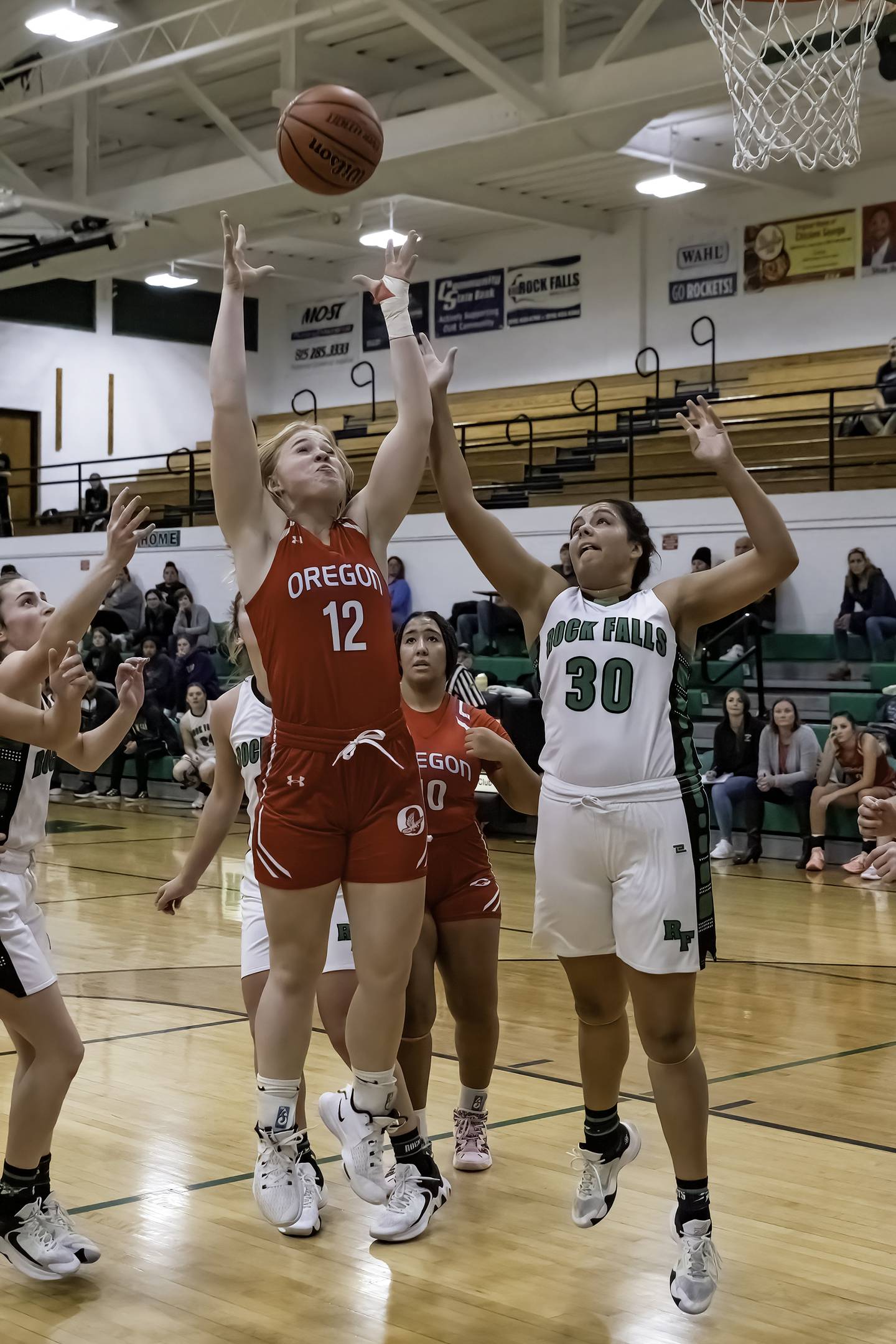 Fast-break scoring opportunities came in bunches for the Rockets, especially in the first quarter, when Katie Thatcher came off the bench and nabbed four of her team's eight steals, effectively creating an eight-point swing.
"She has a lot of energy, and it really contributes," Bickett said of Thatcher. "She's just happy to be back after being out the past two years, she couldn't play basketball. She's a really good spark for our team."
An Emily Lego runout layup off a Thatcher steal and assist pushed the lead to 24-6 with 1:05 left. Led by 11 points from Howard, Rock Falls had a 26-8 lead after the first quarter.
"I think it's definitely our defense, pressing, working together," Howard said. "I think it just makes a huge difference. Then we can cause turnovers."
"She's super fast and scrappy," Bickett said of Howard. "A lot of teams fear her, so I think she's just always a go-getter, and she's able to get some turnovers."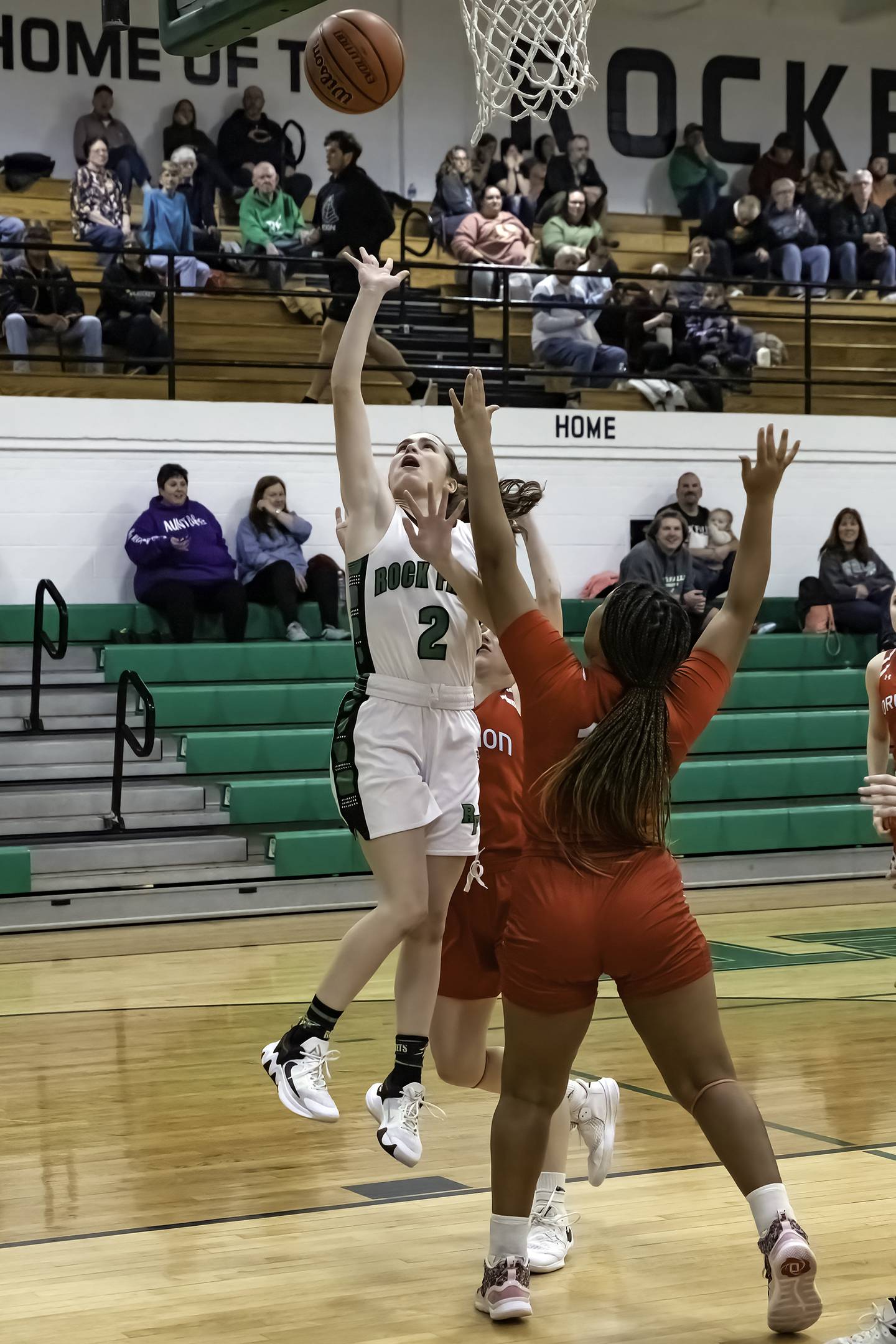 In the second quarter, the Rockets pitched a shutout defensively and widened their lead by 15 points. Claire Bickett led the 15-0 run offensively with seven points in the quarter. Her steal and fast-break layup at the 2:25 mark made it a 38-8 game, and her putback 45 seconds later made it 40-8. Elizabeth Lombardo hit the second of two free throws in the final minute, and the Rockets took a 41-8 lead into halftime.
"Our defense, we apply a lot of pressure, and everybody just relies on each other," Bickett said. "Our help-side's really good, so I think that's what led us to holding them to zero points."
Added Howard: "I think the press and just communication. Letting others know where the other girls are and just working together."
The Hawks showed some fight in the third quarter, sparking a 7-1 run in the last 3:11, but it was too little, too late. An Ava Hackman 3 gave them their first points in nearly 13 minutes; Ella Dannhorn and Hadley Lutz fast-break layups made it a 51-15 game in the last 2:30.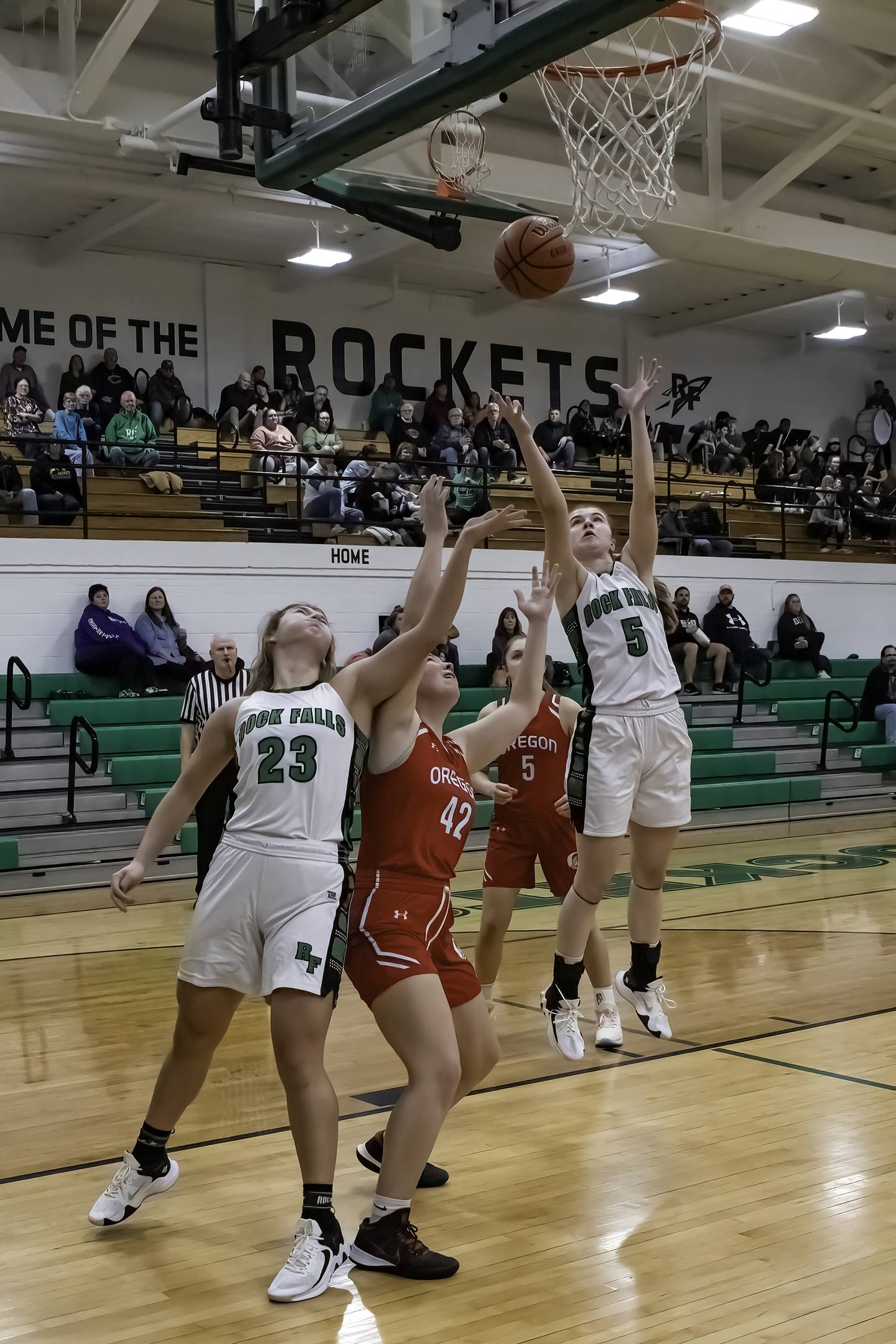 At the start of the fourth quarter, Rock Falls pulled four of its five starters.
Patty Teague converted an and-1 play for the Rockets, and Dannhorn dropped in one final layup for the Hawks.
Howard and Bickett Rock Falls with 15 points each; Howard dished three assists and grabbed four steals, while Bickett snagged eight rebounds, nabbed four steals and blocked two shots.
Lutz and Dannhorn scored four points apiece to lead Oregon scorers; Dannhorn grabbed two steals and snagged two rebounds.
"That was our toughest competition we've seen all season," Oregon coach Olyvia Donahue said. "We were definitely out-sized, so I think manipulating our offense to run against players that are bigger than us is going to be a huge asset for us later down the road. But I think the girls remained calm, for the most part. They got their wits about them after that first quarter, and we're making small improvements every game."