OREGON – As the aggressors from the start Tuesday night, the Oregon Hawks built a big lead and never looked back in a 42-27 nonconference win over the Polo Marcos at the Blackhawk Center.
The Hawks (3-2) hit the glass hard on both ends of the court, and took advantage of cold shooting by the Marcos (0-3) to get out in transition and push up the court. Oregon also had several second-, third-, and even fourth-chance scoring opportunities because of their rebounding.
"We came into it wanting to out-rebound them. Typically our best games are the ones where we lead the way with boards. It helped a lot tonight," senior forward Mariah Drake said.
[ Photos from Oregon vs. Polo girls basketball ]
The focus for the Hawks was on running through their offensive sets. They struggled to do that consistently last Saturday in their final two games at their own tournament, but were able to find a rhythm in this one.
One of the big reasons for that was the ability to get up the court quickly and not allow Polo to get comfortable on defense.
"We were trying to run our offense a lot today, but being able to run a little bit, that helped with it," senior guard Hadley Lutz said.
Everybody got involved for Oregon, as eight different players scored, and all 10 who played had at least one rebound. The Hawks finished with 51 rebounds (including 25 offensive boards) to Polo's 38, and outscored the Marcos 16-4 in second-chance points.
"It was great. That was the goal today, was to just run through the offense more than we usually do, and it got us a lot of open looks," Drake said.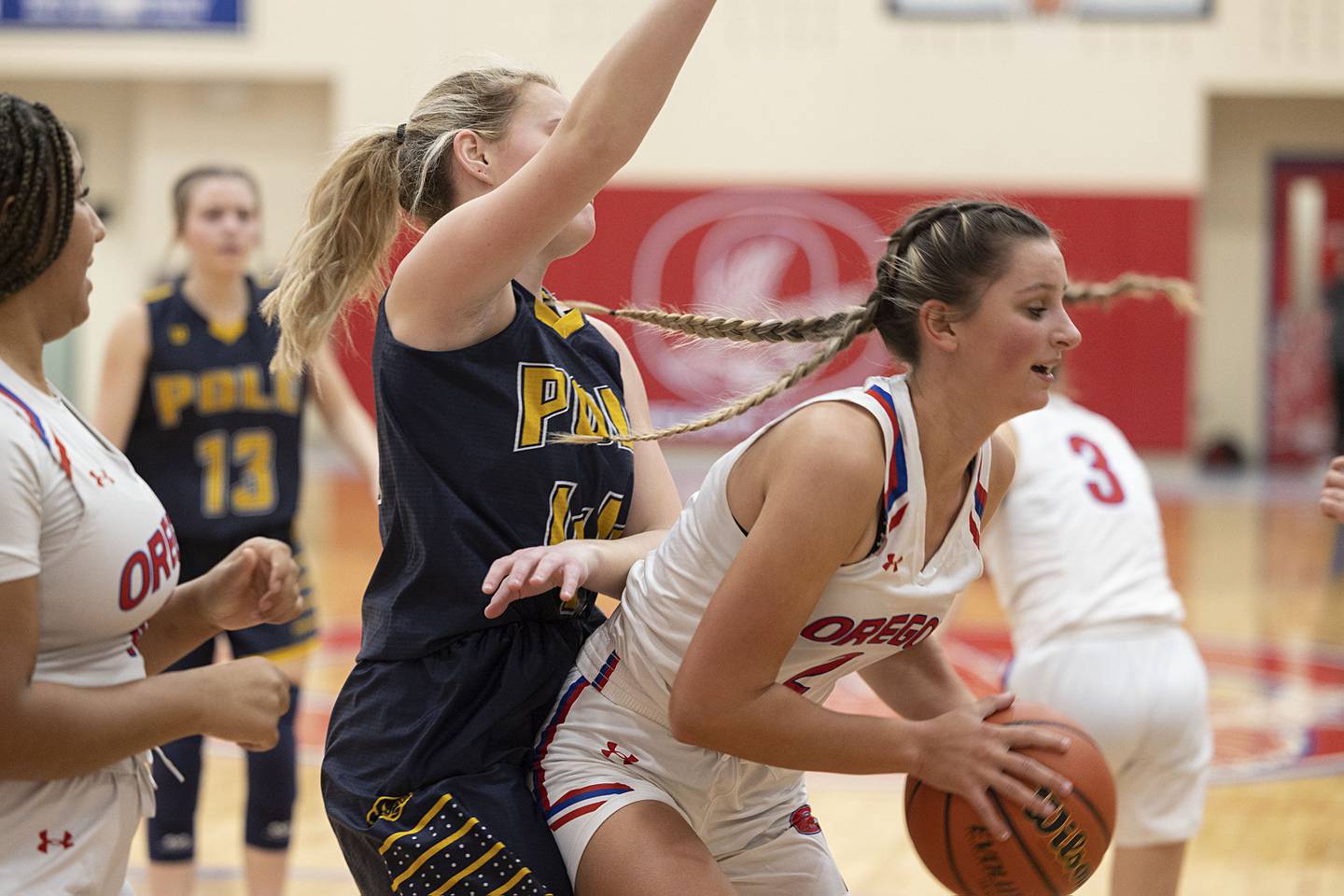 "I think we did a much better job running our offense than what we did this past weekend at the tournament. It's what we've been working on," coach Olyvia Donahue said. "But I give the girls the freedom; if they see opportunities to run and gun, then we'll do it. If they need to pull back and run the offense, then they do. I have a lot of trust and faith in these girls and their execution, and they executed really well tonight."
Oregon also had success on defense, forcing the Marcos into contested looks and usually limiting them to one shot before grabbing the rebound and running the other way.
The Hawks had 13 steals on 22 Polo turnovers, while the Marcos finished with 11 steals on 21 Oregon miscues. But a 3-for-24 shooting performance in the first half was too much for Polo to overcome.
"We like to play that type of defense. I think tonight we ran it the best that we've done all season," Lutz said.
"Basically, we just have to run an offense, because we kind of weren't," Polo junior forward Sydnei Rahn said. "We just didn't run our offense, we just were standing there, and we kind of need to get into it where we run an offense."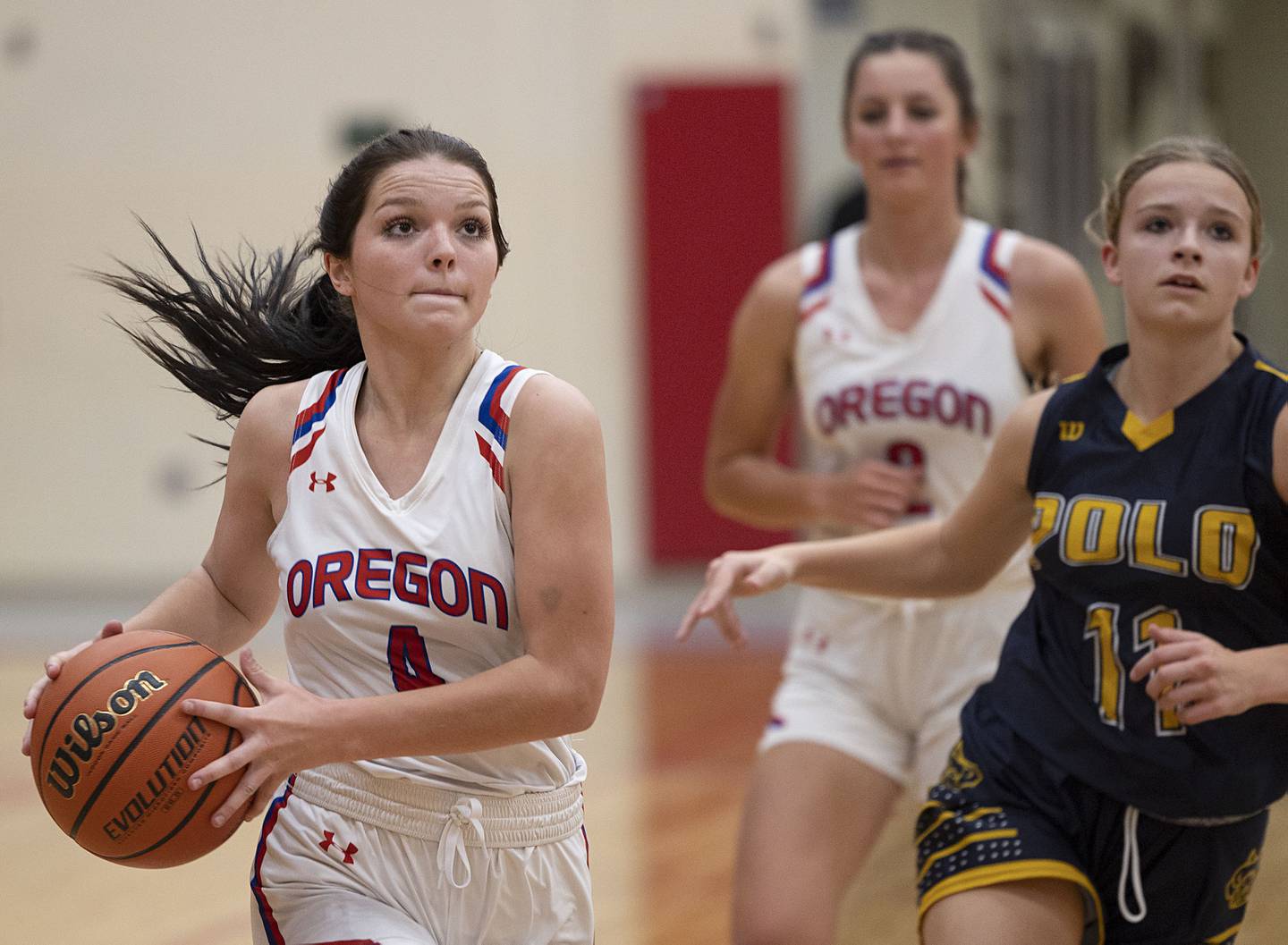 Katelyn Bowers scored back-to-back buckets on a loose ball and a putback as the Hawks built a 9-3 lead midway through the first quarter, then Ella Dannhorn drove to the basket for a layup and Mya Engelkes converted a three-point play off an offensive rebound to make it 15-5 after one quarter.
Drake and Lutz both scored on putbacks early in the second quarter; Lutz converted a three-point play on hers for a 20-5 lead. Drake's layup on a give-and-go play with Lutz made it 22-5 Oregon just 2:06 into the second quarter.
"We dug ourselves a hole," Polo coach Jason Grobe said. "They killed us on the boards in the first half, and we were not getting back on defense, and we could just not get out of the hole. It was tough to come back; they were outworking us, plain and simple."
Carlee Grobe put back a Polo miss, but free throws by Teagan Champley and Drake stretched the lead to 26-7, then Lutz lobbed a pass to Champley down low for a 28-7 lead with 3:14 left in the first half.
Lutz closed the half with a 3-pointer for a 31-9 lead at the break, then went coast to coast for a layup off a steal before scoring on an inbounds play midway through the third quarter for a 34-12 lead. Lutz then assisted on Sarah Eckardt's runout basket, before a Champley putback made it 40-14 Oregon with 56 seconds left in the third.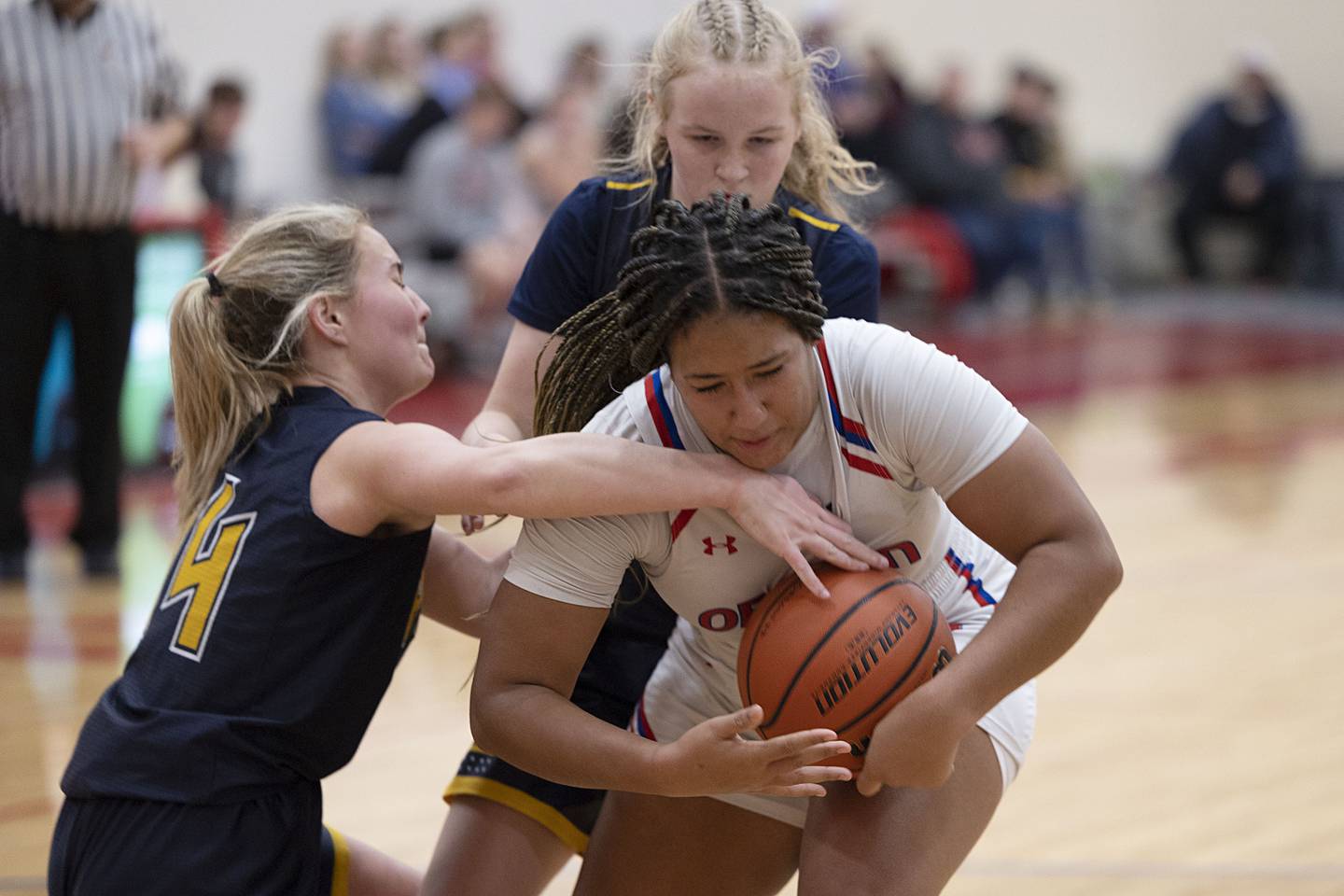 "We came out really flat, we didn't come out as hyped up as we usually do," Polo junior guard Courtney Grobe said. "It took a toll on us that our top scorer [Lindee Poper] is hurt right now, so I think that's also kind of what was going on. It's obviously a big loss, but we've just got to learn to work around it.
"It's just a mental game. We just really need to start it off sooner, because we kind of picked it up after halftime."
The Marcos did fight back, as Karlea Frey scored to start a 10-0 run. Freshman guard Camrynn Jones then passed up the court to Carlee Grobe for a fast-break layup, then hit a free throw to end the third quarter. Bekah Zeigler started the fourth with a second-chance basket, then Rahn went 3-for-4 from the free-throw line to cut the deficit to 40-24 with 2:36 remaining.
Jones went coast to coast for a layup and converted a three-point play with 8.7 seconds to play for the final margin, as Oregon emptied the bench and scored just two free throws over the final 8:56.
"We got yelled at during halftime, so our minds changed real quick about rebounding and playing defense," Rahn said. "We just had to box out, and we did in the second half."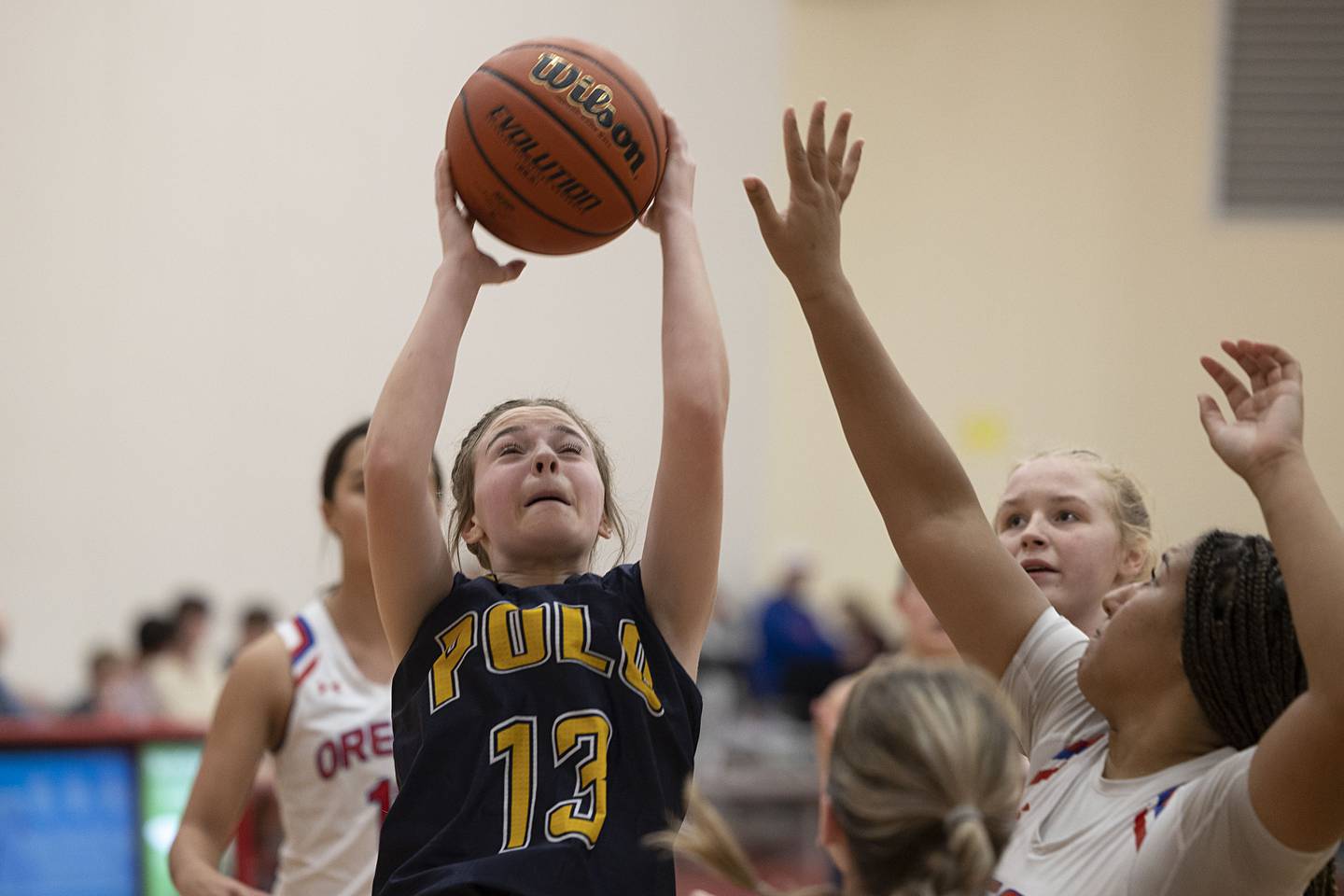 Lutz led Oregon with a game-high 14 points to go with six rebounds, six steals and three assists, and Drake had six points and 10 rebounds. Champley had seven points and nine rebounds off the bench, and Bowers added five points, five rebounds, two assists and two steals. Engelkes had four points and three rebounds, and Ava Hackman added two points, six rebounds and two steals for the Hawks.
Rahn had eight points and five rebounds for Polo, and Courtney Grobe finished with five points, eight rebounds, three steals and two assists. Jones added six points, four assists and four steals, and Carlee Grobe chipped in four points and four rebounds for the Marcos.
"When we ran our offense, we were getting good looks, but we couldn't get them to fall. We have a confidence issue right now, so we need to gain some of that confidence," coach Grobe said. "Hopefully a couple of days off for everybody will let us refocus and help with that a little bit."