EDGINGTON – More than 40 Sauk Valley area track & field athletes punched their ticket to the IHSA State Finals in Charleston at the Class 1A Rockridge Sectional at Edgington High School on a windy Friday afternoon.
Newman's Wyatt Widolff, Lucas Simpson, Lucas Schaab and Kenny Boesen ran an 8:26:40 to qualify with a second-place finish in the 4x800 relay.
"As a team, we all looked out for each other; we knew what was on the line, especially after Riverdale got that DQ, a big window opened up for all of us," Boesen said. "I'm proud of how everyone ran today, I'm just not happy with myself, with my time. I know I can do better, but I'm just happy we made it to state."
Schaab also qualified in the 1,600 meters, running a 4:36.98 for second place, and Widolff, Boesen and Simpson joined Brady Williamson to qualify in the 4x400 (3:34.60); the Comets placed eighth, but 10 teams qualified for state in the 4x400.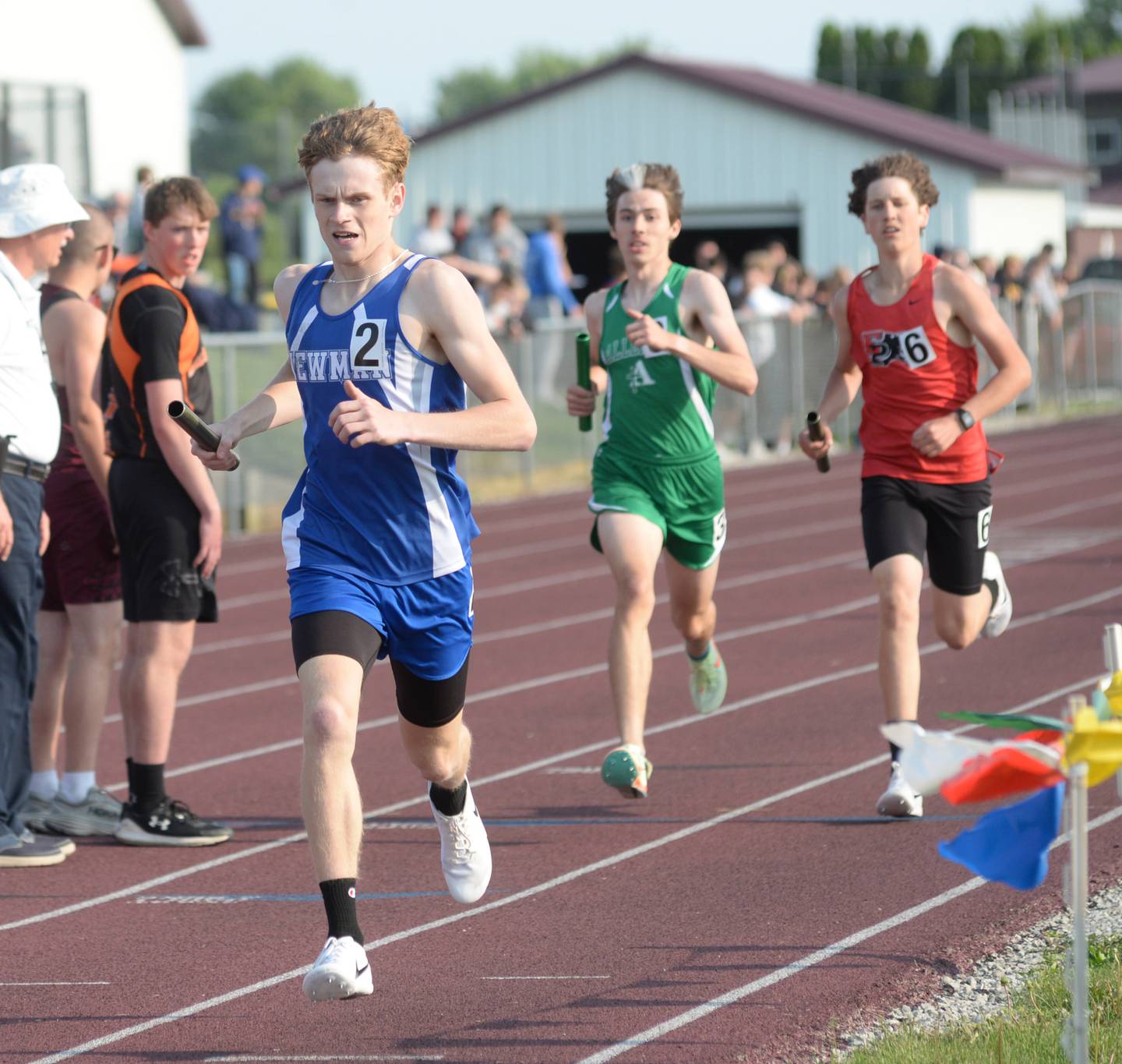 Milledgeville-Eastland's Kacen Johnson won the sectional title in the 110 hurdles (15.36 seconds) and the 300 hurdles (42.00), and advanced on time with fourth-place finishes in both the 4x100 relay (44.08) and 4x200 (1:32.74). Kolton Wilk, Draven Zier and Bryce Aude also ran in both sprint relays.
"4x1 felt pretty good. We had clean handoffs. We were pretty fast, so I'm glad we got [to state] on our time. That was our goal at the beginning of the year," Johnson said. "And then the 110 hurdles, really, I've been doing pretty good all year. I kind of was confident that I'd qualify, but I was looking for a PR. ... I was really happy with qualifying for both."
Wilk won the long jump title with a leap of 6.37 meters, and Parker Krogman ran a 42.23 to advance as the second-place finisher in the 300 hurdles. The Missiles also advanced in the 4x400 as the 10th and final qualifier in 3:34.70 with Wilk, Konner Johnson, Krogman and Zier.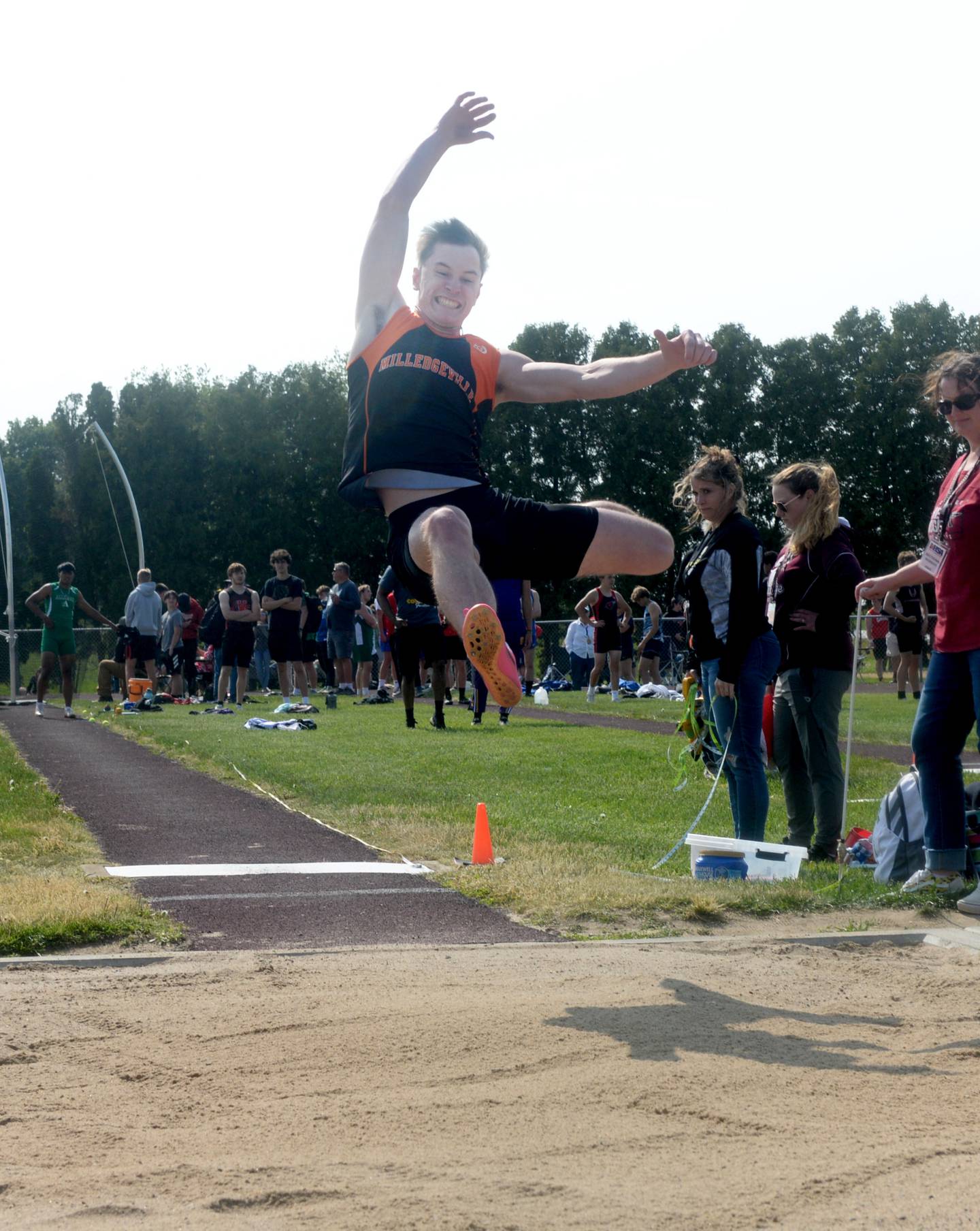 Morrison freshman Brady Anderson qualified in the 100 (2nd, 11.06), and the 4x100 (3rd, 43.86), 4x200 (5th, 1:32.77) and 4x400 relays (1st, 3:27.12).
"I felt pretty good. I think we can run better in the 4x2, though," Anderson said. "It's nothing too crazy, it's just at state, it depends on how you perform down there."
Levi and Zach Milder both ran in the 4x100 and 4x200; Chase Newman was the fourth runner in the 4x100, and Logan Baker in the 4x200. Zach Milder, Baker and Newman joined Anderson in the sectional championship 4x400.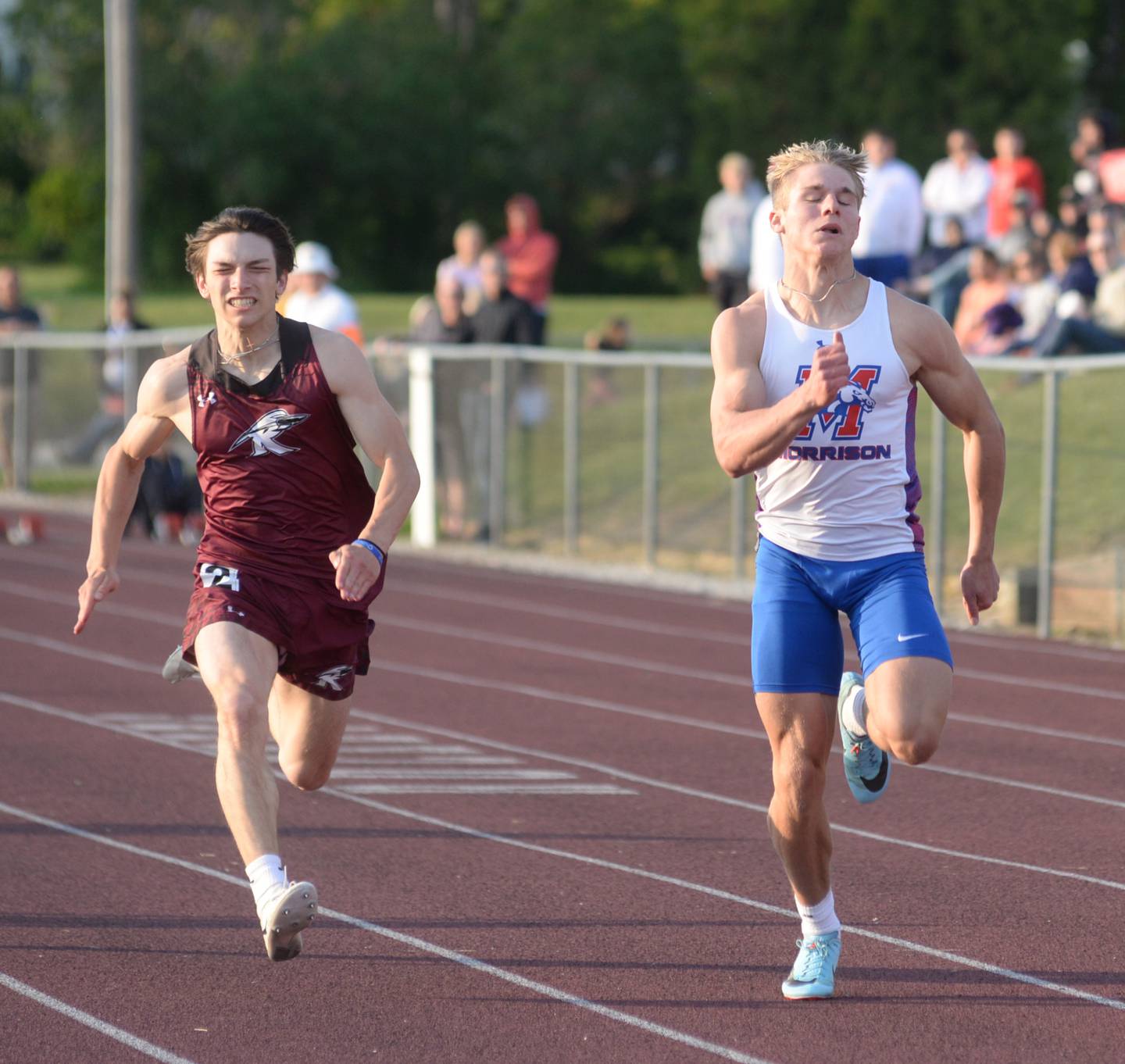 Fulton's Daken Pessman fought through an injury to qualify on distance in the triple jump, recording a fourth-place leap of 12.67 meters. Steamers teammate Braiden Damhoff qualified in shot put on distance with a third-place throw of 15.07 meters.
"I came in hurt, I hurt my heel in conference last week, so I was kind of hoping just to make the distance," Pessman said. "My first jump I didn't get it, and I hurt my heel again. So I iced it and gave it my all and qualified."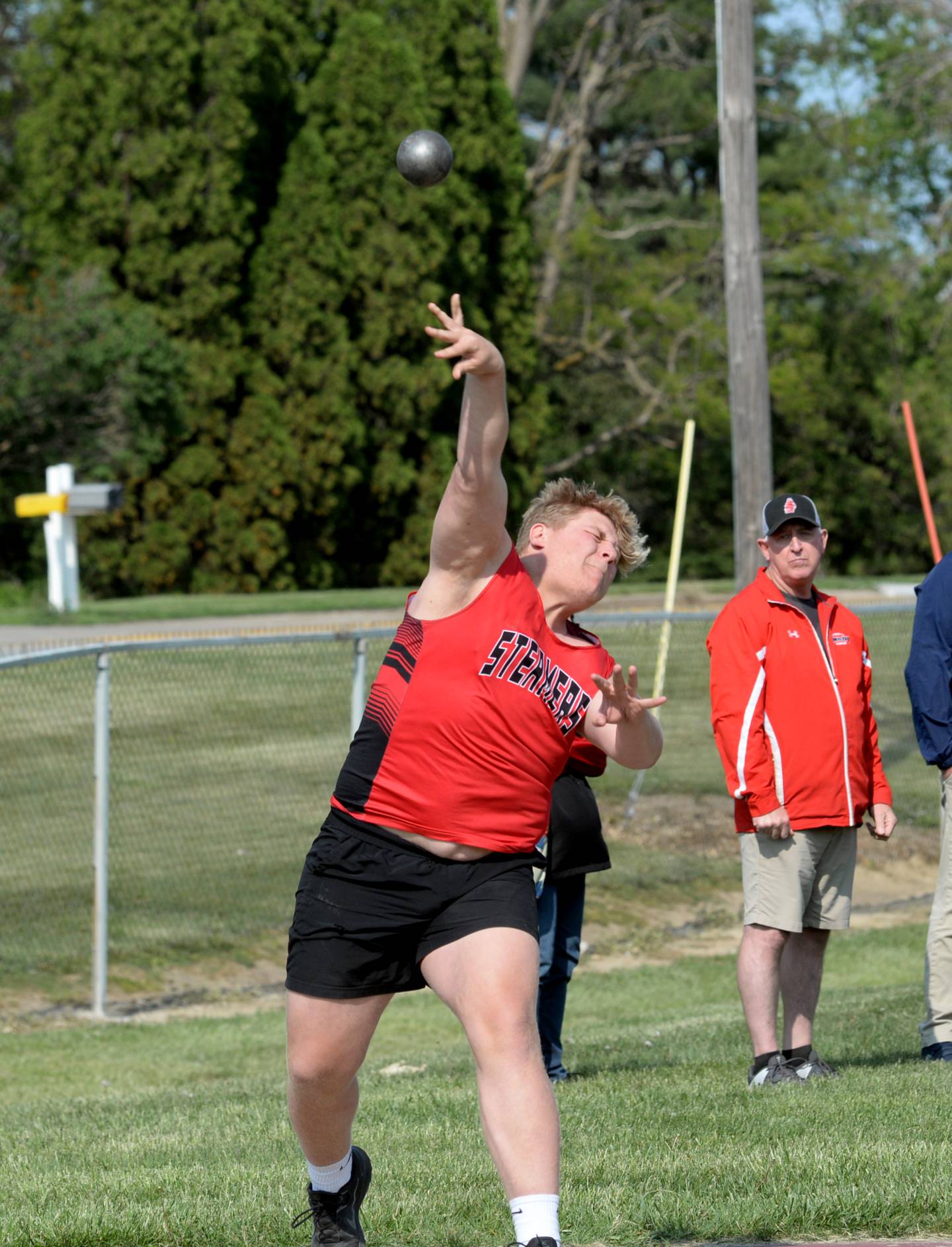 Forreston-Polo senior Jace Engbert qualified on time in the 110 hurdles (16.19) in his first year of high school track & field.
"I'm very surprised, because this is my first year of track & field and I'm a senior. The last time I did hurdles, I was in eighth grade, so I'm just really surprised that I made it this year," Engbert said. "I was ranked third [coming in], and I got third, so I was kind of expecting to get third, but I was not expecting to drop almost a half a second off my time."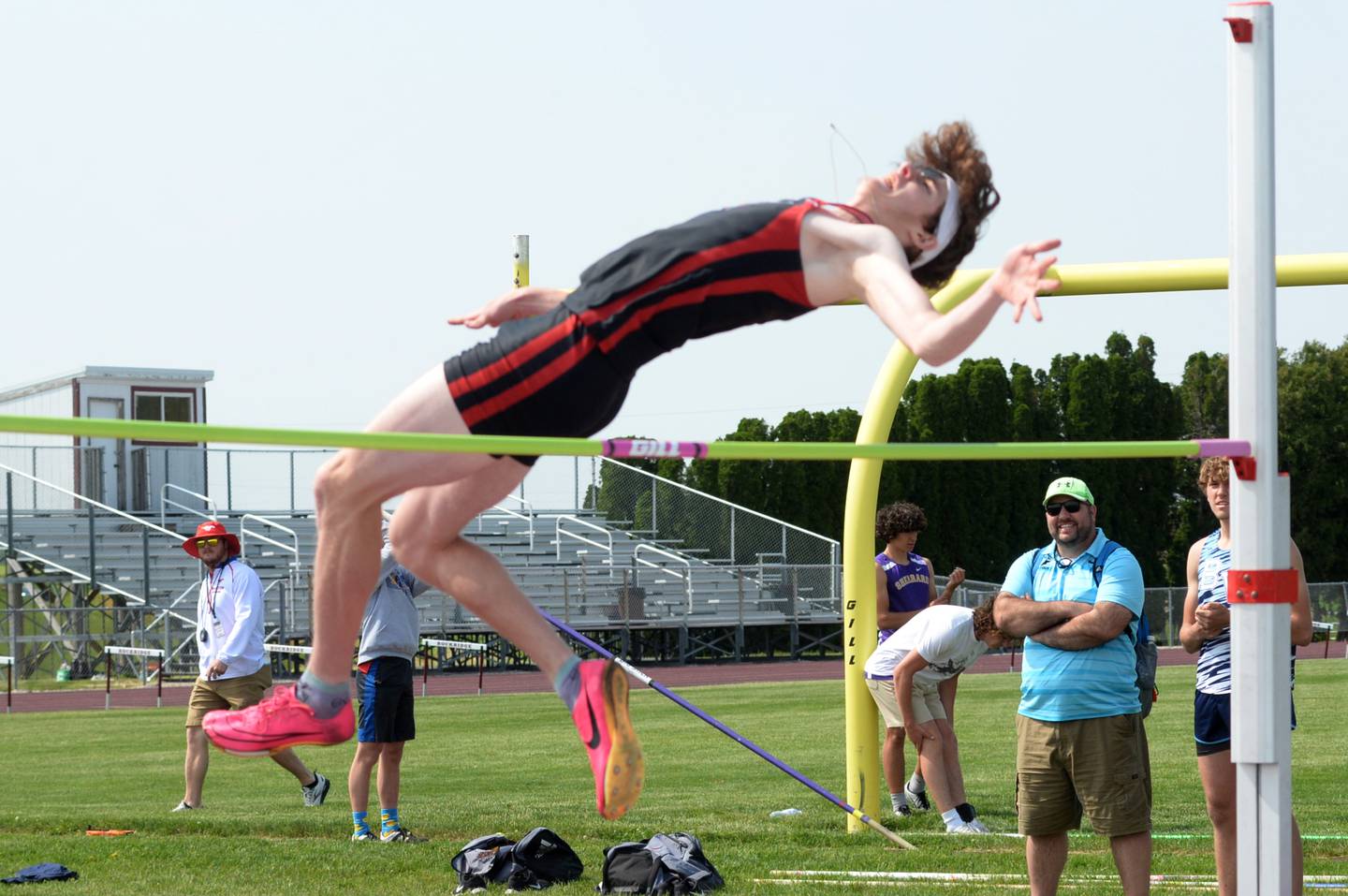 Forreston-Polo's Michael Taylor won the sectional title in the high jump, clearing 1.9 meters and he teamed with De'Angelo Fernandez, McKeon Crase and Noah Dewey to win the 4x200 (1:30.79) and take second in the 4x100 (43.44). The Cardinals also qualified with a third-place finish in the 4x400 (3:27.12) with Crase, Brock Soltow, Micah Nelson and Dewey.
Erie-Prophetstown's Parker Holdorf won the sectional title in the pole vault, clearing 4.12 meters, and teammate Caleb Eads advanced on distance in the triple jump, recording a third-place leap of 12.79 meters. E-P's Charlie Link, Lucas Dreisbach, Wyatt Beck and Gus Schultz qualified on time in the 4x800 with a fourth-place run of 8:31.50. Link narrowly missed a state berth in the 1,600, finishing fourth in 4:39.83, just .03 seconds off state-qualifying time.
The Amboy co-op placed sixth in the 4x400 to join the throng of teams advancing to Charleston in that race. Joel Billhorn, Zane Muprhy, Caleb Yonos and Kyler McNinch clocked a 3:32.73.
Bureau Valley's Elijah House won the 400 meters in 51.46 and took second in the 800 meters in 2:00.45. BV's Adrian Gallardo, Benjamin Roth, Maddox Moore and House advanced on time in the 4x800 relay, clocking a third-place time of 8:27.50, while Dylan Macklin, Roth, Gallardo and House took ninth in the 4x400 in a qualifying time of 3:34.68.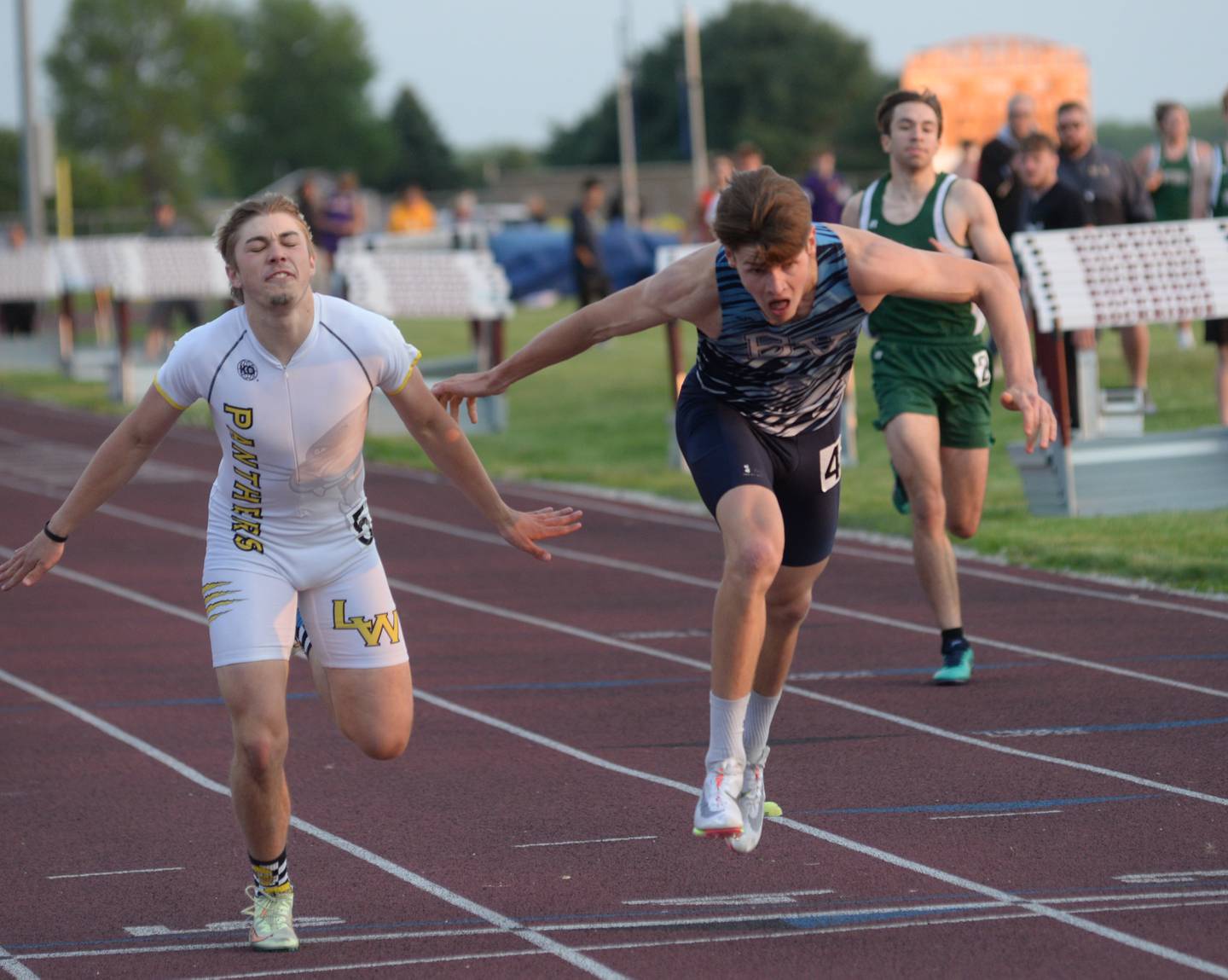 Riverdale's Tommy Murray won sectional titles in the 1,600 (4:29.46) and 3,200 (9:36.09), and also teamed with Brody Clark, Landis Musser and Peyton Sand to finish fourth in the 4x400 (3:31.86). Sand was second in the 3,200 (10:10.67), and Musser made it on time with a third-place finish in the 1,600 (4:39.50). William Leighty also qualified in multiple events for the Rams, winning the sectional title in the triple jump (12.90 meters), taking second in the 110 hurdles (15.76 seconds), and finishing fourth in the 300 hurdles (43.10) under the state cut.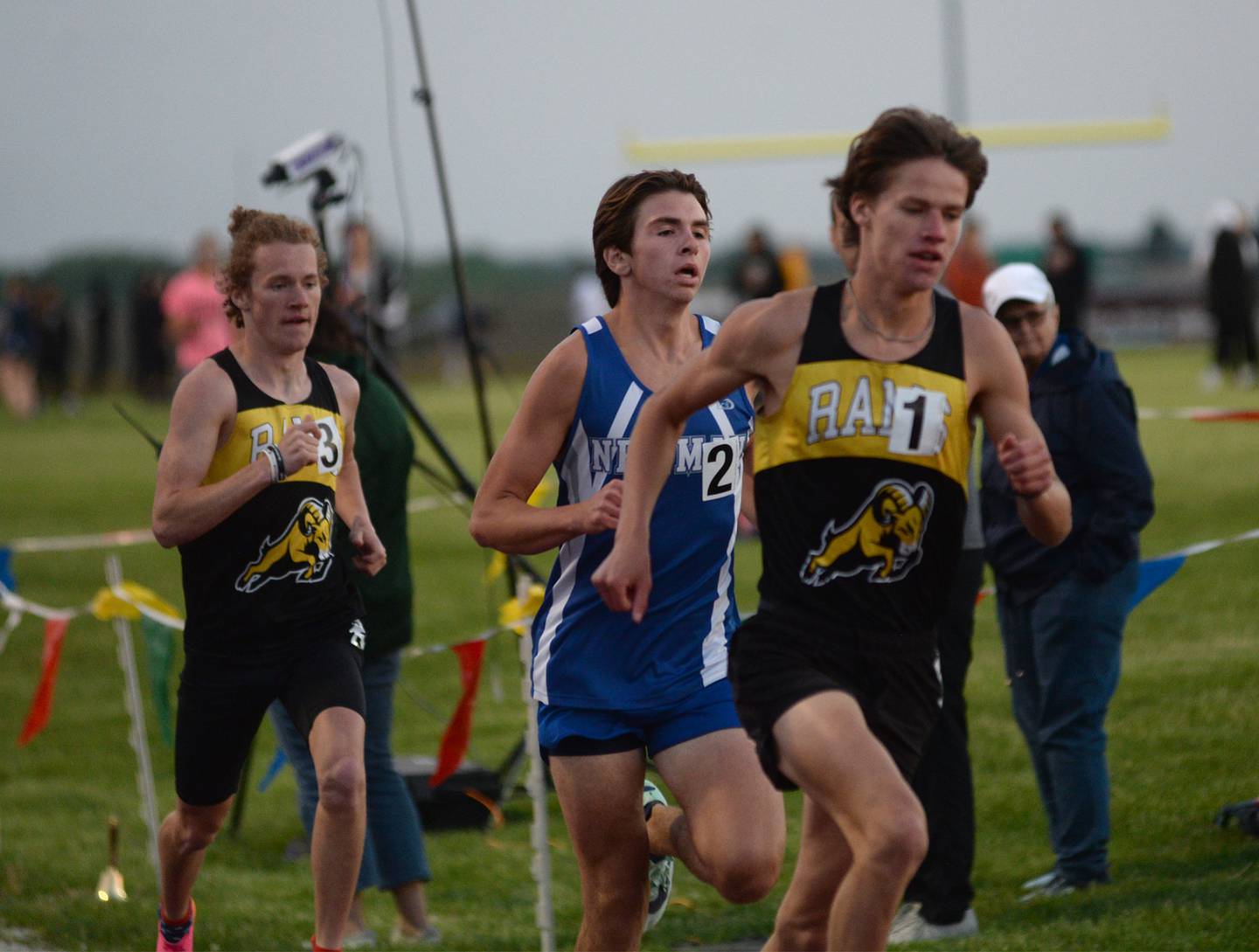 1A Oregon Sectional: Oregon's Aidan Guida was the lone local state qualifier at Landers-Loomis Field, as he finished second in the 200 in 23.28 seconds. He just missed in the 100, finishing third in 11.43, .08 seconds off of the state qualifying time.