ROCK FALLS – One year after Kyle Wolfe's 78 led Newman to the team title at Rock River Golf and Pool in the Rocket Invitational, Wolfe carded a 76 to once again lead Newman to the team title in the small-school division at Saturday's 21st annual Rocket Invitational.
The Comets as a team shot a 336, the low score among the nine teams in the small-school division, beating St. Bede by 10 strokes and third-place Hall by 11.
Wolfe was consistent, shooting 38 on the front nine and 38 on the back nine. He started his back-nine run with a birdie on No. 10.
Wolfe said the round came about in large part because of his short game.
"I didn't hit many greens in regulation today, but I was up-and-down a ton," he said. "I putted well, so it was my short game, right around the greens."
Hall had the low individual, as Landon Plym shot a 74 to beat Wolfe by two strokes.
In addition to the 76 from Wolfe, the Comets got an 85 from Logan Palmer, an 86 from Ty Brockman, an 89 from Carson Palmer, a 116 from Ashley Wierman, and a 131 from Grant Koerner.
"We played good as a team," Wolfe said. "We practice every day, and people are getting better. We came out here and showed what we can do."
Bureau Valley finished fourth, with Seth Spratt's 86 and Bryson Smith's 88 leading the way to a 360.
Forreston shot a 453, led by a 107 from Kaden Ganz.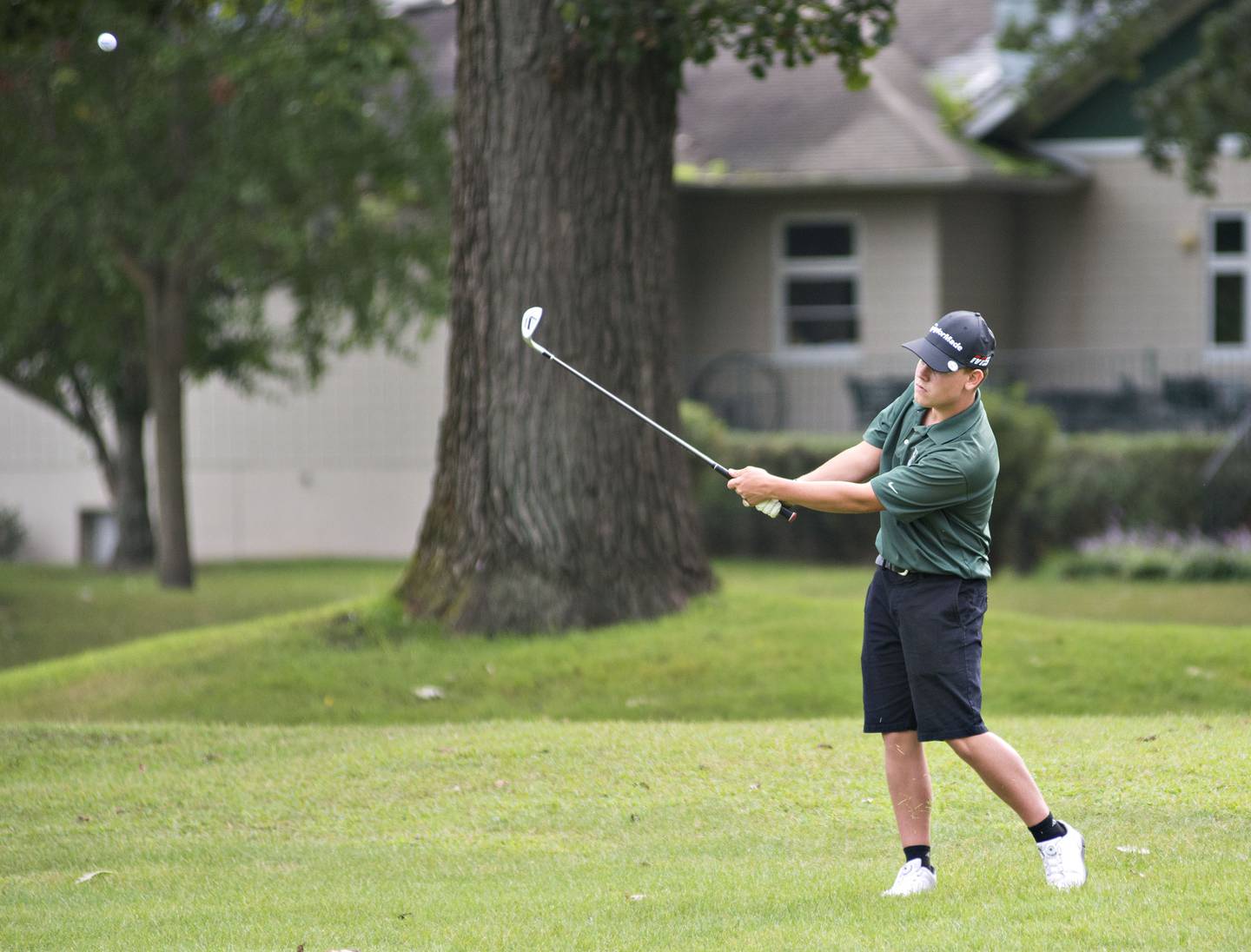 The host Rockets fired a 423, with a 103 from Ben Folgers and a 104 from Colby Ward leading the way.
Of the six schools in the big-school division, Geneseo had the low with a 321. Woodstock's 331 was good for second and Sycamore was third with a 344.
The Leafs had the three low individual scores in the division, with Bryson Vanhoutte shooting a 75, Hayden Moore and Mason Steinert matching 78s.
Dixon shot a 347 to place fourth in the division, paced by a fifth-place 81 from Steven Kitzman, who played the front nine in 41 and the back in 40.
"I feel like I played pretty good for me," he said. "An 81 is good for me. I had a lot of nice shots that hit the green on my approach shots, so that makes the game a lot easier when that goes well.
"Putting-wise, I think I two-putted every hole. I one-putted a couple, but only had one three-putt on the day, so that's always a plus. I felt good."
Alex Hartman was not far behind his Dukes teammate, shooting an 83. Grant Jacobs carded a 91, Mason Weigle shot a 92, Ben Oros shot a 101, and Jayce Kastner shot a 109.
"I think a lot of us had good rounds," Kitzman said. "We're pretty young on varsity. Dixon shot well. We beat our goal for what we were going for as a team score."
Sterling was fifth as a team in the division with a 352. Dale Guerrieri led the way with an 84, shooting 41 on the front nine and 43 on the back.
"I'm happy about that. It could have been better," Guerrieri said. "I was hoping to go a little lower, but a couple shots didn't go my way. It could have been a lot worse."
Carter Morris shot an 87, Cam O'Brien shot an 88, Braden Hartman shot a 93, Cale Cushman had a 99, and Mason Hubbard added a 100.