OREGON – Opening the season with four new starters, Newman got off to a bit of a slow start. But once the veterans returned, things calmed down and the Comets found their rhythm.
Coach Ray Sharp sat a few of his seniors for the first eight minutes Monday night, and the move seemed to light a fire under them. Newman turned a five-point deficit into a two-point lead by halftime, and went on to defeat North Boone 62-50 in an Oregon Thanksgiving Tournament game.
[ Photos from Newman vs. North Boone boys basketball ]
"Everybody was kind of in a rush. It's the first game, everybody's excited to show what they can do," senior point guard Nolan Britt said. "So getting some seniors in there who've been in tight situations like that to calm everybody down and get the pace right helped a lot."
Britt scored 18 points, nabbed eight steals and dished four assists off the bench, and junior Lucas Simpson returned from a first-quarter smack in the face that caused a bloody and bruised lip to score 13 of his 18 points in the second half to go with six rebounds, four steals and a blocked shot as that duo sparked a third-quarter surge.
Leading 37-33 with 5:58 left in the period, Britt hit a 3-pointer and then found Simpson under the basket on a pretty drive-and-dish play on consecutive possessions to ignite a 14-0 run over the next four-and-a-half minutes as the Comets (1-0) built an 18-point margin.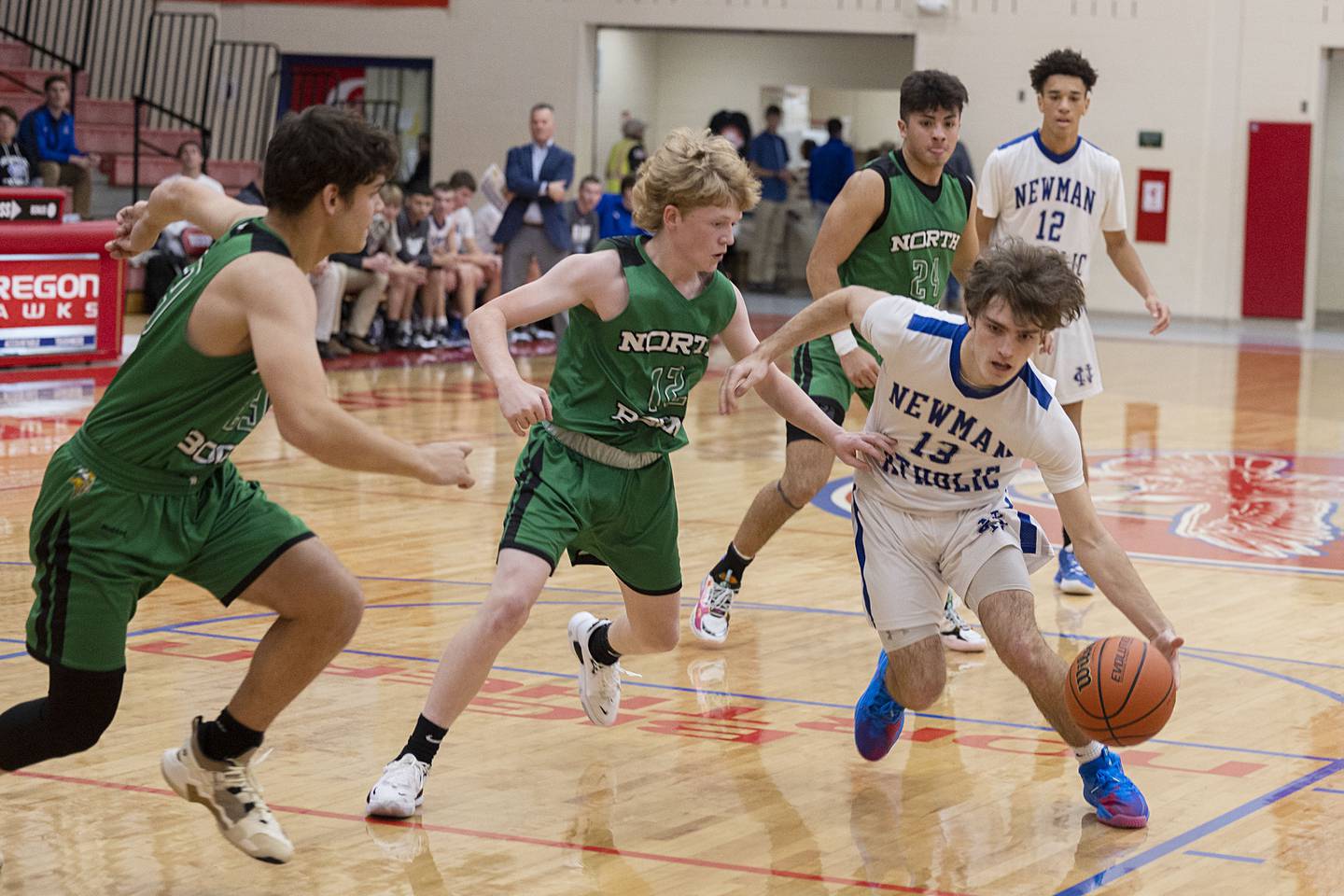 Simpson scored two more baskets inside, then found Britt for a fast-break layup before Britt knocked down another 3 for a 51-33 lead with 1:21 left in the third.
"Since I went out in the first quarter with a lip injury, plus some of the starters had to sit for the first first quarter, we weren't ready and didn't have enough energy early," Simpson said. "So the third quarter, we came out firing, because we knew we had to win this game to get off to a good start."
North Boone answered with a 15-2 run over the next five minutes, and a drive down the lane then a 3 by Zack Topping on consecutive possessions cut the Newman lead to 53-48 with 3:59 left in the fourth quarter.
But Simpson took a pass in rhythm from Ayden Batten and nailed a 3, then senior Gabe Padilla hit a 3 of his own a couple of possessions later to put the game away.
"We have shooters everywhere all over the court, so it's hard to guard them all at once," Britt said. "When somebody starts heating up and the defense focuses on them, we've got somebody else who can step up and make shots too."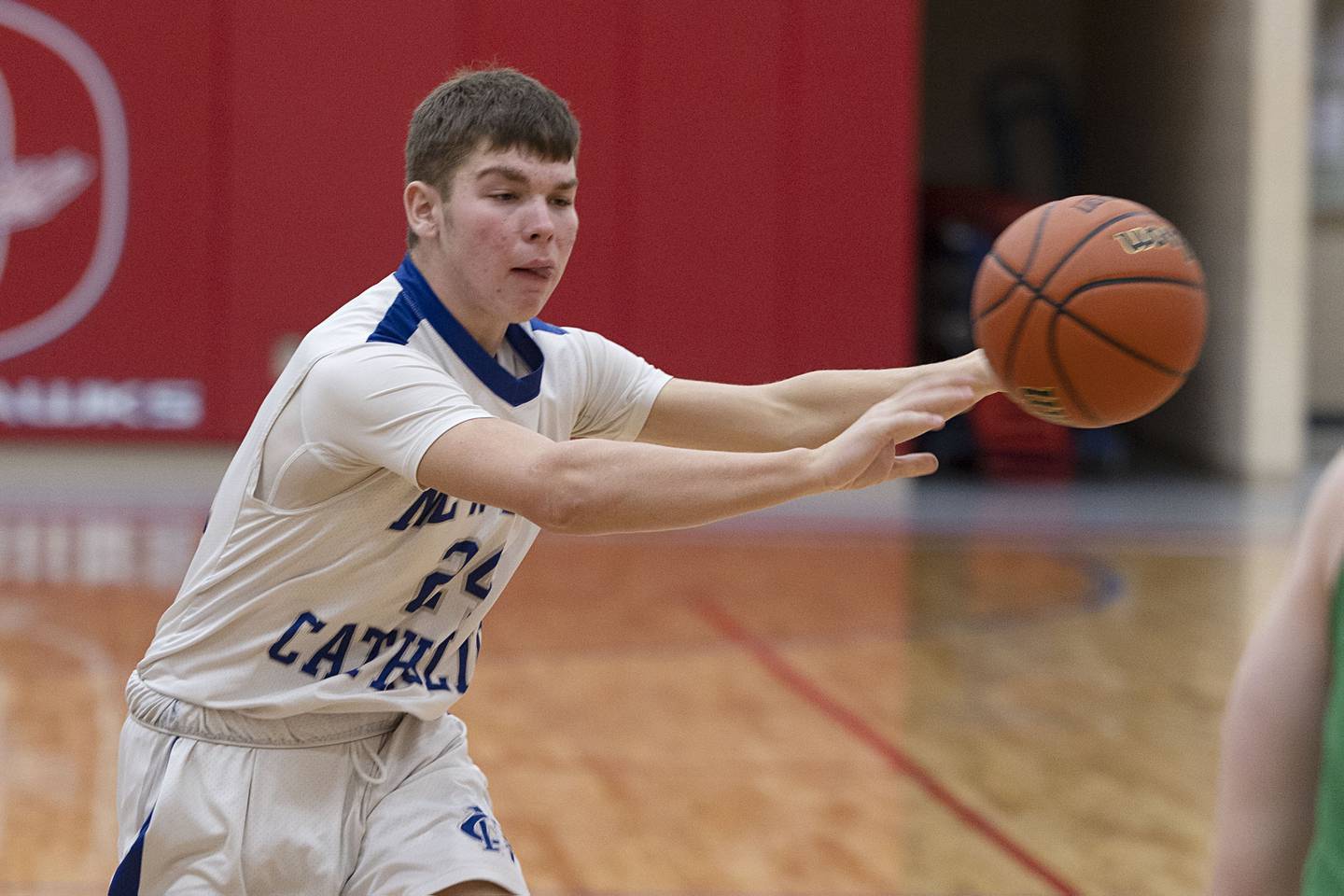 Newman's zone defense played a big part in the outcome, as the Comets nabbed 19 steals and forced 27 North Boone turnovers – 26 in the final three quarters – to find some easy offense and turn the momentum of the game.
"Our 1-3-1 helps us a lot," Simpson said. "Not a lot of teams play against it in practice, so they don't know what to do. And when they play against ours in a game, we can force turnovers and create offense."
"We came out of halftime putting a lot of pressure on them," Britt added. "They didn't like the trap – most teams don't – so just putting ball pressure and stealing the skip passes really turned things around."
Early on, it was senior Tyler Garman, juniors Isaiah Williams, Sam Francque and Lucas Kolb, sophomore Cody McBride and freshman George Jungerman holding down the fort until more experienced reinforcements arrived in the second quarter, and Sharp was pleased with the effort he got from that group.
Trailing 12-5 with 3:24 left in the opening quarter, McBride hit a 3-pointer, then Kolb knocked down a jumper and Williams scored on an inbounds play to tie the game 12-12 just two minutes later.
Jungerman was a force in the second quarter, as he filled in for Simpson and scored a pair of baskets inside before knocking down a 3 with 3:11 left to get Newman within a point at 23-22. Padilla followed with a 3 the next possession to make it 25-23 Comets, and they never trailed again.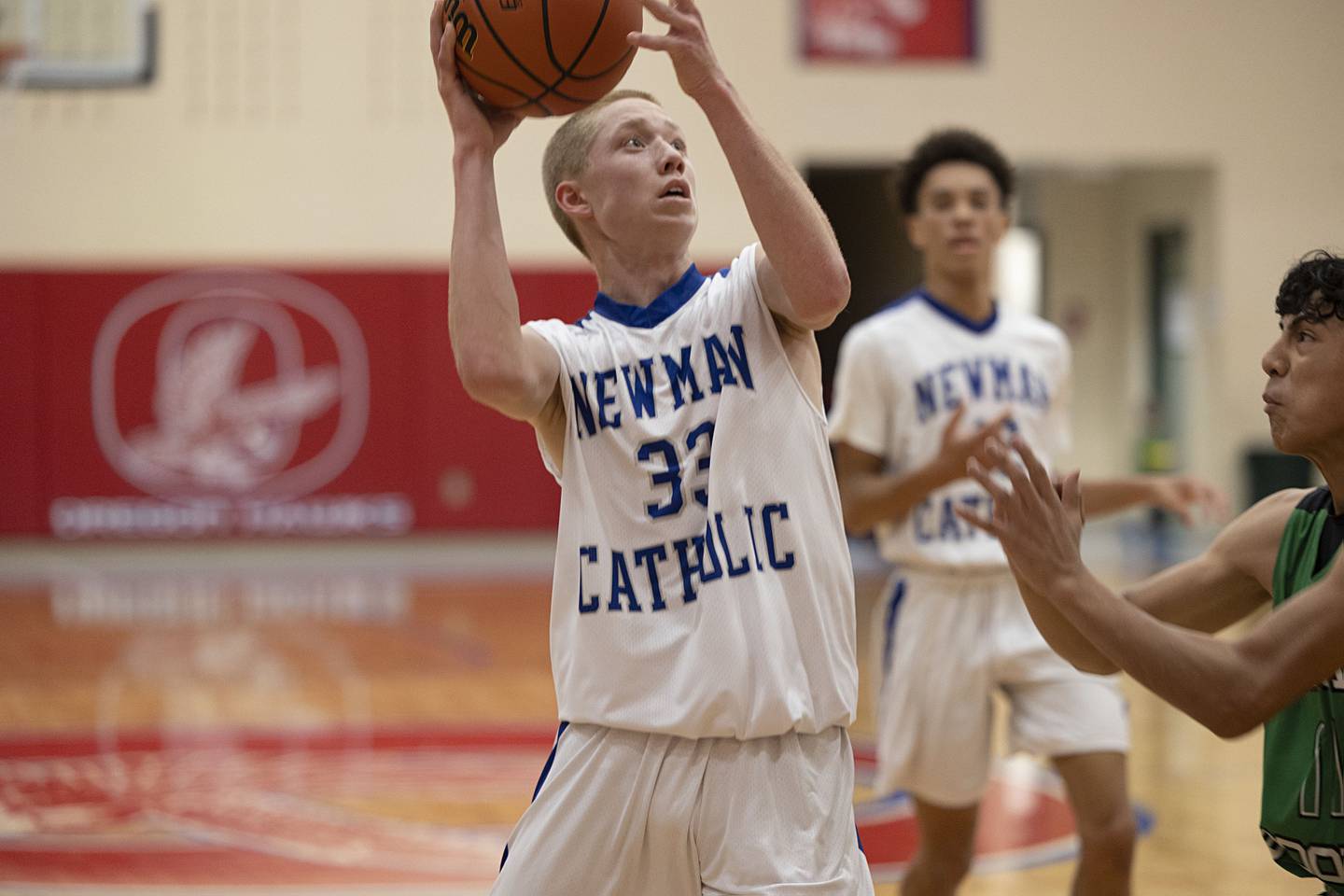 Britt hit a 3 in the final minute of the second quarter, then Batten nailed one 20 seconds into the third quarter to push the margin to 33-28.
"Hitting those shots helped us to get in the groove," Simpson said. "We were behind, and we were able to hit a couple 3s to go ahead, and keep that momentum throughout the game."
Newman hit 11 3-pointers in the game, with six different players connecting from deep; Britt led the way with four. That accounted for more than half of the Comets' points, and made all the difference, according to North Boone coach Beth Doetch.
"The 3-point shot kind of killed us," she said. "We had them down five, and we just kind of let them creep back in. We got back in it there in the second half, but a couple of untimely turnovers and timely 3-point shots by them stopped our momentum.
"We have a lot of guys that did not play varsity last year that are learning to play together. We've got to learn to win, we've got to learn to seal the deal."
Jungerman had seven points, five rebounds, two assists and two steals, and Padilla finished with seven points, four rebounds and two assists for Newman. Williams had four points, four rebounds and a block, and McBride and Batten both hit 3s; Batten also dished two assists and nabbed a pair of steals. McBride and Garman dished two assists each as the Comets assisted on 18 of their 22 baskets.
Chris Doetch had 16 points and 17 rebounds to lead the Vikings (0-1), and Quinn Danner hit three 3s for nine points. Topping and Jack Lipinsky each added eight points, and Adrien Raabe chipped in four points, five rebounds, two assists and two steals. JJ Ford dished four assists for North Boone.