OREGON – The combination of stellar competition, ideal weather, and running under the lights at Landers-Loomis Field buoyed Forreston-Polo, Milledgeville-Eastland and Newman to state-medal worthy performances at the Oregon Art Carlson Hawk Classic.
The Newman 4x800-meter relay of Wyatt Widolff, Ken Boesen, Lucas Schaab and Lucas Simpson started the running events off with a winning time of 8:19, the fourth best in 1A this season.
"We're way ahead of last year when we went down state [placing fourth in 8:09]," Comet distance coach Pat Warkins said. "It's good to see the times come down like this."
Schaab came back later to place second in the 1,600 meters with a time of 4:38.
It was Forreston-Polo capping off the meet in resounding fashion with a 3:30.40 in the 4x400 relay, besting favored Rockford Christian (3:31.77). McKeon Crase, in only his third-ever 400 meters, opened up with a 50-second lap to give F-P a 15-meter lead on the field.
With RC and star anchor Bjorn Carlson giving chase, Brock Soltow, Micah Nelson and Noah Dewey were able to hold on for the win.
"It's been a wave of emotions all night. To end it that way was pretty special," F-P coach Tony Hardin said.
In a race featuring three of the top six 4x100 relays in the state, Forreston-Polo (De'Angelo Fernandez, Michael Taylor, Crase and Dewey) took third behind Winnebago and Lena-Winslow, clocking a 43.73.
"That's faster than what we did two years ago in placing third in the state," an excited Hardin said.
Taylor provided 10 team points with a first-place high jump of 6 feet.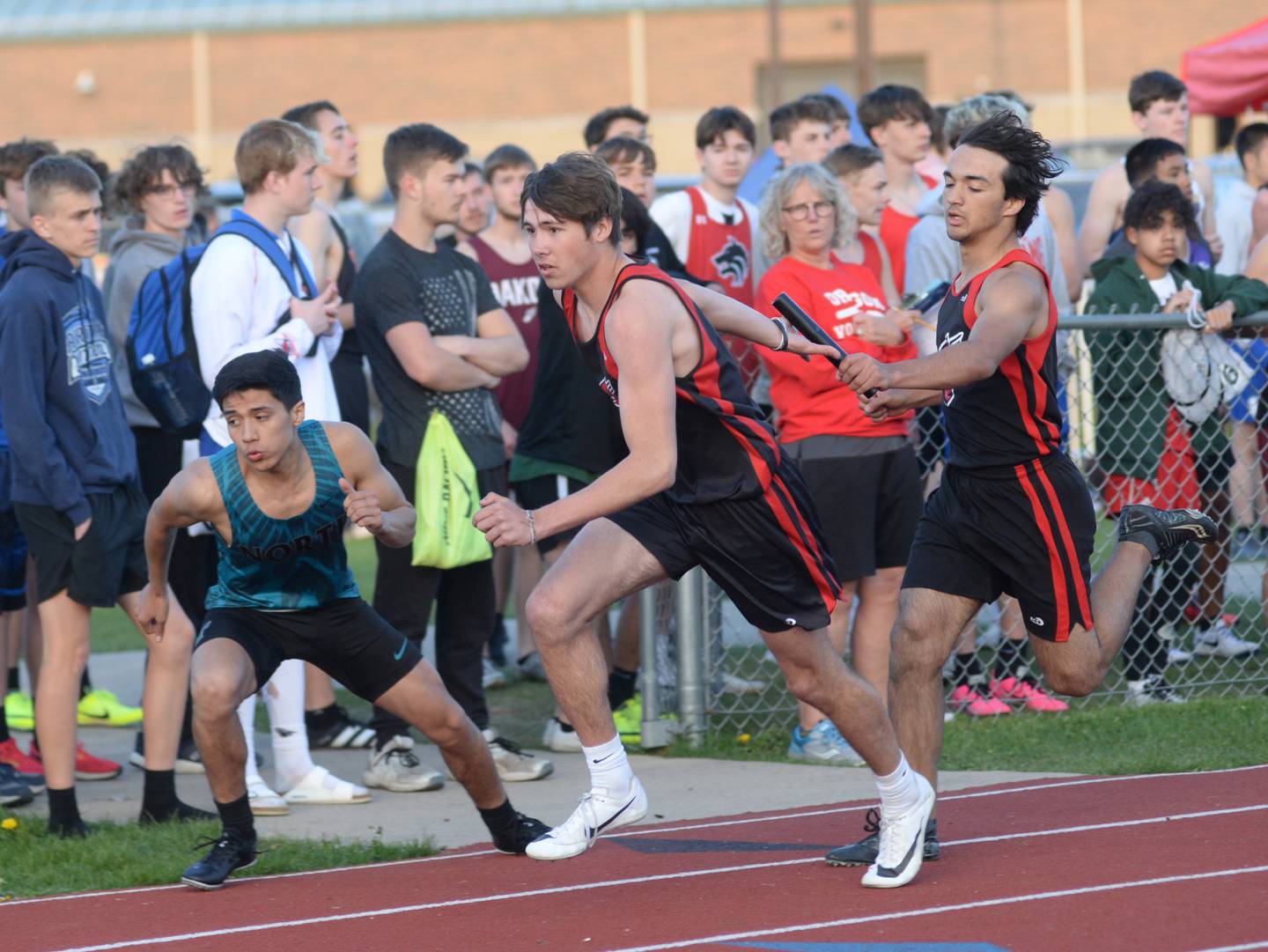 The low point of the meet for the team came in the 300 hurdles, when Dane Setterstrom suffered a broken arm falling over a hurdle. An ambulance had to be called, delaying the action for 15 minutes.
"What a shame, and what a good kid he is," Hardin said. "He came down trying brace his fall and definitely broke it."
Winnebago won the meet with 99 points, with Class 2A Woodstock (73) and Rockford Christian (72) next. A surprise fifth-place finisher was Milledgeville-Eastland with 57 points in the 24-team field. It was their highest finish ever in a meet considered tops for small-school track & field in northern Illinois.
Leading the way were individual champs Kacen Johnson and Kolton Wilk. Both are seniors and returning state qualifiers.
Johnson had a personal best of 15.44 to win the 110 high hurdles by 10 meters, a time which would have taken fifth in the 2022 state meet. Freshman teammate Parker Krogman was third at 16.72.
"Everything felt good, and I was clean going over the hurdles. The main goal is a state medal," said Johnson, who was runner-up in the 300 hurdles at 42.47.
In the long jump, Wilk set a PR three times, going 6.36, 6.39 and 6.41 meters (21 feet). Each of those efforts would have been good for 1st, 2nd and 3rd place.
"This was a meet I had to show up for and a confidence booster for getting back to state," Wilk said.
Johnson, Wilk, Bryce Aude and Draven Zier teamed up for places in the 4x100 and 4x200 relays, with the freshman Zier also taking third in the 400 meters.
F-P and Erie-Prophetstown tied for sixth behind Milledgeville-Eastland with 53 points each. Discus champ Caleb Naftzger and distance runner Charlie Link led E-P.
"Caleb has gotten things under control in the ring," said E-P coach Jon Schlagheck of the 144-foot, 6-inch PR toss.
Link ran a leg on the fourth-place 4x800 relay, took third in the 1,600 (4:40), and edged out F-P's Nelson (2:03.17-2:03.74) for second in the 800.
Caleb Eads was second in the triple jump at 40-10, and Parker Holldorf third in the pole vault at 12-6 for E-P.
The only other area top-3 finish was Amboy's Ian Sundberg in the discus, with a throw of 132-3.
Morrison got a fourth-place finish from Brady Anderson in the 100 (11.58 seconds), and he teamed with Zach Milder, Logan Baker and Chase Newman to finish fourth in the 4x400 (3:36.82).
Evan James led Oregon with a fourth-place finish in the discus (39.19 meters).