The Sterling boys basketball team led late in overtime on the road Friday night, but Rock Island's Marcus McQueen Jr. banked in an off-balance 3-pointer at the buzzer to send the Rocks to a 64-63 win in their Western Big 6 game.
Trailing 51-37 with just over five minutes to go in regulation, the Golden Warriors (14-5, 4-3 WB6) closed the fourth quarter with a 20-6 run to force overtime.
In the extra period, Sterling led 63-61 with 2.3 seconds left, but Dezmund Jackson rebounded a missed free throw and threw a long pass up the court to McQueen, who used the backboard to hit the deep 3 from the right wing while fading to his right to avoid a defender for his only basket of the game.
Kaedon Phillips led Sterling with 19 points, Andre Klaver scored 16, and Lucas Austin added 14 points and eight rebounds; they each hit two 3-pointers. Carter Chance scored seven points and Kael Ryan finished with five for the Warriors, who went on a 14-0 run in the second quarter to get within 25-24 at halftime.
Jackson hit five 3s and led Rock Island (13-6, 4-3) with 19 points, with KJ LaMonte adding 18 points and Cameron Atkinson scoring 12.
Dixon 58, Sherrard 50: The Dukes picked up a nonconference win on the road, taking a 29-20 lead into halftime and a 47-27 edge into the fourth quarter.
Cullen Shaner hit four 3-pointers and finished with 16 points to lead a balanced attack for Dixon (14-6). Austin Hicks had 15 points, Darius Harrington added 13, and Wyatt Wetzell and Bryce Feit both scored six points.
Holland Anderson had a game-high 24 points for Sherrard.
Rock Falls 71, Mendota 58: The Rockets rallied from a 37-28 halftime deficit with runs of 18-8 in the third quarter and 25-13 in the fourth for a nonconference win on the road.
Kuitim Heald had 19 points and Aydan Goff scored 17 for Rock Falls (8-9); both players hit three 3-pointers. Gavin Sands added a pair of 3s and 12 points, while Chevy Bates had 10 points and Diego Hernandez chipped in nine.
Isaac Guzman led Mendota with 18 points, Izaiah Nanez hit three 3s and finished with 15 points, and Rafa Romero scored 14 points.
Rockridge 63, Morrison 29: The Mustangs trailed 19-7 after the first quarter, then were outscored 40-20 over the next two periods in a Three Rivers West loss at home.
Morrison was led by Chase Newman's 15 points. DaeShaun McQueen, Carson Strating and Brenden Martin added four points each for the Mustangs.
Leaders for Rockridge were Landon Bull with 21 points and Jase Whiteman with 18 points.
Ashton-Franklin Center 63, Amboy 47: The Raiders raced to a 20-11 first-quarter lead, then put away the Clippers with a 21-14 fourth-quarter run.
Carson Rueff scored 19 points, with 12 in the second half to lead AFC. Kaleb Goldman had 12 points, Noah Danielson added 11 points, and Lane Koning chipped in 10 points for the Raiders.
Eddie Jones scored 22 points to pace Amboy, while Troy Anderson had 11 points and Wes Wilson chipped in nine points.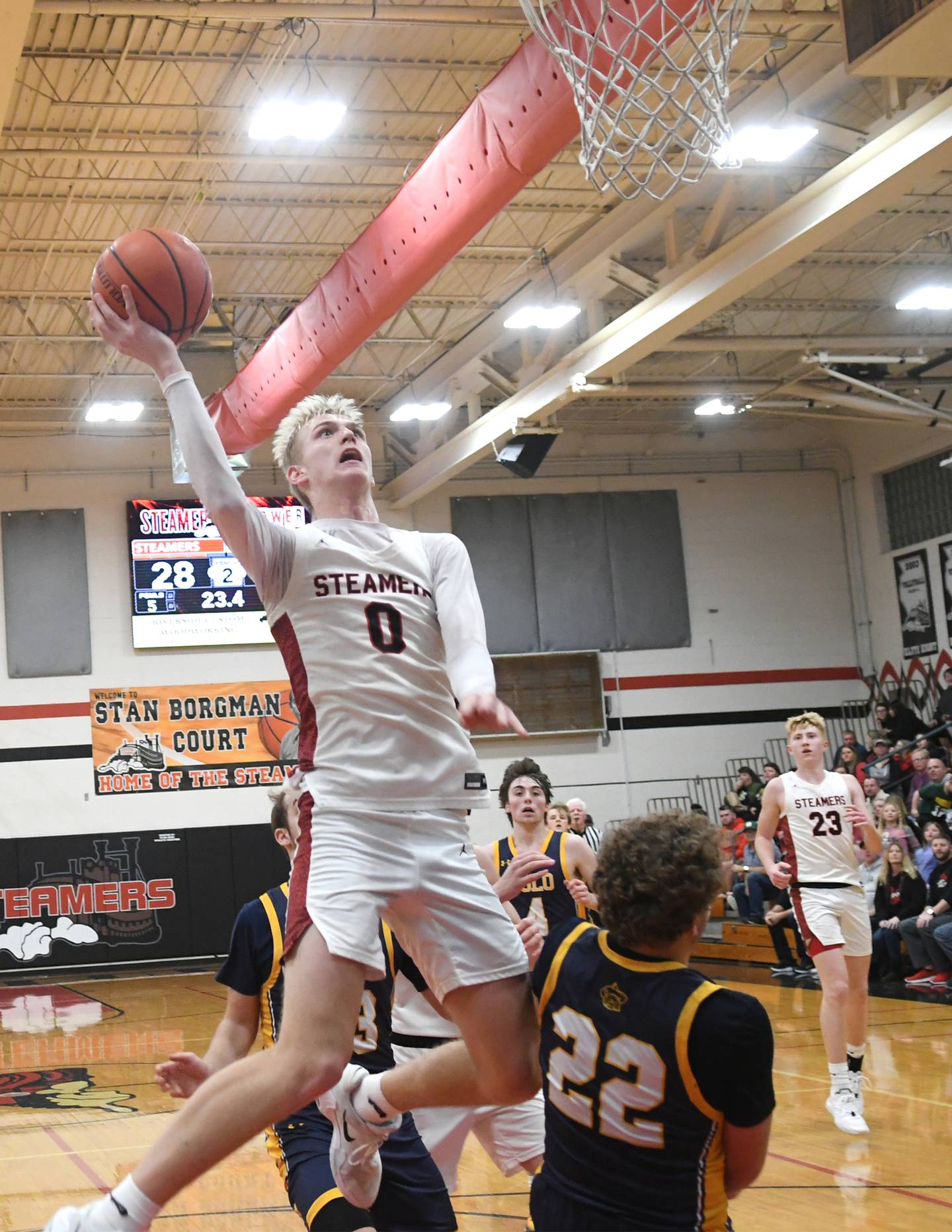 Fulton 50, Polo 36: The Marcos jumped ahead 12-10 in the first quarter behind six points from both Brock Soltow and Carson Jones, but the Steamers rallied to a 12-point halftime lead, then outscored their NUIC South opponent 17-12 in the fourth quarter to secure their seventh win in a row.
Ethan Price led Fulton with 16 points, Kole Schipper scored 12 points, Baylen Damhoff had nine points, and Dom Kramer added eight points.
Leading Polo were Soltow with 14 points, Jones with 11 points, and Carter Merdian with seven points.
Dakota 36, Milledgeville 34: The Missiles trailed 34-26 after the third quarter, and a late rally fell short in an NUIC crossover loss at home.
Connor Nye led Milledgeville with 10 points, while Kacen Johnson added seven points.
Kaidyn Niedermeyer scored 16 points to lead Dakota.
Girls basketball
Rock Falls 69, North Boone 29: The Rockets rolled to a Big Northern win on the road, leading 34-14 by halftime before outscoring the Vikings 35-15 in the second half.
Claire Bickett scored 16 points, and Brooke Howard and Emily Lego added 13 points apiece for Rock Falls (11-11, 2-2 BNC), as nine different players scored. Rylee Johnson had 11 points, and Elizabeth Lombardo added six points on a pair of 3-pointers.
Abigael Haacker had 12 points to pace North Boone.
Wrestling
Oregon 55, Newman 20: The Hawks built a big lead, then pulled away at the end to win a nonconference dual at the Blackhawk Center.
Oregon led 21-0 after Seth Rote's 10-4 decision at 195 pounds and three Newman forfeits. The Comets got within 31-20 after a pin in 1:05 by Daniel Kelly at 145, but the Hawks won the final four bouts.
Grant Stender (152), Anthony Bauer (160), Landyn Windham (170) and Quentin Berry (182) all notched pins for Oregon; Stender and Berry both stuck their opponents in less than a minute. Ethan Mowry won a 14-3 major decision at 132.
Zhyler Hansen (113) added a pin for Newman, with Briar Ivey (13-1 at 120) and Carter Rude (12-3 at 138) both winning major decisions.