The Morrison boys basketball team built a big lead and cruised past Wethersfield for a 69-45 nonconference win Friday night at home.
The Mustangs raced to a 47-24 halftime lead, then outscored the Flying Geese 22-21 in the second half to secure the victory.
Chase Newman led Morrison with 20 points, Danny Mouw scored 19 points, and Brenden Martin added 13 points. Mouw hit five 3s, including four in the first quarter.
Arthur Pratt and Andrew Torres paced Wethersfield with 13 and 10 points.
Oregon 57, Indian Creek 35: The Hawks rolled past the Timberwolves in a nonconference road game, notching their fourth straight victory.
Milledgeville 49, Stockton 40: The Missiles erased a six-point halftime deficit and secured a comeback win, using a 34-19 second-half run to top the visiting Blackhawks.
Kacen Johnson scored 12 points in a 20-point fourth-quarter for Milledgeville. He finished with a game-high 18 points, and went 6 for 8 from the free-throw line. Connor Nye added 16 points for the Missiles.
Dustin Oppold and Alex Altfillisch paced Stockton with 10 points each.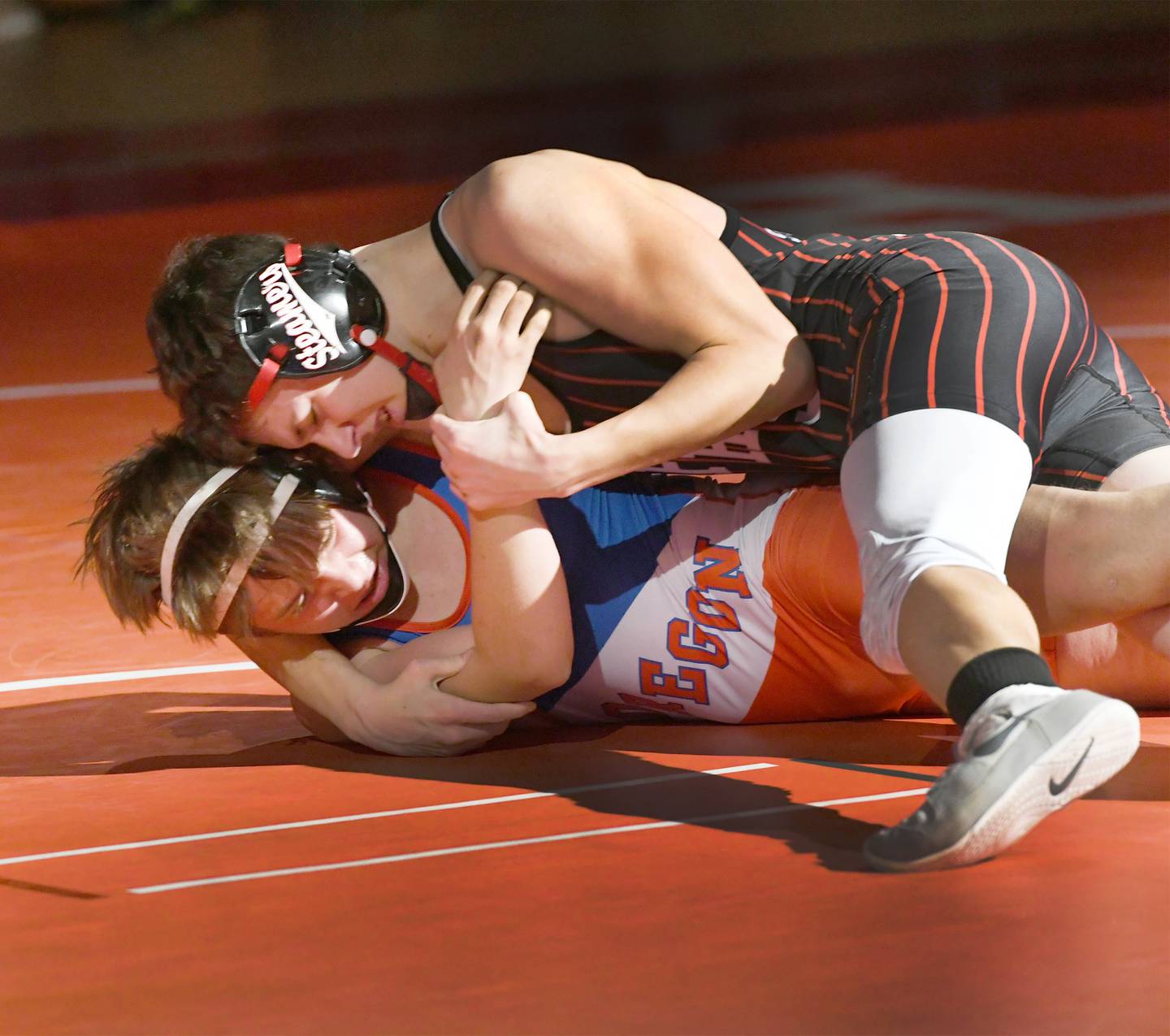 Wrestling
Oregon sweeps at home: The Hawks defeated Polo 66-12 and Fulton 54-22 in a pair of duals at the Blackhawk Center.
Oregon won seven matches by pin and four by forfeit against the Marcos. Colton Flaharty (120) pinned Christian Ryia in 1:19, Preston LaBay (132) pinned Jaidynn McKinney in 3:12, Seth Stevens (145) pinned Chase Bremmer in 2:56, Grant Stender (152) pinned Draven Zier in 49 seconds, Anthony Bauer (170) pinned Waylon Harris in 2:22, Gabe Eckerd (182) pinned Tristan Green in 1:32, and Josh Crandall (220) pinned Shawn Pattan in 2:50.
Polo won two matches by decision and one by forfeit. Wyatt Doty (138) won 7-3 against Lane Halverson, and Maddux Hayden (195) defeated Collin Winterland 7-6.
Oregon also took on Fulton in a dual and won 54-22, recording six pins and receiving three forfeits.
Against Fulton, the Hawks' Owen Wynn (106) pinned Justin Heck in 37 seconds, Anna Marquardt (120) pinned Camryn Lippens in 43 seconds, Flaharty pinned Jake Pidde in 1:20, Stender (152) pinned Skylier Crooks in 3:15, Bauer pinned Conner Sheridan in 3:42, and Seth Rote (195) pinned Daniel Holman in 1:20.
The Steamers' Zane Pannell (182) pinned Eckerd in 3:09, and Braiden Damhoff (285) pinned Evan Flaharty in 39 seconds. Broden VenHuizen (132) won a 15-6 major decision over LaBay, Ben Fosdick (145) won a 7-6 decision over Stevens, and Mason Kuebel (170) won a 6-3 decision against Jackson Glendenning.