A trio of Sterling wrestlers moved on from Saturday's Class 2A United Township Regional in East Moline, with a pair of runners-up and a third-place finisher qualifying for next week's Sycamore Sectional.
Drew Kested took second at 145 pounds, falling 3-2 to Rochelle's Caleb Nadig in the title bout. Tommy Tate was runner-up at 160 pounds, losing 13-1 to Geneseo's Anthony Montez in the championship match.
Noah Davis also advanced for the Golden Warriors, defeating Rochelle's Brock Metzger in a 20-8 major decision in the third-place match at 170 pounds.
Chase Ullrich just missed out on qualifying at 182 pounds, falling 5-2 to Geneseo's Nathan McAvoy in the third-place bout.
Sterling finished sixth as a team with 64 points. Rock Island won the title with 213, and Geneseo was second with 196.5 points.
Amboy sends 2 to sectional: The Clippers had a pair of wrestlers qualify for next weekend's 2A Princeton Sectional, with a runner-up and a third-place finisher at the Sandwich Regional.
Dylan Daniels placed second at 145 pounds, losing to Sandwich's Nolan Bobee by pin in 1:31 in the title bout. Levi Near also advanced to next weekend, pinning Sandwich's Joesfh Hernandez in 2:00 in the third-place match at 120 pounds.
Amboy finished sixth as a team with 30 points. Sandwich won the title with 239.5 points, and Wheaton Academy was second with 152.
Girls bowling
Dixon wins regional title: Led by individual runner-up Tianna Bryson, the Duchesses won the championship at the DeKalb Regional on Saturday, defeating Marengo by a mere one pin to claim the title.
Dixon rolled a 5,197, with Marengo right behind at 5,196. Sycamore was another three pins back at 5,193, and Oregon bowled a 5,110 to claim the fourth and final team spot to advance to next week's Belvidere Sectional at Don Carter Lanes in Rockford.
The Hawks' Ava Wight was the individual champion, rolling a six-game series of 1,313. She rolled games of 200, 194 and 257 in the morning, then followed that up with games of 221, 203 and 238 in the afternoon.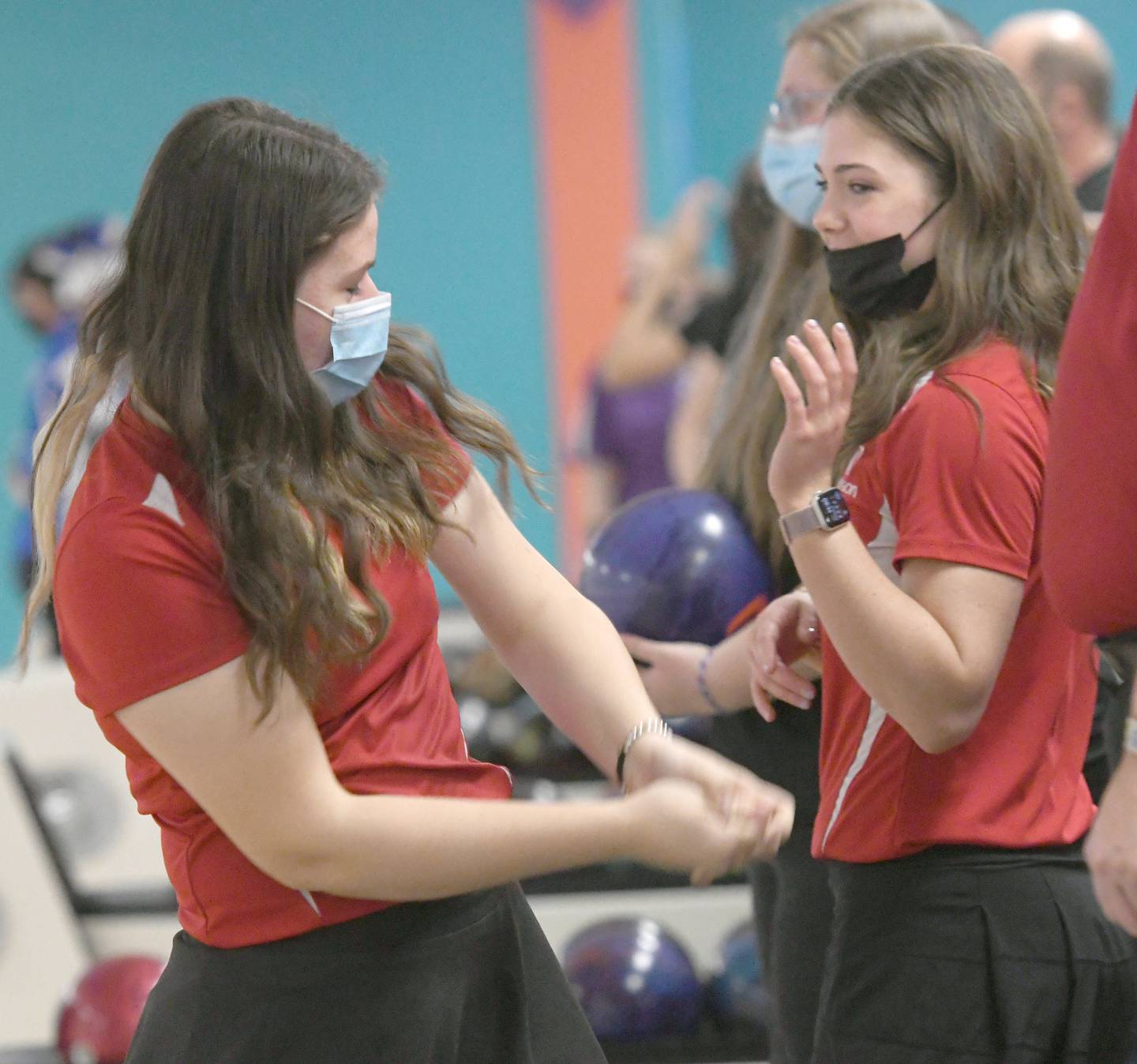 Bryson was second with a 1,237, and had the game of the day with a career-high 287 in the second game of the morning session. She opened the game with 10 straight strikes, and shattered her previous personal best of 264.
"It was very, very exciting. I will tell you, it's a lot of pressure to try and keep calm. I'm just thankful I got to bowl that high," she said. "I knew right away [on the 11th roll] that it was a couple of boards in so it wasn't going to drag. It was in that oil and it was just going to go straight. But I thought, 'You know what, that's a good game for me.'"
As the strikes piled up for Bryson, other competitors, coaches and spectators started to take notice. Dixon coach Larry LaCoursiere, for one, wished that everybody would've just kept going about their business.
"Everybody wanted to stop, and I hate when they do that. It happens in the men's leagues, too; everybody stops and wants to watch. I mean, they just threw 10 or 11 balls with the same noise; don't change anything," he said. "But that's what they all do, and that's OK. I'm really happy for her."
Oregon's Mackenzie Alford and Dixon's Grace DeBord joined their teammates in the top 10. Alford's 1,135 series was good enough for seventh place, and she closed her morning session with a 255 game. DeBord took 10th with an 1,108; her high game was a 200 to open the afternoon session.
LaCoursiere was happy to see his team perform so well at the perfect time.
"It is exciting to see them all come together at the right time," he said. "The time to peak is definitely during the state series."
Also for the Duchesses, Leslie Pettorini was 19th with a 992, and Abby Tate (939) and Autumn Swift (921) finished 23rd and 24th.
Oregon's Paige Beauchem (907), Kendra Ehrler (895) and Trinity Hultquist (860) placed 27th, 28th and 29th.
Sterling's season ends at regionals: The Golden Warriors were unable to advance out of the Rock Island Regional on Saturday, placing seventh out of 12 teams with a total pinfall of 4,492.
Erie-Prophetstown also saw its season end, placing 12th with a 3,661. United Township won the team title with a 5,242, while Rock Island (5,156), Geneseo (4,966) and St. Bede (4,890) claimed the other three team qualifying spots.
Brendy Gatica led Sterling with a six-game series of 959, while Hannah Conderman bowled a 950, and Katelynn Garcia rolled a 924; that trio placed 27th, 28th and 29th overall. Emily Doss (868) and Madison Schmitt (791) rounded out the Warriors' lineup.
Boys swimming
Sterling wins league title again: The Water Warriors won the Western Big 6 Conference Meet for the third straight season, scoring 282 points to top Galesburg (275) and Moline (266) at the Duis Center.
While Sterling only won two individual events and two relay races, its depth in the pool shined through. The Warriors had four runner-up finishes, three third-places, two fourths and five fifths.
Michael Garland and Braeden Ruiz went 1-2 in the 100 breaststroke for Sterling, finishing just two-hundredths of a second apart, 1:04.19-1:04.21. Braiden Herrera won the 1-meter diving competition with a score of 355.45, while Garland teamed with Reiley Austin, Ruiz and Skylar Drolema to win the 200 medley relay (1:41.44), and joined Mason Adams, Drolema and Austin to take the 200 freestyle relay (1:31.74).
Garland also added a runner-up finish in the 200 IM (2:06.43), while Drolema was second in the 100 butterfly (55.85 seconds), and Austin took second in the 100 freestyle (49.35).
Drolema was third in the 50 freestyle (23.32), Austin took third in the 100 backstroke (56.18), and the quartet of Luke Clark, Peter Garland, Conner Porter and Adams finished third in the 400 freestyle relay (3:30.75).
Porter (5:16.51) and Clark (5:20.13) went 4-5 in the 500 freestyle, while Adams finished fourth right behind Austin in the 100 backstroke (1:00.17), and added a fifth in the 200 freestyle (1:55.48). Ruiz (200 IM, 2:13.76), Peter Garland (100 free, 53.62) and Connor Pham (100 fly, 1:01.20) also finished fifth for Sterling.
The Warriors also won the JV team title, downing Galesburg 276-272. Sterling won nine JV events, including all three relay races.
Byron hosts triangular: The Tiger Sharks claimed three wins and five runner-up finishes in a three-team meet with LaSalle-Peru and Kewanee.
Dixon senior Carson Faley won the 200 freestyle (1:51.15) and the 500 free (4:55.17), and also swam legs on two runner-up relays, teaming up with Levi Schamper, Nathan Bell and Tyson Politsch to take second in both the 200 medley relay (1:46.13) and the 400 free relay (3:34.11).
Politsch (1:06.15) and Bell (1:06.85) went 1-2 in the 100 breaststroke, while Schamper (100 backstroke, 1:00.11) and Caleb Weekley (200 IM, 2:33.87) also added second-place finishes for the Byron co-op.
Girls basketball
Dixon 41, West Aurora 35: The Duchesses took a 31-22 lead into the fourth quarter at the Kaneland Shootout, and held on for a victory.
Harvest Day and Ella Govig both had 11 points for Dixon (25-5), with Govig finishing off a double-double with 10 rebounds, and Day adding seven rebounds and five assists. Elle Jarrett scored six points and pulled down six rebounds, and Sam Tourtillott finished with five points, four assists and four steals for the Duchesses.
Riley Mont paced West Aurora with 13 points.
Ottawa 37, Rock Falls 35: A fourth-quarter rally fell short for the Rockets in a nonconference game at Tabor Gym.
Taylor Reyna's eight points paced Rock Falls (15-13), which trailed 22-12 at halftime and 32-22 heading into the fourth before outscoring the Pirates 13-5 over the final eight minutes. Denali Stonitsch and Claire Bickett scored six points apiece for the Rockets.
Brooke Waddell and Cheyenne Joachim had nine points each for Ottawa, and Zoe Harris added eight.
Kewanee 45, Oregon 41: The Hawks built a 22-15 halftime lead, but the Boilermakers rallied in the second half for a come-from-behind win.
Hadley Lutz and Mya Engelkes paced Oregon with 13 and 10 points, respectively.
Mya Dearing led Kewanee with 15 points.
Rock Island 45, Sterling 18: The Golden Warriors trailed 27-4 by halftime in a Western Big 6 loss at Musgrove Fieldhouse.
Olivia Turner had nine points to lead Sterling (1-19, 0-13).
Bri Stewart scored 16 points, and Imari McDuffy added 13 for the Rocks.
Amboy 43, Newark 38: The Clippers picked up a nonconference win at home in a tight game throughout, as they led 20-18 at halftime and 30-28 through three quarters.
Olivia Dinges had 17 points, 10 rebounds, four assists and five steals for Amboy, which pulled away thanks to an 11-for-17 performance from the free-throw line in the fourth quarter. Elly Jones and Courtney Ortgiesen both finished with 11 points and five rebounds; Jones also nabbed four steals. Lexi Ketchum added four points, eight rebounds and three assists, and Maeve Larson pulled down five rebounds for the Clippers.
K.J. Friestad's 10 points paced Newark.
Milledgeville 42, AFC 34: The Missiles rallied from a 23-17 halftime deficit to knock off the Raiders.
Lily Smith led the way for Milledgeville with 12 points and 10 rebounds, Rylee Matthews totaled 11 points and five rebounds, and Adriana Miller chipped in eight points and nine rebounds.
Tatum Stroh paced AFC with 10 points, while Taylor Jahn added nine points.
SM/RR 59, West Carroll 29: The Thunder lost to Scales Mound/River Ridge for the second straight night, this time hitting the road and digging too big of a hole to climb out of.
Kylie Hill led the way with 15 points for West Carroll, which trailed 27-5 after the first quarter and 42-7 by halftime.
Jaidyn Strang and Sydney Driscoll scored 13 points apiece for SM/RR, and Annie Werner added 11.
Faith Christian wins NICC title: After claiming the regular-season crown in the Northern Illinois Christian Conference, the Falcons won the NICC tournament championship over the weekend.
Faith defeated Fulton Unity 44-21 in the semifinals Friday. Gwen Hodson had 18 points, 22 rebounds and two steals, and Rachel Barrett also had a double-double with 11 points, 17 rebounds and four steals. Emma Royer added five points, four rebounds, three steals and two assists, Maya Gomez grabbed 11 rebounds and nabbed three steals, and Katelyn Fassler and Addison Freise both finished with six rebounds; Fassler also had three steals and two assists.
Carrie Willoughby led Unity with 11 points.
In Saturday's title game, the Falcons pulled out a 33-31 win over Quad Cities Christian. Fassler finished with 14 points, six rebounds, five steals and three assists, while Barrett had another double-double with 11 points, 19 rebounds, two steals and two assists. Hodson chipped in six points, seven rebounds and four steals for Faith.
Kennedy Ochkie scored 14 points, and Piper Ochkie added 10 for Quad Cities Christian.
Boys basketball
Newman 65, Riverdale 43: The Comets raced to a 33-15 halftime lead en route to a 22-point victory over the Rams at the Aquin Shootout in Freeport.
Marcus Williams scored 18 points to lead Newman (19-8), while Nolan Britt scored 13 and Ayden Batten added 12.
Forreston 40, Pearl City 30: Cole Becker recorded a double-double for the third game in a row with 10 points and 10 rebounds, leading the Cardinals past the Wolves at the Aquin Shootout in Freeport.
Tommy Appel and Owen Greenfield added six points each for Forreston.
Winnebago 54, Eastland 27: The Indians built a 38-10 lead on their way to a lopsided win over the visiting Cougars.
Jaxson Sturtevant and Carsen Heeren paced the Cougars with six and five points, respectively.
Ray Maurchie led Winnebago with 15 points, while Carl Firch added 14 points.
Amboy 34, Rockford Christian Life 33: The Clippers picked up a nonconference win in Rockford.
Belvidere 46, Oregon 23: The Hawks fell behind 26-10 at halftime and never recovered against the Bucs at the Blackhawk Center.
Isaac Nelson (6 points) and Avery Lewis (5 points) led the way for Oregon.
Atillio Goston scored 10 points to lead Belvedere.