STERLING – A duel between DeKalb's Riley Newport and Sterling's Dale Johnson developed early on in Saturday's Sterling Invitational.
The two were neck-and-neck for the first mile and a half before Newport started to pull away. He took first in 15:13.2, while Johnson was second in 15:36.7.
"I knew that we were both tired, so in the woods it's quiet and no one's around, so it's easy to make a move," Newport said. "So I opened up with a couple surges. He ran great. He's a great runner, but I made a couple surges and I was able to finally separate."
Johnson and Newport were well ahead of a large pack of runners at both the one-mile and two-mile marks, the pack consisting of a large group of pack-running Oswego runners, as well as runners from Guilford, Fenwick and Pleasant Valley (Iowa).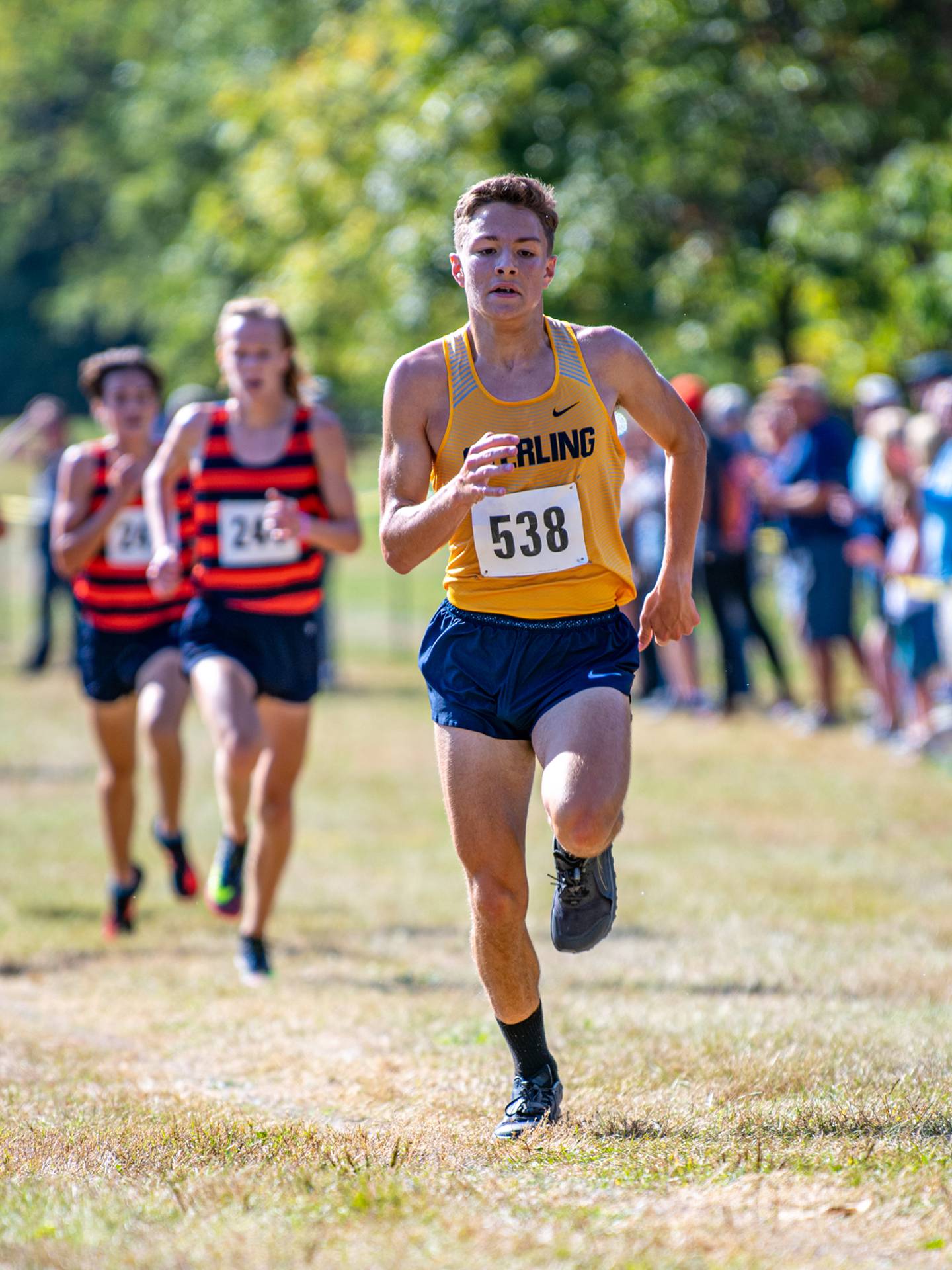 By the final 200 yards, Newport had pulled well ahead of Johnson, but the majority of the Oswego roster was bearing down on the Sterling sophomore. He was able to hold off all of them with a sprint to the finish.
"I didn't realize there were that many behind me," Johnson said. "I thought there were one or two, so I just decided to stay in front of those one or two."
Johnson said that with the heat (the temperature rose considerably between the start of the fresh/soph girls race at 9 a.m. and the boys varsity race just before 11) and his own lack of pacing, he could have dropped a few seconds from his time.
"The good guys are going to be up here, and I need to get back up to that level," Johnson said. "I still have a decent ways to go."
Oswego took spots three through seven, as well as having runners claim 10th and 11th, to easily win the team title with 25 points. DeKalb was second with 75. Sterling finished 11th with 291 points.
Sterling also had a 63rd-place run in 17:43.6 from Cameron Taylor. Conner Pham was 71st in 18:07.0, Ben Munoz-Ripley was 75th in 18:17.4, and Thomas Holcomb was 86th in 19:20.1.
Dixon's top runner was Aaron Conderman, breaking into the top-35 with a time of 16:42, chasing down a large pack of runners most of the way.
"It was pretty good. It wasn't my fastest, but I feel I did pretty good," he said. "I like to just stick to my pace and slowly chase them down, just keep strong mentally."
The Dukes had Jacksen Ortgiesen finish 73rd in 18:12.2. Jack Johnson finished 78th in 18:34.9, and Hayden Fulton finished 88th in 19:26.0.
Eastland's Hudson Groezinger was 82nd in 19:59.7. Ethan Dertz was 99th, and Adrian Martz was 101st.
In the girls race, Pleasant Valley took the team title with 49 points. Dixon was fifth with 146, and Sterling was 11th with 331.
Pleasant Valley's Grace Boleyn won with a time of 17:33.6.
Emma Smith led the Duchesses with a fifth-place run in 18:28.8.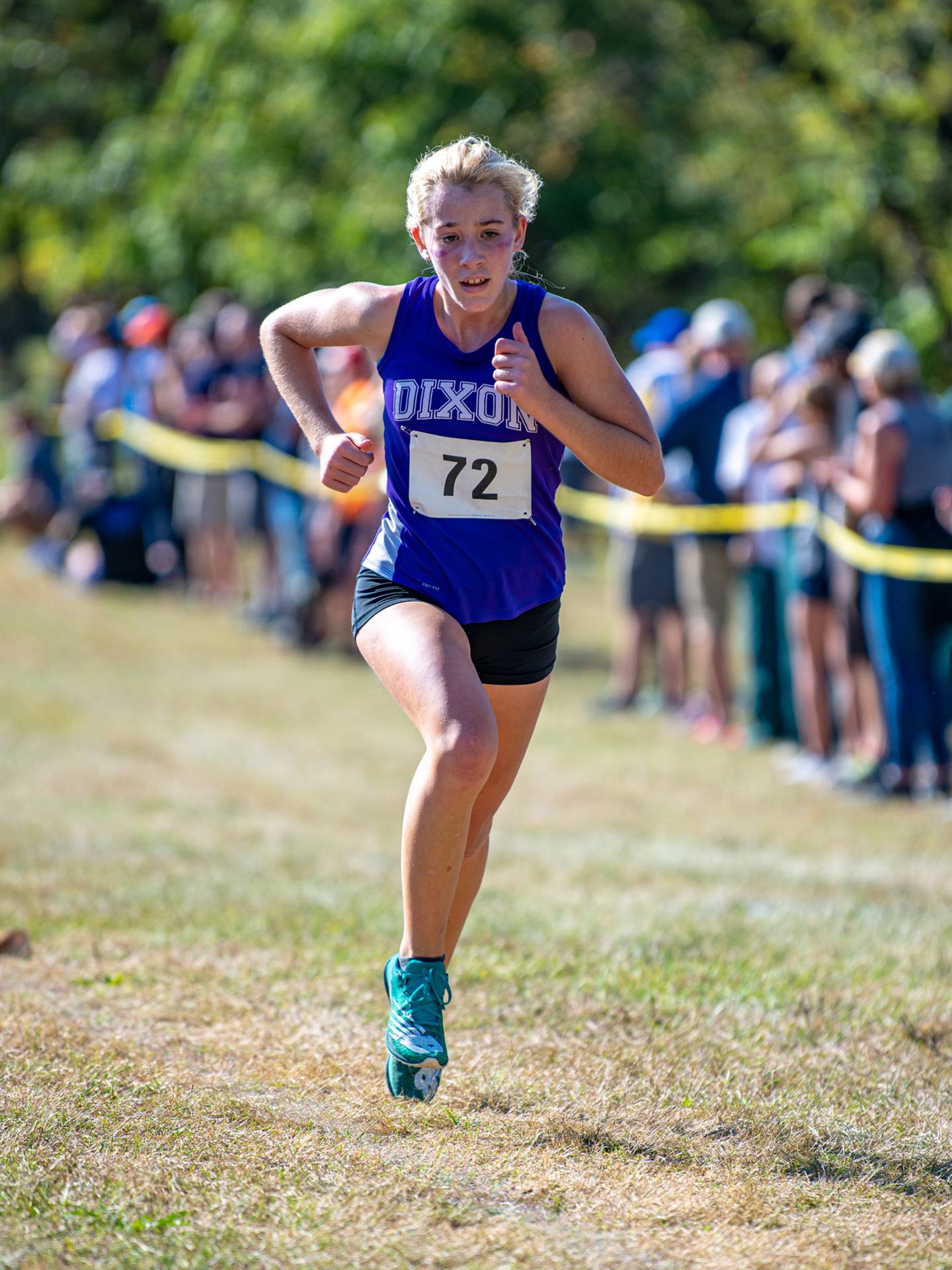 With Boleyn, Oswego's Audra Soderlind and Zion-Benton's Audrey Luell out to a quick start over the first two miles, Smith found herself in a fight for fourth with Fenwick's Bella Daley. But Daley had just enough over the final mile to beat Smith by 3.2 seconds.
"My goal was just to, instead of worrying about people coming up behind me, worry about the people in front of me," Smith said. "Overall, I'm happy with it."
The Duchesses also had Emily Conderman finish 20th in 19:24.0, Keeley Mick take 36th in 20:41.0, Emily Smith finish 38th in 20:46.7, and Teyla Wendt finish 54th in 21:55.3.
Sterling was led by Kylie Nicklaus in 50th in 21:34.1 after two weeks of being out of action.
"I had to learn how to race again, and it was kind of weird," she said. "If it was track, it would be something different, it would be a few laps around, but this is three miles, so it's just go with it, so that's what I did. It felt better than the past races have been."
Also for Sterling, Sarah Navarro was 60th in 22:18.8, Megan Gingrich was 65th in 22:38.3, Estella Gardner was 98th, and Lilli Manon was 100th.
Eastland got a 71st-place run from Delaney Wilhelms in 23:18.1. Emma Dampman was 79th, Ella Burkholder was 92nd, and Mallory Misiewicz was 102nd.