Estelle Czech still remembers the club coaches who told her she couldn't compete at the Division I level.
Those sentiments seem absurd now, given what the former Downers Grove North star has accomplished.
Czech, a sophomore southpaw, pitched Texas to the finals of the Women's College World Series for the first time in program history last month. The Longhorns were the first unseeded team to advance to the best-of-three championship series, where they were swept by defending champion Oklahoma.
Czech said her success sends a message to young players in Downers Grove and elsewhere.
"I think it shows to every little girl here that they could do it," Czech said. "A lot of girls have negative comments coming at them, like coaches telling them that they can't do it.
"I was in that same exact position. I was told that I couldn't play Division I softball or I could not be a Division I pitcher, and look at me now.
"I just think that girls have to have the drive to prove everyone wrong because that's exactly what I did."
The negative reinforcement did not come from her high school coaches, who knew early on that Czech had the right stuff to go far.
"Estelle was good from the first time we saw her, but she kept getting better," Downers Grove North coach Eric Landschoot said. "She's very open to learning and trying new things and she's very coachable."
Landschoot coached Czech for four years, during which she became the ace of North's staff. As a junior, Czech had a 16-4 record with a 1.60 ERA and 232 strikeouts while also hitting .432 with seven home runs. Her senior season was canceled because of the pandemic, but Landschoot knew that wouldn't slow Czech down.
"It's very neat to see her play at such a high level on such a big stage," Landschoot said. "Am I surprised that she was arguably one of the best pitchers in the College World Series? No, because she has a great work ethic and great approach."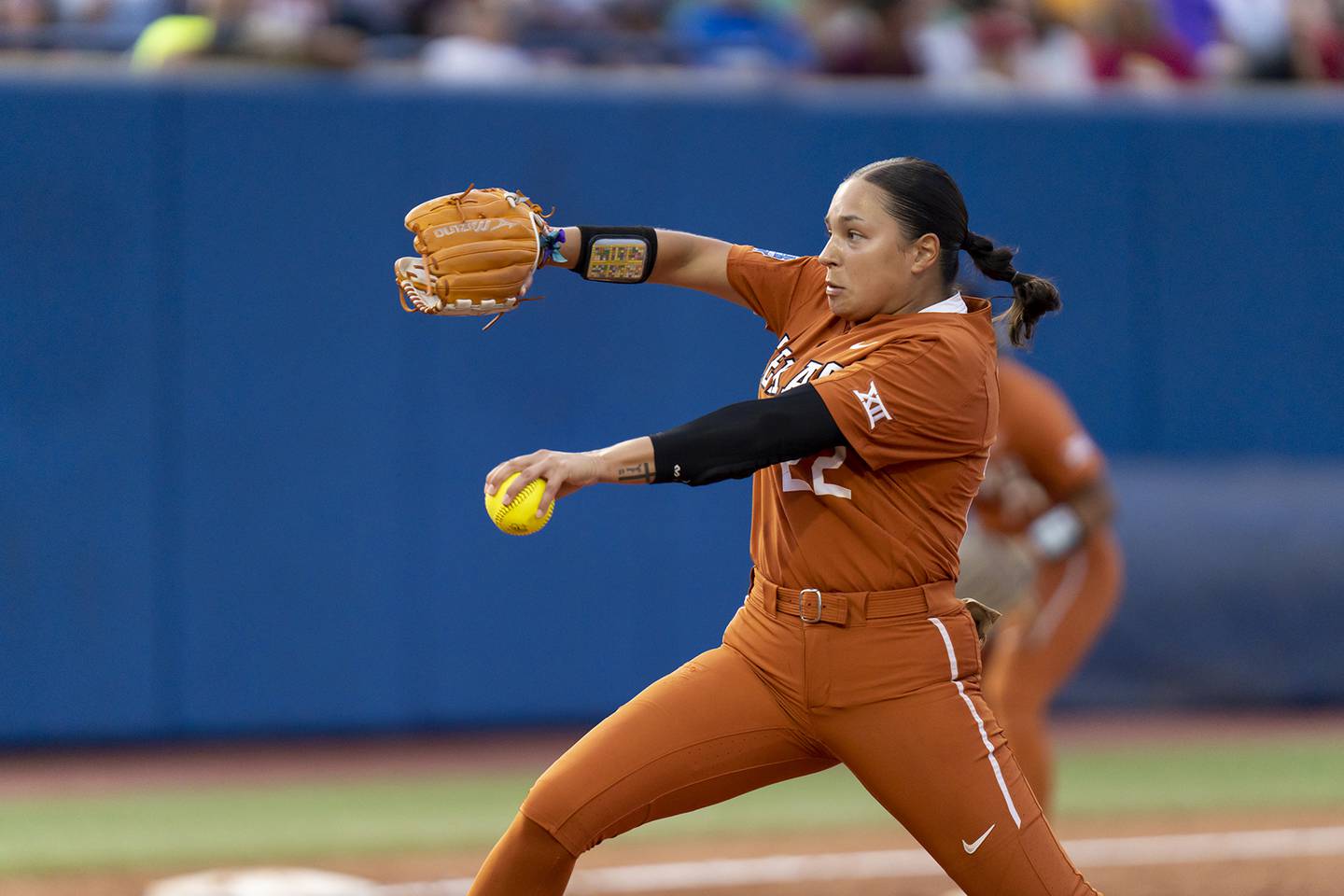 Czech originally signed with North Carolina State. She was 4-6 with a 3.14 ERA in 22 appearances as a freshman, striking out 39 in 73.2 innings.
She really shined after transferring to Texas, which overcame a slow start to post a 47-22 record. Czech was the No. 2 starter for the Longhorns and finished with a 13-2 record and 3.24 ERA in 30 appearances, including 16 starts. She walked 25 and struck out 83 in 103.2 innings.
Czech didn't wilt in the World Series spotlight, turning in several big performances.
Czech allowed one hit in 3.2 scoreless innings of relief in a 5-2 win over Arizona and hurled a complete-game shutout in a 5-0 win over Oklahoma State on June 6. Later that day, she pitched two more innings in a 6-5 win that eliminated the Cowboys and sent the Longhorns to the finals.
Top-ranked Oklahoma (59-3) won the first game 16-1. Czech started Game 2 and allowed six runs, four earned, and nine hits in 4.2 innings in a 10-5 loss.
Despite that result, Czech relished the experience. She is the first former Trojan to play in the championship round of the World Series. Two other Downers North grads reached the World Series – Sarah O'Malley in 1994 with UIC and Dale Ryndak in 2018 with Arizona State – but neither team reached the finals.
"I think it's kind of crazy," Czech said. "Now that I've thought about it, it's like, 'Wow, I was really in that position.'
"I used to be that little girl that looked at those players and said, 'Wow, they're in the championship series.' And I eventually got in their shoes."
Now Czech wants to help younger girls do the same. After returning to Downers Grove for the summer, she spent several weeks giving 1-on-1 pitching lessons. They filled up fast.
"I've done pitching lessons since high school, but, yes, they have gotten a little more popular since I was in the World Series," Czech said. "It's to be expected.
"Any player that you see on TV, you kind of want to get a piece of their mind, find out what they're thinking and what they were taught."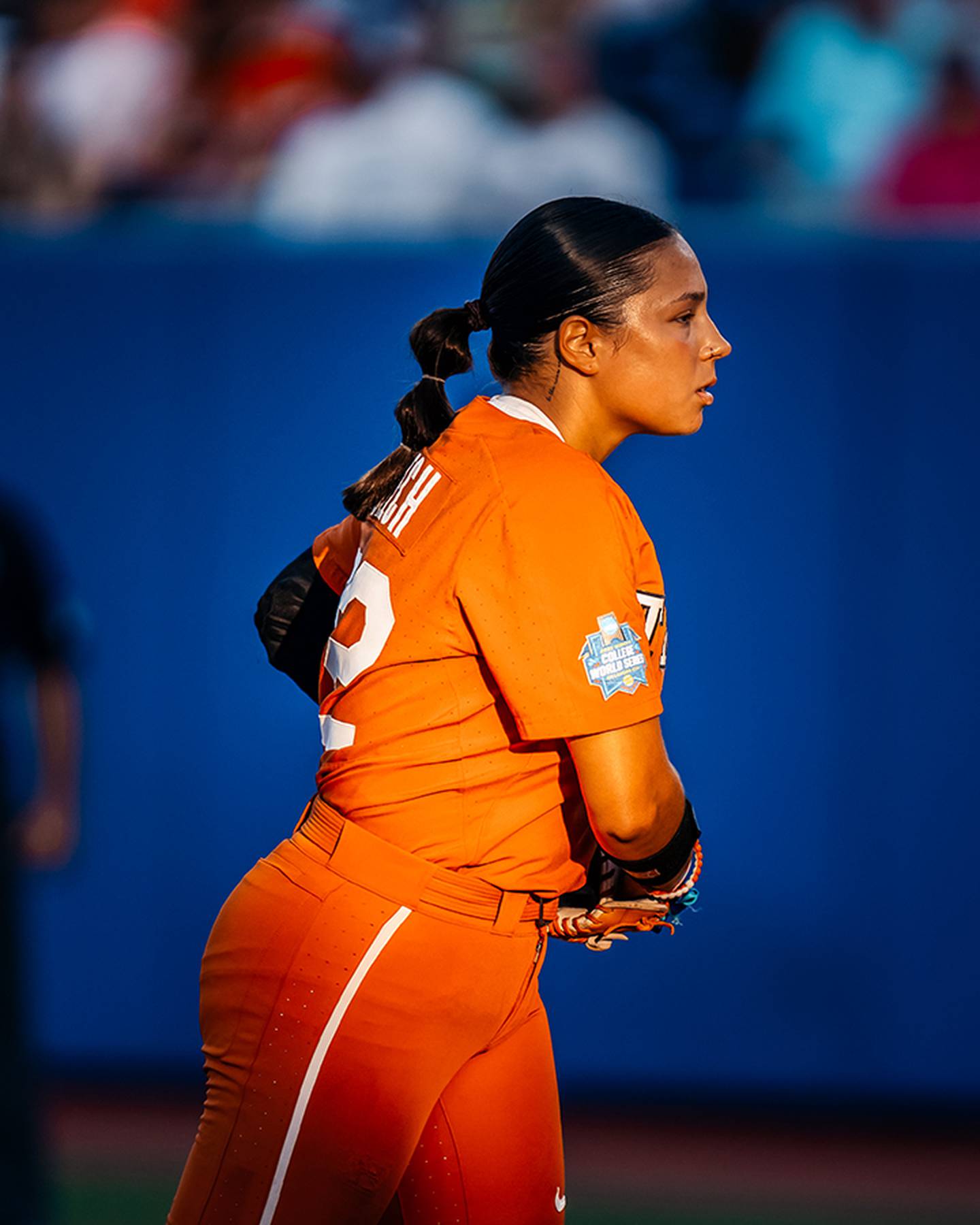 While Czech teaches the physical fundamentals, she said the key to success is mastering the mental aspect of the game.
"It's one of the things I like to talk about is how to be mentally tough," Czech said. "You don't have to have all the fancy pitches to be successful. If you have a strong mental side of the game, I think you'll go far.
"I've had a good beginning with mental toughness at Texas. They teach you how to be mentally tough on the mound and what you do if you've given up a home run or what you should be thinking even if you're doing good."
Czech, who is majoring in physical culture and sports, wants to do good even after her playing career is over. She aspires to be a pitching coach and eventually a head coach at the college level, and she wants to use positive reinforcement to help players reach their potential.
Landschoot is pleased to see Czech take that path.
"It doesn't surprise me that Estelle wants that," Landschoot said. "She stopped by our summer camp one day and the kids were excited.
"She's drawn to those kids who just want to have fun and get better. Some of the girls who have been in the program, Estelle included, have a real sense of pride in doing that and passing along some of the knowledge that they have and showing the way."
Landschoot was one of the coaches who have shown Czech the way. It won't be long before she pays that forward.
"I think Estelle will one day make a great coach for a lot of reasons," Landschoot said. "I would love to see her do that."
First, Czech still has two more seasons to play at Texas, and hopefully a return to the World Series.
"We definitely got a taste of it," Czech said. "And I think all of us want to go back."