DeKALB – DeKalb City Clerk Sasha Cohen "spit in the eye of democracy" by not showing up to work, DeKalb Alderwoman Carolyn Morris said this week as the City Council censured the clerk in a sharp and public rebuke, alleging his consistent disregard for his elected duties.
Morris spoke as the DeKalb City Council voted unanimously to censure the clerk for allegedly abandoning his duties he was elected to perform after he ran unopposed on the ballot in April 2021. The City Council also approved several changes to the city's municipal code, changing references to city clerk instead to "Recording Secretary" or "Executive Assistant," a move meant to solidify that whoever city employee holds that role the power, under local law, to perform clerical duties.
Several council members issued strong criticism to the clerk, who's serving in his first elected role in DeKalb.
"This is really emotional because I feel like what you have done is spit in the eye of democracy," Morris said. "You have taken the taxpayers' trust. You have taken the city's trust, everyone who supported you and walked all over it and spit on freedom that I value very highly."
Morris' rebuke comes amid a months-long controversy in which Cohen's job performance had been questioned by city leaders. The council's decision allows the recording secretary to perform the city clerk's duties whether or not the clerk is present or absent for the remainder of his four-year term, city documents state.
The clerk tried to defend his track record, saying the city is making a concerted effort to stop him from doing his job.
"There is no reasonable contention that I am not asserting or acting as the city clerk at this time," Cohen said. "Perhaps two months ago prior to my return, you may have had a more reasonable grounds for doing so. But at this point, the circumstances and facts have changed."
City records show Cohen missed seven of 19 city meetings in 2019. Of those, four absences were without notice or explanation. In 2022, he missed 23 of 26 meetings through Nov. 28, according to city documents.
Critique has followed the clerk consistently through his time in office, including for his absences, record-keeping and controversial opinions about police. He offered a public apology in August 2021 for his slack in duties, pledging to do better.
"I'm very upset by this because you committed that you would do better than this, you committed to us something," Morris said. "In your role, you have the opportunity to make elected office more accessible for people. I believe what you have done is make it less accessible and that is what is so disgusting to me about it."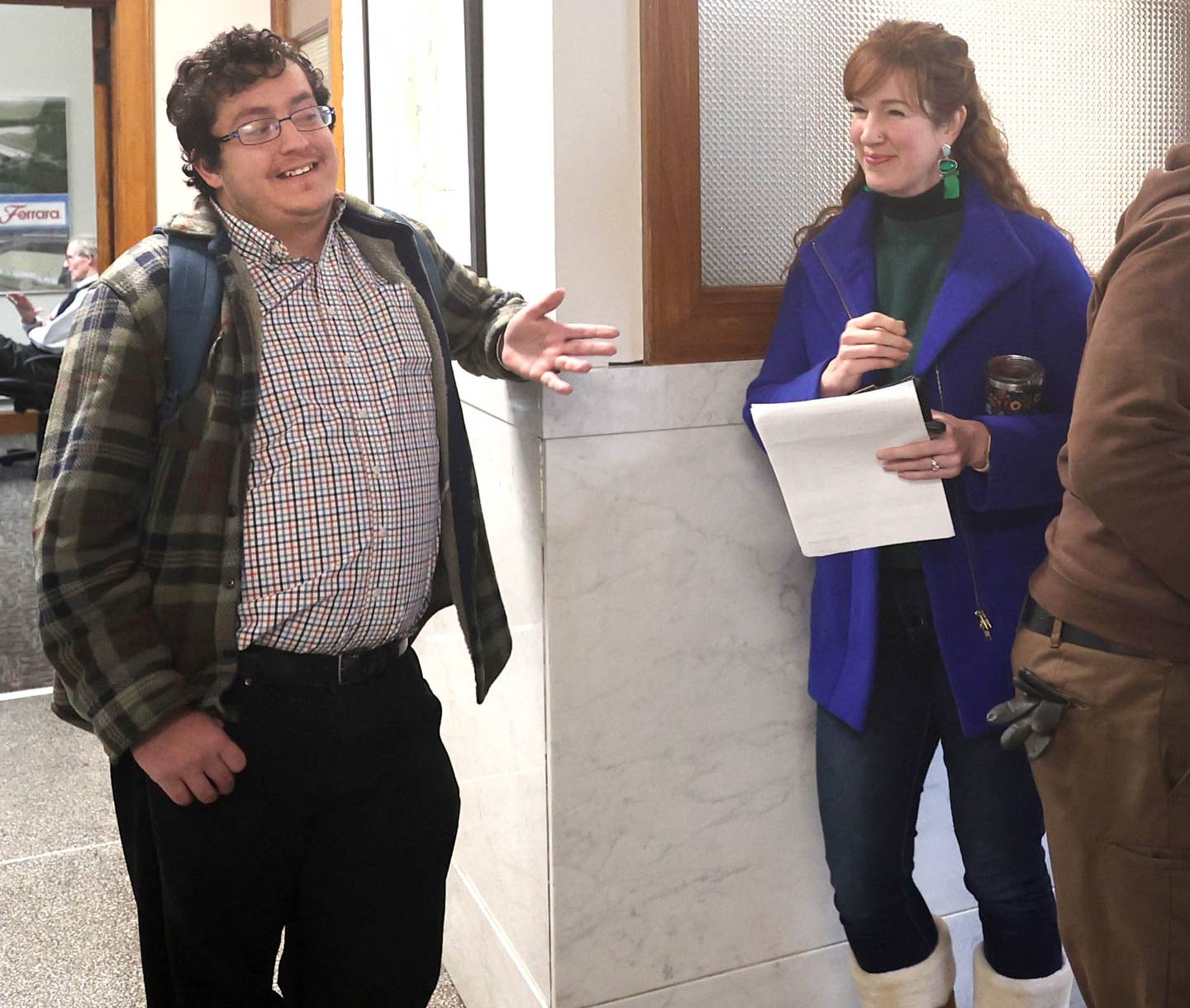 Mayor Cohen Barnes said the censure will allow the city to ensure consistency of clerical service.
"What we can control is to have accurate minutes submitted," Barnes said. "What we can control is city business needs to continue on and on and on in a professional way. We absolutely haven't gotten this over and over again. What we've gotten is someone who wants to cause disruption with the way the city of DeKalb does business."
Social media posts show the $8,000-yearly salaried clerk spent much of the summer and fall working outside of Illinois. He said he's self-employed outside of office.
Last month, the clerk was turned away as candidate election filing opened for the April election, with city leaders alleging he hadn't been around enough to prepare for the job. Preparation for election work includes filing public notices for candidates, accepting and vetting nomination packets.
"[Cohen provided] no posting of where petitions could be submitted – no date, no involvement whatsoever," Barnes said. "[He] just shows up the day of. And ultimately, what I believe was probably to cause some turmoil in the election process itself. That is a sacred, sacred institution in the United States. We can't have this anymore."
After city officials refused the clerk access to accept nomination papers, Cohen sued the city Dec. 14, alleging officials had usurped his statutory rights. An emergency restraining order filed by Cohen against the city was denied by a DeKalb County judge days later.
The lawsuit filed by Cohen, who's representing himself, will be heard at the DeKalb County Courthouse Feb. 1, however.
"The reality is that I believe this is a retaliatory action for the pending litigation and also may be an attempt to remove me from office prior to the hearing of an electoral board meeting on this coming Friday," Cohen said. "I question whether this is a move to prevent me from serving on this board."
The electoral board – comprised of Cohen, 7th Ward Alderman Tony Faivre and Basrnes – will hear objections filed against nomination petitions submitted by McAdams, who is seeking reelection. Petitions allege McAdams didn't correctly bind his papers and submitted signatures of voters outside of the 5th ward.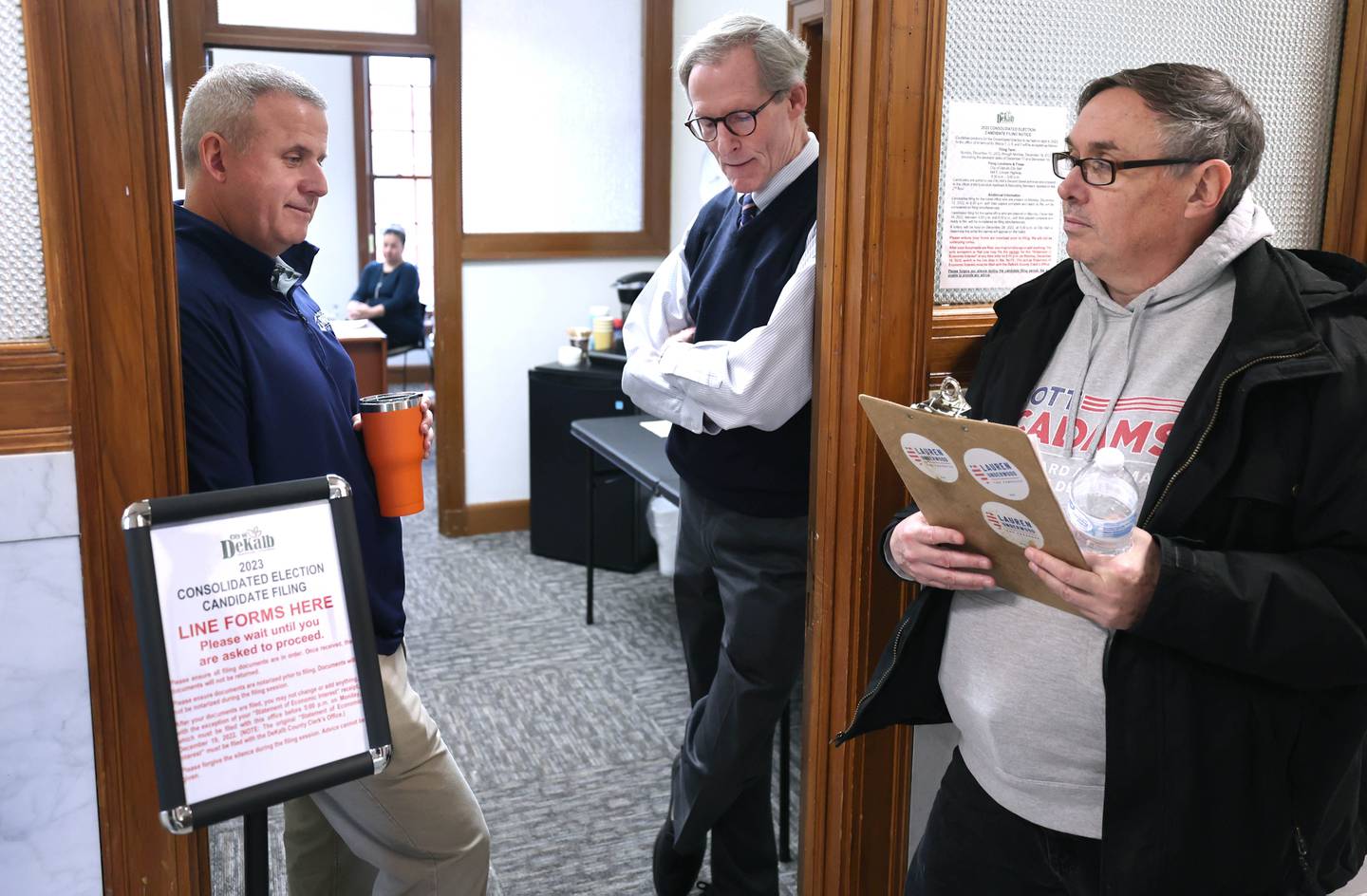 City Manager Bill Nicklas said he has lost confidence in Cohen.
"I may be wrong in this, but I think it's illogical for any employer, and in this case, it's the city of DeKalb, to trust that this person has their best interests, to trust that this person is acting in a professional manner," Nicklas said.
In August 2019, the DeKalb City Council had the option to remove the clerk as an elected official, instead changing the part-time office, salaried role to an appointed one. City leaders had placed the decision before the council for a vote. Morris and 5th Ward Alderman Scott McAdams voted down that proposal. The final City Council vote was against the proposal as city leaders chose instead to leave the job elected.
McAdams said, in retrospect, his decision would have been different.
"This council debated the role of our city clerk in 2019," said McAdams, whose father served as a clerk in the village of Midlothian from 1985 to 2005. "I was brand new to the council, and the vote was quite contentious. If you recall, the debate centered around the question, 'Does DeKalb still need a city clerk?' I voted yes. If I had that vote back, I wouldn't vote the same way today."
Nicklas urged the council for its unanimous support of the resolution to censure Cohen.
"The evidence is deep and strong that this person has not any interest in serving the public he was sworn and that he swore to faithfully serve during his tenure hence the idea of the censure," Nicklas said. "A censure is a statement of this body. That you don't approve of this. That you find this to be so extraordinary in its lack of respect for the people to be served that this person should not be recognized as the one you trust to record the proceedings of these meetings."
This story was edited Wednesday, Jan. 11 after an earlier version misstated that a 2019 DeKalb City Council vote included Sasha Cohen. Cohen was not elected until 2021.