DeKALB – DeKalb City Clerk Sasha Cohen issued a public apology this week following concerns that he was neglecting state sunshine law deadlines in posting council meeting minutes in a timely fashion.
During his remarks at the Monday DeKalb City Council meeting, Cohen said for the past several weeks he has "allowed myself to become too preoccupied with other things that have been going on in my life," which resulted in "my quality of work to decline and for deadlines to be missed."
"So I will be taking the next couple of days to get in the office, go back through all of the minutes that have been previously rejected and then all of the requisite corrections and they will be submitted to [city staff] for [City Council's] approval ... by the time Corn Fest opens," Cohen said.
Monday's meeting was the most recent City Council meeting Cohen has attended in his city clerk capacity since July 12. In an online social media thread related to Cohen's personal opinions about policing, Fifth Ward Alderman Scott McAdams also wrote that Cohen "failed to publish City Council minutes in a timely fashion as well."
McAdams's comment came after aldermen took issue with meeting minutes being 30 days past due, which is a violation of the Illinois Open Meetings Act, during the Aug. 9 City Council meeting.
"I'm a little concerned," Third Ward Alderman Tracy Smith said. "This has happened before back in 2010, 2011. I think we had some serious issues back then and minutes were not posted for six months."
Cohen said Tuesday he took summer work in the outdoor amusement industry, which involved him working 60 hours per week and having to travel a lot for those with larger rigs. He said he also recently bought a home in DeKalb, adding, "it's been just a blessing" and "good to get out of Hunter Properties," where he previously lived in the Annie Glidden North neighborhood.
"Everything piled on top of each other and something had to give," Cohen said. "And, unfortunately, it's something that means a lot to me, which is the city clerk's office."
Cohen said his city involvement will become more involved with the summer winding down and that he's "looking forward" to taking part in upcoming statewide professional development opportunities for city officials.
Controversial social media comments
Cohen's public apology came after DeKalb area residents expressed concerns this month in community social media groups about Cohen posting criticisms about police and writing "ACAB," an acronym meaning "all cops are bastards," in public social media posts since he was an elected official.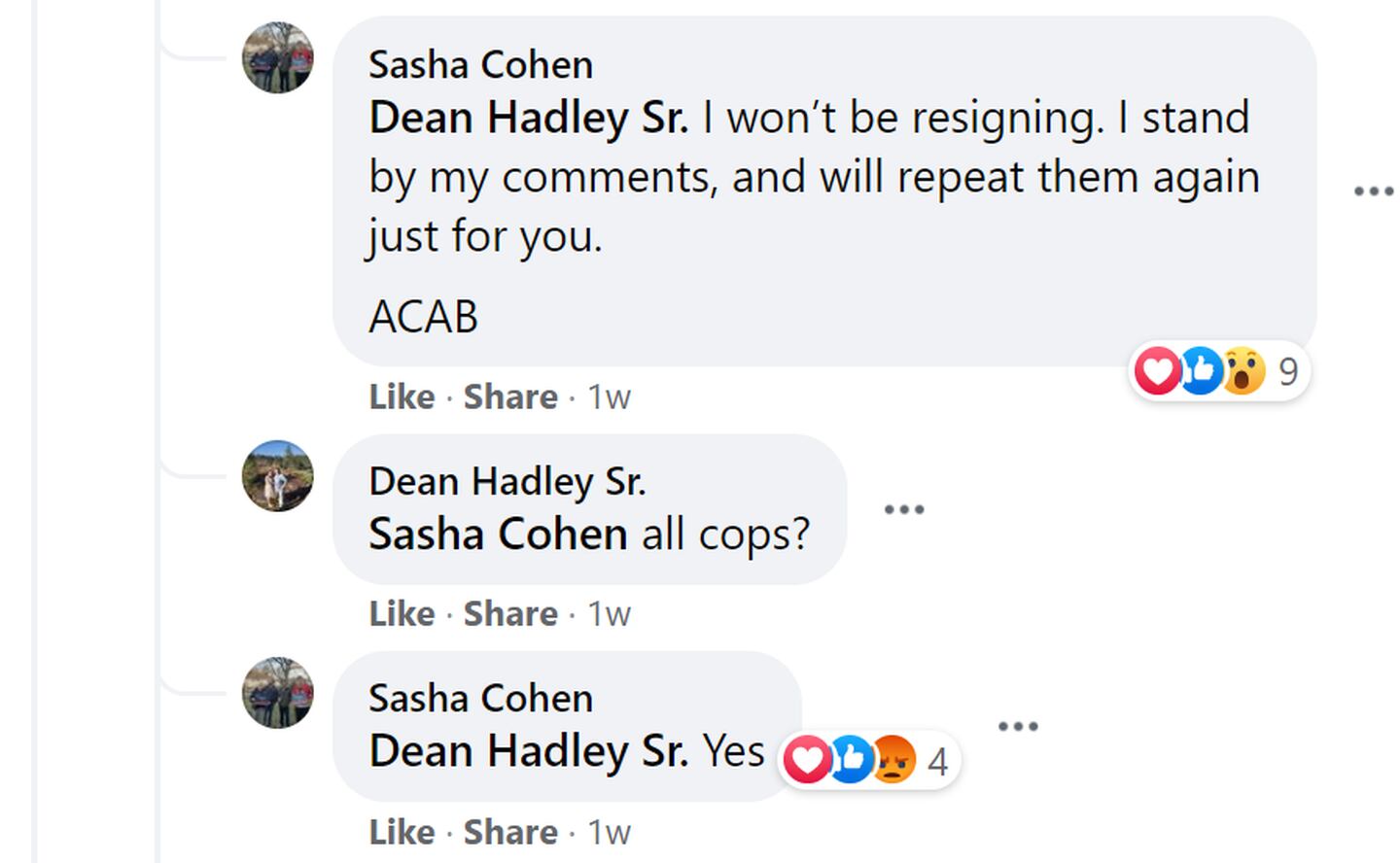 Following calls from social media users for Cohen to resign, Cohen wrote in response, "I won't be resigning. I stand by my comments and will repeat them again just for you. ACAB."
Cohen said Tuesday he was aware that others have taken issue with his stance as a "police abolitionist."
Cohen said he thinks if residents' primary concern about policing in DeKalb isn't about overcoming systemic issues in policing, but instead that a city official isn't as supportive of police as they'd like, "maybe then you should be reassessing your priorities."
"Discomfort isn't a good reason to stop honest discussion," Cohen said. "It's a systemic issue that people would rather not talk about."
Cohen said he has been vocal about his stance on the issue for a while, saying he even told DeKalb Mayor Cohen Barnes up front before being elected that he was a police abolitionist. Cohen's name was the only name that appeared on the ballot for DeKalb city clerk, though an unofficial campaign for city of DeKalb employee Stephanie Turner as a write-in candidate ran in opposition.
Cohen said he stands firm that "absolutely" all cops, including DeKalb police, are bad.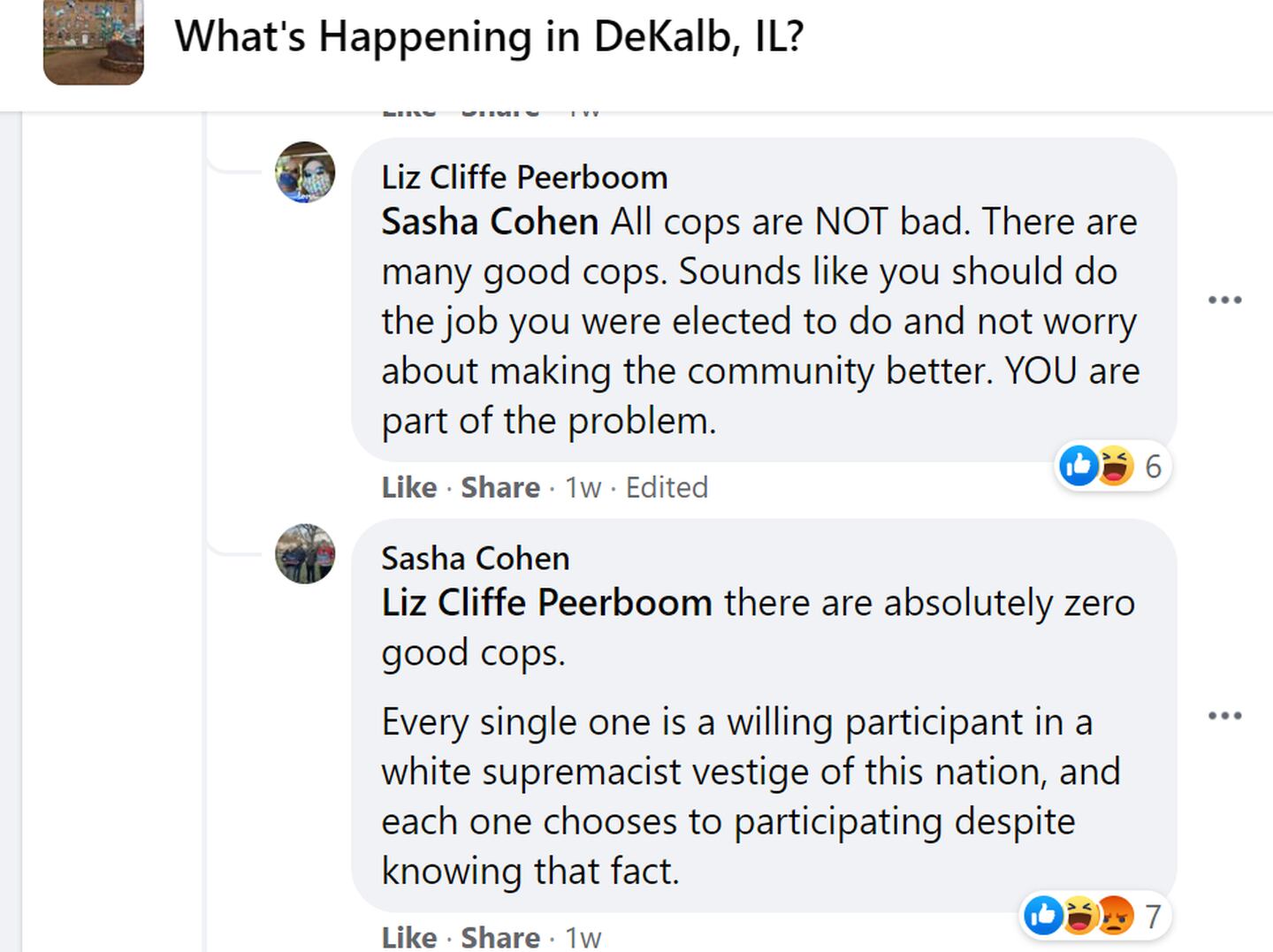 Cohen said he sees three main groups of police officers: Those who are outwardly problematic or violent, the largest group being those who turn a blind eye on that, and the "very small number of officers extensively trying to do right thing but are almost immediately fired" for reporting inappropriate behavior of colleagues. He said he speaks in generalities when it comes to law enforcement-related issues because he believes the system is "so irrevocably broken" and "so resistant to change."
"If you're currently serving as a police officer and you actually want to make things better, then leaving your position … is the only way you can make change," Cohen said.
Cohen said his stance on related issues is informed by personal experience and relatives' experiences. He said his grandfather was beaten by Chicago police during the 1969 Democratic Convention, his birth mother was assaulted during the 2012 NATO summit in Chicago, and he was assaulted himself during an Eric Garner protest by Chicago police in 2014.
"We see these patterns repeat themselves over literal generations," Cohen said.
Though McAdams said Tuesday he essentially considered Cohen's Facebook comments criticizing police "performance art," he also said he thought "it took a lot of courage" for Cohen to step up and take ownership for his mistakes. McAdams also said "nobody is perfect" and that Cohen's mistakes happen to be "more public than others."
McAdams said he's impressed that Cohen accepted responsibility for not submitting meeting minutes in time. He added he thinks "that's the only thing we can ask of our public officials."
"As far as I'm concerned, apology accepted," McAdams said.