DeKALB – DeKalb County Circuit Court chief judge Bradley Waller denied a request by City Clerk Sasha Cohen this week for an emergency temporary restraining order against the city, and Mayor Cohen Barnes criticized the clerk for allegedly abandoning his post.
Waller ruled Wednesday against the clerk's request that would have enforced a temporary restraining order against DeKalb city staff. Staff on Monday turned Cohen away as candidates began handing in their paperwork to appear on the 2023 spring municipal election ballot, telling the clerk he could remain on premises but could not accept nomination papers alleging he wasn't sufficiently prepared for the task.
City staff said Monday their decision was informed by what they said was Cohen's repeated absences, and that he hadn't shown up to work for seven months. The clerk disputed those claims though acknowledged he'd been traveling. Cohen reiterated a claim he's espoused since he began, that he believes the city's on a mission to strip the clerk's office of its statutory power.
Cohen represented himself in the 8:30 a.m. Wednesday court hearing, a plan he says he'll continue throughout the proceedings of a lawsuit he filed against the city and employee Ruth Scott, who serves as somewhat as a stand-in clerk through several roles approved by the City Council.
"I'm disappointed by Judge Waller's decision, but I'm not discouraged as to the merits of the case and will be appealing to the Illinois Appellate Court on the restraining order," Cohen said.
City Attorney Matt Rose lauded the judge's decision on the issue.
"We appreciate Judge Waller's thoughtful consideration and ruling on the clerk's motion for a temporary restraining order," Rose said, adding the city hopes to put the issue to rest soon. "If the clerk files an appeal of court's order denying his motion for [Temporary Restraining Order], we feel confident the appellate court will uphold the court's denial."
Cohen's latest skirmish with city staff continues disputes the two parties have wrestled with since his swearing in after he won election in an unopposed clerk's race in April 2021. Cohen received 2,300 votes, according to DeKalb County vote records. A write-in candidate who's name did not appear on the ballot, city employee Stephanie Turner, received 400 votes.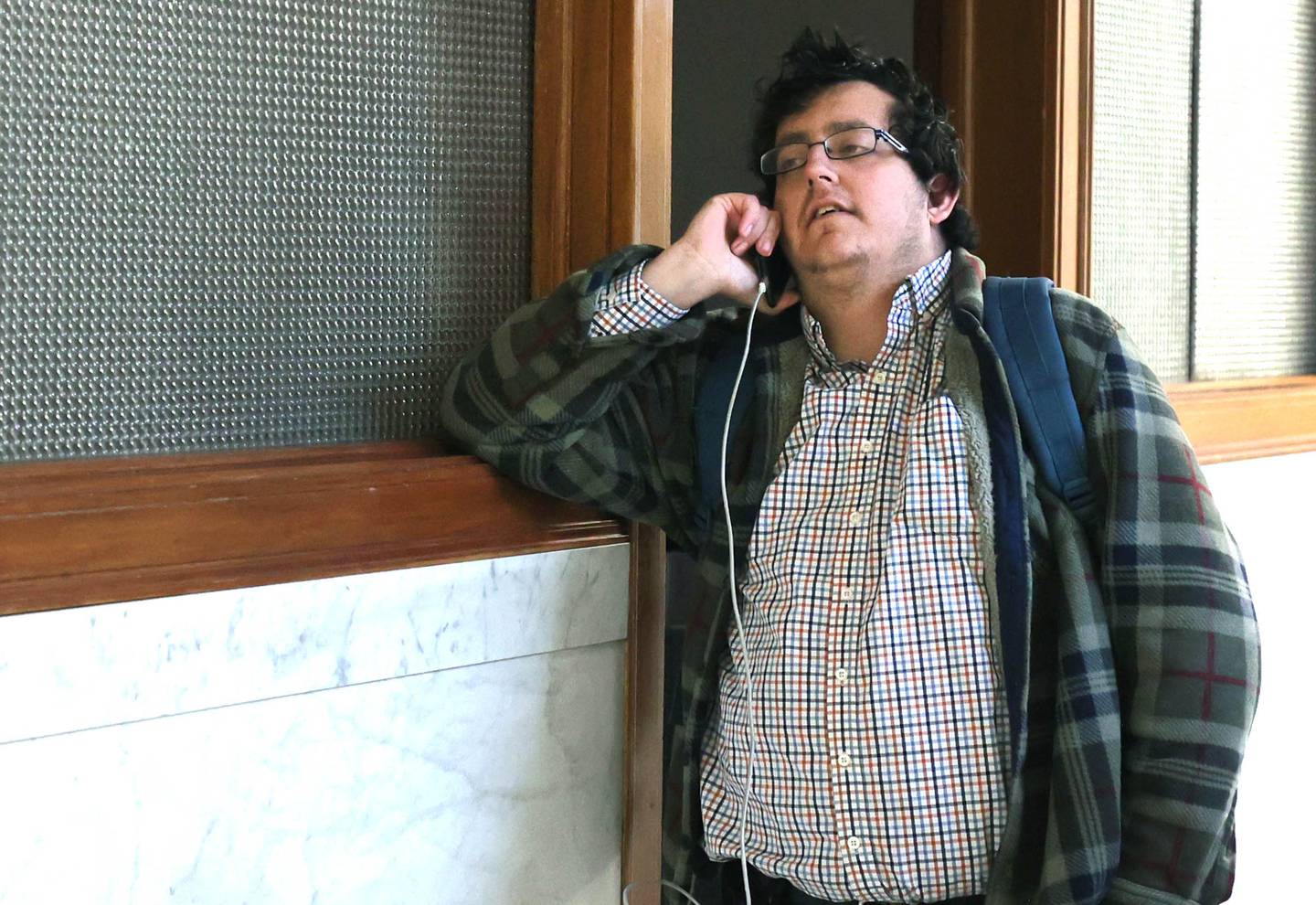 Mayor sounds off on clerk controversy: 'He's abandoned his post'
Mayor Cohen Barnes alleged this week that the clerk's behavior – Cohen has missed 35 of 40 city meetings since he began his role, and allegedly doesn't keep office hours, the city has said – has been consistent since the get go.
The clerk's part-time role comes with a $8,000 annual salary. The job is largely administrative with duties that encompass overseeing municipal elections, keeping minutes at public meetings and authenticating documents using the city seal.
The mayor rebuked the clerk, saying he's accepted taxpayer money without giving anything in return.
"He gets paid twice a month as an elected official and he's been accepting that money a lot," Barnes said. "He hasn't been doing the job. He hasn't even been in the state to do the job. In essence, he's taking money from the residents of DeKalb and not performing any duties that justify compensation. He has abandoned his post."
Cohen said his bi-weekly paycheck after taxes is about $267. The clerk said he is self-employed outside of his elected role.
In 2021, Cohen missed 7 of 19 meetings, 4 of those absences were without notice or explanation, city records show. In 2022, he has missed 23 of 26 meetings to date; 18 of those absences – the last 18 – were without notice or reason, city records show. Social media posts show Cohen spent much of the past summer and fall working on campaigns outside of Illinois, including in Pennsylvania, New Hampshire and Georgia.
Barnes said he takes issue with the clerk showing up suddenly after about seven months wanting to do his elected job when no one knew what his intentions were.
"The DeKalb Clerk and Recorder's Office attempted to reach out to Sasha Cohen prior to the submission of petitions and were unable to reach out to him, so then they reached out to recording secretary Scott," Barnes said. "They determined that the clerk was unavailable as usual. So, they asked recording secretary Scott if she would be the registrar that day. She agreed. They sent her information. She swore an oath, signed it and sent it back to the county that she would be the registrar and uphold the integrity of the election process."
On Monday, Scott was at city hall during the opening day of candidate filing – which runs through Dec. 19 – and to accept nomination packets for candidates seeking to get on the 2023 ballot.
Cohen contends that he's being actively prevented from spending 45 hours of work doing his job, something city staff alleges he's been doing on his own account by not showing up for work.
"The reality is the documents that the city seal needs to affix could come in at any day of the week, at any point," Cohen said. "In reducing the city clerk's pay when the office was made part time, they effectively made it such that unless one is independently wealthy it's not possible to hold the office and perform it to the best of one's ability without significant loss of personal income. I'm not a wealthy individual, I'm self-employed primarily. I would love to do more but I simply have to put food on my table."
When asked why he doesn't show up for work then if he wants to do more, Cohen said he believes much of his clerk's duties have been made redundant by past city councils who've given those duties to city staff.
"I think the reality is that the city administration and its predecessors have been actively seeking to marginalize and eliminate the clerk's office for years upon years," Cohen said. "There have been two referendums put forth to the voters to wholly eliminate the city clerk's office, both of which were rejected by the voters of DeKalb."
History of clerk's office riddled with turnover
A part-time $8,000 salaried elected clerk is not new for the city of DeKalb, however, and was put in place about a decade ago, well before Cohen sought the office.
In 2012, the City Council made the elected role a part-time one.
Since that time, the city has struggled to keep clerks, even if they were elected. The last full-time clerk, Steve Kapitan, resigned amid controversy that he'd not been keeping minutes of closed City Council meetings. The role was made part-time after that. In 2013 former deputy clerk Liz Peerbom won the clerk's spot in the election as a write-in candidate, but quit in September 2014. In 2015, the position was vacant on the ballot as no one ran. In 2017, Susanna Herrman was elected clerk, but resigned a year later. In August 2018, Cohen's predecessor, Lynn Fazekas, was appointed to fill the remainder of Herrman's role.
Scott has served as deputy clerk, and then recording secretary, through several clerks since hired in 2014.
In 2019, the DeKalb City Council rejected a proposal that would have made the clerk's role an appointed one rather than an elected one.
Cohen, elected in 2021, told the Daily Chronicle this week that he plans to serve out the remainder of his term but will not seek reelection in 2024.
"I fully recognize that at this point I am no longer the best person to represent all that the city clerk could do, but the reality is that if the clerk's office were to become vacant ... immediately appointed would be a yes man to the city manager."
City staff allege the clerk's office is already vacant due to Cohen's absence, spurring several recent City Council votes.
Scott was appointed as recording secretary to the City Council about a year ago after aldermen cited Cohen's continued absences and incomplete minute-taking that they alleged were violating city record-keeping. Scott, the former deputy city clerk, is also the executive assistant in the city manager's office, a role that was amended by the City Council in 2019 after aldermen eliminated he deputy clerk role, allowing the city's unelected recording secretary to perform all the duties the elected clerk can. That decision was made in the midst of controversy surrounding Cohen's predecessor, Lynn Fazkekas, who also sued the city during her term.
In the summer of 2019, Fazekas was asked to resign by then mayor Jerry Smith over what officials said was her misuse of a tool to notarize documents, a directive she refused. She also filed a lawsuit against the city, alleging the city had stripped her office of its powers by allowing an unelected city employee, Scott, to perform clerical duties. Fazekas's case was dismissed by judge Waller in 2020. Her appeal also was rejected by the Illinois Appellate Court in September 2021.
Cohen's lawsuit, a separate case alleging the city has violated his statutory rights, is expected to be heard before Judge Waller at 8:30 a.m. Feb. 1.