The biggest weekend of the Bears' offseason is underway. The 2023 NFL Draft began Thursday with the first round, and continues Saturday with rounds four through seven.
For Bears general manager Ryan Poles, the 2023 draft is a monumental one. He began the offseason holding the No. 1 overall draft pick, which he has since traded to the Carolina Panthers in a swap that netted the Bears a handful of draft picks (notably the No. 9 overall pick) and former Panthers star receiver DJ Moore.
The Bears drafted Tennessee offensive tackle Darnell Wright with the 10th overall pick Thursday, after trading back one spot with Philadelphia. On Friday, Poles selected three defenders, two tackles and a cornerback.
Stay here all day long once the draft begins for live updates throughout the night. Senior Bears Analyst for Shaw Local Hub Arkush and Bears beat reporter Sean Hammond will be reporting from Halas Hall in Lake Forest.
[ How the Chicago Bears narrowed in on Darnell Wright as their top draft pick ]
The draft is in the books
The 2023 NFL Draft is officially over. The Rams selected Toledo defensive end Desjuan Johnson with the 259th and final pick, making him "Mr. Irrelevant."
With final pick, Bears take Stanford safety Kendall Williamson
With the 258th pick in the draft, and the team's final of 2023, the Bears selected Stanford safety Kendall Williamson. He is a 6-foot, 202-pound safety who grew up in Georgia. Williamson has a mechanical engineering degree from Stanford.
He appeared in 49 games over five seasons for Stanford. In 2022, he totaled 50 tackles, 2.5 tackles for loss, one interceptions, one forced fumble and four passes defended.
Bears select Kennesaw State DT Travis Bell in seventh round
With the first pick in the seventh round, the Bears selected Kennesaw State defensive tackle Travis Bell. Bell is a 6-foot, 310-pound defensive tackle with the FCS Owls.
Bell, who grew up in Alabama, had 34 total tackles last season, 5.5 tackles for loss and 1.5 sacks in 11 games. He did not receive an invite to the NFL Scouting Combine in February. Bell is the first player ever drafted out of Kennesaw State.
He is the third defensive tackle the Bears have selected in this year's draft. Bell said he had started turning his attention toward which teams might offer him a spot as an undrafted free agent when he received a call from Ryan Poles.
"When I got that call, I was just excited man," Bell said. "I couldn't hold it back."
Bears draft Minnesota CB Terell Smith
The Bears selected Minnesota cornerback Terell Smith with the 165th overall pick, midway through the fifth round.
Smith is a 6-foot, 204-pound corner originally from Georgia. He started 29 games over five seasons at Minnesota. He recorded four interceptions and 20 passes defended over his college career. Last season, as a full-time starter, he also added 4.5 tackles for loss and two sacks.
Smith has tremendous speed, running a 4.41 in the 40 at the combine. He was a two-time track state champion sprinter in high school in Georgia.
"The long speed of track and football is different, but track definitely helped me with my initial bursts," Smith said Saturday.
At Minnesota, he was a starter as a true freshman, then didn't start again for another two years. In his fourth and fifth years, he emerged as a key starter in the Gophers' secondary.
Bears co-director of player personnel Trey Koziol said the resilience Smith showed to fight through some adversity was impressive. Smith was a player who improved every year in college.
"I thought the senior year, he showed a ton of improvement," Koziol said. "He just kept getting better and better. … He tested out really well at the combine. All the little check boxes that we look for, he kind of hit all of them."
Bears select Oregon LB Noah Sewell with fifth-round pick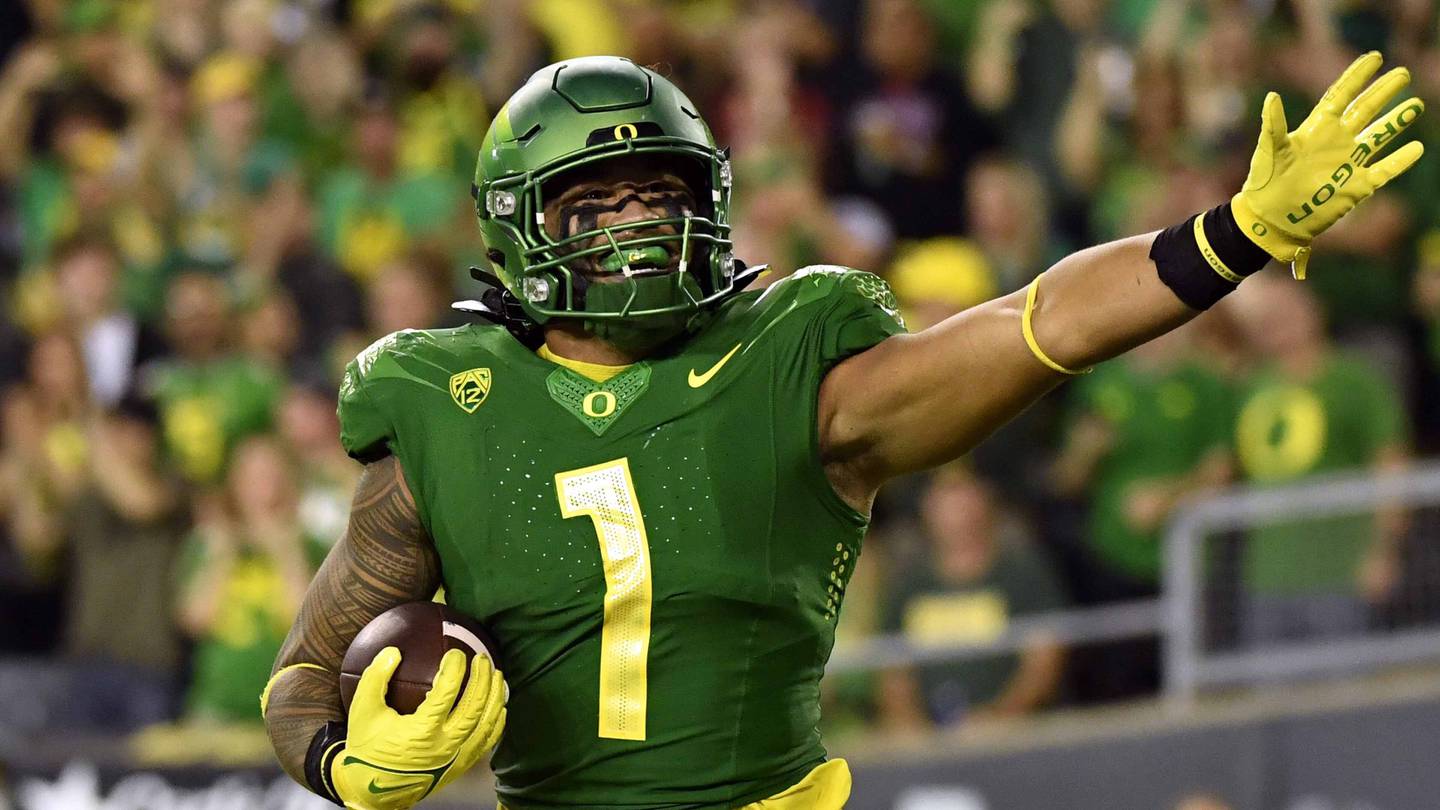 With the 148th overall pick, the Bears selected linebacker Noah Sewell out of Oregon. Sewell is a 6-foot, 246-pound linebacker who is the brother of Detroit Lions offensive lineman Penei Sewell.
Noah Sewell started 31 games over three season for the Ducks. Last season, he totaled 56 tackles, 5.5 tackles for loss and 1.5 sacks and was named a second-team All-Pac-12 performer.
"He's an instinctual player, he's smart, he gets ball," Bears west coast scout Reese Hicks said. "He's been around it a long time. His dad is a coach. He has that background and it came naturally for him."
Sewell grew up in a football family originally from American Samoa. The Sewells moved to Utah in 2012. Noah's father is a high school football coach.
The Sewell brothers are excited for their emerging sibling rivalry in the NFC North.
"It's going to be one heck of a matchup," Noah Sewell said. "We both compete. We're always competitive and I'm going to make sure I win a couple of reps."
With the 133rd pick, Bears select Cincinnati WR Tyler Scott
With another fourth-round pick (at No. 133 overall), the Bears selected Cincinnati wide receiver Tyler Scott.
Scott is an undersized receiver (5-9, 177) who had a breakout season last year for the Bearcats, totaling 54 catches for 899 yards and nine touchdowns. He was a second-team All-AAC performer.
Though he's not physically big, Scott has good speed and athleticism. He ran a 4.44-second 40-yard dash at the combine and totaled 39.5 inches in the vertical jump. That speed allows him to stretch the defense vertically. He also brings special teams experience as a gunner.
Bears midwest area scout Ryan Cavanaugh said Scott's big-play ability is his most exciting trait.
"He can really take the top off," Cavanaugh said. "Justin's going to like throwing to him deep. He does that well. I think he surprises us with route running and quickness and just everything about him. He's a tough kid."
Bears draft Texas RB Roschon Johnson with fourth-round pick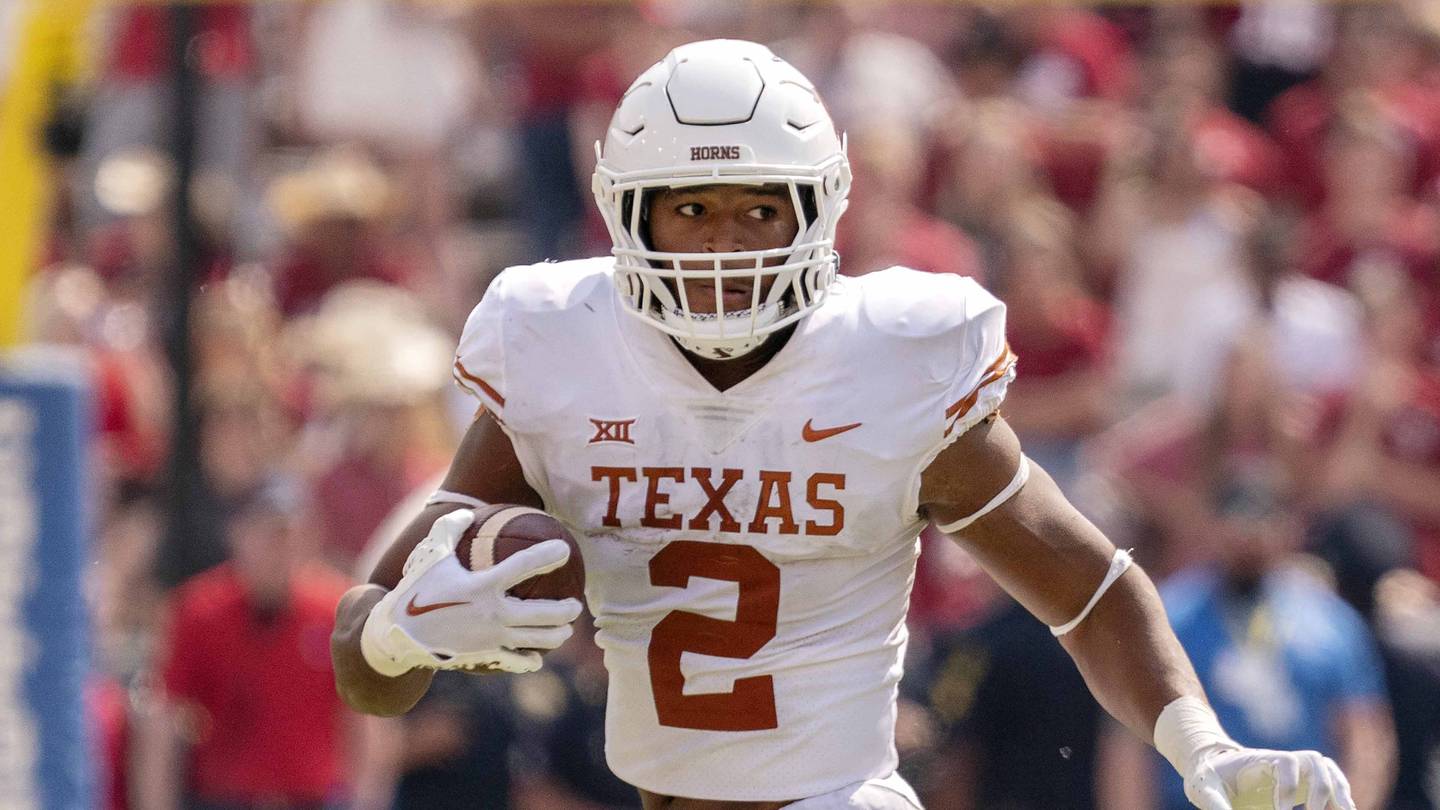 With the 115th overall pick in the draft, the Bears selected Texas running back Roschon Johnson. The 6-foot, 219-pound Texas native rarely started for the Longhorns, but that's because he was stuck behind 8th overall pick Bijan Robinson on the depth chart.
With fewer than 100 carries in both 2021 and 2022, Johnson totaled more than 500 rushing yards and five touchdowns each season. He was an honorable mention All-Big 12 performer last season, despite starting only one game, and he averaged six yards per carry.
Bears scout John Syty spent a lot of time scouting Johnson. The first time Syty went to meet with him in Austin, Texas, Syty remembered Robinson's name plastered all over billboards and in the headlines. But when Syty entered the Longhorns' football facility, everyone was talking about Johnson. He's the classic "hardest worker in the room," and Syty raved about him as a high-character person.
"This human being is wired differently," Syty said. "The more time you spend around him, the more you realize you're the one with stuff to work on. Not him."
At the NFL Scouting Combine, Robinson called Johnson "the best teammate I've ever had."
"He brings out so much in a player and the team, just how he goes about being a leader," Robinson said. "Not just his teammates, but everybody in the community."
In the era of NIL, and with him being stuck behind Robinson on the depth chart, Johnson easily could've transferred elsewhere for more playing time and more financial opportunities. Johnson said his decision to stay at Texas was never about NIL money.
"I didn't let the perspective of me being a backup have an effect on me," Johnson said.
Johnson is a former high school quarterback who understands the game, and who Syty believes might be one of the best special teams players in the draft.
Bears kick off day 3 with a trade
The Bears held the first pick of the day, kicking off round four, but have elected to trade down. They traded the 103rd overall pick to New Orleans in exchange for the 115th overall pick (fourth round) and the 165th overall pick (fifth round).
It was one of several trades that happened before the day even began Saturday. The Texans traded the 104th pick to the Raiders and the they traded the 105th pick (which they previously acquired from Arizona) to the Eagles.
The Bears now hold six picks Saturday: 115th (fourth round), 133rd (fourth round), 148th (fifth round), 165th (fifth round), 218th (seventh round) and 258th (seventh round).
Bears' day 2 recap
With three picks on Friday, the Bears addressed defense with all three, taking two defensive tackles and a cornerback. One day after taking an offensive tackle in the first round, Poles pivoted and added reinforcements on defense.
No. 53: Florida DT Gervon Dexter Sr.
No. 56: Miami CB Tyrique Stevenson (via trade with Jacksonville)
No. 64: South Carolina DT Zacch Pickens
The Bears now hold six picks Saturday: 115th (fourth round), 133rt might be over. After trading one fifth-round pick to Jacksonville to move up for Stevenson, trdhe Bears have five picks remaining on Saturday. They hold two fourth-round picks (103rd and 133rd overall), one fifth-round pick (148th) and two seventh-round picks (218 and 258).
[ Chicago Bears bolster defense on day 2 of NFL Draft ]
Senior Bowl connections
Bears offensive coordinator Luke Getsy served as the head coach of the American team at the Senior Bowl in February. It was an opportunity to work for an entire week with some of the top draft prospects in a hands-on environment.
Getsy and the Bears were clearly taking notes. Three of the Bears' first four draft picks in this year's draft were on Getsy's American team.
First-round pick Darnell Wright, the offensive tackle out of Tennessee, second-round pick Tyrique Stevenson, the cornerback from Miami, and third-round pick Zacch Pickens, the defensive tackle from South Carolina, all played on the American team with Getsy as their head coach.
The fourth player they chose, Florida defensive tackle Gervon Dexter, left Florida after three seasons. He was not yet a senior, so he was not eligible for the Senior Bowl.
Bears select South Carolina DT Zacch Pickens
With the first pick of the third round at No. 64 overall, the Bears selected South Carolina defensive tackle Zacch Pickens. The 23-year-old South Carolina native started two seasons for the Gamecocks. He was a second-team All-SEC performer last season, totaling 42 tackles, four tackles for loss and 2.5 sacks.
Pickens is a 6-foot-3, 291-pound defensive tackle with long arms and a stout frame. He is the second defensive tackle the Bears selected Friday night.
Bears trade up for Miami CB Tyrique Stevenson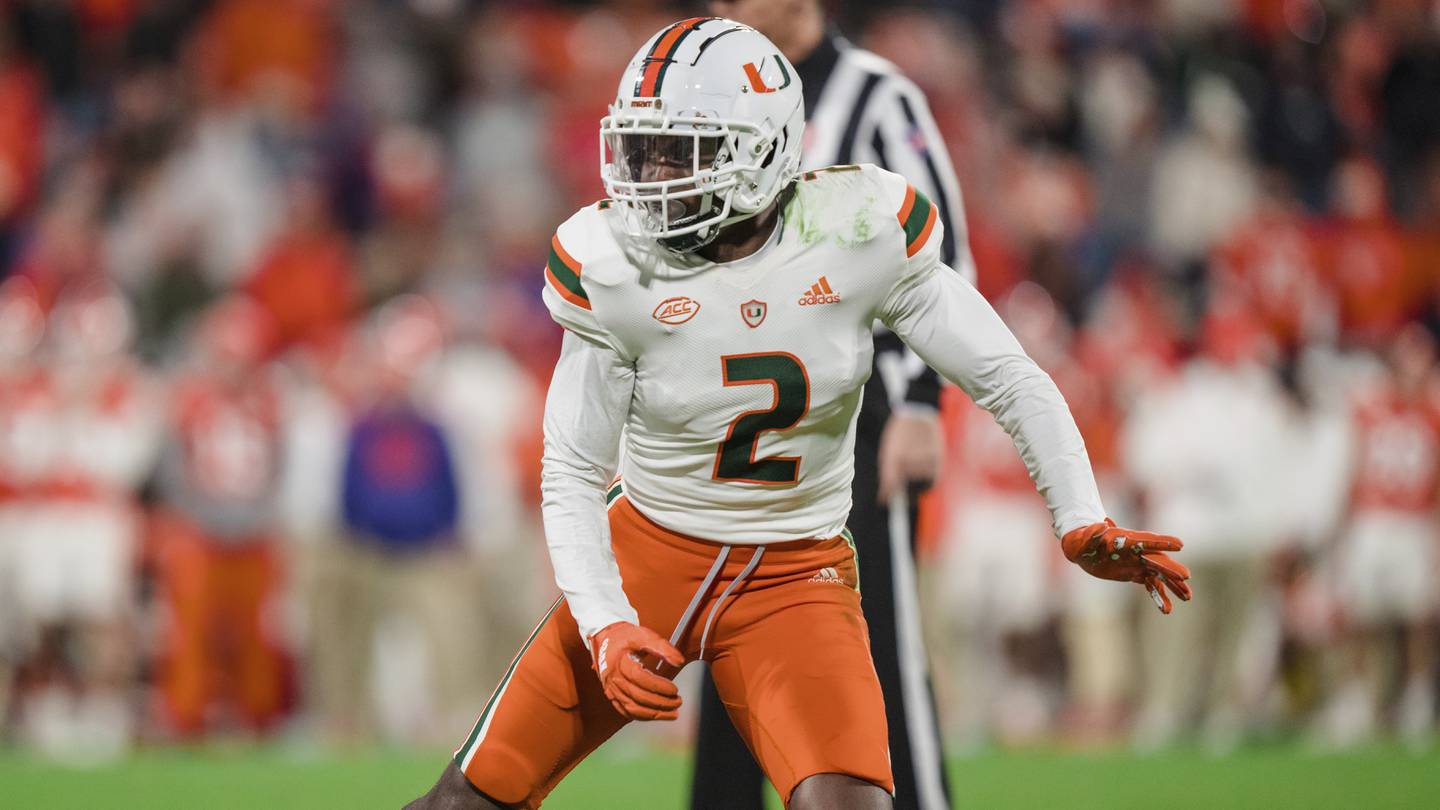 The Bears traded up five spots from No. 61 to No. 56 in a trade with the Jacksonville Jaguars in order to select Miami cornerback Tyrique Stevenson.
In doing so, the Bears gave up pick No. 136, which is the first pick of the fifth round.
Stevenson was a two-year starter for the Hurricanes after transferring from Georgia. In 2022, he had 25 combined tackles, two interceptions and nine passes defended. He was a third-team All-ACC performer. He measures in at 6-foot, 198 pounds.
The Bears could look to pair Stevenson with cornerbacks Jaylon Johnson and Kyler Gordon in the starting lineup.
Bears select Florida DT Gervon Dexter Sr. at No. 53 overall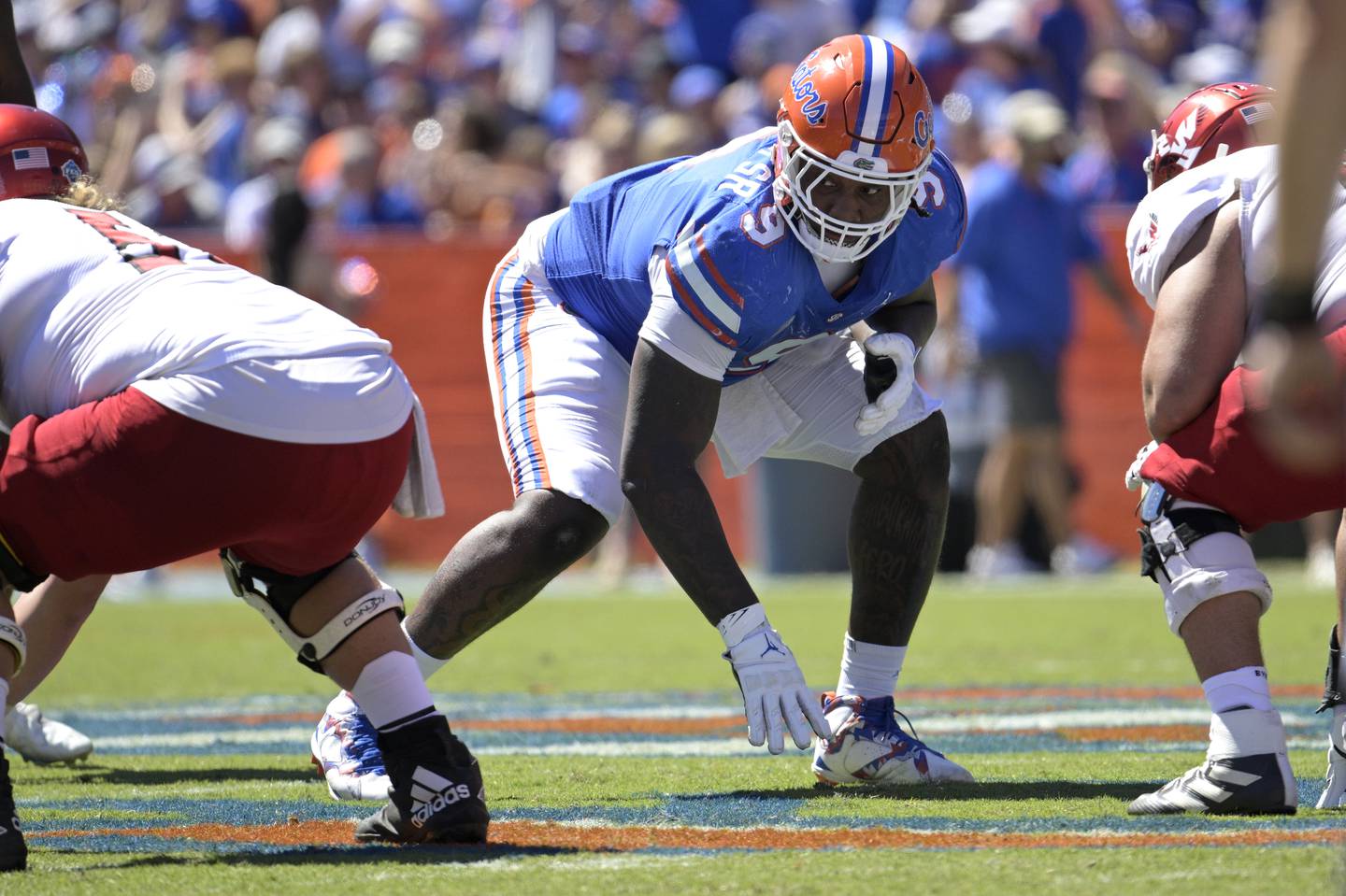 With the 53rd overall pick in the draft, the Bears have selected Florida defensive tackle Gervon Dexter Sr. Drafting a defensive tackle fills a big need for the Bears.
Dexter is a 6-foot-5, 310-pound defensive tackle who started two seasons for the Gators. He had 55 tackles, four tackles for loss and two sacks for the Gators as a junior last season. Dexter is a 21-year-old Florida native.
As a youngster growing up, Dexter gave up football in middle school to focus on basketball. He returned to football as a junior in high school.
Pass rushers flying off the board
The Bears have a strong need for a pass rusher. But with their first pick Friday coming at No. 53, they may have to sit back and watch as other teams take top pass rushers off the draft board.
Seattle took Auburn pass rusher Derick Hall with the No. 37 overall pick. Later, New Orleans took Notre Dame pass rusher Isaiah Foskey at No. 40 overall. Moments after that, Arizona drafted LSU pass rusher BJ Ojulari.
The Bears don't necessarily have to take a pass rusher with the 53rd pick, but they will likely look to target one at some point during Friday's second and third rounds.
Titans trade up for QB Will Levis
The Steelers kicked off the evening by drafting cornerback Joey Porter Jr., whose father Joey Porter was a Pro Bowl corner and won a Super Bowl for the Steelers.
Moments later, the Cardinals traded the No. 33 overall pick to the Tennessee Titans. The Titans moved up in order to select Kentucky quarterback Will Levis.
Levis' long headache is now over after he slid out of the first round Thursday. Levis was present in Kansas City for the first round Thursday, but never heard his name called.
Day 2 is underway
Day two of the draft is about to get underway from Kansas City. The Bears hold three total picks Friday. They have two second-round picks (No. 53 and No. 61), plus a third-round pick (No. 64).
The Steelers will kick off the night with the No. 32 overall pick, which once belonged to the Bears. The Bears traded the pick for receiver Chase Claypool at the trade deadline last fall.
First round is in the books
The first round is in the books. The Bears came away with a new right tackle in Tennessee's Darnell Wright. The Texans surprised everyone by trading up and picking back-to-back at No. 2 and No. 3 overall, grabbing QB C.J. Stroud and pass rusher Will Anderson. The Eagles added two promising young defenders to their already stacked defense with defensive tackle Jalen Carter at No. 9 and pass rusher Nolan Smith at No. 30.
In the NFC North, the Lions took running back Jahmyr Gibbs at 12th overall and linebacker Jack Campbell at 18th, while the Vikings grabbed receiver Jordan Addison at 23rd and the Packers selected pass rusher Lukas Van Ness at 13th.
Friday's second round begins at 6 p.m. Check back for more updates Friday evening.
Lions surprise everyone with a running back
After trading out of their top pick, the Lions held three picks in the top 34. They surprised everyone by using the 12th overall pick on Alabama running back Jahmyr Gibbs. Gibbs was widely expected to be the second running back off the board after Texas' Bijan Robinson, but the expectation seemed to be that Gibbs would be a second-round pick.
Instead, the Lions swooped in and drafted Gibbs just a few weeks after they handed former Bears running back David Montgomery a three-year, $18 million contract in free agency.
The Lions later used the No. 18 pick on Iowa linebacker Jack Campbell, the first linebacker drafted this year. Campbell was also not expected to go until late in the first round or sometime in the second round.
Bears draft offensive tackle Darnell Wright with No. 10 overall pick
After trading back with the Eagles from No. 9 to No. 10, the Bears drafted Tennessee offensive tackle Darnell Wright.
Wright was an All-SEC right tackle last season for the Vols. He has experience at both right and left tackle in college. Wright measures in at 6-foot-5, 333 pounds.
Taking a right tackle fills a huge need for general manager Ryan Poles' team. Wright could start right away at right tackle and Braxton Jones, who made the All-Rookie team last season, can remain at left tackle.
The Bears passed on Northwestern lineman Peter Skoronski, who was still available.
Bears trade No. 9 pick to Eagles, move back one spot
The Bears have reportedly traded the No. 9 overall pick to the Philadelphia Eagles in exchange for the No. 10 overall pick and a 2024 fourth-round pick. The Eagles used the No. 9 overall pick on Georgia defensive tackle Jalen Carter.
The Bears moved back one spot, adding additional future draft capital in the process.
The Bears have traded pick 9 to the Eagles for pick 10 and a 4th round pick in 2024, per source.

— Field Yates (@FieldYates) April 28, 2023
Seahawks draft Illinois CB Devon Witherspoon at No. 5
The Seahawks selected Illinois cornerback Devon Witherspoon with the fifth overall pick. Witherspoon became the first Illini drafted in the top 10 since 1996. In 1996, former Illinois linebacker Kevin Hardy and defensive end Simeon Rice went back-to-back at No. 2 and No. 3 overall.
Witherspoon, a Florida native, could be a good fit for Pete Carroll's defense. He's also the first Illini taken in the first round since 2012.
Colts take Florida QB Anthony Richardson at No. 4
The Colts drafted Florida quarterback Anthony Richardson with the fourth overall pick. Richardson became the third quarterback taken in the first four picks. Richardson is an athletic freak, but he doesn't have as many college starts as some of his peers.
Texans take Ohio State QB C.J. Stroud, then trade up for Will Anderson
With the No. 2 overall pick, the Houston Texans found their quarterback of the future, selecting Ohio State quarterback C.J. Stroud. Stroud was widely believed to be one of the top QB's in this year's draft.
In recent days, discussion picked up that the Texans might pass on a QB and take the first defender. In the end, it appears GM Nick Caserio always had his sights set on a quarterback.
Or, better yet, he wanted both.
Moments later, Caserio and the Texans traded up with the Arizona Cardinals for the No. 3 overall pick. Houston used the third pick to take Alabama pass rusher Will Anderson.
The Texans traded the No. 12 overall pick, the No. 33 overall pick, a 2024 first-round pick and a 2024 third-round pick to Arizona in return for the No. 3 overall pick and the No. 105 overall pick. The Texans had two first-round picks in 2024, so they will still have at least one first-round pick next year.
Cardinals get:
12
33
1st in 2024
3rd in 2024

Texans get:
3
105

— Adam Schefter (@AdamSchefter) April 28, 2023
Panthers select Alabama QB Bryce Young with 1st pick
More than a month after trading with the Bears to move up to No. 1 overall, the Carolina Panthers selected Alabama quarterback Bryce Young with the draft's first pick.
Young did incredible things on the football field for the Crimson Tide the past two seasons, but faced questions about his height and weight (he measured in at 5-foot-10, 204 pounds at the combine). The Panthers, with a new head coach in Frank Reich, have their quarterback of the future.
How can I watch the draft?
This year's draft takes place in Kansas City, Missouri. About two dozen of the top prospects will be on hand to walk across the stage when they hear their names during Thursday's first round. All three days of the draft will be broadcast on both the NFL Network and ESPN.
Thursday: 7 p.m., Round 1
Friday: 6 p.m., Rounds 2-3
Saturday: 11 a.m., Rounds 4-7
When do the Bears pick?
Thanks to a 3-14 record last season, worst in the NFL, the Bears earned the No. 1 overall draft pick. But with Justin Fields firmly in place as the starting quarterback in 2023, other teams were eager to see if the Bears were willing to part with the top pick.
Poles traded the No. 1 overall pick to Carolina in exchange for Moore, the ninth overall pick, the 61st pick, Carolina's first-round pick in 2024 and their second-round pick in 2025.
After the dust settled, the Bears were left with 10 total picks in the 2023 draft. Here are all the Bears' picks entering Thursday:
First round: No. 9 overall
Second round: No. 53 overall (traded from Baltimore)
Second round: No. 61 overall (traded from Carolina)
Third round: No. 64 overall
Fourth round: No. 103 overall
Fourth round: No. 133 overall (traded from Philadelphia)
Fifth round: No. 136 overall
Fifth round: No. 148 overall (traded from New England through Baltimore)
Seventh round: No. 218 overall
Seventh round: No. 258 (compensatory pick)
What to expect from Poles and the Bears?
With a roster full of holes, few positions are out of the question for the Bears at No. 9 overall. The only shock would be if they were to draft a quarterback. In trading away the No. 1 pick, they essentially endorsed Fields for at least one more season. With two first-round picks a year from now in 2024, Poles has the draft capital to address the quarterback position if he feels that Fields isn't working out.
Now, though, any number of positions could be in play. They could be particularly interested in a defensive lineman or an offensive tackle. The Bears recorded a league-worst 20 sacks defensively in 2022, and a pass rusher or defensive tackle could help there. They also have a gaping hole in the starting lineup at right tackle.
Poles did not speak with members of the media prior to the draft, but his top deputy – assistant general manager Ian Cunningham – did.
"I think that's what we always do is try to take that best player available approach," Cunningham said. "I think the whole 'needs' thing kind of – it's funny, Ryan and I were having this conversation earlier, those needs kind of get ironed out with the whole process, but ultimately, it's the best player available."
The question is how rigid Poles and Cunningham will be with that motto. They appeared to stick with the "best player available" mantra a year ago when they took two defensive backs with their top two picks.
But would best player available include a running back, such as Texas stud Bijan Robinson? How about controversial Georgia defensive tackle Jalen Carter?
Cunningham was noncommittal on Carter, other than to say one-on-one time visiting with him was valuable. As for taking a running back in the top 10, Cunningham said, "Yeah, I think it's worth it." At the same time, Cunningham comes from an Eagles organization that hasn't drafted a running back in the first round in 37 years.
Further down the draft order, the Bears have three valuable picks at Nos. 53, 61 and 64. Those remain prime spots to pick up starting-caliber players. The Bears know how huge this draft is.
"I kind of look at it as pressures of privilege," Cunningham said. "At least for us, you just kind of look at it as this is a draft we're excited about and you just try and keep yourself in the moment."
Who are the top prospects?
All eyes are on the quarterbacks. The Panthers are expected to draft a QB with the No. 1 overall pick, and several more QBs could go in the top 10. Alabama's Bryce Young, Ohio State's C.J. Stroud, Florida's Anthony Richardson and Kentucky's Will Levis are expected to be in the mix.
But the draft is about so much more than quarterbacks. The Bears were the worst team in the NFL last season, despite whatever promise Fields showcased. They have to improve at nearly every position. With several quarterbacks expected to be drafted in the top 10, some talented players at other positions could fall to the Bears at No. 9.
Shaw Local has put together prospect breakdowns for every position, looking at players available on all three days of the draft. Check them out below:
Quarterback | running back | wide receiver | tight end | offensive tackle | interior offensive linemen | defensive tackle | edge rushers | linebackers | cornerbacks | safeties
Prediction time
Nobody knows what's going to happen, but that didn't stop the Shaw Local team from trying. Senior Bears Analyst for Shaw Local Hub Arkush and Bears beat reporter Sean Hammond have both been trying to predict what will happen in the first round. Below are their latest mock drafts.
I'm still watching more tape and making more phone calls, but based on what I've learned to date, here is my second crack at a mock draft.https://t.co/J4cap9Vgir

— Hub Arkush (@Hub_Arkush) April 21, 2023
According to Arkush, this draft is all about taking the best player available. Here's a look at Arkush's keys to the 2023 draft for the Bears. Additionally, Arkush wrote up his top 10 prospects regardless of position. Read that breakdown here.
The draft is seven rounds long. While the first round draws the most attention, the Bears have picks throughout the remaining rounds and those are equally important in many ways.
Notably, the Bears have two picks near the end of the second round, along with the first selection of the third round. Here's 10 players the Bears could consider with those three day-two picks.