Longtime car dealer Terry D'Arcy on Wednesday announced he will run for mayor of Joliet in the 2023 municipal election.
D'Arcy, 66, made the announcement at his Buick GMC dealership on Essington Road in Joliet. As the president of D'Arcy Automobiles, he has operated dealerships throughout the Chicago area and has been involved in several organizations and charitable efforts in the Joliet area. He made the announcement in front of his mother, wife and two of his six children.
"The skill set I have been able to assemble during my life has given me the opportunity to know and believe I can put my work ethic and leadership skills to effective use," D'Arcy said during his announcement.
While he said he has never run for office before, D'Arcy touted his business accomplishments as the employer of more than 200 at his dealerships in Joliet and plans to build another facility. He also expressed support for organized labor, especially the machinists who he said are "the heartbeat" of his dealerships.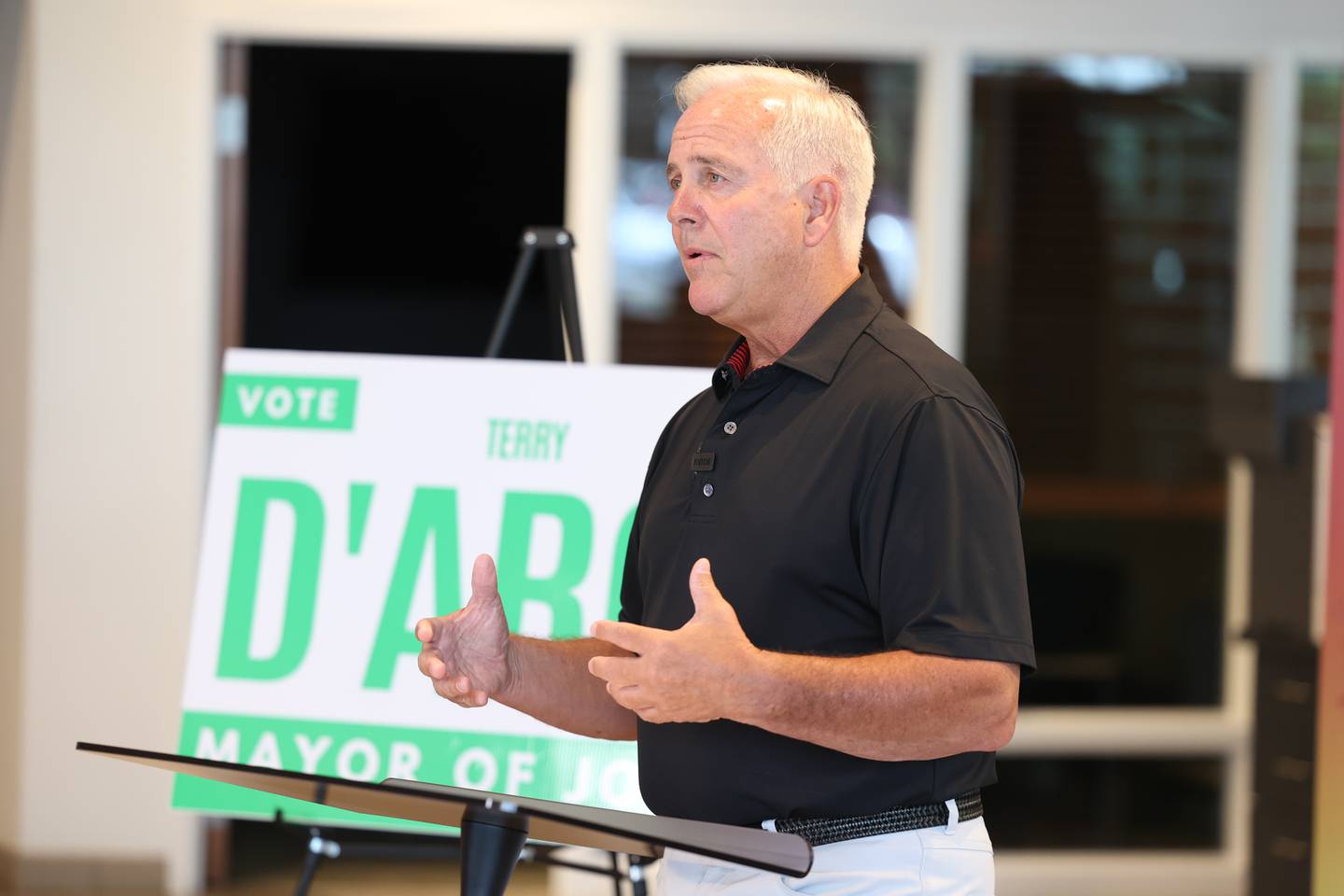 His civic engagement has spanned involvement with the Silver Cross Hospital board, Machinist Union 701, as well as local higher educational institutions, auto dealer associations and more.
D'Arcy added that he aims to lead the city with "clear and energetic communication."
But when asked about what issues he would be focused on during his campaign, D'Arcy said he didn't have a "broad-based answer on that."
"Let me work on that, and I'll get back to you with an answer," he said.
D'Arcy also said he didn't have an answer on the controversial NorthPoint Development project that has promised jobs and tax revenue but garnered resistance from many residents.
"I haven't studied it hard enough," he said.
D'Arcy said he would try to work well with the City Council and city manager, "to make sure we do everything right and what's best for our city." The remark appeared aimed at setting a contrast with the tumultuous past few years the City Council and incumbent Mayor Bob O'Dekirk have spent in disagreement over issues, most notably the hirings of multiple city managers.
With the announcement, D'Arcy is setting up a head-to-head matchup with O'Dekirk, who announced in March he will seek a third term in office.
While O'Dekirk said in an interview Wednesday he welcomes "the opposition" after winning reelection unopposed in 2019, he said he was surprised by D'Arcy's candidacy.
"Definitely, Terry's one of the people who I've worked with a lot as mayor, and worked relatively well with," O'Dekirk said.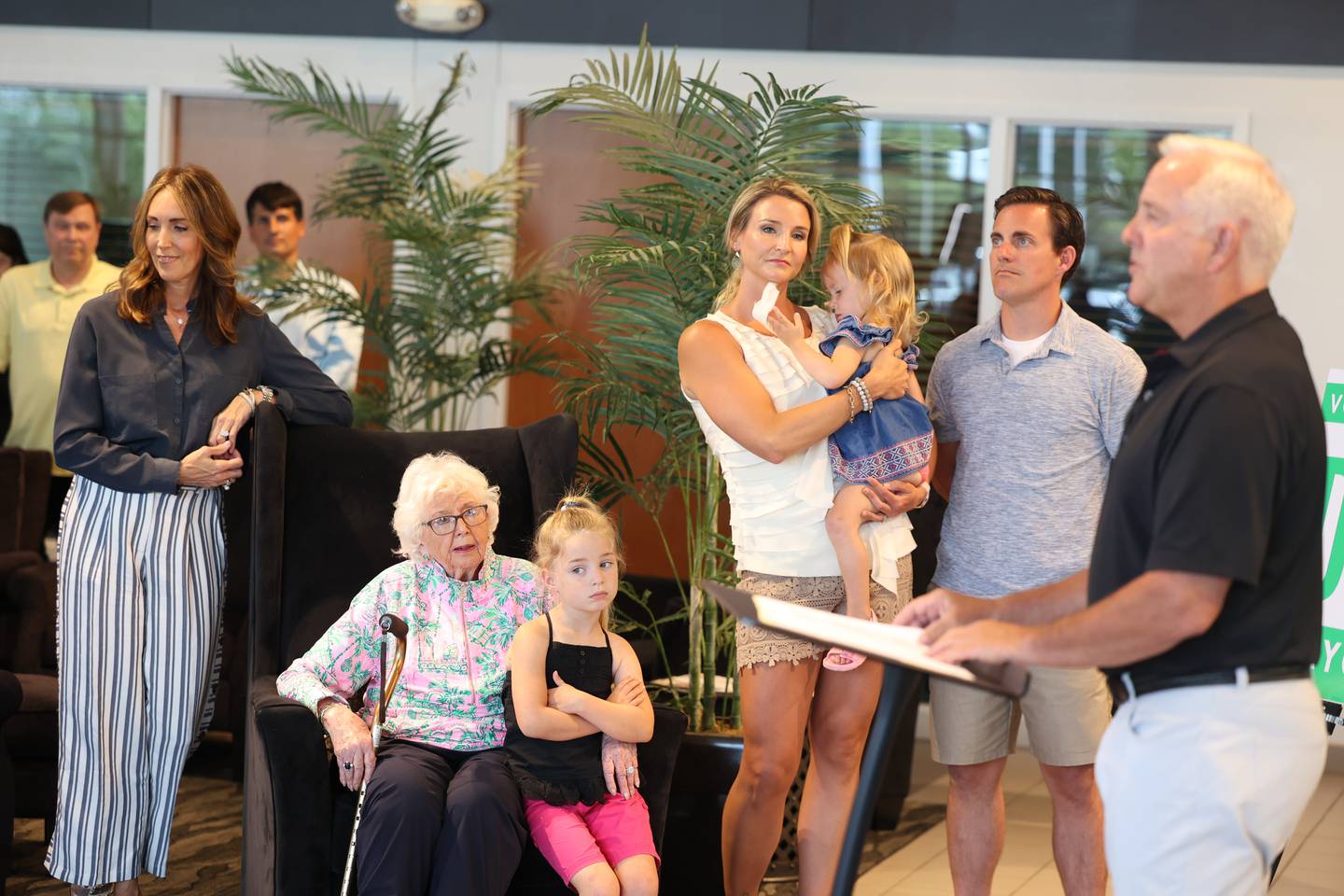 Illinois State Board of Elections records also show D'Arcy and his company have contributed a little more than $11,000 to O'Dekirk's campaign since 2015.
The mayor also pointed out that until recently, D'Arcy had been a resident of Shorewood and not Joliet. Kevin Lampe, who's strategic communications firm is working for D'Arcy's campaign, said D'Arcy moved to Joliet's Wooded Creek subdivision "about a year ago."
When asked about his decision to run against O'Dekirk after previously supporting him, D'Arcy said he felt compelled to "give one more thing to the city, and that's my public service."
"I wish him well," D'Arcy said about O'Dekirk. "We get along fine. I respect him, but if I waited one more election cycle, I don't know that I'd have the energy to [run for office]."
Since he was first elected in 2015, O'Dekirk has overseen several business and infrastructure development projects in the city.
Big-name companies such as Amazon and Portillo's have brought a distribution center and opened a restaurant in town.
Joliet also has spearheaded an ambitious project to bring Lake Michigan water to six local municipalities by the end of the decade.
Roadway construction projects such as the future Houbolt Road bridge project aim to reduce truck traffic on local roads. O'Dekirk also pointed to the future Rock Run Crossings, a mixed-use project promising retail, restaurants, hotels, offices and more at Interstates 55 and 80.
"The city is in much better shape than when I became mayor," O'Dekirk said.
In a recent State of the City address, O'Dekirk said there was a half-billion dollars of construction in Joliet just last year. He also pointed to rising property values during his tenure.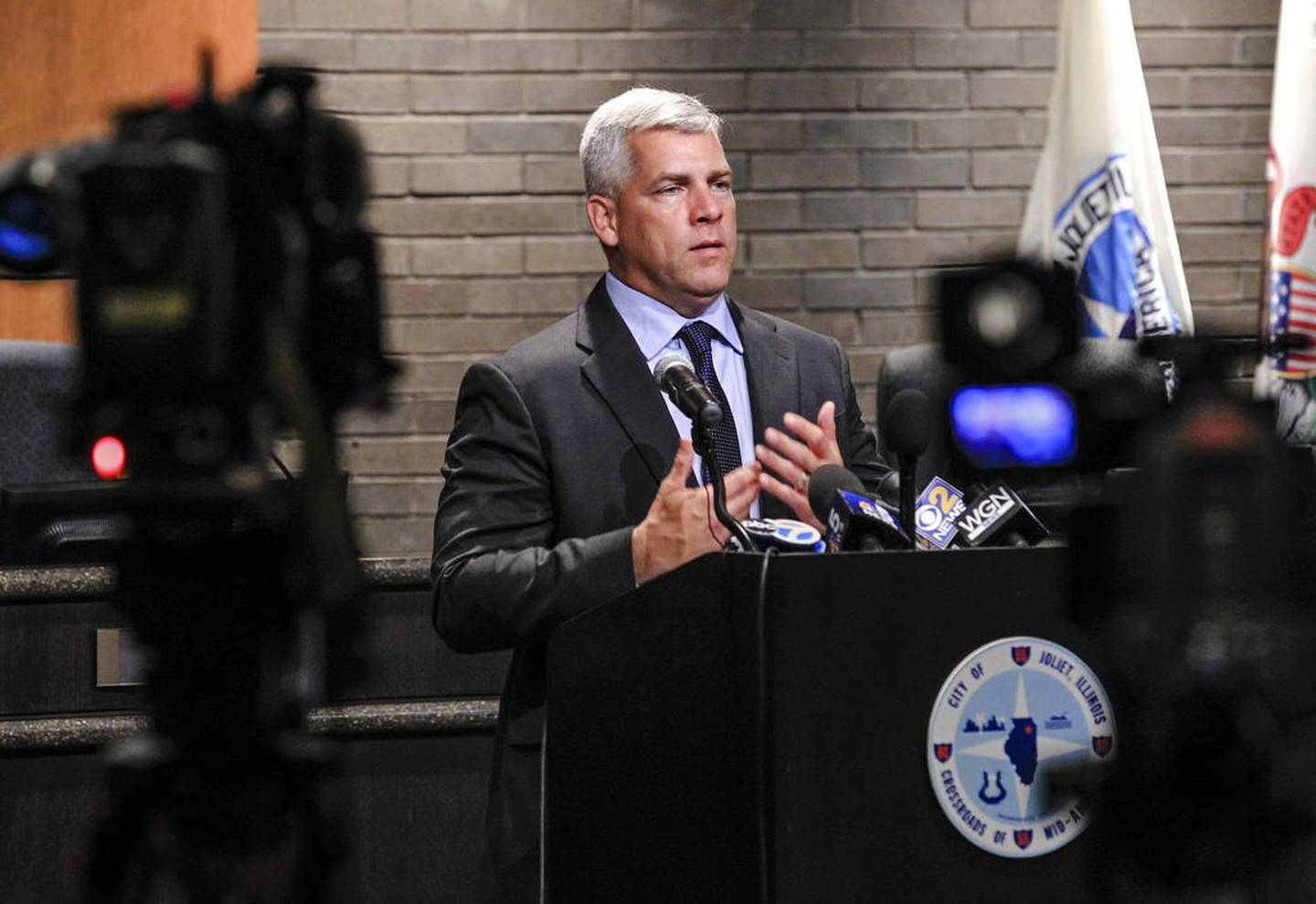 "I'm not sure what about my record could be challenged," he said.
O'Dekirk's second term has been dogged by controversies, sharp divisions on the City Council and a city manager's office and police chief's office that have experienced revolving doors in the past four years.
Probably the most notable controversy was O'Dekirk's May 31, 2020, altercation with brothers Victor Williams and Jamal Smith at a protest-turned-riot that followed George Floyd's murder by Minneapolis police officer Derek Chauvin.
Williams and Smith sued O'Dekirk and several officers. That resulted in a $93,000 settlement in the brothers' favor. It was the second time the city settled a lawsuit involving O'Dekirk. The first was over a 2019 car crash.
Special Prosecutor Bill Elward declined to charge O'Dekirk over the altercation but noted his "poor judgment in the incident."