As the nation continues to grapple with how best to combat gun violence and mass shootings, a group of demonstrators in Joliet joined others who took to the streets throughout the country this weekend to make their feelings heard.
The showing in Joliet on Saturday was smaller than in some other cities in Illinois and nationally. Nevertheless, about a dozen people joined the national push calling for legislative action to curtail gun violence. Their slogans referenced U.S. school shootings over the past quarter-century such as "Protect kids, not guns!" and "Kids are dying!"
While the group garnered several supportive honks, there were the occasional shouts and jeers, including one man who tried to shout at them from his vehicle as he turned onto Larkin Avenue while also making an obscene gesture toward them.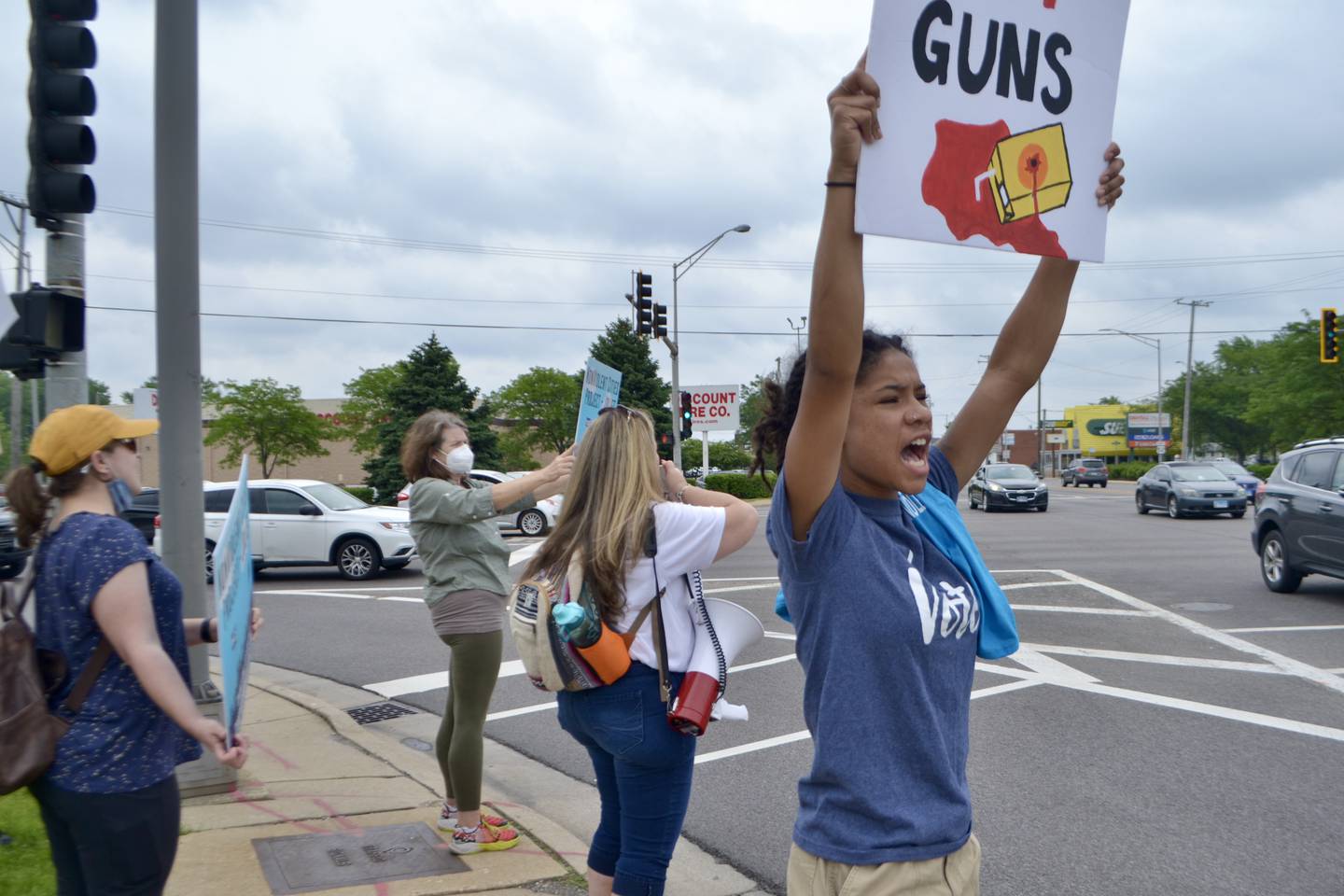 Jill Holler, of Plainfield, said she is a retired teacher, a liberal Democrat and felt compelled to demonstrate because she feels the country is witnessing "some of the craziest times" she's ever experienced.
During her 35 years as an educator, Holler said, she participated in lockdown drills to prepare for an active shooter at her school. To her, it appeared the threats have only worsened.
"I can't stand sitting on the sidelines and doing nothing," she said.
Demonstrations like the one held in Joliet took place over the weekend as lawmakers in the U.S. Senate attempted to craft some passable legislation aimed at reducing gun violence. On Sunday, senators announced a potential deal, but the lack of action has angered many across the country as tens of thousands die by firearms every year, though most of those deaths are suicides.
"It's horrendous," said Will County Progressive co-chair Suzanna Ibarra. "(Politicians) care more about profits and their donors than they care about children. Who wouldn't want children to stay alive?"
The killings of student and teachers in classrooms across the country was especially concerning for Holler, who said she had family members who are also teachers. When asked about proposals to increase security at schools by arming teachers, she said such an act would cause her even more worry.
And she called proposals to further fortify schools with more security "half-baked."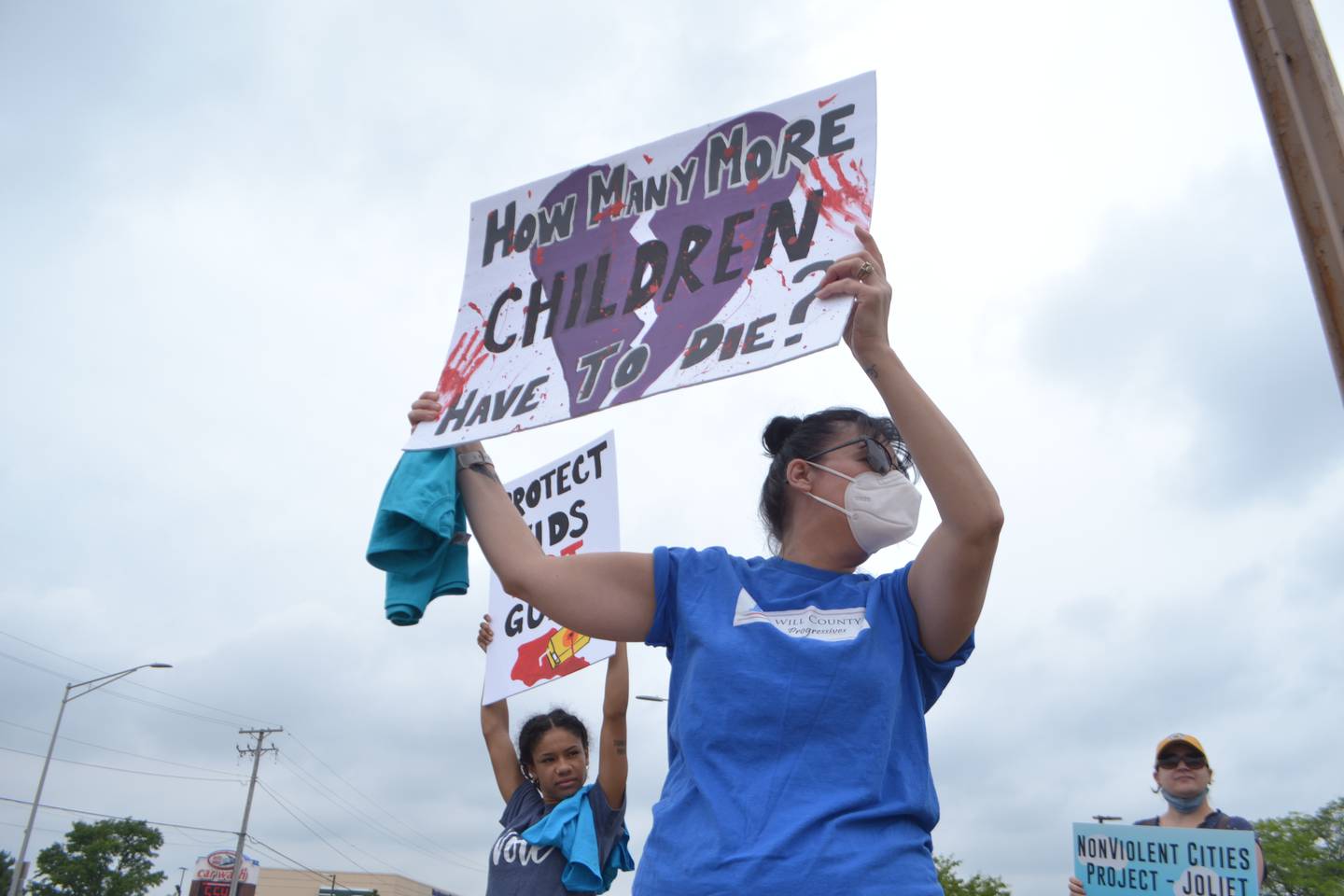 At least one Will County school district recently added school resource officers to patrol its buildings.
The threat and reality of gun violence extends beyond the classroom, even in Will County where multiple incidents have occurred in just the last month or so.
A 16-year-old was charged with the attempted murder of a 17-year-old male after shooting him in the leg outside of a Plainfield elementary school on May 15. That same school was also hit by gunfire about a week later.
The Department of Children and Family Services office in Joliet also had to close for multiple days after being hit by gunfire on May 21.
Also last month, a man was arrested for the second time for allegedly firing a gun at a vehicle with two people inside in Joliet.
Just last Friday, another man was arrested in connection with the shooting of a 32-year-old man from Joliet who was hospitalized in critical condition, police said.
In Joliet, there were just under 200 combined fatal and non-fatal shooting victims between 2016 and 2020, according to data from the Illinois Department of Public Health.
Joliet had a rate of about 26 shooting victims per 20,000 residents. That rate puts it on the lower end of a list of 30 selected Illinois municipalities compiled by the Illinois Department of Human Services. Joliet's rate is about on par with Illinois cities like Cicero and Urbana.
Still, even that many incidents have worried activists like those demonstrating on Saturday.
"Never again will I vote for anyone that doesn't have a tough stance on commonsense gun laws and reform," Ibarra said. "Because we're putting (lawmakers) in these positions ... and they do not protect children."