ROCK FALLS – After graduating four seniors, including starting point guard Booker Cross and starting forward Devin Schultz, the Rock Falls Rockets have a few holes to fill entering the 2022-23 season.
Cross, a Second-Team All-Big Northern Conference selection, averaged 12.2 points, 4.5 rebounds, 3 assists and 1.7 steals per game last season. Schultz was the top rebounder on the team, and guard Baraka Boards and forward Keagan Hicks contributed off the bench.
Fortunately for the Rockets, most of the 2021-22 cast is returning, including two of their top three scorers in junior guards Aydan Goff and Gavin Sands.
Goff, last year's leading scorer, averaged 13.3 points, 3.9 rebounds and 1.2 assists per game as an All-Big Northern Conference honorable mention pick in 2021-22. Sands, the third-leading scorer last year, averaged 10.1 points, 4.3 rebounds, 2.1 assists and 1.8 steals per game.
Cross' departure could mean Goff assumes the role of primary point guard this year, a prospect that excites the junior.
"Now that Booker's gone, I'm pretty sure I'm taking the point guard spot," Goff said. "Being a distributor, leader this year. Pretty excited for it, but it's going to be pretty big on me."
With a high number of returning players and some new talent coming up from the lower levels, Rock Falls expects to have some spirited competition for the roles of last year's seniors.
"We have a lot of guys — a lot of young guys and some of these older guys who are competing right now. It's tough decisions we're going to have to make night in and night out on who's going to fill those spots," Rock Falls coach Zach Sandrock said. "Those two players and the other seniors, they were great guys, great people all the way around, and they were great players, so there's going to be a void that we need to fill. But we are athletic, we are young and these guys are stepping up, and they're hungry to take those spots and fill those roles."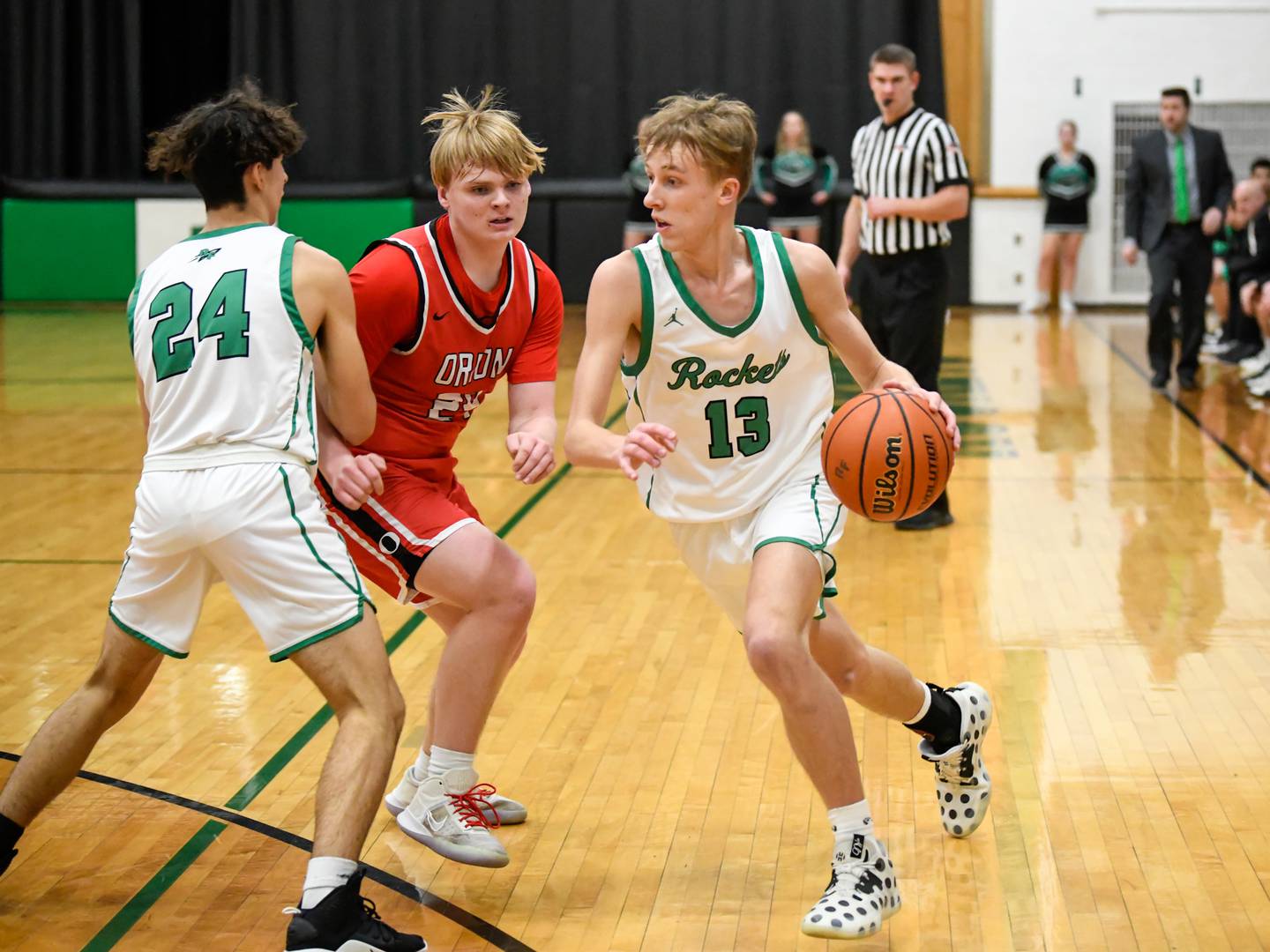 Goff and Sands said they've been impressed with the varsity call-ups so far in practices, as well as last year's underclassmen who were on varsity but didn't see as much playing time. With two starting spots to fill and two backup slots open, they're happy to have the reinforcements.
"I think we can fill those roles pretty well. We've got a couple kids who are sophomores coming up, juniors who didn't play last year, a couple seniors who maybe played JV last year," Goff said. "But playing for those roles, they all have talent to make it. I think all of them can make it."
Goff expects ball movement and defense to continue to be strengths for this year's team.
"Ball movement, for sure. Defense, for sure. And pushing in transition because we have a very athletic team this year," he said. "Very quick. A lot of young talent. We can really use all of it."
"I think what we have coming up right now is a lot of talent," Sands said. "And I think they're going to be able to fill those roles that were left last year, if not make them better. I think our depth is going to be a lot deeper. No matter who's out there, we can all play with each other really well."
Sophomore guard Timmy Heald and senior forward Chevy Bates were key players off the bench last year. Heald's shooting and Bates' toughness in rebounding and scoring down low were key components of the second unit — and the starting lineup on a few occasions. This year, they could be in line for even more playing time.
Also looking to carve out bigger roles for themselves this year are junior guard Devin Tanton-DeJesus and sophomore guard Ryken Howard, Sandrock said.
"Ryken Howard is a sophomore this year. He was kind of the main guy on JV last year. I think he'll be a big role-filler for us," he said. "Devin Tanton-DeJesus is also another one of those guys. He played a little bit with us at the varsity level last year, got some experience. He's one who's really grown over the summer and is competing for one of those starting spots as well, along with a couple other guys. So it's going to be fun."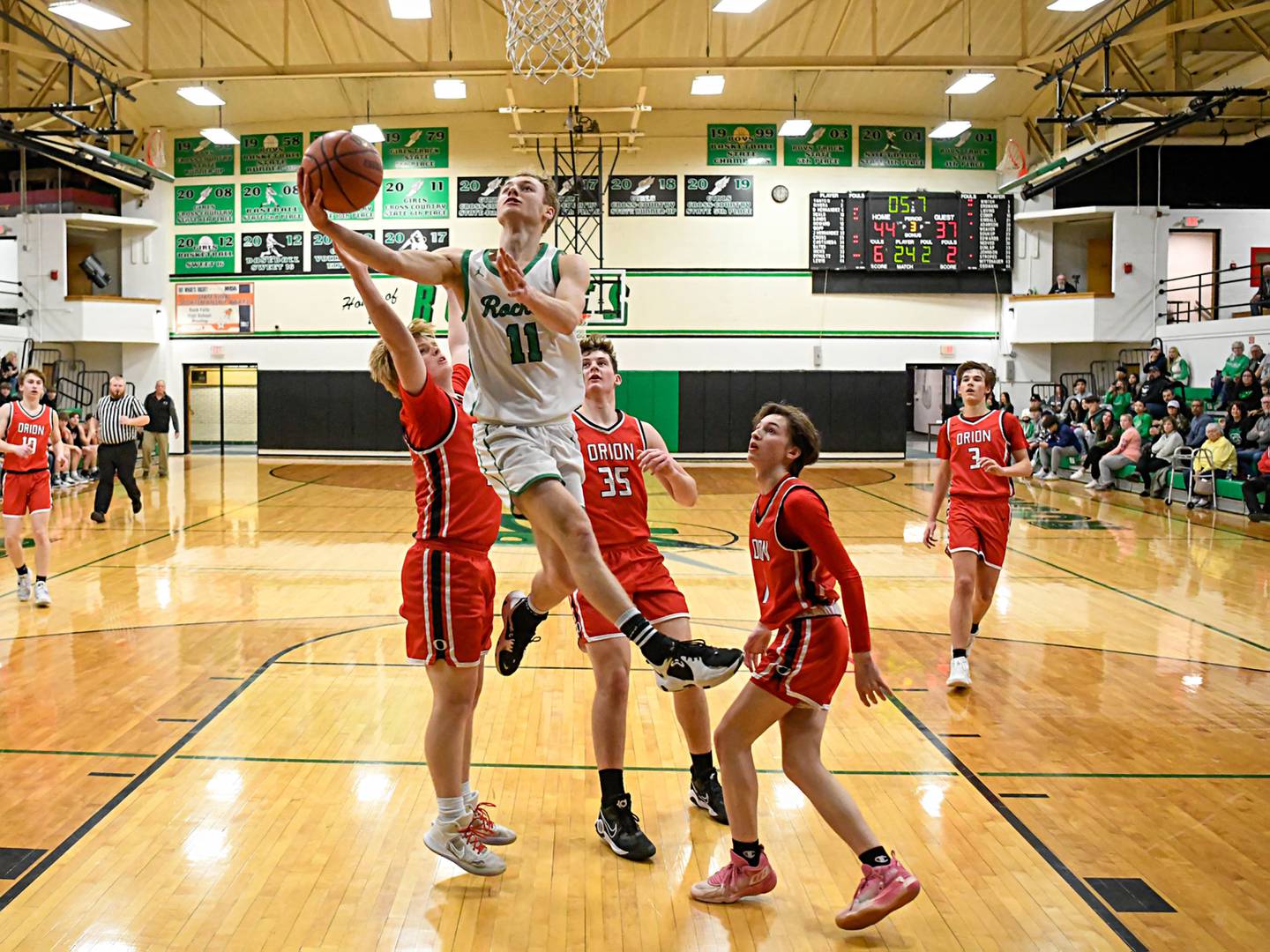 After finishing 13-18 last season with a 71-47 loss to No. 2 seed Riverdale in a Class 2A regional semifinal, the Rockets are out to prove something this year.
"We have very high expectations because going into the summer, we kind of had something to prove," Sands said. "And since we've been practicing and getting to know each other, our chemistry has really built a lot. And I think, going into the season, we have very high expectations to win."
Goff has his sights set on a regional title this year, but with the talent Rock Falls is set to face during the regular season, he knows his team can't look ahead.
"Honestly, winning a regional would be really nice, but like always, we have to take one game at a time," he said. "Regional is my main goal as of now, and then we just go from there."
In the Big Northern Conference, the Rockets will have to contend with Rockford Lutheran, Rockford Christian, Dixon and Genoa-Kingston. Outside of the conference, they've got Newman and Rochelle as standout teams from last season.
"We've got a tough schedule. Some big schools, some big tournaments. We play in Sterling's Martin Luther King Tournament this year with some big schools," Sandrock said. "My expectation is that we compete even with those bigger schools. We're young, we're athletic, but we do have some experience. Some of these younger guys, juniors and even a few sophomores, do have playing experience on varsity, so my hope is that we can compete."
Rock Falls opens its season next week at the Geneseo Invite.