At the start of the season, Dixon native Jessa Long and her Florida A&M volleyball teammates were hungry to get back to competition.
By the end of the season, they had made history.
From her libero spot, Long helped lead the Rattlers to the SWAC Tournament championship in the team's first year in that conference, earning a berth in the NCAA Division I Tournament for the first time since 2009.
The prize was even sweeter when one considers FAMU was one of the few teams around the country that did not play in the COVID-19 makeup season last spring after the pandemic wiped out the 2020 fall season.
"We really didn't play a game in two years, so we wanted to make it worthwhile," said Long, who also redshirted the 2019 season along with several other of FAMU's current starters. "Even in those two years, this group still practiced at 6 a.m. every single morning, offseason, in-season, and it was a tough time not playing. But it was definitely worth it."
It was also a banner year for Long individually. She led the SWAC and ranked 21st in the country with 5.18 digs per set, and her 471 digs were the fourth-most in a single season in FAMU history. She also had 14 kills, 89 assists and 25 service aces, and earned first-team all-conference honors while being named the league's Defensive Player of the Year.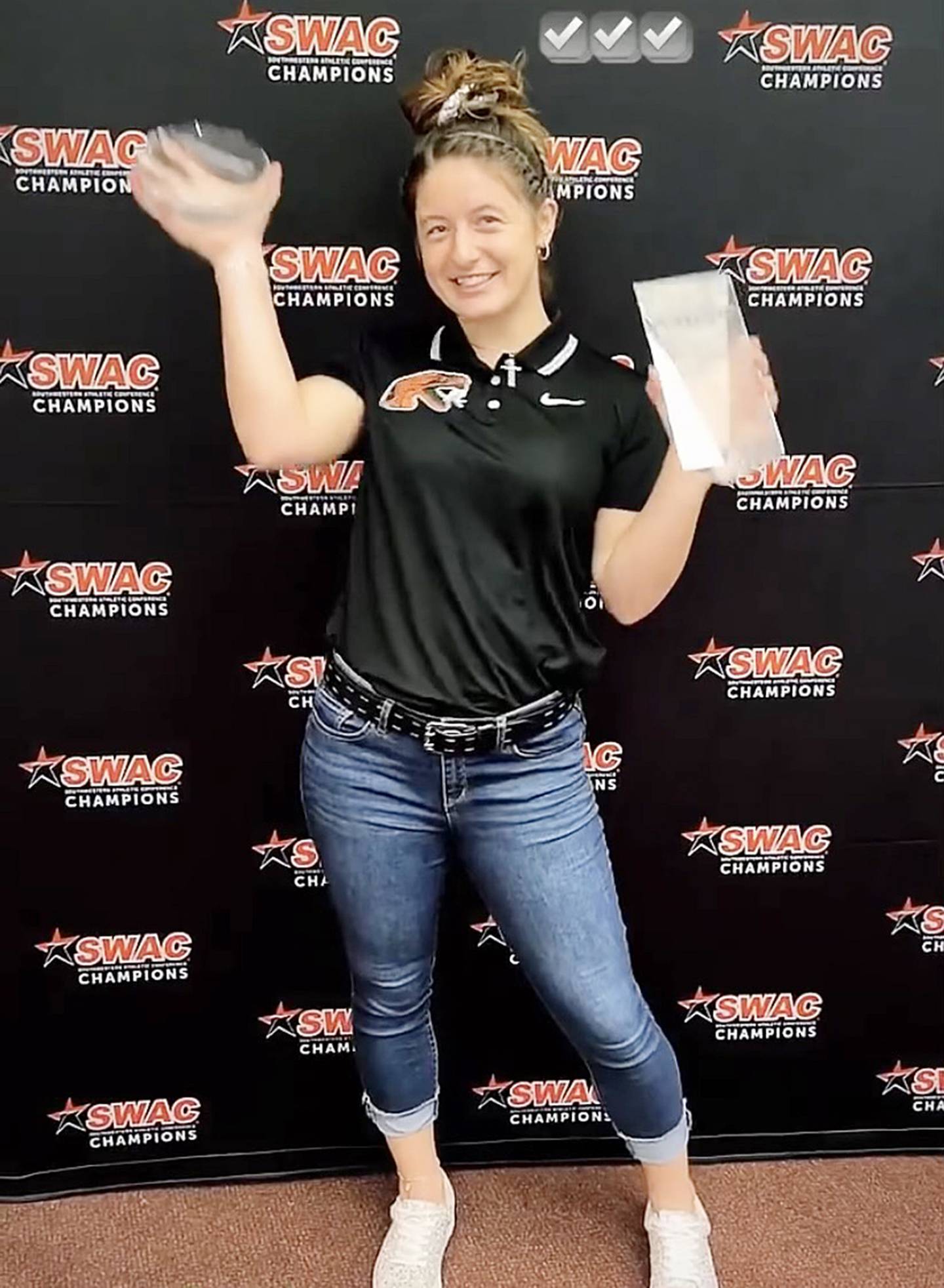 The latter honor was one she had her sights set on from the start of the season.
"Being in a new conference, I wanted to achieve bigger things, and help my team make its mark," Long said. "I scouted all the other liberos, and I knew there were some good ones in this conference, so I feel like as a newcomer, I wasn't favored to win that award. But I thought I was top-3 in the conference, and I knew there was a chance.
"As the season went on, I saw the rankings and where I stood, and it was pushing me to be better. I knew I wanted to step up my game not only to help us win a championship, but also to get those honors, so I set that goal for myself."
Long earned the accolades despite not playing in every set this season. She appeared in 91 of the 110 sets played, in a concerted effort by the coaching staff to mix up the lineups and get everybody a chance to see the court.
"Everybody on this team contributed, because there were different lineups for every match," Long said. "There wasn't a real set starting lineup, and that made everything this season so much sweeter. The backup libero came in for a lot of the easier matches, but if we were losing a match, Coach would throw me in for the third, fourth and fifth games to try and help us come back and win – and we did every single time that happened.
"Being able to help lead my team to a big win, the SWAC title, the NCAA Tournament has been really special."
Not knowing what to expect in their inaugural season in the SWAC, the Rattlers acquitted themselves well. They finished the season 25-7, including a 14-2 mark in the SWAC, and won 12 matches in a row heading into the NCAA Tournament.
"We had heard a lot of talk about how the SWAC was easy, but we learned the hard way it wasn't an easy conference at all," Long said. "We had to fight for every single point, and it was tough competition all the way through the conference tournament, too."
Playing as the No 2 seed, FAMU swept No. 7 PrairieView A&M 25-22, 25-23, 25-23, then went to five sets to top No. 3 Arkansas-Pine Bluff 21-25, 25-22, 25-23, 27-29, 15-8. Long combined for 35 digs, six assists, two aces and a kill in those two matches, and she and her teammates were eager for a matchup with top-seeded Jackson State, the defending conference champions.
"There was some unfinished business for both teams," Long said. "They swept us at their place and we swept them at our place, so we were ready to see who would come on top in the final match.
"Before that match, we huddled up and were talking and basically said, 'We've worked for this, we've been on this road to the ring, and we've got to do this. We're going to get the ring.'"
In a crazy back-and-forth final that saw four of the five sets decided by just two points, FAMU rallied for a 25-20, 26-28, 23-25, 25-23, 15-13 win.
"It was so crazy," Long said. "It was amazing, and it took a long time to sink in that we did it. It was definitely a well-deserved championship."
The Rattlers opened the NCAA Tournament in their home state, as they visited Gainesville to take on No. 16 seed Florida. But the Gators proved to be too tough for FAMU, as Florida won in straight sets, 25-11, 25-14, 25-8. Long had nine digs and an assist.
"Obviously it was a different level of play," Long said. "In the SWAC, we had a lot of athletic players, not the tallest but definitely scrappy. In the tournament, it's big girls at big schools, and it's more technical volleyball.
"We had a great season, and we just wanted to make history."
It was FAMU's 11th trip to the NCAAs, and the first since a run of nine straight appearances from 2001-09. And even though the Rattlers' recored fell to 1-10 in tournament matches, there are still a lot of things this team will be remembered for.
The first 20-win season since 2006. The 12-game win streak to end the season with a SWAC title. A 3-2 win at Auburn for the program's first victory over a Power 5 team since 2006. The 20-2 run after starting the season 5-4. The 18 times the Rattlers won matches 3-0.
But to Long, the best memories will be of her teammates, and the times – both tough and satisfying – that they had together.
"It was more than game to us, more than anything," she said. "This is beyond my favorite team I've ever played with, and we've been through a lot. We have such good chemistry and have really bonded these last few years; these girls are my sisters. I can't imagine going through all of this and achieving it with anybody else."