Dixon Public Library's computer coding club – popular before the pandemic – will get renewed, in part, because of a pandemic recovery grant from the state of Illinois.
The $12,013 grant covers the cost of seven new Chromebooks that can be used remotely, allowing the computer club to relaunch in a few weeks, said Anthony Deter, library director. The grant will be applied in other areas, too.
That's good news for Kathleen Schaefer, librarian in charge of the program. It's even better news for the likes of 7-year-old Sarthak Agrawal, who was in the library checking out a book when he learned the program will start up again.
"I got to program things," Agrawal said. "Putting blocks where they go."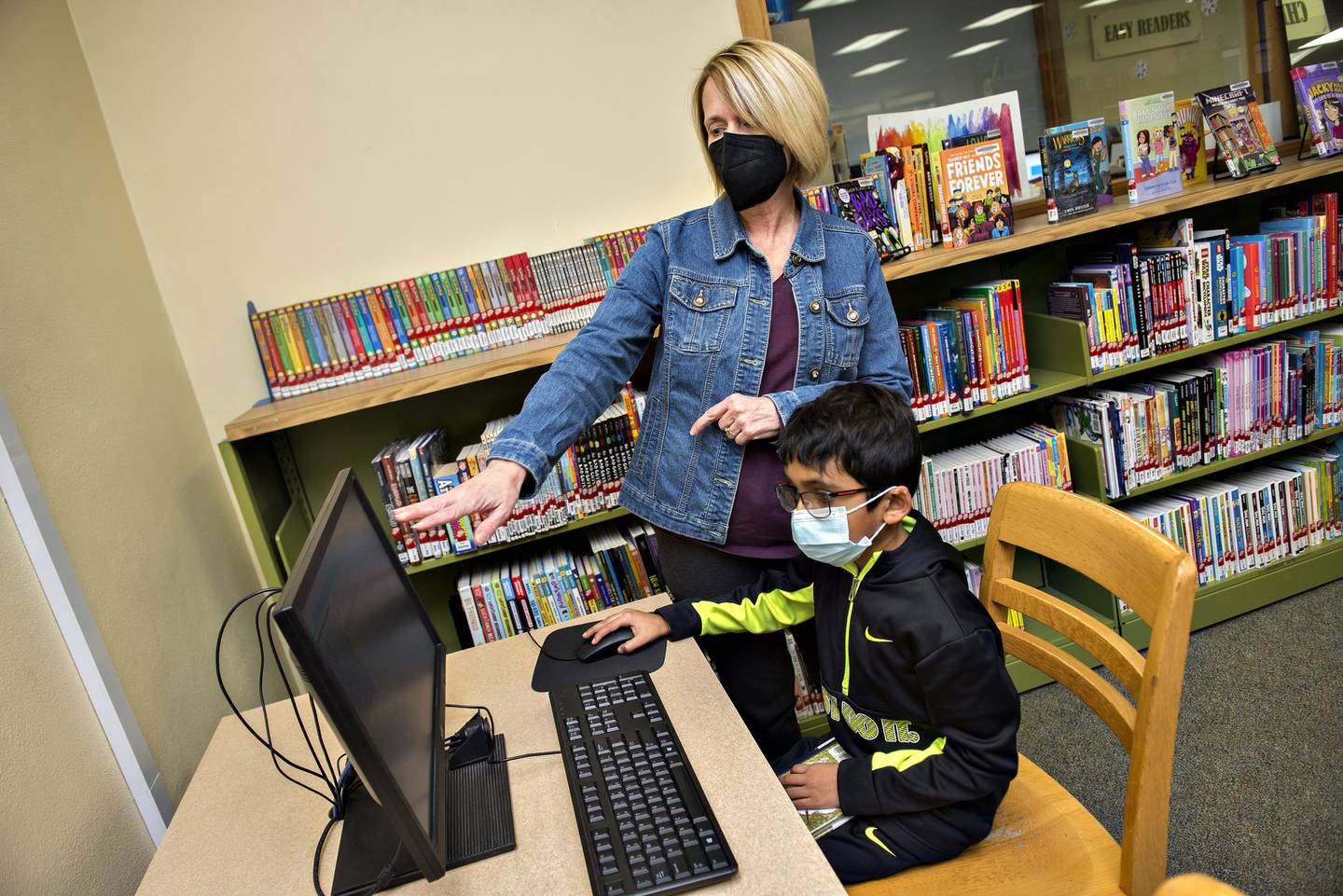 Those aren't toy blocks, by the way. Coders like Agrawal are using informational blocks, explains Schaefer, which are moved through an online computer tutorial, provided by Code.org. The program not only lets kids to learn the basics of signing on a computer program using icons as passwords, it allows them to experiment with computer commands that move things abstractly across the screen.
At its height, the computer coding club had 20 students said who had to pair up because there weren't enough computers. Members ranged from pre-K to eighth-grade, but most of the participants were ages 7 to 10. For about 45 minutes, the children in the after-school program could tackle the various coding challenges.
"It teaches good problem-solving skills," Schaefer said.
The coding exercises involved going back through lines of code and fixing the trouble spots. The kids call it "Debugging."
When the pandemic hit, though, the basement utility room used by the club didn't allow for proper social distancing. Activities were suspended, except for instances when Schaefer could schedule one-on-one sessions.
That will change with the addition of the Chromebooks. Schaefer she expects a core group of eight children said said – evenly divided among boys and girls – will be there for the restart.
Deter said the grant also allowed for the purchase of two new Dell PCs, which the public can use for job-hunting and research into legal issues. They also will be available for local history research.
The largest portion of the grant money will go toward a new photocopier that prints in color and takes more secure chip card payments. The current one is black and white and only takes coins.
Earlier, the library purchased additional keyboards and mouse controls, which librarians could use to swap out and sanitize. Deter said it was expected that the cleaning solutions would cause those components to deteriorate, but, for the most part, they've proved to be robust.
The Secretary of State's Office announced the grant recipients on Thursday.
The library at Sauk Valley Community College got $25,508. Sterling Public Library received $25,000. In Rock Falls, the public library district got $18,033 while the high school library got $14,200.
"During the ongoing pandemic, libraries have had to retool their services to match the needs of the community and I am honored to be able to provide funding to allow these libraries to expand access to their patrons," said Jesse White, who is the state librarian as well as secretary of state. "I applaud the library community in Illinois for their hard work as they continue to provide essential services during this challenging time."
In total, 211 libraries received $5.7 million. Funding came from a variety of sources. Federal funds came from the American Rescue Plan Act. The Institute of Museum and Library Services provided money through the Library Services and Technology Act. State technology funds were also used.
Libraries were evaluated in three main categories. Firstly, 30 libraries qualified by providing resources for job-seekers during the pandemic. Another 47 libraries qualified for providing digital services, such as circulating internet hotspots, providing laptops or other devices. Grants were given to 134 libraries that made improvements in health and safety and libraries and to help prevent the spread of the virus.
Other libraries in the Sauk Valley region that received assistance were $30,000 for Ohio Community School District 17, $28,150 for Ohio Community High School District, $9,500 for Polo Public Library, $6,364 for Schmaling Memorial Public Library District in Fulton, and $25,000 for Walnut Public Library District.